Talk:Minsk Protocol
Jump to navigation
Jump to search
Other Talk: Ukraine (main talk page), Ukraine War Casualties , Odessa Massacre , MH17 Crash.
Peace Talks
Heidi Tagliavini is to step down. This is not a good development, as she earned a degree of trust from both sides, which a newcomer will not have on arrival. It is important to understand culture/language, and she spoke Russian at least; but this is negotiation of Governments so needs to be able to deal with those. It is not a good time to be stepping down as things are very fragile. Collapse of Minsk will not bring about a resolution, just cost more lives than otherwise. It is naive to expect it will go easy. It may take a long time, and may have many setbacks. This is a difficult thing, more like a hostage negotiation than an evening drinks party. -Yes, people can be rude and unreasonable (any news here?) --Resup (talk) 18:07, 6 June 2015 (UTC)
News
The latest is, contact group is set to meet on 16.6.15 --Resup (talk) 02:18, 16 June 2015 (UTC)
Contact group will meet 1 September in Minsk. The meeting will be attended by representatives of Ukraine, Russia and OSCE, and proclaimed the People's Republic of Donetsk --Resup (talk) 04:59, 1 September 2014 (UTC)
Signed protocol of the contact group meeting is published. --Resup (talk) 15:05, 7 September 2014 (UTC)

Ukraine Rada adopts special order of local governance in some areas of Donetsk and Luhansk regions that, according to the law, will be additionally specified by parliament. The law will come into effect on the specified territories under the rule of local governments that will be elected on Dec. 7. The state obliges to guarantee the use of Russian and other local languages in these areas. It will also subsidize the development of the territories at a special budget line. The state also obliges to help these areas to in cross-border cooperation with bordering regions of Russia. The local authorities will be allowed to create "local militia units" for keeping of public order, the law said. The second bill will give an amnesty to rebels acting in Donetsk and Luhansk regions since Feb. 22, except those who have committed serious crimes.
Purgin: Novorossia does not agree on status-quo front lines. They consider those temporary and fluid, and can only agree on borders of the whole Donetsk and Luhansk regions. They are ready to discuss economic and social relations with Kiev. But joint decisions with Kiev of political issues in Novorossia is not acceptable. "joint political constructions are not acceptable, either as federation or in any other way". --Resup (talk) 12:09, 16 September 2014 (UTC)
Kuchma goes to Minsk on 19 September . (In the past, ) OSCE, Zurabov (Russian ambassador to Ukraine), and "terrorist organisations 'DNR' and 'LNR' " also took part in Minsk meeting. --Resup (talk) 13:22, 18 September 2014 (UTC)
A memorandum was signed, specifying disengagement steps. Within one day, heavy weapons to be moved from front line; deployment of military hardware in residential areas banned; OSCE observes along entire front line; military planes and drones flights over Novorossia banned. Status of LNR and DNR not discussed, the issue remains; POW exchanges expected to continue [1]. Rebels supported the memorandum. --Resup (talk) 23:40, 19 September 2014 (UTC)

Novorossia reported to go into period of quiet, following earlier reported moves by Kiev. Heavy hardware is said to be getting moved out as part of it. Zkharchenko:"waiting when OBSE is ready --Resup (talk) 07:26, 11 October 2014 (UTC)

Russian FM issues a statement supporting Minsk agreements AND Novorossia elections on 2 November ('date from 19 October to 3 November was agreed in Minsk; Posorhenko law to have it on December 7 violates it'). --Resup (talk) 17:51, 30 October 2014 (UTC)
John Kerry, speaking in Canada's capital, Ottawa, warned that the the vote "will be a clear violation of the commitments made by both Russia and the separatists that it backs in the Minsk agreements."--Resup (talk) 18:12, 31 October 2014 (UTC)

Putin, Hollande, Poroshenko and Merkel noted the importance of continuing the Contact Group work, the Kremlin press service said (TASS reports). The top leaders "stressed the need to strictly observe the ceasefire regime with the OSCE (Organization for Security and Cooperation in Europe) monitoring," the press service said. --Resup (talk) 18:12, 31 October 2014 (UTC)
John Kerry, PBS interview, as reported by TASS, 01 November, 2014 said that Ukraine can maintain close relations with both Europe and Russia, and should be a bridge between them. (And for this to happen, Russia needs to behave)
As somebody said, if Ukraine is a bridge between East and West, that's good. If it is a 'buffer'/exclusion zone, bad . --Resup (talk) 13:19, 28 October 2014 (UTC)
12.11.14 Pravda.ru: "US Senator John McCain, who is known for his anti-Russian stance, is planning a meeting with the newly elected Verkhovna Rada deputies. They include commanders of Ukrainian punitive units Semyon Semyonchenko ("Donbass" punitive unit), Yuri Bereza ("Dnepr" punitive unit), Andrei Teteruk ("Peacemaker" punitive unit)". (pravda.ru) --Resup (talk) 15:41, 12 November 2014 (UTC)
LPR and DPR are both for further Minsk meetings. But an adviser to SBU in Kiev stated that Minsk 2 is not planned (Tass-English) and Minsk 1 needs to be fulfilled. But that never happened, and some agreements such as special rule were reversed. Also Novorossia elections happened, and are not going to happen again in December. Not talking to each other is not going to solve anything; not talking means continuing to fight and prolong stalemate. --Resup (talk) 06:47, 14 November 2014 (UTC)
It appears that sensible people in Ukraine are not really against strong ties with Russian people. Opposition is mostly directed towards the rigid vertical of power as currently practiced in Russia, with a fear to fall under such structure. With real power in Ukraine belonging to several oligarchs, current head of state one of them, this has to do with their businesses, not just political preferences or beliefs. Some of their cohort even try to portray themselves as true descendants of Kievan Rus', while portraying Moscow as a descendant of the Golden Horde and its Asian-like style of leadership. There are some positives in such view anyway as it acknowledges long running close ties (both would like to see themselves as the superior descendant, but only time can be a judge on that). So, if Kiev is less fearful of falling under Moscow vertical power that may help to resolve things peacefully. (Alternatives to peace are all quite unattractive and will hurt both nations. If they are capable of acting rationally and take a long view, not follow their current mutual anger/aggression, they should find a way to stop the war. That means withdrawing from the separation line, not just talking about peace while continuing on the war path). --Resup (talk) 17:43, 14 November 2014 (UTC)
(13-14 Nov, OSCE) "The SMM met the Ukrainian and Russian heads of the Joint Centre for Control and Co-ordination (JCCC), who said that the two of them had agreed a draft schedule for gradual disengagement. The draft document, which they signed at the end of the meeting, proposed three phases: a ceasefire (two days); withdrawal of heavy weapons (five days); and disengagement of forces to the line of contact referred to in the Minsk Memorandum (21 days). Earlier that day they had started to discuss the plan with members of the "Donetsk People's Republic (DPR)". The SMM encouraged the heads of the JCCC to jointly communicate their activities, plans and achievements to the general public".--Resup (talk) 02:41, 15 November 2014 (UTC)
Lavrov and Kerry agreed in a phone conversation held on Friday that the Contact Group on Ukraine should resume its work as soon as possible Tass (English), 14 Nov, 2014--Resup (talk) 05:40, 15 November 2014 (UTC)
According to Pushilin (Tass) (English) Poroshenko's decree on urgent measures on stabilization of social economic situation in Donbas mean economic blockade. (It actually appears to be more like separation/de-facto independence, based on Pushilin presentation, like judges and officials recalled, no moneys flow into Donbas from Kiev, elections declared to be outside of Ukraine constitution, etc). --Resup (talk) 16:31, 15 November 2014 (UTC)
G20, 15.11.14 Putin (Tass) "Of course, we expect the situation to change for the better. Of course, we expect the crisis in Ukraine to end. Of course, we want normal relations with all our partners, including in the United States and in Europe," . Putin's spokesman: Putin will NOT leave before lunch. In the end, there were one--on-one meetings of Putin with other leaders, with Ukraine the main theme, but no breakthroughs, or changes in stance apparent. Putin did leave early after a press-conference, after all, citing long flight to Moscow, with other officials filling for him at remaining meetings. (Other topics breakthroughs at G20? Not sure). --Resup (talk) 15:01, 16 November 2014 (UTC)
Council of the EU: the Council underlines the need for intensification of talks in the framework of the Trilateral Contact Group. First reaction on the ground appears to be kind of mixed. But there is no good alternative around). --Resup (talk) 04:19, 18 November 2014 (UTC)
18.11.14 Germany FM Steinmeier tries to mediate? President of Ukraine Petro Poroshenko had a meeting with Minister for Foreign Affairs of Germany Frank-Walter Steinmeier (Poroshenko); Lavrov and Steinmeier joint press conference (Lavrov mentioned "clearing house" initiative of Steinmeier, exchanging information on various incidents); rusvesna: "Porosheno proposing 'Weimar format' ", and ukrinform says the same --Resup (talk) 22:40, 18 November 2014 (UTC)
26.11.14 (rusvesna)Poroshenko and Putin talk on the phone for 1.5 hours, Ambassador Zurabov is said to be present. That was about Eastern Ukraine, but details not disclosed. Reports in Ukrainian press claimed that Russian position include supporting the need to recognize LPR and DPR, and against Ukraine joining NATO. Russian press secretary denied details presented in Ukrainian press, but the fact of the phone conversation is confirmed. Joining NATO was included in coalition agreement of the new Rada. Poroshenko was said to be not happy about this, since Ukraine will not be admitted to NATO, but the issue may anger Russia. --Resup (talk) 21:43, 27 November 2014 (UTC)
Putin's Annual Address published (English). Ukraine is mentioned, mostly in relation to past events. Brotherly relations with Ukrainian people and right for self-determination, for Russia and for Ukraine, is stressed. Independent course of Russia, not about to be changed by sanctions, emphasized. In relation to Ukraine, what was said makes sense, but does not seem to convey a very strong push to urgently end the shooting. No mentioning of Minsk, or future talks. It is mentioned that Russia invested around 35 billion in Ukraine economy. --Resup (talk) 00:03, 5 December 2014 (UTC)
December
01.12.14 It is reported that ceasefire started at the Airport. Attempts are made to return to separation of forces plan in the near future (dates of 5,6,10 December seen), in DPR and LPR, but there seem to be nothing definite at this point. Apparently, no confirmation from Ukraine on a definite plan. --Resup (talk) 22:12, 2 December 2014 (UTC)
OSCE report mentions a jccc agreement in principle on ceasefire from 5 December. It is also reported that details are disputed. Outcome of this does not appear certain. They work in the right direction, but possibly not have enough traction. Maybe something, or somebody, can give them extra push? OSCE report, 1 Dec. --Resup (talk) 14:50, 4 December 2014 (UTC)
Some ceasefires agreed and right away broken, of course. Poroshenko announced Tuesday (Dec 8) will be "day of silence" which means no shooting; on Dec 10 Kiev wills start withdrawing heavy armour PROVIDED NAF keeps to the ceasefire. So I guess they'll do a provocation that forces them to shoot back, to have excuse for not withdrawing? links if I find them KatKan (talk) 23:44, 4 December 2014 (UTC)
OH WOW BLACKMAIL. Good.

Kiev reckoned they will get 2 million tonnes of coal from Donbass because "Ukraine owns it". DPR replied Ukraine froze the bank accounts, miners not paid since July, the coal belongs to the STATE which now is DPR, and they can't shift the coal without permission of Minister for Transport. details
here is the blackmail: " Recall that the only condition under which we will co-operate on this sale is a complete cease-fire by the Ukrainian security forces and the withdrawal of troops from the territory of the former administrative borders of Donetsk and Lugansk regions."
NOT 15 miles from the front line, but the borders of the oblasts.
I wonder if they are desperate enough for that coal to give them all that territory without a fight. And without a double cross. And if EU/US will let them do it. KatKan (talk) 00:06, 5 December 2014 (UTC)

Poroshenko talks with Biden , and prepares for silence day on 9 December. IMF further funds are mentioned. (Would not be too surprising if they keep silent, get the money, and than later start shooting when received (?)--Resup (talk) 00:50, 5 December 2014 (UTC)
Poroshenko talks with Kerry, about another meeting of contact group in Minsk 'in the near future' (and why with Kerry? He was not there before? What he will bring with him in the boat?) Tass --Resup (talk) 20:27, 5 December 2014 (UTC)
6.12 Poroshenko says that 9 December is preliminary date for another 3 way contact group meeting in Minsk. Main agenda appears to be separation of forces, expected to be implemented within 30 days. Poroshenko also claims that Novorossia 2 November elections should be invalidated, new elections held, and that will start national dialog. (I do not see Novorossia cancelling elections and having new ones. About as likely as to demand disbanding of regime which came to power after Maidan and demand another fresh elections) --Resup (talk) 16:53, 6 December 2014 (UTC)
6.12 Putin meets Hollande, calls for urgent halt of fighting, restoration of 'unified political space' in Ukraine Tass. France and Russia are both said to support urgent halt of fighting. Other major issues discussed as well. (But not 'Mistral' of course). --Resup (talk) 17:22, 6 December 2014 (UTC)
8.12 Novorossia does not seem to be in great hurry to make it to Minsk on the day assigned, wants to read all those recent decrees, on blockade, no special rule, and so on. Meeting is tentatively by the end of the week. (TASS) No real change in fighting, clashes and shelling in Donetsk, Gorlovka. Cops from Slaviansk are all dispatched to Debaltsevo. --Resup (talk) 21:03, 8 December 2014 (UTC)
OSCE: On 7 December, the SMM returned to the JCCC in Debaltseve. Lieutenant General Askarov and Lieutenant General Lentsov said that there had been an agreement on the terms of a ceasefire which according to them is planned to enter into force on 9 December at 09:00 hrs. The incident logs of the Ukrainian and of the Russian Federation JCCC representatives showed a total of 174 breaches of the non-use of weapons in the past 24 hours. During the visit, the SMM heard small arms fire in the distance, to the south of Debaltseve. --Resup (talk) 21:15, 8 December 2014 (UTC)
IMF mission to work in Ukraine, December 9-18. The IMF said it would resume its talks with Kyiv on critical lending decision after the new government in Ukraine is formed (2 Dec.) --Resup (talk) 22:12, 8 December 2014 (UTC)
According to politician Oleg Tsarev (currently Novorossia parliament chair), Ukraine did not participate in scheduled for today peace preparation discussions over Skype, without giving any reason. --Resup (talk) 17:19, 10 December 2014 (UTC)
Peacekeepers? Chair of OSCE Parliamentary Assembly Ilkka Kanerva in an interview to Finnish Yle Radio 1 "Ykkösaamu" discussed possibility of peacekeeping force, which may be raised in Minsk meting on 12 December. Kanerva supports international peacekeeping force, and is skeptical about Russian one. Peacekeepers may be needed. So far all ceasefires were broken. Currently, some clashes continue; it does not appear they will stop. Border line is contested so resumption of clashes is likely even if there is full silence in the next few days. Ukraine is moving more artillery towards the front line, talk about victory, it does not appear they are really in peace-now mood.--Resup (talk) 17:47, 10 December 2014 (UTC)
11.12 Tomorrow's meeting in Minsk is in doubt, Kiev has not confirmed it yet, and it is getting too late. At a meeting with business community, DPR head Zakharchenko said that he only considers DPR in the borders of the whole Donetsk region, and this is what he is fighting for. If he can do it peacefully, there will be no bloodshed. He said that civilian deaths will not be forgiven, and that their opponent "lost human face, it's like they have that savage grin, like cannibals". He also said that DPR citizens want to live on their land in peace, but without others telling them how. --Resup (talk) 14:36, 11 December 2014 (UTC)
11.12 It is reported that LPR has started unilateral withdrawal of heavy armor (artillery, "Grad") from the separation line. Article also mentions that 3 UAF died, 8 were wounded; while according to volunteers, 4 UAF scouts died, not considering regular troops losses. rusvesna. It also appears that pro-Novorossia media is re-publishing more war reports from the opponent's side. --Resup (talk) 17:13, 11 December 2014 (UTC)
12.12 Ukraine and Novorossia both say that it was quiet on 11.12 (heavy armor, arillery, or Grad not used) rusvesna. Ukrain: only some light firearms use noted (6 incidents). "Since the beginning of the antiterrorist operation repair teams of "Ukroboronprom" and the Armed Forces of Ukraine repaired 17,653 units of arms and military equipment, including 573 units of rocket and artillery weapons, 3765 armored vehicles , 11 834 motor vehicles, 67 aircraft, 42 helicopters, 24 drones, 54 pieces of equipment of radio-technics forces. --Resup (talk) 15:30, 12 December 2014 (UTC)
Motorola meets with UAF commander at Donetsk airport, after trucks with food and unarmed UAF fighters, doing rotation with those at the airport, were allowed in lifenews. It is up to leadership to agree peace, but they will try to keep it, on their end. Translated video on liveleaks --Resup (talk) 17:26, 12 December 2014 (UTC)
Pavel Dremov, Cossack commander, LPR, gives an [2] interview]. Remains skeptical about prospects of Minsk, says ordinary people in opolchenie believe it should be settled along regional borders. Some of fighters are form Kiev-held areas themselves. Dremov says that in the past, all accords ended in Ukraine attacking; he expects that to be the case now as well, around 17 December. --Resup (talk) 17:38, 12 December 2014 (UTC)
Ukraine signs weapons contracts, Thales (diverse high tech), Barrett Firearms (specializing in large caliber sniper rifles, optical/night vision scopes), ATN (likely it means Army Training Network, they have some overstock and training items)--Resup (talk) 17:54, 12 December 2014 (UTC)
Report: near Donetsk, UAF painted two of their tanks with Russia's insignia, a provocation expected --Resup (talk) 18:37, 12 December 2014 (UTC)
A column of Novorossia vehicles appeared on a video, said to be heading to Mariupol. Ukrainian media (again) tried to present them as Russian tanks saying that T 72 are not used by Ukraine; however it is not true, e.g. Poroshenko web site reports of several types of T 72 (Т-72 B1, Т-72UA, Т-72A ) sent to ATO recently. --So no reason to think that T 72 were not used by UAF in the past. --Resup (talk) 03:15, 14 December 2014 (UTC)
Two videos + two sources – This is not the Russian army, net even a regular Novorossiayan Army (Like this 4th Separate Brigade just formed in Lugansk.) The column is irregular Novorossiayan milita. The tanks are marked as Oplot and Somali. Somali is Givi's battalion. Most have "To Mariupol" painted on them. -- Petri Krohn (talk) 13:23, 14 December 2014 (UTC)
Mostly quiet, apart from rare single artillery shots, and some small firearms and mortars fire. Some clashes in Pavlopol, some 10 km to the North-east from Mariupol (with different parts of town displaying opposing flags). Scouts operate on both sides. One UAF vehicle hit a land mine, 2 KIA, 3 WIA. Reports say that neighboring airports of Kharkov, Dnepropetrovsk, and Zaporozhie stopped accepting civilian flights; it is speculated that it may be for military use in case of resumption of hostilities. Also a report appeared claiming that Poroshenko agreed to introduce military rule if there is no peace progress; this report is likely fake, since an identical report appeared in June. --Resup (talk) 03:15, 14 December 2014 (UTC)
According to Cassad, military transport planes from USA were expected, and according to some reports actually unloaded (have not seen this confirmed). Latest on Cassad: "reports received that 4 Hercules planes from USA were unloaded.
Report: on 13 December, 23:30, two Hercules planes landed in Zaporozhie Airport. In 2 hours, two more planes landed. According to the source, cargo is packed in boxes. --Resup (talk) 06:38, 14 December 2014 (UTC)
Timing of those planes reports sucks. (If somebody wants to have peace, no urgency in delivering anything military prior to that. But if, for example, somebody wants to have introduce military rule, it's more convenient to deliver military cargo prior to that, because once there is military rule, it is not nice, and possibly not proper, to deliver weapons over there than. --All those considerations are hypothetical at this point. --Resup (talk) 04:34, 14 December 2014 (UTC)
Chuguevo, Kharkov Region (ATO headquarters). It is said that about 50 foreign soldiers were seen, in NATO uniforms, and presumably speaking Polish. (Does not look that the photo is the actual photo from there, --near freezing temperature there now) --Resup (talk) 05:01, 14 December 2014 (UTC)

Report re-broadcast by TASS says that airport closure is an operation by SBU (not Army or ATO). (Well, that would be consistent with what everybody thinks this is...) --Resup (talk) 07:33, 16 December 2014 (UTC)

ATO representative Vladislav Sleznev (Владислав Селезнев) claims that the only plane that landed was at Kharkov airport during closure, and it was a Russian plane which brought Russian military for rotation with those working at JCCC joint center. (People were reporting on Zaporizhie landings, so what was that?) --Resup (talk) 13:55, 17 December 2014 (UTC)
Also, Kerry-Lavrov meeting moved to 14, from 15 of December. TASS: Ukraine, Palestine, Syria are on the agenda --Resup (talk) 03:15, 14 December 2014 (UTC)
More 'mixed message' from Poroshenko: reinforcing army, and complains that Minsk not followed. (meeting with security officials). The Head of State has positively evaluated the ceasefire regime initiated on December 9. He has noted that the ceasefire regime had allowed reinforcing the Ukrainian positions and the maintenance of the Ukrainian servicemen on the defense line. Than calls Germany, France leaders to tell that fighting is down but other Minsk agreements not implemented. As if it is not mostly because of his side that they are not implemented.
Novorossia reports Ukraine firing at the airport, they do not respond. Some small arms use reported, otherwise pretty quiet. --Resup (talk) 08:09, 15 December 2014 (UTC)
14.12 According to Moskal, village Krymskoe (Novo-aidar region), near 32 block post of UAF, was shelled by opolchenie using Grads. No casualties, no significant destruction
15.12 Opolchenie was shelled by Ukraine, at Iasnoe from Berezovoe; Savianoserbsk suburbs were shelled from 31 block post. No casualties or destruction reported. --Resup (talk) 00:38, 16 December 2014 (UTC)
17.12 Kremlin: 'Telephone conversations took place' between Putin, Merkel, Hollande, Poroshenko. Importance of contact group meeting ASAP, in the interest of fulfilling Minsk agreements and establishing contacts between Kiev and South East, were stressed, Importance of exchange of forcibly detained persons and withdrawal of heavy weaponry from the contact line. Issues of economic reconstruction and humanitarian and social support were discussed. It was agreed to continue telephone contacts in the "Normandy format" --Resup (talk) 23:34, 16 December 2014 (UTC)
17.12 Poroshenko: next meeting of contact group may occur on 21 December in Minsk--Resup (talk) 11:54, 17 December 2014 (UTC)
18.12 According to Novorossia politician Vladimir Rogov: (1) total of 10 planes landed in 3 closed Ukrainian airports; Zaporozhie airport will remain closed till 20 December. (2) Regional administration of Khrakov, Zaporozhie, Dnepropetrovsk took steps to remove elsewhere their families, moneys, and studied mobilization capacities in those regions. (3) According to Ukrainian media, 10 Grad vehicles moved towards Russian boarder and 'disappeared' (Rogov fears provocations like shelling a Ukrainian city and blaming Russia, or resumption of warfare).--Resup (talk) 03:44, 19 December 2014 (UTC)
19.12 A 9 year old girl is killed in Gorlovka--Resup (talk) 23:39, 20 December 2014 (UTC)
It is reported that date of next contact group meeting was not agreed. DPR wants it ASAP; while Kiev has it for the next year. There are some disagreements on agenda of the meeting. --Resup (talk) 20:16, 19 December 2014 (UTC)
IMF concluded the visit in Kiev, without announcing a decision. They expect to be back in January to continue their work. --Resup (talk) 23:12, 19 December 2014 (UTC)
20.12 00:04 artillery duel, Debaltsevo-Enakievo [3]--Resup (talk) 23:39, 20 December 2014 (UTC)
20.12 Lukashenko got Poroshenko on board for Minsk meeting (announced for 21 December), and said to wait for Novorossia to respond. --Resup (talk) 07:41, 20 December 2014 (UTC)
Poroshenko asks the West to provide weapons AND financing to buy them (rusvesna).
Morning: Firearms, mortar, sniper fire reported in Avdeevka, Gorlovka, Debaltsevo, airport; $ 300 mln funding for Ukraine to buy weapons is mentioned. Intelligence reports: In Tonenkoe village (11 km north-west of Donetsk), two mechanized UAF companies arrived reinforced with five tanks; in Bolotennoe (13 km north-east of Lugansk) up to a company of Banderovtsy was airlifted ; Great Chernigovka (48 km north of Lugansk) hosts a large division of the National Guard, numbering more than 1,000 people. --Resup (talk) 23:25, 20 December 2014 (UTC)
21.12 Report: According to information received from local residents, (pro-Kiev) English-speaking mercenaries are spotted in the village of Granitnoe, 83 km from Donetsk, Telmanovskiy district Donetsk People's Republic. According to a resident of Granitnoe Roman S., mercenaries often appear in the shops and markets, moving in small groups, they have new uniforms NATO uniforms, communicate with each other in English, go everywhere with a translator, and prohibit taking pictures of themselves at gunpoint.--Resup (talk) 18:07, 21 December 2014 (UTC)
22.12 Lukashenko and Nazarbaev are in Kiev. Both support Ukrainian independence and Minsk peace process. Lukashenko is ready to help Kiev and offers to do whatever Kiev needs "in one day". Nazarbaev says that Kazahstan keeps friendship with everybody and willing to help to speed up peace in Donbas (if he can).
Nazarbaev offers coal, from a huge Ekibastuz open-cast field in Kazahstan (said to be world's largest).
Lukashenko discussed economic issues such as dropping price on petroleum products re-exported to Ukraine, as well as reproach with EU. Previously, Lukashenko sounded very angry at problems with exporting food products to Russia, agreed before the sanctions. Those food products are processed in Belarus, but a lot is produced in Europe. --Resup (talk) 05:49, 25 December 2014 (UTC)
Novorossia representative Pushilin says that a new date of Minsk meeting is not set, and no new contacts took place recently; nobody called him from Kiev or OSCE.
Duma speaker Naryshkin is hoping to have inter-parliament contact group on Ukraine set by Parliament Assembly, OSCE.--Resup (talk) 13:05, 22 December 2014 (UTC)
It is reported that Poroshenko, Putin, Merkel, Hollande talked about something on the phone, and after that, Poroshenko web site and TASS announced 24 and 26 of December as dates of next 3 way contact group meeting in Minsk. While Pushilin stays pictured with a (thin) cell phone at his (right) ear by TASS. Also, Putin will have a word with Nazarbaev about his Kiev trip, and other Eurasian Union business. Anyway, it is getting boring to cover next Minsk meeting after another one, they really should agree something which will stick, and stop senseless killings. --Resup (talk) 19:18, 22 December 2014 (UTC)
Piece of prose from Lavrov, published in Rossiskaia Gazeta: "I do not agree that we have lost the Ukraine, - he said. - It can be a deduction from afar, from the ocean, and, probably, it is important for Americans in terms of strengthening their leadership (as they consider it) position in the world. It is impossible to Russia and Ukraine to divorce. We are bound by centuries. history, economics, geography, culture and civilization values, in the end, family ties, ties of kinship. "
According to Lavrov, "this tragic period in the history of Ukraine will be overcome" when "the Ukrainian people will eventually sort out what is going on and what happened in February and is happening now, and will want to restore agreement through national reconciliation, through the unity of all parts of Ukraine, and not based on the dictates of ideology alone, as is now happening in Kiev, but on the basis of a compromise, based on a balance of interests, on the basis of building a truly equal relations between all regions. "
Sergei Lavrov also called the prevention of wars one of the priorities of Russia in the international arena, "we never wanted wars and do not want and will do everything that there is no war not only at our immediate borders, but also in other parts of the world." As for Russia's relations with Europe, the Russian Foreign Minister has no doubt that they will return to normal. "We can not lose to Europe. Europe without Russia is not Europe, Russia has repeatedly saved Europe from Europe itself ... We are ready to maintain a dialogue with all. Contacts are made, including at the highest level", - concluded the Minister, noting that the same opinion is shared by his European counterparts. --Resup (talk) 22:15, 25 December 2014 (UTC)
26.12 No Minsk meeting today, day of the next meeting is not announced.
Turchinov interview to Channel 5 suggests that martial law may be introduced if peace talks fail. "Our president has very clear assessment of the situation, he does everything to ensure the peaceful development of events, that there was no bloodshed, but the president is the supreme commander. He directs all the armed forces and he, believe me, will not hesitate for a minute if he senses that there is no other way but active hostilities. National Security Council will be preparing a solution, so that when the time will come, when all the ways which the president is now trying to use as much as possible regarding peace initiatives (will fail), when Russia will block them, when the aggressor destroys again, as it happened several times already , a peaceful solution to that conflict, which they themselves created, then we certainly will not have an alternative to introducing martial law and other appropriate actions". --Resup (talk) 23:50, 26 December 2014 (UTC)
January 2015
Preparatory meetings in Normandy format are expected. Political directors meet in Berlin on 5 January. FM meeting is expected on 7 January (place not announced). (Tass) --Resup (talk) 22:12, 3 January 2015 (UTC)
04.01 Artillery shelling in and near Donetsk. Again.--Resup (talk) 17:00, 4 January 2015 (UTC)
According to Igor Mosiichuk (Radical party of Liashko), Ukrainian partisans invaded, installed landmines on the Russian side of the border. On 2 of January, IED was spotted by a resident of New Hope village (Новая Надежда) in Russia. --Resup (talk) 16:22, 4 January 2015 (UTC)
12.01.15 Lavrov: Ukraine may be preparing to resort to force to resolve the conflict. "This will be a catastrophe," Ukrainian crisis cannot be resolved by military means. Russia will approach "Western partners" which have influence over Ukraine to not allow this. --Resup (talk) 14:49, 12 January 2015 (UTC)
Normandy group meeting has ended. At this point, no statement expected. It is said that Lavrov is leaving Berlin. --Resup (talk) 21:04, 12 January 2015 (UTC)
Steinmeier: disagreements remain. Ministers call for the Contact Group on Ukraine to meet in the coming days, to create conditions for an effective ceasefire. --Resup (talk) 21:35, 12 January 2015 (UTC)
Lavrov: another FOM meeting, after Contact Group meeting ( Minsk format), to decide on date of Astana meeting (Normandy format). Lavrov stresses importance of constitutional reform involving all regions of Ukraine, without this, "will be fifficult to reach an agreement on other particular issues". Also, importance of direct contacts of Ukraine with DPR and LPR is emphasized.--Resup (talk) 22:12, 12 January 2015 (UTC) There appear to be some (slow) movement towards constitutional reform: Poroshenko pushes for decentralization by Fall 2015(translated) --Resup (talk) 22:12, 12 January 2015 (UTC)
According to Ukrainian source, during Merkel-Putin conversation om 10.01, Merkel insisted that Putin use his influence on 'separatists'; while Putin insisted on direct contact of Kiev and 'separatists'. The latter is said to be unacceptable to Ukrainian President and Prime Minister. Earlier on 5.01, according to this report, Russia relayed to France desire that Ukraine will not join NATO. Also that sanctions are lifted. Russia was asked "to respect territorial integrity of Ukraine. There are signs that an agreement could be reached." Compatible account appeared in Western sources. However later Merkel did not confirm visit to Astana unless there is clear progress, and denied that sanctions will be lifted ("without progress on Crimea" as was reported elsewhere). Main demand of Ukraine appears to be that border between Russia and Novorossia is closed (not likely to be accepted, humanitarian aid comes from Russia; and safety of those in Novorossia cannot be assured); apart from this, all sides appear to agree on the need of ceasefire and pulling heavy weapons. --Resup (talk) 05:16, 13 January 2015 (UTC)
As a result of worsening situation, contact group meeting did not materialize. Pushilin went to Minsk, instead of Zakharchenko and Plotniskii expected. Than Kuchma or anybody else did not show up for Ukraine. Agenda was not agreed as a result. May be a pause in peace talks. In the end of the day, there has to be peace, for everybody sake. What will take us there is currently uncertain, taking back seat to on-going military activities. The longer it will go on, the harder it will be to break. Unless one side is completely winning that is-- which is not too likely. Stalemate after some advances here and there seems most likely. --Resup (talk) 18:12, 16 January 2015 (UTC)
TASS sources: meeting of UNSC on 21 of January, at the request of Lithuania (non-permanent member). --Resup (talk) 04:32, 17 January 2015 (UTC)
Plotniskii and Moskal agreed on ceasefire in Luhansk region on 18-19 January for Epiphany celebrations. Moskal confirms on his site "18 та 19 січня, на свято Водохреще, в Луганській області обіцяє бути повна вогнева тиша, " Plotniskii letter to him attached in the post. --Resup (talk) 20:54, 17 January 2015 (UTC)
Peskov: Kiev rejected Putin plan on withdrawing heavy artillery On Thursday 15.01, Putin sent a letter to Poroshenko, proposing a plan on pulling heavy weapons from the front line. The letter was recieved on Friday. Kiev did not respond positively to the proposal, and did not propose any other plan instead. --Resup (talk) 17:30, 18 January 2015 (UTC)
Report from Dmitrii Stepashin "The punishers offensive failed. The opolchenie took Peski, hovering over Avdiyivka, came under Mariupol, Kiev started preparing to go to negotiations in " Minsk format. "Zaharchenko gave a press conference. I hope counteroffensive of opolchenie will go simultaneously with the talks in Minsk. For greater clarity. Kiev just does not understand it the other way. The vitality of modern cities during the war just amazing. Yesterday, only blinking light, and that's all. " --Resup (talk) 09:27, 19 January 2015 (UTC)
Ukraine reports accept stat checkpoint 31 is lost and Krymskoe (Luhansk region) will be lost as a result (rusvesna)--Resup (talk) 17:18, 20 January 2015 (UTC)
LPR tanks broke through in the direction of Bahmutovka, took Zhelobok village, and are storming checkpoint 29. 24-th brigade is under threat of being surrounded, and takes losses --Resup (talk) 17:18, 20 January 2015 (UTC)
Lavrov, Kerry discuss Ukrainian problems, Syrian crisis by phone TASS-English. "The minister stressed the necessity to cease fire as soon as possible and start withdrawing heavy armaments of the conflicting sides from the line of contact in line with the Minsk agreements" . Also Normandy quartet FM to meet in Berlin on 21.01. Lavrvov is said to go to there. And UNSC meeting on 21.01 as well. --Resup (talk) 01:24, 21 January 2015 (UTC)
TASS (English) Foreign ministers of the "Normandy Quartet" have agreed to support the pull-back of heavy weapons in Ukraine and to continue meetings of the Contact Group on Ukraine, Russian Foreign Minister Sergey Lavrov said on Thursday after the end of the Berlin meeting in the so-called "Normandy format" comprising Russia, Ukraine, Germany and France. Russian version of the article: Lavrov called the outcome "quite significant" as it make official "the contact group format, where "opolchenie" are in direct contact with the authorities in Kiev. "Direct dialog between Kiev and self-proclaimed republics of LPR/DPR, strengthening of such direct dialog, is the key to resolve the deep Ukrainian crisis" --Resup (talk) 00:05, 22 January 2015 (UTC)
Opolchenie member Fomich: LPR advances towards Debaltsevo, Popasnoe (or maybe Popasna rather) to join and help DPR,. Also, fighting nearby 31, 29 checkpoints, Krymskoe reported. Ukrainian side attempted to destroy bridge leading to LPR (not sure what is the exact location). Bridge received a big hole from explosion, but did not collapse; trucks cannot pass now. People arriving from Ukrainian side reported that Ukraine tried to prevent them going back, demanding some documents. --Resup (talk) 15:05, 22 January 2015 (UTC)
Peskov: Kremlin is cautiously optimistic about a meeting of Kiev representative Viktor Medvedchuk, Zakharchenko, and Plotniskii in Donetsk on 27 January. Further progress may be achieved if an official representative of Kiev for Minsk negotiations will be appointed (I am not quite getting that, Kuchma is not an official representative of Kiev than? Kuchma signed Minsk Protocol as "second President of Ukraine", so they consider it not binding for Ukraine ?) . Viktor Medvedchuk is believed to have Putin as godfather of a child, and played a role in negotiations before, dealing with recent official big prisoners exchange. At this time, it resembles some sort of mutual face-saving operation, so it all depends what will follow. (I am not sure how Medvedchuk is more official than Kuchma; but somebody came to Donetsk now, and talked to DPR/LPR directly. Previously there was no direct contact as Kiev refused it.) --Resup (talk) 06:39, 27 January 2015 (UTC)
Peskov: response from Poroshenko on Putin's letter was "received" and "studied" . Received on 26 of January. According to Lavrov, there is a feeling that Poroshenko in principle is prepared to discuss the matter. No further info was provided. --Resup (talk) 23:35, 28 January 2015 (UTC)
Poroshenko discussed tri-lateral format with leaders of France and Germany. --Resup (talk) 23:35, 28 January 2015 (UTC)
Another contact group meeting is expected on 30 January in Minsk. Zakharchenko and Plotniskii require an official Kiev representative to be appointed (Kuchma exact authority being unclear), but send a negotiator to Minsk anyway, in the hope that an authorized Kiev representative will be appointed --Resup (talk) 22:39, 29 January 2015 (UTC)
DPR, LPR negotiators arrived to Minsk; Kievan delegation has not arrived (yet?). Kiev expects republics leaders, not negotiators. While republics leaders expect to have officially appointed by Kiev representative (as authority of a retired ex-president Kuchma is uncertain) --Resup (talk) 15:57, 30 January 2015 (UTC)

Novorossia specified conditions for republics leaders to attend Minsk: ceasefire in place (otherwise to busy with war), and appointing Kiev representative by an official act (specifying authority granted and responsibility if agreements not followed). Kiev delegation apparently not arrived. --Resup (talk) 18:47, 30 January 2015 (UTC)
29.1 Poroshenko met with OSCE, Zurabov, Kuchma and proposed an immedeate meeting in Minsk. DPR, LPR work on final documents based on meeting with Medvedcuk in Donetsk.--Resup (talk) 03:05, 31 January 2015 (UTC)
30.1 Pushilin: ready for an immediate ceasefire based on the actual front line. Kuchma: going to Minsk on Saturday morning, predicting/hoping for a consensus. A final document is being prepared. --Resup (talk) 03:05, 31 January 2015 (UTC)
Pushilin: in Minsk, sides exchanged their views, but disagreements remain. Republics are for the separation line based on actual front line; Ukraine insists on returning to 19 of September line, which since changed. Republics are against moving line closer to cities, which were shelled by Ukraine. They demand a ceasefire order issued by Poroshenko, prior to leaders of the republics going to Minsk. Negotiators also voiced concern over their information about an attack planned by Ukraine. While Kuchma blamed negotiators, non-arrival of republic leaders, for the lack of progress; insists on going back to 19 of September agreement without preconditions. --Resup (talk) 19:08, 31 January 2015 (UTC)
Ceasefire proposals on the table
Putin proposes to stop shelling and pull back from current separation line (Russian version says, a map was attached). Ready to work with OSCE to monitor situation. (Reaction of Ukraine so far is described by Russian FM as not giving an answer. Also FM says that Airport was supposed to go to DPR under Minsk agreement, but something else was still not agreed). --Resup (talk) 22:09, 18 January 2015 (UTC)
Detail from Putin letter: stepping back based on factual separation line, according to the map attached. (Well, on practical side, hard to imagine anything else is possible). --Resup (talk) 07:30, 25 January 2015 (UTC)
In the meantime, reports of opolchenie entered Peski, place used by UAF to shell Donetsk and airport for a long time. In Mariupol, it is said that UAF checkpoints were fired on near Mariupol (translated at fortruss). --Resup (talk) 22:09, 18 January 2015 (UTC)
Ukrainian FM: "On November 13, 2014 representatives of Ukraine and Russia signed a working document which provided a clear schedule of implementation of the Minsk memorandum, including securing of the bilateral ceasefire, withdrawal of heavy weapons and return to the line of demarcation.
The Russian side withdrew its signature from this document. Today Ukraine once again appealed to the Russian Federation with a proposal to sign a timetable for implementation of the agreements is Minsk as amended on 13 November, and to provide the ceasefire from 19 of January.
We believe that it will allow to immediately cease fire and protect civilians in the region from attacks by militants, which they stage for the last last four months. Starting strict implementation of this document will create appropriate conditions for the near future Tripartite Consultation Contact Group meeting of Foreign Affairs Ministers of Ukraine, France, Germany and Russia, and later - Summit of Heads of State and Government in Astana. We demand that the plan is finally completed.
Ukrainian side is ready to participate in consultations of the Trilateral contact group of Minsk agreements signatories at any time, which was clearly demonstrated during the Skype conference on December 19, 2014 and January 9, 2015, and the last contact group meeting in Minsk on 24 December 2014.
Russian President has repeatedly reaffirmed its commitment to the implementation of Minsk agreements in full and without exception. This position was announced including during multilateral summit in Milan".
"The SMM met the Ukrainian and Russian heads of the JCCC, who said that the two of them had agreed a draft schedule for gradual disengagement. The draft document, which they signed at the end of the meeting, proposed three phases: a ceasefire (two days); withdrawal of heavy weapons (five days); and disengagement of forces to the line of contact referred to in the Minsk Memorandum (21 days)".
Well, don't know, schedule is OK, but the rest does not seem to be a realistic expectation under the current situation on the ground. The demarcation line has changed, and was not fully agreed in all subsequent talks. Currently Novorossia is making advances. So they cannot seriously expect for them to now turn around and withdraw? The best deal they can hope to get, realistically, is that demarcation line is along the current front line. Novorossia really wants the line to be on regional borders, so even that one may be a hard bargain to get. This appears to be not a serious proposal at this time, and more like something designed for the Western audience, for the purpose of exerting additional pressure on Russia. With troops advancing, it is doubtful Russia will be in great rush to get the deal proposed by Ukraine. --Resup (talk) 01:01, 19 January 2015 (UTC)

Mikhail Zurabov, Russia's Ambassador to Ukraine, said that Kiev is ready to accept Putin plan as basis (rusvesna), with some reservation. Those reservations are said to be technical in nature, however that needs to be clarified in the next few days. --Resup (talk) 17:18, 20 January 2015 (UTC)
Putin address to Russian Security Council. Ends with "there is no other way to solve such conflicts but through peace negotiations and political means". (Kremlin watchers note use of LPR, DPR, "official Kiev", "criminal orders" language). --Resup (talk) 03:32, 24 January 2015 (UTC)
Cassad published lots of details on Minsk and maps, using Ukrainian sources. Airport was supposed to be given to Novorossia in the first place. Latest proposal from Putin is to use actual front line for separation. --Resup (talk) 23:27, 25 January 2015 (UTC)
Putin offers Ukrainian conscription-age folks to stay safe in Russia, to avoid being drafted to UAF (Hmm, rather unconventional suggestion). Characterized UAF as "NATO's legion". --Resup (talk) 17:54, 26 January 2015 (UTC)
Mozgovoi calls for fighters on both sides to stop killing each other (translated)--Resup (talk) 00:18, 30 January 2015 (UTC)
Minsk-2
OSCE 23 December 2014: At the JCCC Coordination Group in Donetsk, the SMM met Ukrainian and Russian armed forces officers and a member of "DPR". As reported at JCCC HQ, the JCCC representatives stated that they were planning a joint working group meeting in Donetsk on 26 December in order to discuss future joint patrolling plans and future rotations of the Ukrainian Armed personnel stationed at Donetsk Airport. --Resup (talk) 04:37, 25 December 2014 (UTC)
24.12 Pushilin: The contact group meeting is to start at 15:00 local. Agenda: (1) disengagement and moving heavy weapons from contact line (2) POW exchange (3) ending economic blockade of Donbas (4) special status for Donbas --Resup (talk) 06:52, 24 December 2014 (UTC)
In the meantime, Mr. Poroshenko is military-economically training himself. "Petro Poroshenko has noted that the developments in the Donbas required adequate reaction and a series of measures on the protection and restoration of sovereignty and territorial integrity of Ukraine". There is little suggesting a change in Ukrainian propaganda, either. --Resup (talk) 07:43, 24 December 2014 (UTC)
First meeting ended after 5.5 hours. No comments to reporters. Talks characterized as difficult, discussions today are "preparatory". Whether there will be another meeting, when, and on what agenda, is open at this time. The main issue Pushilin would want to highlight is prisoners exchange in the format all-for all. Zakharchenko: on other items on agenda, Pushilin has not received specific instructions, but will report back and we will make our decisions. English version, a bit less detail. Lavrov sounds hopeful on front line disengagement, in addition to prisoners exchange --Resup (talk) 20:03, 24 December 2014 (UTC)
25.12 "The Minsk talks continue, but it is early to talk about any agreements. The only thing I can say that we succeeded in reaching agreement on the exchange of prisoners on the 'all for all' basis — 150 for 225," the talks are not over and they are still underway," adding that they are currently held in the "format of Skype conferences." "I believe they will continue for about two days and the date for the next meeting will be agreed upon," he added. (TASS). Also: Zakharchenko said Kiev authorities are getting ready to wreck the Minsk negotiations and start a full-on assault against the unrecognized republic. He said that the recent shut-down of airports in major eastern cities of Zaporizhia, Kharkiv and Dnipropetrovsk was connected to Kiev receiving military aid from the West. (TASS)--Resup (talk) 14:16, 25 December 2014 (UTC)
Ukraine claims separation of sides work is on-going. SNBO_buffer zone creation continues. This map presumably shows separation line. Novorossia says heavy weapons were not moved by Ukraine. In the meantime, Poroshenko continues to boost military. --Resup (talk) 14:32, 25 December 2014 (UTC)
UAF General-Major Rozmaznin says that heavy weapons will be pulled back after December 26--Resup (talk) 17:22, 25 December 2014 (UTC)
27. 12 There may be a room to take the next step and start pulling back heavy weapons; plan is ready, whatever help can come from outside is already indicated. If there is not enough will and drive to make the next step, current calm will be reversed, and it will be back to a dangerous and bloody situation with unpredictable eventual outcome. (Probably more radical forces will come to play in the latter case).--Resup (talk) 16:52, 27 December 2014 (UTC)
OSCE reports " working together (little said by participants of 'working together' themselves). "On 24, 25 and 26 December, at the JCCC headquarters in Debaltseve (55km North-East of Donetsk), the SMM observed officers of the General Staffs of Ukraine (GSU) and the Russian Federation (GSRF), as well as members of "Donetsk People's Republic" ("DPR") and "LPR" working together. GSU and GSRF officers handed over joint incident logs indicating 42, 25 and 43 reported ceasefire violations for 24, 25 and 26 December respectively. On 26 December, they said, four violations had been reported near Horlivka and Piski. Generals Razmaznin (GSU) and Vyaznikov (GSRF) said that the JCCC was trying to reduce tension in Horlivka".--Resup (talk) 07:36, 28 December 2014 (UTC)
12/28/2014 Rusvesna: "DPR announced a meeting of opolchenie and occupiers in Donetsk". "On December 29, Defense Minister of breakaway Donetsk People's Republic Vladimir Kononov will meet with representatives of the Ukrainian armed forces in Donetsk . The parties will attempt to agree on compliance with the Minsk Agreement, to find common ground, and to work out a common position. The meeting will be held behind closed doors. After the meeting, Defense Minister Donetsk People's Republic Vladimir Kononov will make an important statement to the media".--Resup (talk) 18:53, 28 December 2014 (UTC)

DPR: DPR Defense Minister Vladimir Kononov met with representatives of the Armed Forces of Ukraine, in DPR Government House. The talks were held behind closed doors. The parties discussed three issues: a cease-fire, the withdrawal of military equipment and the exchange of prisoners. This was reported by the Center for Public Relations of the Ministry of Defense of DPR. It is assumed that a debriefing meeting (literally "drawing up conclusions of the meeting") will be held in Luhansk on 31 December.--Resup (talk) 14:54, 29 December 2014 (UTC)
Poroshenko announced a meeting in Normandy format (i.e. Ukraine, Russia, Germany, France) in Kazakstan capital Astana on 15 of January; Russia says date is "possible"; Germany does not confirm--Resup (talk) 14:54, 29 December 2014 (UTC)
Minsk 2 outcome
12.02.2015 Two documents were agreed:
on measures on implementing Minsk protocol (English language PDF here). Ceasefire starting on February 15; separation of heavy weapons (from actual line for Ukraine, and from September 19 line for Novorossia; this enlarges separation), starting in 2 days from ceasefire, finishing in 14 days. All for all prisoners exchange, to finish in 5 days from separation begins. Time limits are given for all major steps. Return of border control to Ukraine is agreed to occur after local elections and constitutional reform (taking interests of breakaway regions into account)
declaration of support of Ukrainian peace settlement. This includes support and control of implementation.
10.02.2015 Contact Group agrees (a plan of) heavy troops withdrawal, ceasefire regime -TASS
It may be the case that sides do not make binding obligations, but approve and support listed measures (language is a bit vague, if something is broken later, or sides do not agree whether later vague steps actually occurred, not clear exactly what will follow)
Plotniskii, Zakharchenko press statement (English subs)
Still no direct contact between official Kiev and Novorossia. -(Mentioned by Putin in his press statement as one of the reasons negotiations took so long, had to go back and forth with Trilateral Group).
Further updates on Ukraine news page --Resup (talk) 02:18, 16 June 2015 (UTC)
How Kiev Sees It
Tymchuk is his new blog gives away a lot between the lines about what the are thinking about how to mess up Novorossia.
Novorossia military commanders, like Mozgovoi, also seem to continue thinking in negative ways and not trusting ceasefire ... Hope it will stay at a talking level... And Tymchuk does not come across as realistic in his assessments.
They want to build fortifications to keep them in.
This may be unrealistic to implement. USA cannot do it with Mexico, there chances are not better. If there is no fighting, there is no point; if there IS fighting, it is quickly back to heavy fighting, and fortification will not stop it.
Also seems to think the militia will be under the control of local councils in a way that seems he thinks those will NOT be under NR control.
At the moment, the real power in NR is militia, and political power is either the same or at least not in disagreement. Likely it will stay that way, or slowly evolve. Attempt to change it quickly or forcefully will either fail as some empty talk, or may lead to unintended outcome of NR military commanders taking more power and deciding things based on military, rather than political, considerations (and at this time, they are doubtful of ceasefire and suspect it is a trick to stop them moving West, like all the way to Kiev [4]) .
And the "lustration" is clearly designed to remove any pro-Russian or pro-Donbass or pro-Party of Regions people.
I do not really understand lustration, but it seems to me that lustration is like continuation of maidan, by other means, and what it will lead to in practice is not too clear. There are other areas in Eastern Ukraine, with quite strong Russian connections, and there is Western Ukraine, which is not the same as Kiev; and there are oligarchs who have money and so are the real power . Can't say how all of that may end up, especially if maidan-style determined.
This does not look good. Nor does the 3-year bit. What happens in year 4? KatKan (talk) 01:22, 24 September 2014 (UTC)
Does not look too good (not just NR but also the rest of Ukraine), indeed. And 3 years sounds like long into the future; there was a talk on reversing special rule on the next day after it was voted by Rada; I read somewhere that there are two versions of the law (differing on how special rule area is determines -either by another Rada law, or by some anti-terrosrist Tsar' ; and as I understand, neither version is signed yet to become a law of the land). NR takes the view that what happens in Ukraine is happening in a foreign land; it's not ideal, but may be hard to change quickly. --Resup (talk) 02:38, 24 September 2014 (UTC)
It is announced [5][6] [7] that President Poroshenko signed a decree "On urgent measures on defending Ukraine and strengthening its defense capabilities" (President of Ukraine web site was quoted; do not see it there at this time). It is reported that what's involved is a change of military doctrine, revision of non-block status, and increased cooperation with NATO (including request for a military assistance from USA and UK) ; parts of the new decree are secret. Also it includes demarcation and temporary closure of the border with Russia. According to Novorossia, no chance of this to be implemented in Novorossia. --Resup (talk) 08:04, 25 September 2014 (UTC)
Still no "urgent measures.." document on President Poroshenko site, but there is "Strategy of reforms 2020" the goal is to conduct reforms to apply for EU membership in 2020. "Security of the State, businesses, and citizens" is one of the three main reforms directions. It is curious that there is heavy linkage of reforms with the EU membership, not just reforms for the Glory of Ukraine, and we will see about memberships. (For Ukraine to decide,--- but as a part of it, I would consult Bulgaria, comparable economy and mentality, whether EU membership made them happy; and normal folks, not oligarchs, who lived by themselves in the EU--how happy were they there; whether or not this will change the outcome, it may give a level of detail to the perspective, which currently appears missing). --Resup (talk) 13:05, 25 September 2014 (UTC)
Said to be a likely governor of pro-Kiev Donetsk area, an interior troops general
Taruta is out, Kihtenko is in --Resup (talk) 05:29, 11 October 2014 (UTC)
First pictures -- fence with barbed wire to keep out RUSSIA.
https://www.facebook.com/TruthfromUkraine Very good blog that, heaps and heaps of fresh news. I'll try to find a way to put the actual picture. HAHA it is not going to work, look at that Russian photographer, must be Russian, he's on other side of the fence, spying on them already. KatKan (talk) 18:48, 15 October 2014 (UTC)

Lyashko, radical party nationalist to be the next Rada speaker? Poroshenko is said to offer him the post. Lyashko said he had turned down the offer because he wanted the post of prime minister to "radically change the economic situation in the country." (Poroshenko's reported offer could not immediately be confirmed by the presidency). In August, Amnesty International has raised its concerns about Lyashko " "detaining" – in effect abducting – and ill-treating individuals across the region". --Resup (talk) 16:17, 21 October 2014 (UTC)
President instructed to dismiss Deputy Prosecutor-General and Deputy Minister of the Interior (hope not to make room for Lyashko)? --Resup (talk) 16:31, 22 October 2014 (UTC)
Multi-national team of organ traffickers arrested in Kiev --Resup (talk) 18:16, 22 October 2014 (UTC)
"If we build a new strong economy, a country without corruption, establish the rule of law, we will live in a new way," the President of Ukraine noted.
Oleg Tsarev, a (wanted) MP-Party of Regions, from Dnepropetrovsk, Ukraine, gave interview on Ukraine elections. Rada Ukraine elections are said to be determined by 4 oligarch "moderators", Poroshenko, Ahmetov, Levochkin, Kolomoiskii, who effectively determine party lists. In Poroshenko block, 1/3 of candidates are said to be 'Kolomoiskii people'. Candidates opposed to war are said to be only in Opposition block, which may fail to pass the barrier. "Many of my colleagues do not go to Rada any more, they call it "execution." Many move their families away from Kiev, those who do not have "power" (armed) protection. Their mainstream opponents are creating their own private armies." (So only oligarchs have enough resources to afford those private armies).
(Flashback: US Assistant Secretary of State for Europe, Nuland said: "Since the declaration of Ukrainian independence in 1991, the United States supported the Ukrainians in the development of democratic institutions and skills in promoting civil society and a good form of government – all that is necessary to achieve the objectives of Ukraine's European (aspirations). We have invested more than 5 billion dollars to help Ukraine to achieve these and other goals. " Nuland said the United States will continue to "promote Ukraine to the future it deserves.") --Resup (talk) 11:57, 24 October 2014 (UTC)
Rada elections, preliminary results, around 22 % each for Narodnyi front (Yatseniuk) and Poroshenko block; close to 11 % for Samopomosh ("self-help", Lvov Mayor Sadovyi a leader); also Opposition Block, and radicals (Lyashko), and Batkovshjina (Timoshenko) seems to be making it above the 5% cut.
These elections "are based on a mixed-member proportional representation. According to the law, 225 deputies will be elected on party lists and 225 in single-member constituencies. However, given that the elections won't be held at 12 single-seat constituencies in Crimea and Sevastopol, as well as at 15 constituencies in Donetsk and Luhansk regions, at most 423 members of parliament out of 450 will be elected". --Resup (talk) 13:37, 27 October 2014 (UTC)

Poroshenko block hopes to get 130 seats (Kyiv post). Apparently, his block did well in single-member constituencies, in addition to having about 22% on party list basis. --Resup (talk) 23:20, 10 November 2014 (UTC)
01.11 Poroshenko backs Yatsenyuk to remain PM. Yatseniuk party is slightly ahead of Poroshenko block (~22% both) in Rada vote; the winning faction nominates the PM. --Resup (talk) 06:10, 7 November 2014 (UTC)
07.11.14. Still no official final Rada elections results. Election protocols from 59 voting district were illegally removed by losing candidate in Kiev-controlled part of Donetsk region, armed men said to be SBU 'Alpha' seen present. --Resup (talk) 06:26, 7 November 2014 (UTC)
Official results on party lists are published, (Kyiv post). --Resup (talk) 23:44, 10 November 2014 (UTC)
18.11. Yatseniuk, after meeting Norway PM Erna Solberg, said "We invite Russia to conduct appropriate serious negotiations on a neutral territory", without iving any further details. "Everything depends foremost from the Russian President, and his cohort, if he would wish and have enough political will to stop this was in Ukraine". (Not sure what to make of this, we will see. He was 'running wide,' as they say in racing, couple of times in the past. -But good if it can be stopped. To have it stopped now does require leadership, it will not just stop itself). --Resup (talk) 22:14, 18 November 2014 (UTC)
16.11.14 (or around) Poroshenko gives an interview to Bild Interview apparently does not seem to appear in full, and various sources use various favorite parts, like that Ukraine is ready for war. "I can say that Ukraine has implemented all of the peace treaty, which we have announced, we are ready for compromise and believe that the conflict can not be solved militarily. By contrast, Russia promises something and does the next day exactly the opposite. " "We do not want war, we want peace and fight for European values. But Russia will not stick to agreements. " On the question whether he was afraid of a war with Russia: "I have no fear of war with Russian troops and we have prepared for the scenario of a total war. Our army is in a much better state currently than five months ago and we have the support from all over the world. We want nothing more than peace, but we must also deal with the worst scenarios. "
To interview statements by Putin in the ARD, which he would not accept a defeat of the separatists, Poroshenko said: "So far, Russia has always done so in public, as if they had nothing to do with the separatists. If Putin admits his influence now, then he has to take responsibility in his own country. I do not think that Russian mothers understand why their sons to fight and die in the Ukraine. Our countries were close for 300 years, many families are mixed. "
on NATO membership "There are prospects for joining the EU. Even if we asked for membership in NATO, the Alliance is probably not yet ready for it. Only if we carry out reforms in Ukraine and will meet the criteria, we can ask the people in Ukraine, whether they want NATO "- said Poroshenko. liveleak (also on Itar-Tass). But NATO answer is not in Bild online?
In the embedded video, claims that Ukraine is fulfilling all Minsk obligations, not giving Russia any chance for provocations, and does everything including special procedures for the special local elections (? a strange thing to claim now). Says "it is vitally important to stop killing the people." Not clear why he as a commander in chief cannot actually stop it, if this is want is really vitally important, and not something else. --Resup (talk) 14:14, 21 November 2014 (UTC)
I follow the "interviewer" on twitter. He's an utter douchebag, to a comical extent. Checked his timeline. There is nothing but the BILD-Article/video you already linked. It's quite possible that those two minutes are indeed all there is and this "Interview" was just Porky giving some brief talking points and the "Chefreporter" nodding a bit for the visuals. --CE (talk) 14:32, 21 November 2014 (UTC)
24.11 Poroshenko says that decision on joining NATO will be decided on referendum. Indicates desire that Ukraine qualifies, condtions are '95% similar to joining EU'. In the meantime, Lithuania's Griabuskaite offers 'weapons' and joint military exercises. --Resup (talk) 16:50, 28 November 2014 (UTC)
"95% similar to joining EU", is that Ukrainian for won't happen? --CE (talk) 16:57, 28 November 2014 (UTC)
Ukraine is getting more aid, second tranche of EU is expected to be announced by the end of the week. Reforms are expected in return for aid. --Resup (talk) 16:26, 1 December 2014 (UTC)
9.12 In Mariupol port, shoot-out between police and Azov batallion which informally controls the port. This has to do with some economic shadow dealings. Port director was questioned. The port is considered a state enterprise, and until recently was controlled by Akhmetov. But lady port worker related that now 2 piers are controlled by Lyashko, with somebody else apparently behind him --Resup (talk) 01:05, 10 December 2014 (UTC)

Poroshenko watches too much of his own TV channel? "Please stop the fire. Please release the hostages. Please withdraw your troops from my territory," Poroshenko said in a joint press conference with Australian Prime Minister Tony Abbott. "Please close the border. And I promise if you close the border, within one, two, three weeks, we have peace and stability in Ukraine. Very simple." Russia denies giving military backing to the rebels in Ukraine but Kiev and Western governments have presented an abundance of evidence to the contrary. The Western-backed Poroshenko said Russia was isolated globally. "I just want to make it clear, Ukraine makes a war not only for our own independence, not only for the territorial integrity, we're making war for freedom, democracy, for peace," he said. "The whole civilised world, European Union, Australia, Canada, United States, Japan, the whole world is together with Ukraine and Russia stays in isolation." Abbott reaffirmed Australia's support for Ukraine in its fight against pro-Russian separatists. Australia press conference.
What troops? Fighting is done by locals or volunteers. There are few Russian military, but they are there for the ceasefire negotiations. What hostages? Novorossia was happy to exchange for a long time, doing one sided releases once in a while. (It is curious how those bozos, who have to produce propaganda as part of their job description, than start to believe it themselves; than start to force their unlucky subordinates into it. Seen it enough already). --Resup (talk) 02:32, 11 December 2014 (UTC)
12.12 More tall tales from Poroshenko in Australia: "preliminary results of the investigation confirmed that the plane had been shot down by the Russian missile. "Investigation data indicates that the plane has been shot down by the missile system "Buk-M", which had been delivered from Russia together with the crew of the missile system" , "Donetsk People's Republic and Luhansk People's Republic must be recognized as terrorist organizations". (Yeah. War is peace. Ignorance is strength). --Resup (talk) 08:12, 12 December 2014 (UTC)
10.12 [8] Ukraine border patrol: Russia has agreed to withdraw from 3 small spots on Ukrainian border with Crimea by 9 December, but has not done so. Earlier report by Ukrainian side said this withdrawal had started. Agreement appears to be a part of Joint Center for Control and Co-ordination (JCCC) ceasefire agreements. Included are 8 km on Artbatskaia Cape/'Needle'/'Arrow' (Арабатская стрелка) near village Strelkovoe (Стрелковое); 2 km at a crossing point Chongar ( Чонгар) , 1 km at peninsula Ad(Ад) (cape Kazantip - (Казантип) ). --Resup (talk) 22:33, 16 December 2014 (UTC)
Semeon Semchenko, ex-commander of Donbas battalion, now Rada deputy of Sadovyi's 'Samopomosh' party, is shown here in the company of "separatists" taking over Donetsk city administration. This is the same Semchenko who went to see John McCain and ask some weapons. (Hmm, can McCain now be sanctioned for undermining territorial integrity of Ukraine? )--Resup (talk) 23:35, 19 December 2014 (UTC)
Kievan Union? Lukashenko in Kiev; Nazarbaev to arrive on Monday... Poroshenko: [9]: Ukraine can facilitate the development of relations between Belarus and the EU countries within the Eastern partnership]. "We are interested in supporting Belarus in the context of developing relations within the Eastern partnership if it considers it possible ," the Head of State noted in the course of the negotiations between the delegations of the two countries in expanded format.--Resup (talk) 00:39, 22 December 2014 (UTC)

After watching some Poroshenko channel 5 TV, with some talking heads from National Guard and politicos, did not get an impression that Kiev is serious about those negotiations. What people were saying was of the sort: Minsk was good for us to improve our military preparedness. Now, we should use that to help Russia off Donbas. To do this, we need to close border, so that those rebels will have to lay down their arms. And than we are going to help them. Right now, they are are rowdy bunch. While we do not respond to their provocations, they are shooting all over the place to settle there business dealings. So with out us taking over, this is going to continue forever. Actually, maybe we should not talk to those rebels at all. We should ask our Western friends to keep those sanctions pressure, so that Putin regime collapse. It is about to, already. And than we need Geneva or Normandy format to pressure Russia even more. And let us have another round of mobilization in the meantime, as soon as possible, right after the new year. And get more weapons. Only with strong army we will see them off. Something like this. So this is a plan where one side has to loose, basically. The problem with the plan, that after considerable more pain on both sides, they will be the ones to loose. And also, it may start even more serious clash between Russia and the West. Putin is not going to pack his bags and go, and certainly not for ruble exchange rate. Hope somebody can kick their fat bottoms, not literally, so that it won't come down to even worse situation than we have now. --Resup (talk) 01:55, 25 December 2014 (UTC)
Medvedchuk (whose child has Putin as godfather) is participating is involved by SBU in prisoners exchange negotiations --Resup (talk) 07:39, 25 December 2014 (UTC)
Parubii: "It should be clearly understood that the main task of Ukraine is to have the most prepared army, so that one day at dawn we could with one lightning strike expel Russian fighters and occupiers from the country".--Resup (talk) 07:39, 25 December 2014 (UTC)
04.01. 2015 "What we were promised by our partners from Lithuania - regarding weapons - we've got it. Got the first batch of warm clothes, boots, accessories from Canada - and now wait for another two planes; we received a shipment -a convoy from Poland, ie all the agreements we reached with our other partners last month - they all fit into a clear supply timetable. So that --as we have our troop rotation, linked with the fourth mobilization round,--- the soldier who is mobilized is uniformed, supplied, have body armor and all that , "- said President Poroshenko.--Resup (talk) 22:52, 4 January 2015 (UTC)
Poroshenko: we won the battles, kicked them in the teeth. Says in particular: The Head of State has offered to grant decorations to "cyborgs" who bravely defended the Donetsk airport. "We have coordinated actions, accumulated reserves and if the enemy is not willing to comply with the ceasefire regime and put an end to the suffering of civilians, we will fight back " (Russian and Ukrainian versions give it as "give them a kick in the teeth") --Resup (talk) 20:00, 22 January 2015 (UTC)
A Ukrainian journalist version of the airport and the follow-up fiasco . Can be google-translated. Of the sort, tanks broke down, it was foggy, so the rest lost their way. Others heroically called artillery strike on themselves at the airport, but the ceiling collapsed. Etc....--Resup (talk) 20:18, 22 January 2015 (UTC)
Dnepropetrovsk
Assistant Governor Gennady Korban: this war may go on for 3 years; "Kiev is between war and peace"; "one needs to decide - there are only two solutions, war or peace", "who is negotiating now? Kuchma? He is not suitable for an agreement (недоговороспособный) . Fascinating video interview with him linked in the article; explains why there is no separatism in Dnepropetrovsk-- (Because they suppressed it; using whatever means ). --Resup (talk) 21:43, 31 January 2015 (UTC)
On March 25, 2015, Ukrainian President Petro Poroshenko signed a decree dismissing Kolomoyskyi from the post of Dnipropetrovsk RSA Head, saying "Dnipropetrovsk region must remain a bastion of Ukraine in the East and protect peace". Kolomyskyi was replaced by Valentyn Reznichenko --Resup (talk) 02:18, 16 June 2015 (UTC)
Odessa
On 30 May 2015 Poroshenko appointed Saakashvili Governor of Odessa region. Previous history of adventurism and suppression of opposition, and some further evidence points towards his possible role in managing future provocations in Transnistria
Other faces in Kiev
As I recall, this Lviv Mayor interview was posted by the rebels awhile ago. Unfortunately, in the hindsight, his pro-peace stance was not realized by the developments on the ground, still there is a strong message which still remains. Andrey Sadovyi, Lviv Mayor, 2 March 2014 " (3:18) "Yes, we are all to blame that during the period of independence (of 23 years), we were unable to build the country of our dreams. But in the future, this task can only solved by you and us together. Neither Moscow, nor Brussels, nor Washington will not do it for us. Let's see eye to eye, let's see that we are soulmates/are from the same family, and not let the hatred to enter our hearts ...Our strength is in unity " (And in the beginning, he reminds that Lviv changed hands 7 times in the last 100 years). --Resup (talk) 17:27, 25 September 2014 (UTC)
ATO
The order to start ATO was issued on 14 April, 2014 by Turchinov as acting president. Control was delegated to Parubiy. Parubiy was a Secretary of the National Security and Defense Council from 27 February 2014, and resigned on August 7, 2014 (reason for resignation was not explained). That post was taken by Turchinov on 16 December, 2014. According to an opinion of Strelkov, expressed in an interview today, Turchinov views peace as a tactical military tool to regroup and rearm, and than defeat opolchenie. ( Hmm, not sure, don't know enough about Turchinov and what is that he is really after; but somehow he got a bloodthirsty reputation). --Resup (talk) 02:04, 23 January 2015 (UTC)
Turchinov, aka 'Bloodthirsty pastor'--name could be given as a joke; "pastor" as converted to baptism. From Dnepropetrovsk. Major in technology/metallurgy. Doctorate in economics. Quirky character. Seems to be driven by independence from Kremlin. Apparently was quite supportive of decentralization earlier. Indicated once that has other interests except trying to have and keep the highest office. Was second fiddle to Timoshenko for quite a while (there exist some violinists who would not want to be the first violin; not sure is it like that here.) --Resup (talk) 06:43, 23 January 2015 (UTC)
Martial law is still too early to introduce - Attorney General. News of Dneprodzerzhinsk, 23 January, 2015. Diplomatic means are no yet all exhausted. --Resup (talk) 08:14, 23 January 2015 (UTC)
How Novorossia Sees It
Signs of concerns or tension in Novorossia about possible military provocations leading to November 2 elections. Discussions of possible attacks on Donetsk, increased shelling, possible preparation for UAF aviation use, and all other conceivable unpleasant possibilities. Russia is flying some squadrons in Atlantic and re-checking misbehaving Bulavas just in case. Well, I guess, better be safe than sorry. --Resup (talk) 20:05, 31 October 2014 (UTC)
01-02.11.14 Humanitarian convoys from Russia number 4 and 5 arrived and left on 1, 2 November (They do need aid, humanitarian situation is bad. trucks on the road before and on election day can mean less shelling).--Resup (talk) 16:12, 2 November 2014 (UTC)
02.11.14 Long queues of voters in DNR and LNR--Resup (talk) 16:12, 2 November 2014 (UTC)
Two video interviews with Novorossia fighters, English subtitles. Yes, they all sound like that, and all say similar things. That they are brothers, but will not stop until all Ukraine is liberated from fascism, like in WW2. Fair enough, just how many fascists are out there? All on active duty in UAF? (That may be up to 70-100 thousands). Or all including reserve? That may run into 5-7 million figure, and is too far fetched for contemporary time. Even few more tens of thousands does not sound like a brilliant plan. They say themselves that fascism is in the heads and on TV screens. So maybe there is a shortcut? (Or just wait until another Maidan, does not look too far off). --Resup (talk) 05:42, 12 November 2014 (UTC)
yes, they all sound like that. They've gone from "fighting for my land" and "fighting to avenge a witnessed death" to "fighting for independence" to "fighting to liberate Ukraine from fascists". They can see no hope for their area if the neighbor is full of roaming bands of storm troopers. They can also see these damaging western Ukrainians and can see the start of opposition among those, too, so potential eventual collaborators with NAF to remove the Nazis. Government itself is starting to worry about the monster, so may not do much to prevent them being destroyed (and have not much forces to do this with anyway). Someone needs to take over the TV stations and start telling people what is really going on. KatKan (talk) 15:18, 12 November 2014 (UTC)
27.11.2014. Abkhazian delegation visited DPR . Cooperation, recognition matters were discussed, in particular sending DPR children to Abkhazia, and humanitarian assistance from Abkhazia. --Resup (talk) 14:07, 28 November 2014 (UTC)
More economic blockade/sabotage by Ukraine: an order issued by Energy and Coal Ministry of Ukraine to stop work in Donbass from 28 November. In LPR, it is reported that branches of Ukrainian banks are ordered to destroy money. Ukraine Rada to consider decree on canceling special status, not recognizing elections, 'adjusting information policies'. Ukraine plans to stop work of state enterprises and evacuate personnel. Lavrov notes that 'there is a thought' that it can ean not only economic strangulation, but also preparing an invasion to resolve matter by force. --Resup (talk) 14:07, 28 November 2014 (UTC)
11.12 Nationalisation? DPR Head Zakharchenko discusses businesses resuming work. Many owners have fled. Privatization papers are in large part in DPR possession (privatization would be quite recent event past 1991). There is no nationalization decision, but workers may decide to restart production, and elect a leader who can make it happen. Owners may claim ownership in courts by 'proving they deserve it' --Resup (talk) 01:34, 12 December 2014 (UTC)
Novorossia intelligence reports (1) warn about possible false flag provocations (since UAF troops, armored vehicles bearing Russian insignia were spotted) (2) note large quantities of mercenaries, and equipment, from NATO countries arriving (3) note further talk in Headquarters about resumption of ATO --Resup (talk) 09:31, 17 December 2014 (UTC)
Oleg Tsarev (Novorossia Parliament) interview. Explains that after all those bombardments and deaths, Novorossia currently cannot join Ukraine, under present leadership in Kiev. Indicates that it may be eventually possible, after some truth-and-reconciliation type process. Says that they work with representatives of other regions, including Zaporozhye, Dnepropetrovsk, Kharkov. --Resup (talk) 17:53, 21 December 2014 (UTC)
Givi gives some 40 min.interview. Ready to accept fighters from Batman group, calls for unity of all forces in Novorossia. Givi started in Slaviansk, in May. His group consists of locals, some 30-35 % each from Slaviansk and Illovaisk, 10-15 % from Khanzhenkovo near Krynka, more added from Donetsk Airport. Russian volunteers, like 1 or 2 %. Name Somali given to them by Motorola (who was shocked by brave rebels when he saw them). --Resup (talk) 16:01, 4 January 2015 (UTC)
Novorossiya goes on the attack
THE ATTACK IS ON NAF attacking. They let UAF think they are preparing to be attacked on Nov 2, and went out today in full force, heading north and south at the same time. With columns of new equipment including heap of serious rocket launchers.)

They started to get worried for the official elections in October, so than they may have some equipment outdoors to show. But it is not very likely they will get too adventurous (they are still most likely outgunned and outnumbered, and overall attitude is not to go too far from ceasefire). --Resup (talk) 01:43, 1 November 2014 (UTC)
They are doing early voting,ie taking mobile voting units to the villages. I guess they need to use serious force to get the ballot boxes to some places, like MARIUPOL.
They have Debaltsevo almost surrounded, they are close to taking Mykolaevka to close the cauldron. Have taken Krymske, Trokhizbenka and Heivka north of Luhansk. Too many other places I can't spell. Most are villages held only by a check point. I really DO wonder, is the ballot box team coming up behind them?
Ultimatum given army and Azov, get out of Mariupol NOW.
Here's some reinforcements arriving in [ https://www.youtube.com/watch?v=zgD5BNrbnHY Makiivka].
There are stories they found 290+ raped executed women in Krasnoarmeysk but then its denied then confirmed again, who knows? latest is Zakh seems to be saying that many all over, not just now in the one spot, but up to 400 women all over reported missing. Was a rumour a week ago about 200 in Mariupol, but nobody will really know until they rescue the city.
Supposed to be interesting videos but all in Russian, Bezler and Mogovoi talking to Ukrainian commanders,

Bezler was talking to 1+1 reporter, that ended in a fake on ukr. TV. Mozgovoi had couple of basically friendly chats, that they are the same people against the 'third force' and oligarchs, this type of punch line throughout. Talk about joint march on Kiev is mostly about shared values, not so much a practical plan. But this is simple guys/military guys talking, not those in charge (especially so on Kiev side). There is more like military rule in Novorossia, and this also has its obvious downside for Novorossia, as any other military rule, in the longer run. They do not have local government, or police, or courts (or prisons). (A woman in second Mozgovoi interview was mentioning that, offering help with some institutional things, in particular). --Resup (talk) 02:31, 1 November 2014 (UTC)
have a lot in common, feel the Nazis are the common enemy, vague understanding they might join forces if necessary, sometime. For now I guess these guys have to obey orders if they don't want be thrown to Right Sector. Here's all the links and discussion on Saker.
DPR
Aleksandr Zakharchenko, PM. interview, 8 September. Signatory of the ceasefire agreement.
Head of DPR after November 2 elections.
Vladimir Kononov, DM interview, 19 Sept 2014
Zakharchenko accepted resignation of Council of Ministers rusvesna (They have Supreme Sov('i)et = legislature, and Council of Ministers; they also have reconstruction council; exact memberships of all those is hard to get but is partially recoverable from DPR official site. All previously appointed leaders of ministries and services are told to continue fulfilling their duties until new structure of council of ministers is approved and new appointments are made, according to a documents signed by Zakharchenko on 4 November. Zakharchenko is DPR leader after elections on 2 November. Results were announced the next day. Zakharchenko received more than 70 % of votes, over 765 thousand people voted for him. (Currently minister of defence is Kononov, minister of health Кучков Виктор, minister of labor is Tretiakov minister of education and science Игорь Костенок, other names can be recovered from orders published on their web site dpr-council of ministers. As for Supreme Sovet, its Chairman is Борис Литвинов (Boris Litvinov), here on wikipedia. Few other Sovet members may be spotted on web site. Sovet defined on wikipedia here Советы (Russian, plural) , and in English Soviet (council). --Resup (talk) 23:00, 10 November 2014 (UTC)
Main topic of the new 3-way meeting in Minsk will be prisoners exchange. Currently, they do not get people they have on their list, and get somebody else. DPR will be represented by Денис Пушилин (Denis Pushilin) (DPR web site). --Resup (talk) 23:09, 10 November 2014 (UTC)
DPR said that recent much discussed military convoy was their troop rotation. Got lots of wrath for the convoy, and elections on UNSC, ending with Russian rep Alexander Pankin calling for not making it a propaganda platform unrelated to events on the ground, and calling the convoy report a fake (Tass). Not sure whether things moved anywhere by much, apart from some blame passed around, and concerns expressed. --Resup (talk) 22:48, 12 November 2014 (UTC)
Zakharchenko appointed ministers (dnr.today) Alexander Khodakovsky (Александр Ходаковский) was appointed the DPR Security Council's secretary rusvesna (russian), (Tass, English) . Khodakobskiy is ex-Ukrainian SBU's "Alpha" commando, than commander of "Vostok" battalion of DPR. He had some bad luck as a field commander though, his guys were hit by Ukraine air force in the Donetsk airport, and than 2 Kamaz with fighters were blown on the way from airport; he lost another truck and 20 fighters later . He also gave an interview misquoted by Reuters on Buk, with hypothesizing presented as a fact. Than he became a normal field commander without much media attention. Now returning back to DPR security council role.--Resup (talk) 22:48, 12 November 2014 (UTC)
Denis Pushilin: Minsk meetings should continue 'without a delay', negotiations without Novorossia will be a dead end. (Pushilin is now new official DPR representative in negotiations)--Resup (talk) 04:47, 14 November 2014 (UTC)
Various (over) publicized accounts of how military commanders are suffering from civilian leaders, and alternative publicized stories how civilian leaders are somewhat mishandling some things. In that list, under-financed Mozgovoi (LPR) is figuring out how to keep his people after funding cuts; Khmuryi (DPR) complaints that has to pay for everything out of his (apparently deep) pocket, while Khodakovski is doing a poor job; Cossack ataman Kozitsin is gone to Russia to 'rest' after some coal business dispute in town Antratsit. Apparently, somebody tries to weaken military guys (possibly as part of peace settlement?), while military guys not too happy with it (or possibly somebody would like to have Strelkov back and roll West?) Details may be found on Cassad and similar sources. --Resup (talk) 05:32, 1 December 2014 (UTC)
LPR
Ihor Plotnytskiy, President Signatory of the ceasefire agreement.
Head of LPR after November 2 elections.--Resup (talk) 17:49, 3 November 2014 (UTC) Shown in front of a fir tree--Resup (talk) 20:22, 7 January 2015 (UTC)

In October 2014 the Army of the Southeast has been transformed into a people's militia of LPR, and numerous battalions and units merged into several brigades.
2 separate brigade of the People's Militia (commander - Colonel Oleg Turnov).
4 separate brigade of the People's Militia (commander - Colonel Yevgeny Zhmurov) stationed in the town of Krasny Luch. The Deputy Brigade Commander - Alexei Pavlov, Sergey Stavichny, Dmitry Yeliseyev, chief of staff Alexander Bednov (killed)
Separate brigade "Odessa", Ministry of State Security LPR (commander - Alexey Fomin, the chief of staff Vladimir Shamanov). In January 2015 was reassigned to the Ministry of Defense, LPR.
Separate Special Artillery Brigade (commander - Colonel Alexander Babichev).
Detached commandant regiment of the People's Militia (commander - Colonel Sergei Grachev).
4th Battalion of Territorial Defence of LPR - formed on the basis of a separate motorized rifle brigade "Ghost" (Prizrak-Mozgovoi) April 2, 2015.
1st Cossack regiment them. Platov (commander Pavel Dremov).
This, and prior to October 2014 structure, is described in this wiki page (Russian)
Seems that at present there are no clear-cut reconnaissance and sabotage groups. Batman is killed. Cossacks not fully on board. In DPR, Petrovskii is gone to Moscow --Resup (talk) 06:52, 22 May 2015 (UTC)

LPR leadership, Mozgovoi, and Cossacks, announced that they are now united (previously, they were not).
Also, Mozgovoi sits in 1.20 hour skype discussion with three sane pro-Kiev volunteer battalion guys ( two from 8 Afgan veteran's Maidan 'self- defense' 'sotnia', one a commander of Donetsk platoon, Dnepr battalion). They fail to DISAGREE much, except minor differences on cosmetic matters like flag and naming things. All participants are USSR born, military-types, and from Donbass/Novorossia. Not too surprising there is little disagreement. They seem to just barely fell short of agreeing to Mozgovoi suggestion for a joint march on Kiev. But may be hard to translate this into something firm on the ground, none of them seem to get along well with their politico types (or with KGB/SBU/FSB types ...). Mozgovoi: "We are fighting with our mirror image." Maidan self defence: "Indeed". --Resup (talk) 00:49, 21 October 2014 (UTC)
15.11.14 "The public council reporting to the head of the self-proclaimed Luhansk People's Republic (LPR) and the LPR trade unions have called on the United Nations and the Organisation for Security and Co-operation in Europe (OSCE) to stop the Ukrainian army that kills civilians and destroys infrastructure in Donbass" (Tass, English)--Resup (talk) 20:45, 15 November 2014 (UTC)
Contradictory reports on commander Batman. Six of his guards killed, he is apparently killed,-- photo looks like him -- (with a hope that just arrested) (reports differ, and include rusvesna, his family, and Strelkov ). A version is an ambush by pro-Kiev side. (But a finger is pointed to Plotnisky as being behind (well, not a good idea than); this version is resisting arrest ordered for some inappropriate behavior; nothing confirmed). --Resup (talk) 22:30, 1 January 2015 (UTC)
Official confirmation from LPR received: "killed resisting arrest", by people's militia of LPR (=police).

Interview with members of Batman brigade: classic ambush and explosion under cars. Guys giving interview "Olymp", "Rybak", are Batman bodyguards from the second team, the first team went with him. "Rybak" brother was killed. Correspondent taking interview "Kot." Accusation was marauding; the guards say accusation is false. Ends with condolences, and assurance that the brigade will continue. --Resup (talk) 17:49, 2 January 2015 (UTC)
More interviews on Cassad. Two from videos of opolchenie, Fobos and Maniac, who run a prison in a basement, are are accused of cruel treatment of prisoners. Videos with Fobos, Maniac included, and some prisoners videos are on LPR site. Some prisoners were beaten, one prisoner apparently died/was killed. Fobos says that they arrested drunk/misbehaving fellows and put them in a cellar (15 day arrest for drunkenness was common USSR practice); and he 'pacified ' some rowdy folks with a few blows sometime. Dremov video, also on Cassad is mostly about that they live in this land and are going to defend it. He is not a fan of Plotniskii, as Dremov is 'people's rule' -freedom guy, but spends most of criticism on Ukraine war with its own people. He accepts that there should be a law for everybody. He was told that there is a 6 volume case against Batman group, and says that everybody should be responsible for their actions. --Resup (talk) 21:56, 3 January 2015 (UTC)
"Alchevsk is controlled by Mozgovoi, Stakhanov --by Dremov who in summer held under occupation Syeverodonetsk with his "Army of the south-east." Pervomaisk is controlled by Ishchenko". 112.ua quoting Moscal rant.. Those towns are here on the map. Plotniskii won LPR elections and leads the LPR administration. He controls Luhansk, receives aid, represents LPR at negotiations. Also often mentioned with him is Parliament Speaker Alexey Kariakin. There was a union pact between Plotniskii, Mozgovoi, and the Cossacks announced awhile ago. --Resup (talk) 05:41, 4 January 2015 (UTC)

Legal base: LPR has Constitution (in particular specifying the role and duties of LPR head, he has chief executive powers, represents LPR abroad, signs treaties). Source of power are the people, directly manifested through referendums and elections. Laws of Ukraine, in particular criminal code of Ukraine of 1960, apply if they do not contradict the Constitution, and until their own laws are approved. Criminal Code of Ukraine of 2012 does not apply and is said to be not acceptable to LPR. Armed groups have to join People's Militia, or else considered illegal. (Batman did join).
On practical level, what is coming from Luhansk overall (i.e. not considering clear serious mistakes made recently) seems to resemble centralized rule of Russia's style. Plotniskii himself could be screened/ supported by somebody in Moscow (that could be Surkov, soft-power cardinal advising on near-abroad policies.) While Mozgovoi, and Cossacks, seem to favor local, people-centric rule. Cossack have traditions of governing themselves; likely they would want to keep some of their traditions. Part of their appeal is that they were saying to their men, you are fighting for a better, more fair country, not ruled by oligarchs or crooks, but ruled by yourselves. This has different feel from how it is in a centralized state (like USSR or present day Russia), even though laws on paper look similar. I guess, volunteers from Russia and elsewhere, those driven by idealistic reasons, were coming their in the hope of fairer world, not to have more of the same. (Not all of them idealistic, of course).
Mozgovoi tried to have a Council of military commanders, and did some preliminary work to make it happen; but I guess it has not happened (yet).
Mozgovoi once had a public court, where one person was sentenced to death for aggravated rape in a town hall meeting. (That appeared to be mostly a show--the sentence was not implemented). There is a lot to be criticized there from legalistic viewpoint, but gives an idea which way he was heading. --Resup (talk) 08:11, 6 January 2015 (UTC)
(Side note, Batman was once in Mozgovoi battalion, than left. Mozgovoi himself at some point was said to have some of his men off the normal LPR support and supply; since he could not have all his men together, he had some reservations joining LPR structures. Not sure how it was resolved in the end. He keeps quiet recently).
Russia's role: they clearly have overall (anti-NATO) geopolitical agenda to get involved; nowadays supporting Minsk protocol; and favoring direct contacts between Novorossia and Kiev (previously under 'federalisation' motto, with a bit less of that heard lately, being replaced by vaguer equivalents) . But they seem to stand back from openly supporting anybody in particular, portraying this as internal Ukrainian issue. This is probably the most beneficial posture for the Russian state overall geopolitical interests; despite that this may look messy in concrete individual cases --Resup (talk) 09:38, 6 January 2015 (UTC)
--Resup (talk) 08:11, 6 January 2015 (UTC)
That LPR mess continues. Cossack commander Kosogor arrested, a fighter Khan killed in the process; both were unarmed (taken from a steam bath house). Tried to go after Rus' battalion commander Bondarenko; were driven away; mine explosion hits his armored car later. Bondarenko placed blame on cops (ex-Ukraine, now LPR), and prosecutor office (adding that petty theft against his guys was involved on top of everything) Said only enemy -ukrop- will benefit from all this continuing. Sources: (pro-opolchenie) , (pro-Kiev). Mozgovoi did not say much but kind of sounds similar. They better stop all that sooner rather than later. --Resup (talk) 04:07, 10 March 2015 (UTC)
Cossacks
Stanytsia Luhanska is one of historic settlements of Don (=the river) Cossack; this territory is now partly in Russia and partly in Luhansk and Donetsk regions of Ukraine (maps, history). In Tsarist times, Cossack were free (no slavery). Boys started military training from early years, and served in military for most of their life (that may be four stints 5 years each, with a brief returns to their settlements in between) . In return, they had some land to settle and more freedom than peasants. A bit like master-less Samurai, the Ronin, in Japan. Relation with central authorities was always always both serving still stand-offish, like some famous paintings illustrate. Currently, Cossack are not happy with Plotnitski (nor were they happy with Tsar Peter the Great in 1698). The word "Cossack" appears in the National Hymn of Ukraine (we will give our body and soul for our freedom, and will show that (our heritage is from) the Cossack. While the Russian Hymn is the USSR remake ("Brotherly Union lasting for Centuries..." ) --Resup (talk) 20:42, 2 January 2015 (UTC)
Opolchenie
Mozgovoi
Mozgovoi on Novorosssia, DNR, LNR, elections google translate of the part on elections: "... And you, gentlemen, politicians and those who think they are almost the last resort, and they know better than everyone ... so I will answer. Learn to listen to the people, for which you so vehemently tear your throats and shake the air with false words. Surely you did not understand that your time is gone and I hope forever. So deep dipping the people in your diplomatic overtures to dirt as it was before - will no longer work. We are not your property, no matter how you would like it to be the opposite ...
Now you plan to hold elections. Somehow, together with Ukraine, strange is not it? Moreover, the Ukrainian side is already preparing everything necessary for their implementation. Including candidates. It would not be bad to get acquainted with the entire list of candidates, with the financial side of the question. It has been no election so far which have been held for free. Or there are sponsors of the event already? I wonder who .... is it not, accidentally, Viktor Fedorovich (Yanukovych?), or maybe Renat Leonidovich (Ahmetov?)?"
Also, a video interview, just about everything: "that spirit in our hearts, is enough to 'infect' the entire world with freedom, justice and conscience"
Latest video from Mozgovoi, anti-oligarch message, proposing free education and health care. Typical Mozgovoi message, playing up now somehow, for pro-Kiev audience --Resup (talk) 22:49, 4 February 2015 (UTC)
07.03 Survived an assassination attempt. On the previous day, there was an attempt on Sergei Bondarenko, commander of Rus' battalion, in Antratsit. On 1.1.15, Batman was killed in what was described as 'resisting arrest.' On 23.1, Evegenii Ishenko died; Ukrainian RSG group was blamed, with some raising doubts. --Resup (talk) 22:33, 9 March 2015 (UTC)
"I want to appeal to the belligerents on both sides. By and large, we are killing each other. Instead of punishing those who should be punished. Both fighting against the oligarchs, ... and somehow kill each other - ourselves. Ie produce a planned suicide ... And is it worth it? The war for the sake of the war? Stupid! Who even remembers because of what we went?" A. Mozgovoi --Resup (talk) 19:30, 23 May 2015 (UTC)
Bezler ("Бес")
Born in Crimea to an Ukrainian mother; father usually described as 'German', and according to Bezler, 'Soviet". Considers himself 'Russian' based on cultural connection and state of mind. Worked in Gorlovka since around 2003, as a guard at a factory, and a funeral bureau. Left after an argument with bosses. In Ukraine crises, first went to Crimea, than returned to Gorlovka sometime in April. --Resup (talk) 21:23, 29 November 2014 (UTC)

Bezler. Not interested in elections, (asks why not to vote for Zakharchenko). --Resup (talk) 05:45, 18 October 2014 (UTC)
Past media appearances are rare but include a now famous theater performance (fake prisoner execution-one of those prisoners is now UAF adviser working on other prisoners release), and reciting Taras Shevchenko Taras Shevchenko on ukr.op TV (in otherwise dishonest and strongly anti-Novorossia Ukrainian report, with his performance being by far the best part). --Resup (talk) 21:23, 29 November 2014 (UTC)
What's the deal with Bezler? (Some reports that he resigned). --Resup (talk) 16:00, 2 November 2014 (UTC) Ah, some delay on a business trip, resignation reports denied by Zakharchenko. --Resup (talk) 21:50, 2 November 2014 (UTC)
Bezler appeared in a new video, together with Shaman (volunteer commando specializing in behind the front line work, previously reported killed). Bezler says that this video is made in Poltava region ('where Tsar Peter the Great defeated the Swedes'); so it appears his business trip included this region in Ukrainian army rear and not that far form Kiev. Bezler says that he bought weapons for Gorlovka from Ukrainian side, and this can be confirmed by prisoners who unloaded shipments, with paperwork and markings in Ukrainian. He says that Poroshenko, before he became President, and his man Gerasimov, as well a lady named Lebedeva, were the ones participating in such sales. (Poroshenko became President on 7 June 2014; and prior to July 4, fighting was mostly in Slaviansk). Bezler gives prices for weapons, 1900 Hryvna for AKM machine gun, 19000 for BTR armored personnel carrier, no deal was agreed on tanks. He says that some weapons totaling 450,000 hryvna were promised but not delivered. Bezler appeals to Ukrainian soldiers to start using their own heads for thinking, as they are used as cannon fodder by people profiteering from the war. He calls for federalist Ukraine, including Donetsk and Luhansk regions, and in close ties with brotherly Russia and Belarus. He says that Maidan promises were not fulfilled, and appeals to volunteer battalions that enemies of Ukraine are in Kiev and not in Donbas. --Resup (talk) 15:15, 29 November 2014 (UTC)
29.12 Bezler --seems he left for good? Interview, Bezler and Borodai. Confirms previous accounts (weapons sold to him by Ukrainian side, repeats his version of MH17 shot by Ukrainian Buk and that Novorossia did not have equipment to do it). Denies clashes with Vostok battalion. Borodai explains his exit by Russian citizenship. Bezler is Russian citizen with a permanent residency permit in Ukraine from 2003. Both are in favor of peace, to save lives, but are concerned that this may not happen in practice; have doubts that saving lives is top of the agenda on the side Ukrainian leadership and its foreign sponsors . --Resup (talk) 23:39, 1 January 2015 (UTC)
Petrovskii ("Хмурый") ("Gloomy", "Bad Soldier" )
(One of the two generals, the other is Bezler)
. --Resup (talk) 14:54, 25 September 2014 (UTC)
"Хмурый": Currently, neither Ukraine, nor OSCE, are fulfilling their duties under Minsk agreement. Daily from October 6 to October 23, Ukraine army is resupplying and strengthening its positions from all directions, North, North West, West, South West, South. Daily their rear reserves arrive, storages of fuel and ammunition are created. We have 'sorted out' some of those already. Some of those, they 'sorted out' themselves.
(0:40) "due to their careless handling of open fire, this ammunition storage and some forest burned down near Krasnogorovka. Up to 100 armed vehicles burned with it".
(0:57) in all those incidents, about 700 UAF died (part of record with dates, locations, and target /detachment description is shown on screen). "How are you going to explain to mothers and relatives what had happened?" items 5-10 on the list are shown with words: "here is the result of their careless handling of matches" (causing fire).
(1:21) Ukraine is using peace agreement to reinforce and resupply their armies (Konstantinovka on screen). OSCE is hiding those facts, and is not informing the world community about constant bombardments and artillery strikes (=shelling) of the city.
(1:37) So as a result, there is no-one to negotiate with still left (there is nobody to negotiate with)
(1:39) We give one day (24 hours) to OSCE to force UAF and the Ukraine Goverment to follow Minsk agreements and withdrawing the troops from the territory of the Donetsk People Republic (map is shown on screen)
(2:00) "Responsibility for all subsequent events is entirely on the shoulders of the Puppet Kiev Regime, and their 'USA overlords' "
some music and marching opolchenie concludes the presentation
Video is entitled: a warning from Spetsnaz (special forces) of the Donetsk People Republic. ("All volunteers shown in the clip, except artillery, is Spetsnaz of the military intelligence of the Donetsk People Republic").
Interview with Khmuryi. Born in Donetsk. His initial interest was history. 'Accidentally' enrolled in military school. Military experience: Afghanistan , North Osetia, Chechnya 1,2 ,... Retired, in the rank of Colonel. Responsibility in DPR: military intelligence. In the interview, critical of Khodakovski. rusvesna --Resup (talk) 14:13, 4 December 2014 (UTC)
Currently in Rostov, after some events. Told about failed assassination attempt --Resup (talk) 20:21, 12 January 2015 (UTC)
Said to finally return to DPR --according to rusvesna and Cassad --Resup (talk) 22:33, 9 March 2015 (UTC)
Volunteer battalion "Odessa" was disbanded in LPR on 11.01.15 . Most fighters joined LPR militia; some left. "Yakut" was a head of reconnaissance group in that battalion. He lead the group when it ceased a bunker in Luhansk airport, defeating a well prepared and equipped Ukrainian commando group sent to rescue some UAF generals locked in the airport bunker. Yakut was wounded during that mission (late September 2014). --Resup (talk) 22:49, 4 February 2015 (UTC)
Public Starts Protests
There seems to be a small groundswell of public protest about the war, in various cities. Red Sector seems to be there to threaten them each time. Only small groups but organized by someone, to be happening in several towns at once. This won't expand into another Maidan, but it's bout time "they" started explaining to the people why so many boys are not coming home. The can't keep it quiet for another 4 weeks. Meanwhile they have run out of prisoners and are collecting random people to exchange for prisoners.KatKan (talk) 18:30, 29 September 2014 (UTC)
Also, on the topic of community organizers, according to Attorney General of Ukraine Yarema, the People, = prosecuting attorney of Dnepropetrovsk, was attacked by unknowns from the Liustration Committee. Furthermore, according to Yarema, the liustration law is unlawful. --Resup (talk) 14:01, 30 September 2014 (UTC)
Soldiers Protest
Well they had to have a ceasefire, right? so the soldiers are sitting around in barracks. So National Guard conscripts are putting on protests in Kiev and Kharkiv saying they've been kept too long and want to be demobilised. Or at least paid mercenary rates, not conscript rates. Not sure about the second video, seems to be totally different uniforms, and BLUE doesn't seem right for camo. Maybe depends what the Army Disposals had on hand. KatKan (talk) 19:52, 13 October 2014 (UTC)
chant 'дембель, дембель'= " dembel', dembel' " means they want to be de-mobilized, = discharged from their mandatory service. According to Yaroslav Spodar, assistant commander of national guard, quoted by russvesna, that will violate laws of the land and is therefore impossible.
"Речь идет о ст. 23, п. 9, в которую были внесены изменения 8 августа 2014 года, о продолжении срока службы. Сроки продолжаются до принятия решения о демобилизации",
"This is about article 23 .9, amended on 8 August 2014, about continuation of duty period. The duty period continues until de-mobilization (discharge ) decision is made". One guy is heard to say they served 1.5 years already (not sure what is duty period)
Duels proposals
Luhansk PM Igor Plotnisky writes open letter to Poroshenko, offering to decide the whole issue by a DUEL between the two of them. To be televised of course. Poro may not get it, as it is only posted on LPR's website. Spokesmen from both republics have repeatedly refused to hold further talks while their children are being killed, after having called for more Minsk style talks a few weeks ago.KatKan (talk) 13:17, 19 November 2014 (UTC)
There are some traditions of duels replacing wars, indeed (for example, a Serbian officer defeated a samurai on behalf of Russia in Russo-Japanese war, in a duel proposed by Japanese admiral Togo; he was given a stipend and a promotion for the win) . I am afraid in this instance both gentlemen are a bit overweight to make their duel of sufficient interest to a pay-per-view broadcaster. But Igor Plotnisky letter also contain a less catchy but not less important proposal of what it would take to achieve peace, withdrawal of troops to regions borders, a peace treaty, and "nothing else on top of that". His letter is on rusvesna so the Ukrainian media magnate Kolomosikii may read it there (as he gets the real news there anyway) --Resup (talk) 20:26, 19 November 2014 (UTC)
Turns out that Poroshenko studied judo, earned candidate of master of sport qualification, used in USSR. Also Putin's favorite sport. Poroshenko coach Geris recalls that Putin visited there school at the age of 19. Poroshenko was too young for a match. The coach is saying that arranging a match now would be his dream. --Resup (talk) 23:04, 10 January 2015 (UTC)
Older age, Donbas -born opolchenie, a tank crew, tell their Ukrainian opponents, in Russian and Ukrainian, to go home, stop killing civilians, or fight them in a duel in a field, against any Ukrainian crew. Give their full names, and a phone number. Tell that they are defending their homeland, unlike the other side. 'You have no enemies here, your enemies are in Kiev'. 'We will get you vodka, samogon, salo, we have no business fighting each other'. ' We will get in the field for an honest fight, anytime, promise'. (video) --Resup (talk) 01:11, 20 July 2015 (UTC)
Western Luhansk and Donetsk regions
Interview with Moskal, who serves as Kiev -appointed Luhansk governor. Moskal about how people feel: Ukraine is worse than a step-mother; Russia is the Mother. They would like it to be like in a Russian fairy tale, where food is delivered by a miracle stove, and full table of food is served on miracle tablecloth. While a Golden Fish is fulfilling any 3 wishes. So, people expect that a hospital will be built by a miracle, or by opolchenie. --Resup (talk) 06:32, 22 November 2014 (UTC)
Residents of a number of villages on Kiev-controlled part of Donetsk region are not receiving their pensions. They wrote to the Ukraine President and the Government about this. They are also thinking of perhaps getting in touch with DPR officials about this matter. --Resup (talk) 07:27, 22 November 2014 (UTC)
"You guys got pension money? good can we join your country?" Must be hard for Kiev, the border villages do change hands regularly. Moskal I've been keeping an eye on. He is human. Under right circumstances he'd change sides, I think, and be an asset. There's no Pravy Sector operating on his area. KatKan (talk) 17:05, 24 November 2014 (UTC)

Don't know him enough, seems a decent guy. Likely loyal to the State, as a police general, but good character, cares about people. He was critical of Yanukovich (as many others on both sides). He will likely go with people, not an idea (like joining Russia for example; he may be not in favor of that; don't know for sure) --Resup (talk) 19:32, 24 November 2014 (UTC)
'Novorossia' Public movement
This movement is headed by Strelkov, and focuses on humanitarian issues. It partners with a registered charitable organisation in Russia, and is present in virtual space--Resup (talk) 22:59, 23 November 2014 (UTC)
Strelkov
ANNA News interview from late October with "Strelkov" (English subtitles). Most interesting for me was to learn that him and Marat Musin are old buddies going back to at least some 2010 think tank discussions... --CE (talk) 22:23, 23 November 2014 (UTC)
Interesting interview. In realistic for 'adults' detail, shows that their force was 'opolchenie', that is locals-based force, and with them in military advisory role, and as initial commanders as locals crowd was initially unable to do it themselves. (Also, not that much difference between them and locals,---same people really). Large portions of the interview have more to do with internal affairs in Russia, like Putin vs liberals and others in Russia, and in relation to the West; and as such this is really outside of our Ukraine topic on this page. --Resup (talk) 23:55, 23 November 2014 (UTC)

I recently read an article in German mainstream media that tried to personally blame "Strelkov" for 4,000 deaths. Which is of course ridiculous. But the question if taking up arms in a tit-for-tat move, however "heroic" pesonal actions might have been, has made the situation better or worse, has to be asked, not least in the greater context of how to react to the actions of Empire.
As to Musin, FYI without the publishing of his Houla witness accounts, this Wiki wouldn't exist. We are confident to have shown that reality is much closer to them than to what was reported in the "Western" media.
His other friend Borodai, former PM of DPR, was interviewed recently by Sobchak on tvrain.ru . His comment on Strelkov recent activity was that (on top of what's well known about his top-notch skill as military commander), is that he is "a hero", deserving high praise, but he was never an LPR or DPR official. He continues that Strelkov has tried himself in a different role in Russia. "Strelkov tried to be a politician, but he fits to this role about as well as to a ballerina outfit". and he "poorly understands other people". Borodai own line in the interview was that a war is a very negative thing, and it is possible that something went wrong, or could go better; but he has no regrets, and feels they did the right thing. People in Donbas felt connection to Russia and wanted to resist Kiev armies. --Resup (talk) 22:59, 23 November 2014 (UTC)
Talking a lot lately, Strelkov explains he won't be coming back to Novorossiya, as there is dissent between the Prime Ministers and the various commanders,and he fears they would draw too much to him and cause instability in the area. Rather sounds lie he's been told to stay away KatKan (talk) 13:59, 24 November 2014 (UTC)
Short of white gloves and nobility membership, his character is as if taken from a book about a nobleman officer of a White Army in Russian Civil War, aloof, professional officer with high officer honor code. He is a kind of guy who would not have second thoughts on court-martialing his soldier, but also non-corruptable himself, and going about things on his own wits, with his unshakable code of conduct and ideology. He is hugely popular, since other leaders are seen as prone to corruption or manipulation; but not him. Hobby include recreation of past battles. Highly professional tactician, with 4 previous wars experience. Was retired (before going to Slaviansk, via Crimea. --Resup (talk) 21:23, 29 November 2014 (UTC)
Yes. He's a Monarchist. But previous battles were???
He was FSU not field commander, once said the noise of artillery surprised him, he'd not been in it before. Tactical knowledge from the reenactments/board games, by all accounts made some bad errors early, changed mind back and forth. Once banned swearing, drunks got ditch-digging type punishment, once executed someone for marauding (documented and admits it). Naive; has been conned a few times to front the wrong organizations (pulled out when explained to him). Strongly against corruption leading him to be always accusing others of it, including present both prime ministers. Zakharchenko's unit served with him, no love lost there at all. I sort of like the guy but he's a menace, and all the interviews starting to go to his head. 2 weeks ago talked in detail of Russian help in the big push just before Minsk, that is not supposed to be talked about. Was meant to become a dead hero, Russian backers at one point thought better if it all ended with "Martyrs of Slavyansk". They got out alive, took Donetsk, big change of plans, some disappointed oligarchs, and Putin had to be involved, "left holding the baby State". Strelkov was originally sent from Crimea to talk and find out what the Donbass guys wanted,
naivete made him interpret that as promise of military backing, still feels betrayed it didn't eventuate. Betrayal a consistent theme in his thinking. Still friendly with Borodai,

lately both sharply publicly critical of one another --Resup (talk) 16:35, 3 December 2014 (UTC)

actually, I do not remember him saying "betrayal" about somebody (maybe it was not him saying it?Or than I missed it; actually I remember him refusing to use this characterization about an early airport event) . He is indeed very critical of parts of Russian Government, who is in favor of media-type, 'manipulative' methods (there are well-known figures like that). He is most of the time pro-Putin, although he made some hot-tempered statements in the midst of the battles trying to get more help--Resup (talk) 20:52, 3 December 2014 (UTC)

who by several accounts was ... well, he spent freely, put it that way. So, he turned a general taking up arms into a military exercise; none of them thought about having to run the territory in the end. They've adapted very well, but it's costing Russia billions and a whole departmmnt nursemaiding them through it. Probably forced Putin to do a few deals sooner than he'd planned, but that's working out okay, too.KatKan (talk) 14:37, 3 December 2014 (UTC)
Strelkov interview , runs for 1 hour. Denies factual part of recent claims by Borodai. Explains that in Slaviansk, there was too little heavy equipment (11 mortars, 2 Nonas, 2 tanks), against considerable amounts on Ukrainian side (at least 80+). They had ammunition for only 1 or 2 days left; and limited amounts of food. Ukrainian plan was believed to be laying a siege, as they were making minefields around city. They will have to break out of the siege anyway in less favorable conditions. Denied ordering surrender of Karlovka-it was by-passed from both sides at the time and about to be surrounded. Denied giving an order to abandon Donetsk, and denied plans to move with troops to Russian territory. Said that when Donetsk was tactically surrounded, gave an order to relocate headquarters to Shaktersk. But after visiting Shaktersk and discovering that roads are cut, that plan was abandoned/order cancelled. Regrets talking/confiding his concerns in private to Borodai,- considered him a friend at the time. Confirms lack of prior experience commanding big units. Does not believe in peace with 'junta' or mixing war and trade. (Interviewer points out that Ukraine became different ethnos from the 'Russian World", as e.g. interaction with prisoners show-replies that those things do not happen in a fortnight). --Resup (talk) 01:38, 11 March 2015 (UTC)
Russia
EU or USA are unlikely to fix problems with Ukraine economy. If collapsing/unstable Russia is added to the mix, the whole thing may become very dangerous and unpredictable. So far Western tactics is to move precisely in that direction.
Today Russian central bank raised interest rate to 17 %, in a risky move aimed to curb inflation and collapsing ruble exchange rate. (The move tries to boost ruble savings accounts attractiveness). Business loans were charging interest in that range even prior to the move; probably it will not go much further as nobody would take such expensive loans. Ordinary folks who exchanged their savings into foreign currency will be punished as foreign savings accounts will earn much less than those in rubles. But this is a risky move which may undercut confidence in ruble and may further hurt private business, those need loans. Maybe they can work out some discounted loans from state-controlled banks in key areas (that may include farming), to have some normalcy for private businesses back --Resup (talk) 00:38, 16 December 2014 (UTC)
As of now, Central bank move failed to bring exchange rate down. They are not (yet) prepared to support exchange rate by aggressively buying, and so keep getting behind the curve. This self-made poor banking trouble is happening at the time of weak oil prices. As of now, ruble is somewhat slower down than oil: currently, in the last 3 months, oil price measured in RUBLES is down just some 6 % (basically stays the same). But ruble should not ride that much so quickly, they are not a gas station. Oil drop is temporary, should not be devaluing the whole country with it --Resup (talk) 18:41, 16 December 2014 (UTC)
CB indicates intervention, has $ 7 billion to play. Should have those options in place to begin with! (I heard hat in Japan, playing against Government is known as 'widow-maker' business; but Russian CB did not yet show itself to be a ruthless player. But on an upward learning curve.). --Resup (talk) 09:46, 17 December 2014 (UTC)
Lavrov interview with TV Channel France 24, Moscow, 16 December 2014 . Donbas: Russia considers that it is up to Ukrainians to sort it out, indicating support for options with Donbas remaining in Ukraine, but also not against options with some form of autonomy. Syria: 'warm-up' meeting of opposition and government setting an agenda, and leading to Geneva 3. Palestine: business as usual, old resolutions still acknowledged, wisdom of further actions is up to Palestine. --Resup (talk) 09:16, 17 December 2014 (UTC)
30.12 Alexey Navalnyi escapes real prison term (gets suspended 3.5 year sentence). Brother Oleg gets 3.5 real term . Both fined. --Resup (talk) 06:43, 30 December 2014 (UTC)
28.02 Attorney General office: Navalnyi web site navalnyi.com is no longer blocked in Russia TASS
Boris Nemtsov
Moved to Talk:Murder of Boris Nemtsov
Novorossiya Sold Out??
Poroshenko has dismissed 12 of HIS district administrators in the Luhansk area. They seem to be replaced by nobody, and it is too early to dismiss them to be replaced by "special status" NR reps. Bigger problem is, the official Governor since September 18 is Gennadiy Moskal. Yep the very same Gennadiy Moskal who was chairman of the committee "investigating" the snipers at Maidan. Deputy head of the SBU. THAT Moskal.
Regarding Maidan investigation, he says in an interview posted on his web site, that it was a special operation of SBU and police, with snipers shooting at both sides. (Is it a wrong explanation? I don't know) --Resup (talk) 05:04, 30 September 2014 (UTC)
Who now also says he expects 26 Luhansk area settlements to be returned to Kiev, and someone thinks will be able to [ https://news.pn/en/RussiaInvadedUkraine/114585 "return Luhansk to Ukraine"] No law about Special Status has been made yet, and Poroshenko is now talking of never making one...just general decentralisation. He says such laws do not exist. And there are plans to NOT FINANCE the separatist areas at all. KatKan (talk) 21:05, 29 September 2014 (UTC)
Well, it looks fairly certain that the real effect of that will be Novorossia becoming defacto independent with strong ties to Russia, following Abhazia-type scenario. (And actually, it may be worth, since boundaries are not defined here). Probably we will know something better after the elections, or when something real will start; right now, as they say, he has seven Fridays every single week, and creates even more mess than there is already. Novorossia will keep some small-to medium skirmishes and not pay much attention otherwise. --Resup (talk) 21:55, 29 September 2014 (UTC)
If he really wants not to avoid Abhazia ( or Makhno), his best bet is to fully disengage, withdraw troops (or reach a consent), and let people stop the shooting nonsense , calm down, and start going about their normal lives and viewing things in positive light. He cannot impose his authority on the rebels now, neither softly (nobody will believe, and nobody will obey ) , nor by force (he lost that one). Hopefully it is just some election noise right now. But if he (or EU) really believes such reversal will work, well, it won't, it will just start another circle of the same thing we have seen already. Unfortunately, the role of EU and US so far was mostly contributing to the problem (e.g. by supporting unrealistic expectations under dubious game play), rather than contributing to resolving anything. --Resup (talk) 22:59, 29 September 2014 (UTC)
Gennadii Moskal' , if judged by release of Luhansk administration, dated 22 September sounds quite reasonable, appears focused on needs of the part of the region controlled by Ukraine, 'soft' approach, no Napoleonic ambitions reported. So, like in the Maidan warm-up routine, " the one who does not jump, is Moskal'" . He is an ex-cop. If he is a protege' of a powerful player, it is good to know, as it may determine his real game; so far, have not seen claims to that effect. So far, seems quite boring--which is kind of good. --Resup (talk) 04:05, 30 September 2014 (UTC)
Ceasefire Offered
Poroshenko announces ceasefire, Putin denies it. "Ukraine's President Petro Poroshenko says he has agreed with Russian President Putin by phone on a "ceasefire process" for the east. His office initially reported that a "permanent ceasefire" had been agreed but later revised its statement. The Kremlin stressed Mr Putin had not agreed to a ceasefire as Russia was not party to the conflict." according to BBC news. But "A rebel spokesman told the same agency the rebels did not believe Mr Poroshenko was in complete control over Ukrainian forces in the east." and of course they yet to ask Donbass about their views. Still, it is steps in the right direction. KatKan (talk) 11:18, 3 September 2014 (UTC)
Lol on this move. Not a step in any direction except pretending Russia is who you ask for a ceasefire. Many will agree with that, or get mad when Putin doesn't agree to ... what? Invade Ukraine to force down the rebellion themselves? Not eddressing the Ukrainian people they've dismissed as inhumans fit only to be crushed, is a reaffirmation of all steps made in that spirit. --Caustic Logic (talk) 12:53, 3 September 2014 (UTC)
What section was this? A lot of misplaced-seeming stuff and section proliferation ... I'd rather have that than stifle discussion by being a jerk, but ... --Caustic Logic (talk) 12:53, 3 September 2014 (UTC)

Itar-Tass:Putin proposes 7 item plan, first step is cessation of active military advance operations on Donetsk and Lugansk directions] --Resup (talk) 13:58, 3 September 2014 (UTC)
Itar-Tass (English) Putin says agreed with Poroshenko plan of action to settle situation in Ukraine --Resup (talk) 14:04, 3 September 2014 (UTC)
Okay, that makes sense. Both can agree that fighters should do this or that, and it's hoped the relevant parties can agree. Putin just isn't one of them. Although he's clearly got some kind of influence. --Caustic Logic (talk) 22:27, 3 September 2014 (UTC)

Ceasefire from 19:00 Moscow time signed [11]. 12 point agreement. --Resup (talk) 14:14, 5 September 2014 (UTC)

05.09.2014 16:10 Press office of President Statement of President of Ukraine Petro Poroshenko
My international negotiations in Brussels and Minsk demonstrated a powerful request for peaceful political-diplomatic settlement of the conflict in the Donbas. The same mood dominated during my meetings with global leaders at the NATO Summit in Wales.
The entire world strives for peace, the entire Ukraine strives for peace, including millions of Donbas residents.
The highest value is human life. We must do everything possible and impossible to terminate bloodshed and put an end to people's suffering.
Taking into account the call for ceasefire of President of Russia Vladimir Putin addressed to the heads of illegal armed groups of the Donbas and the signature of the protocol at the meeting of Trilateral contact group on the implementation of the Peace plan of the President of Ukraine, I order the Chief of the General Staff of the Armed Forces of Ukraine to cease fire starting from 18:00, September 5.
I also instruct the Minister of Foreign Affairs of Ukraine to ensure jointly with the OSCE an efficient international control over the compliance with the ceasefire regime which must be exclusively bilateral.
I hope that these agreements, including ceasefire and liberation of hostages, will be strictly observed. --Resup (talk) 14:14, 5 September 2014 (UTC)

"Minsk agreement on ceasefire will be observed, but it will be annulled if at least one shot from the Kiev side can be heard, " stated on the phone call to RIA Novosti press-secretary of vice-PM of Donetsk Republic Andrei Purgin. --Resup (talk) 14:19, 5 September 2014 (UTC) Минская договоренность о прекращении огня будет соблюдаться, но его аннулируют, если прозвучит хоть один выстрел со стороны Киева, заявил по телефону РИА Новости пресс-секретарь вице-премьера ДНР Андрея Пургина.
Rebels sound very concerned with by hardware and troop moves by UAF, which may restart hostilities. Rebels: " Urgent information. 32 imported tanks gone on Debalcevo, 15 Shilka entered the tank unit Artemevska, 7 Tochka-U, 6 Grads plus 1 Smerch accompanied by 13 tanks,also imported. Located on Slavyansk- Kramators site accompanied by 13 imported tanks . On the road from Mironovka to Debalcevo, a column with all sorts of armor extends for 3-4 kilometers" [12] --Resup (talk) 20:53, 6 September 2014 (UTC)
As the cease-fire is hailed as a victory for Putin, his alleged proxies allegedly violated it just 30 hours in. Reuters report says artillery east of Mariupol pounded the city, requiring troops to head that way. No word on casualties, perhaps none. No one could really see who was firing or know why. --Caustic Logic (talk) 23:57, 6 September 2014 (UTC)
Mariupol is strategically important port, + metal works plant, mostly pro-Russian civilians, and mostly controlled by UAF. DNRF are in Talokovka, to the NNE from Mariupol. These gives map of actions, and explanation in Russian of the sort that if they give us a headache somewhere, we will give a headache of our choosing. --Resup (talk) 02:35, 7 September 2014 (UTC)
Vladimir Kononov, DNR Defence Minister, lists ceasefire violations by UAF: under Gorlovka; Telmanovo (senseless takeover by UAF), sniper fire here and there; full Grad volley (=40) from Vasilievka to Alexandrovka. 10 DNRF wounded, 2 seriously. "Regarding heavy hardware move under Gorlovka, this will force me to order fire to kill" --Resup (talk) 01:57, 7 September 2014 (UTC)

Overview of September 6 events by blogger Кассад (eng. Cassad or Kassad), posted on rebels site. Long but may be google translated. --Resup (talk) 10:43, 7 September 2014 (UTC)
Russian blogger El'-Murid (who's 2012 blogging was mostly on Syria) expresses concerns that ceasefire may not last, since UAF troops are not withdrawn to rebel region's border [13] --Resup (talk) 18:40, 7 September 2014 (UTC)
Of course it won't last. It was to shut up NATO and to give everyone a chance to regroup. It's been broken a bit already but carefully, so it doesn't get fully broken. A lot of the clauses were terribly vague too, "certain groups" and so on. Nothing to say even who the signatories are, to be in a position to sign. Weird. At least in Luhansk they're taking the opportunity to fix some power and water supply. KatKan (talk) 19:51, 7 September 2014 (UTC)

Quoted by rebels blogger 'Vadim Petrov' (aka 'coach field-marshal') raises concern about situation on the ground. He shows areas of concern on a map, and talks over it. In a number of places, UAF takes control over territory, changing situation on the ground in dangerous ways (e.g. rebels may be encircled or loose control in some key areas). Also in some places, UAF cauldron remains, with situation not being resolved.
3:21 Ukraine fighters group emerged in Novolaspa-Starolaspa-Granitnoe triangle, rebels at Staroignatovskoe are in danger of being encircled.
4:04 north of Talakovka (NE of Mariupol) UAF move armor, dig in, moving out of Mariuopol
6:48 West of Dokuchaevsk: big territory controlled by unblocked UAF
8:26 airport near Donetsk still controlled by UAF (there were reports of no gas and electricity still in Donetsk, hope to restore Saturday)
9:41 Gorlovka (rebel-controled) is regularly shelled, lots of proofs of that "Where is Ruban? Where is Purgin? WTH ?"
10: 28 Nearby Debaltsevo, controlled by UAF (I recall reports of lots of armor there). Unlike Gorlovka, no pressure applied there. No cauldron there either.
11:35 Toshkovka, Kalinovo, Belaia Gora--taken by UAF.
.--Resup (talk) 02:27, 10 September 2014 (UTC)

Rebels allege an intelligence report from Kharkov. On 9 September, two Hercules planes delivered three foreign Grad-equivalent systems, two LAROM's (Romania) and one Teruel-3 (Spain). Grads delivery. Rebels also allege that they borrowed two Smerch's from UAF for some joyride of theirs. --Resup (talk) 02:34, 10 September 2014 (UTC)

Rebels provide videos of ceasefire violations in Donetsk and Mariuopol. The first video shows grad damage to houses in a village Spartak, north outskirt of Donetsk, and shelling damage in Kiev's region of Donetsk (northern Donetsk) --Resup (talk) 10:18, 10 September 2014 (UTC)

Speech of the President Poroshenko at the meeting of the Cabinet of Ministers. Interpretation of the meaning of signed in Minsk protocol is towards the end. I doubt that the rebels have the same interpreatation, they essentially view the protocol as a way to peacefully gain some sort of independence for the whole region of Donbas. This dispute is best resolved by voting, not by arms. (Compare with the Scotland story, and updates presented by BBC). --Resup (talk) 14:38, 10 September 2014 (UTC)

President Poroshenko delivered statements on special status for districts of Donetsk and Luhansk regions and new world security strategy at Yalta European Strategy meeting held not in Crimea but in Kyiv. 'Special status' appears to be modeled on Poland's Voivodeships (provinces). Details are not clear; I guess something like this may work (the problem is that rebels have zero trust in Kyiv governance). --Resup (talk) 12:41, 12 September 2014 (UTC)
Igor Plotnitsky : DNR and LNR may start negotiation of political status with Kyiv 'soon'.
Second humanitarian convoy, to Luhansk, is scheduled on 13 September. --Resup (talk) 13:02, 12 September 2014 (UTC)
Novorossia says that it has capacity to attack, however it intends to stand by the Minsk ceasefire agreement, for as long as Kiev does not attack them rusvesna -Vostok brigade report --Resup (talk) 17:29, 11 November 2014 (UTC)
Ceasefire Over
It's back on again. NR quietly slowly taking town after town above Luhansk, near Debaselvo, above Mariupol, in response to constant continuing shelling of towns. Walk up demanding surrender, if refused walk away, ambush later, fast moving small groups. Kiev (or possibly various Sektor bands) burning empty villages, incendiaries. It's a mess. Poroshenko apparently running on a "peace" platform. Maybe he can't spell and meant "pieces". Conscripts who quietly politely went to Rada 2 days ago to ask for their back pay or be allowed to go home, today being CHARGED, ??insubordination?? or something. Oh, Kharkiv ones did a protest, too, those will be charged with "separatism" for sure. that area would love to be separate and the civilians are standing up to the storm troopers. KatKan (talk) 21:10, 15 October 2014 (UTC)
Perhaps reports about its death are overly exaggerated. It seems quieter in the news and with rhetoric. Airport footage, (is this Donetsk ???), said to be live, appears quite boring at the moment. War of words to the right of it seems calmer than at time of active war. But rather small tit-for tat does go on, and things are still not settled. --Resup (talk) 21:33, 15 October 2014 (UTC)
Middle of night, even soldiers need to sleep. They let off first shots about 5 am.Problem mostly still is the shelling of Donetsk frm the 3 villages the airport tunnels go to. And the official boundary only gives 2 of those back, though they are meant to withdraw from the 3rd as well but i stays on the Ukie side. Mostly the fighting is, NAF not waiting to be shot NAF going up to take new visages. They're getting them very fast and cheap. UKI running out of soldiers, having arrested their own National Guard for daring to expect money. OSCE caught 4 "armed and able bodies" military people getting out of a civilian ambulance near Mariupol, those Sektor guys don't play by any rules. I suspect a lot of the trouble is from them. KatKan (talk) 23:16, 15 October 2014 (UTC)
It's official. Zakharchenko declares ceasefire finished,after ballistic missile hit on Donetsk chemical factory via Twitter. Was similar comment from LPR but I can't find it right now. KatKan (talk) 05:08, 21 October 2014 (UTC)

They do not have Lavrov on staff roster; what they say tends to be a bit emotional, and may go up and down as emotions go. But peace-in-peace and 500 kg charged Tochka U do not belong together, indeed. Still all sensible people have peace as a first preference. Having issues unresolved may lead to second choices --Resup (talk) 06:09, 21 October 2014 (UTC)
October
Poroshenko administration declined comment (need investigation; need to control territories to investigate; etc). Lysenko denied Ukraine is using banned weapons cassette weapons, (so denied using Tochka U) Itar-Tass. So this is than the third force armed with Tochka U, which may be destroyed by UAF and Novorossia efforts? --Resup (talk) 13:05, 21 October 2014 (UTC)
Ukraine is said to have massive amounts of heavy equipment in ATO area (lots of tanks), and heavy equipment is not only not withdrawn as per Minsk, but is only increasing, now for about a month. They are building heavily fortified areas on top of that, so they can heavily attack when they please, and not be much vulnerable to counter-attack. This appears to military commanders of Novorossia to be very dangerous and not consistent with peace moves, and so they are exploring their counter-measures. As a result, there is no de-escalation in practical terms, and unless there is strong and SUCCESSFUL diplomatic effort, all of that has nowhere to go but to another and more bloody confrontation. --Resup (talk) 04:50, 23 October 2014 (UTC)
November
Reports of increased fighting using "Grad" and artillery. Novorossia quotes their intelligence reports that Right Sector plans provocation, dressing up in Novorossia uniforms, such as old RUssian uniform and Novorossia insignia, to cause civilian casualties and to blame it on Novorossia (village Karlovka in Mar'inskii region specifically mentioned). --Resup (talk) 22:07, 6 November 2014 (UTC)
06.10 Ukraine attacked Donetsk suburb Yasinovataia (Ясиноватая) (map) with tanks. 3 UAF tanks, 3 APCs destroyed, 10 officers and 3 companies ('рота', Russ.) of UAF soldiers killed. Ukraine simply should NOT be attacking Donetsk per Minsk agreements, they are not following what was agreed in major way. --Resup (talk) 05:09, 7 November 2014 (UTC)
Spiegel appears/pretends to believe that it is the infighting between rebels that lead to new casualties. "Now, though, rebels in the region have been fighting among themselves and Moscow is unsure how to proceed. Sunday's election changed nothing" (civilians in bomb shelter shown, no word of Kiev shelling Donetsk). No, it is Western cronies in Kiev that are shelling Donetsk! And getting diplomatic (Merkel-on-the-phone, Psaki-talk, post-election hysteria), economic (sanctions) and media support (such as this article) for doing it! --Resup (talk) 05:38, 8 November 2014 (UTC)
After withdrawing signature on agreement on separation line, Ukraine moves heavy equipment towards the conflict zone. That [is said to include SCUD, which is roughly twice Tochka-U. It may end up with SCUD against Iskander warfare. (In the meantime, 'Pravda'-contributor Senator McCain of the US Senate defense committee itching to ship there some US weapons...so that US and Russia can slug it out till the last Ukrainian left...)
SCUDs officially should not be there in Ukraine at all, as they were supposed to be destroyed, according to Wikipedia. It does not appear to be certain in practice (as noted in Russian wikipedia, about two times more SCUDs were said to be destroyed with US funding than they had in existence, so what's on paper is not the same as in reality); and it is possible to bring it from elsewhere. Or it is a mix-up with Tochka U, maybe. Either of those should not be used, most likely it will end up hitting civilian area, as happened numerous times already. Warhead is listed as "fougasse"-type, that may be a way to go around cluster munition illegal use in Tochka U or Smerch/ Uragan. But such a heavy old missile should not be used at all, it's use is to terrorize Donetsk or other civilian area. --Resup (talk) 17:30, 8 November 2014 (UTC)
Also on russvesna: Debaltsevo: heavy fog, some fighting, some partial cauldron part-cooked for a while. Near Mariupol: less fog, some fighting (NAF returns fire, hits a position near Павлополь). Airport: no plane arrivals (bad weather maybe?), some fighting. A wall is said to be built by Ukraine some 15 km from the front line. --Resup (talk) 20:12, 8 November 2014 (UTC)

Concerned about latest SMM reports of activities undermining Minsk commitments, OSCE Chair calls on all sides to preserve and consolidate ceasefire --Resup (talk) 22:11, 8 November 2014 (UTC)
LPR: intense fighting reported (Krymskoe, Sokolniki, Frunze, Smeloe) (map) . UAF uses artillery and "Uragans," in particular shelling Frunze town. NAF destroyed 8 Ukrainian tanks, 10 BMP/BTR, and up to 150 soldiers; they had 4 killed, 12 wounded; 50 civilians killed. Separately, there are reports on intense fighting/counter-attack/shelling in Schastie. DPR: fighting under Avdeevka reported; attack of UAF and counter-attack by NAF expected by opolchenie member Prokhorov. (actions map and videos on Cassad) --Resup (talk) 05:08, 9 November 2014 (UTC)
UAF received 2S7 "Pion," 203 mm self-propelled gun with range of 50 km, and [17]2S5 "Giatsint,"] 152 mm, 28 km range. [18]--Resup (talk) 01:06, 13 November 2014 (UTC)
UNSC comment from a rusvesna reader: "USA and its allies told about Russia's violations of Minsk agreement. Russia informed about violations by Ukraine." In the end there was some exchange between Russian and Ukrainian representatives. But outline of a solution was hardly seen. Ukraine appears to suggest Geneva format meeting, but excluding Novorossia, as they do not plan to recognize it. That may be not an attractive format for Russia, they will have 3 parties blaming it in unison, and what will be achieved by that? Ukraine seems to heavily focus on border control and on events on Russian side of the border. (But this in real terms will depend on overall situation, not drive it). While Russia was unhappy with other parts of agreement, such as demarkation line negotiations broken down by Kiev ; signs of preparations by Kiev to solve the crisis by force, after regrouping and repairing/supplying equipment; and not following on dialogue and rebuilding (refusing to pay pensions to Novorosssia residents is an example).--Resup (talk) 04:41, 13 November 2014 (UTC)
On the ground, there was little change, positioning warfare all across the contact line. Shelling of Donetsk from Peski and Avdeevka continues. An attempt to surround Avdeevka is made by NAF. Intense fighting under Debaltsevo (according to Ukrainian side), but no substantial change. Fairly calm at Mariupol, small firearms maybe. Clashes in Luhansk (most of events in Stanitsa Luhanskaya, up to 10 armored vehicles of UAF destroyed, UAF reports on taking control, but attack was apparently repelled). Shelling and skirmishes elsewhere (rusvesna report) --Resup (talk) 04:41, 13 November 2014 (UTC)
21.11.14 Graham Phillips reports that most of Peski is liberated. Peski was used by UAF to shell Donetsk airport, and Donetsk itself. Attached video is an interview with Novorossia commander Zhora; Graham first interviewed him 6 months ago in Slaviansk, this is first part of the video. The boys there are from Slaviansk, they say that opolchenie is their defenders, and UAF, especially Right Sector, are wrong to shoot at their houses--Resup (talk) 06:17, 22 November 2014 (UTC)
23.11.14 Ukraine refused an offer of Canadian F18 jets, siting economic, logistic reasons. (What a bloody wonderful idea to make such an offer, in the first place!)--Resup (talk) 06:19, 23 November 2014 (UTC)
"US Congress pro-Ukraine lobby may press through for weapons to Ukraine soon" (TASS). Amid the Ukrainian crisis the U.S. should supply high-precision weapons, artillery guns, tanks, armoured vehicles and air defence systems to Kiev, adviser to the Ukrainian interior minister said--Resup (talk) 06:32, 23 November 2014 (UTC)
25.11 Opolchenie intelligence report: on 24 of November, commanders of UAF units received an order to recall from vacations and leaves of absence all personnel who are outside of their unit assigned location (rusvesna). 6000 UAF near Konstantinovka; expected to increase to 9000 (rusvesna) --Resup (talk) 18:41, 25 November 2014 (UTC)
25.11 Column of armored vehicles, 1/2 km in length. moves from Slaviank to Donetsk, two MI 24 helicopters escorting. rusvesna--Resup (talk) 16:07, 26 November 2014 (UTC)
December
06.12 Poroshenko receives old Soviet tanks, Т-64BМ "Bulat", tanks Т-64 BV, Т-72 B1, Т-72UA, Т-72A, BТR-3е and BТR-4е, self-propelled artillery 2C1 and helicopters Mi-8 and Mi-2. "The President expressed hope that the given equipment and love to the Homeland would help Ukrainian warriors win and liberate the Ukrainian territories from the occupants. At the same time, Petro Poroshenko stressed that he remained committed to the peaceful resolution of the conflict". Announcement makes it to appear that tanks are manufactured or repaired by Ukraine (Ukroboronprom). However, it is suggested elsewhere that those tanks are donated to Ukraine (by some unspecified, but possibly NATO, donors): "Furthermore, the IMF is demanding that the breakaway Ukrainian areas be conquered in order for additional loans to be made to the Ukrainian Government. So, all newly loaned money will be going to Ukraine's military". It may be too strong to say demanding, more like assumptions built in existing IMF solutions have Ukraine fully controlling Donbas to one day repay the loans. --Resup (talk) 02:52, 8 December 2014 (UTC)
I've read somewhere (forget where) that those are the tanks that were meant to be sold to DR Congo, but for which the contract was canceled by Ukraine in September. --CE (talk) 10:11, 8 December 2014 (UTC)
19. 12. Artillery used again by UAF in Luhansk region; also some UAF mortar, sniper fire. At night, 3 punishers from Aidar battalion were killed and 2 wounded, in the UAF-held town of Schastie. --Resup (talk) 01:19, 20 December 2014 (UTC)
Ukrainian tanks attack under Gorlovka. Battle between Majorsk and Shumy. Ukrainian army is trying to make there way into Gorlovka, opolchenie repels the attack. Opolchenie tanks and self-propelled artillery vehicles are involved. Heavy artillery can be also heard in Peski and Donetsk airport area. --Resup (talk) 21:36, 25 December 2014 (UTC)
28. 12 Night time attacks by Ukraine reported (Donetsk, Gorlovka, Telmanovo region, Dokuchaevsk); fire includes artillery shelling. --Resup (talk) 00:08, 29 December 2014 (UTC)
29.12 According to DPR press release, Ukrainian National Guard "Sich" had a shoot-out with Ukrainian 93 Brigade. One DPR soldier was kidnapped from they block-post. They believe it was in order to kill him and leave his body nearby the shoot-out, to blame DPR for this attack. They say they have not attacked 93 brigade and are committed to Minsk agreements--Resup (talk) 06:31, 30 December 2014 (UTC)
January 2015
Unusually powerful artillery shelling by UAF is reported in Telmanovo; usage of 203 mm howitzers called "Pion" is suspected. According to the reports, cement blocks in cellars were all shaking (more than usually), and not only glass but balconies fell off some of the buildings. Rusvesna: "It is known that in recent months Kiev restored powerful "Pions" . Some of those "gods of war" were given by Poroshenko to UAF on December 31, and some number of them have arrived to Donbass. In the photo at the bottom, "Pions" with tail number number 562 and number 564 in Lugansk". --Resup (talk) 23:15, 4 January 2015 (UTC)
Ukraine started an attack on Lugansk, from Stanitsa Luganskaia, right at the time of video conference of Minsk group negotiators. LPR representative Vladimir Deinego is to launch a protest to OSCE. --Resup (talk) 17:21, 10 January 2015 (UTC)
22 cases of ceasefire violations reported on 10 January. That includes artillery shelling and mortar fire. According to reports (translated at fortruss), 2 children in Shaktersk were hit, one of them died, another severely wounded. --Resup (talk) 06:10, 11 January 2015 (UTC)
Zakharchenko: Ukraine resumed shelling Donetsk, thus breaking ceasefire. DPR only returned fire; as a result, on 11 of January, 41 firing positions were suppressed, 20 killed. In total, 200 UAF were wounded or killed (unclear what time period). Do not see point in rotation of Ukrainian troops at the airport. DPR will not hand over those wounded. --Resup (talk) 17:31, 12 January 2015 (UTC)
LPR reports 18 ceasefire violations by UAF (with Grad, artillery). LPR army is considering going on full alert, pulling heavy weapons towards front line. But they say that still reaching agreement is still needed, and that they will fulfill agreements on mutual basis. --Resup (talk) 21:20, 12 January 2015 (UTC)
Resumed Fighting
Heavy clashes started on 13 of January, Airport and elsewhere. On 14 of January, clashes reported on all contact line. Grads, artillery, self-propelled artillery, mortars, automatic mortars "Vasilek" (UAF), small arms are used. According to Ukraine, as rusvesna report, heavy Grad-style fire thrower "Buratino" was used by opolchenie.
Nikishino, Redkodub (Mozgovoi advance), Kamenka are said to be flash points. Opolchenie controls first floor of the Airport, heavy clashes and casualties reports were seen earlier. Donetsk was shelled with Grads by Ukraine. In Peski, Ukraine attempted tank attack, which failed. Gorlovka heavily shelled by Ukraine ( self -propelled artillery, possibly Pions). ("Vostok" report). --Resup (talk) 15:52, 14 January 2015 (UTC)
Long detailed report by Cassad on 14 of January events. Ridkodub, on LPR-DPR border, near Debaltsevo, is taken by Novorossia (Mozgovoi). Also report om destruction in Donetsk after shelling by UAF. (Reports in Russian, can be google translated)--Resup (talk) 08:44, 15 January 2015 (UTC)
Alexander Zhuchkovskii reports. Opolchenie entered Avdeevka. Quite large losses of opolchenie, 4 KIA, 6 WIA, caused by Ukrainian artillery fire. Peski is mostly controlled by opolchenie, but there are some UAF tanks still defending a small area. Ukrainian reinforcements are moving towards Peski rusvesna update --Resup (talk) 20:47, 19 January 2015 (UTC)
19.01 About 1:30 am in Donetsk, south-west of Petrovka area (Marinka-Alexandrovka), there was an attempt to break through the fortified checkpoint of DPR with tanks.
According to preliminary data from the Center for operational cooperation (rusvesna report), about twenty tanks took part in the attack, some of which were hit. The rest retreated, but are close to the positions of opolchenie (perhaps waiting for reinforcements and planning to attack when those arrive ).--Resup (talk) 23:46, 19 January 2015 (UTC)
Evgenii from Vostok brigade Peski was not fully taken, some fighting with small arms is still going on. Got a tip from leadership that Peski, Avdeevka, Airport, need to be taken. --Resup (talk) 23:46, 19 January 2015 (UTC)
Alexey, "detachment created by Besler". Under Bogdanovka (Telmanovskii district, DPR), Ukrainian checkpoint was destroyed. Под Богдановкой (Тельмановский р-н ДНР) отработали по окопам и уничтожили блокпост. Currently responding in the direction of Styla and Novolapsa. --Resup (talk) 23:46, 19 January 2015 (UTC)
Clashes around Mariupol (translated at Fortruss)--Resup (talk) 23:46, 19 January 2015 (UTC)
Updates and maps are on Cassad. Strelkov comments on rusvesna. Assessment at evening time: Tactical success of opolchenie has not received further development, and situation remains difficult. Ukraine brought in their reserves, not just the second echelon, but their general reserves It appears that they may used all reserves they have. The most significant development is near Debaltsevo. --Resup (talk) 18:04, 23 January 2015 (UTC)
Update on Cassad. Zakharchenko says that they are advancing and will not do talks now. Actual progress is slow, as Ukraine broght in their reserves. South West of Peski controlled by NAF, other parts by UAF. Avdeevka is still Ukrainian (on the night of 22-23, NAF column was hit by artillery fire, up to 40 may be killed). Some advance under Mariupol, but Vinogradnoe still belongs to UAF. A move was made to close Debaltsevo cauldron near Troitskoe, but that job was not finished. Mozgovoi advances on Popasnoe; that progresses slowly. Continued fighting near 29, 31 checkpoints in Bahmutovka direction. Advance of Krymskoe so far has not succeeded. --Resup (talk) 22:56, 23 January 2015 (UTC)
Evgeny Ishchenko, mayor of Pervomaysk, was killed, by Ukrainian recon-subversion group.--Resup (talk) 23:01, 23 January 2015 (UTC)
"Pions" (long-range self-propelled artillery) captured from UAF spotted driving in Makeevka (rusvesna)--Resup (talk) 09:05, 30 January 2015 (UTC)
Zakharchenko offers UAF troops in Debaltsevo almost-cauldron to surrender and save their lives. 'You are fighting on the wrong side' (rusvesna)--Resup (talk) 09:05, 30 January 2015 (UTC)
Uglegorsk is partially taken by opolchenie -rusvesna (Stelkov and Petrovskii). (Taking it may be closing cauldron). However an evening report from Eduard Basurin (DPR) says that Ugelgorsk is taken (LPR and DPR forces did not meet but have control have controlling firing positions). If so, this will cut motorway supplying about 8000 UAF troops inside. (And than what you do with them? Finish off? Catch-and-release without weapons?) --Resup (talk) 22:45, 30 January 2015 (UTC)
Peace Talks-Related Talk
Russia's Federal migration service number: 2 million Ukrainians are currently in Russia. --Resup (talk) 11:36, 1 September 2014 (UTC)
Many/most rebel fighters are past wars veterans (Strelkov is an examples). There is not much meaningful activity for them on offer. So, giving some fight, for something they see as goodish, kind of makes sense for them. --Resup (talk) 11:41, 1 September 2014 (UTC)
Rebels voiced their conditions: special status for their territory, the so-called "anti-terrorist operation" (as of now conducted with tanks, helicopters, warplanes, and artillery) stopped, and amnesty for rebel forces. --Resup (talk) 11:50, 1 September 2014 (UTC)
Economic consequences for Donbas and Lugansk, and other places having manufacturing, joining EU may have big downside. If EU manufacturing standards are adopted, since their manufacturing is not following EU standards, and switching to EU standard is economically not viable. Those factories than shall shut down, or continue regardless but sell their stuff to the East. --Resup (talk) 11:57, 1 September 2014 (UTC)
Heavy industry includes military aircraft, tanks an all sorts of guns (eg the Antonov is their design and manufacture). Ukraine is the 10th largest arms manufacturer in the world, and has supplied a lot countries the "West" is not keen to see armed. This is one big reason they want control of Ukraine. If they're in EU or NATO they're restricted in where they can sell. At the same time, "modernisation of industry would be done with western money in exchange for part ownership. Same as oil and gas, which US companies are already in. It's all about money. win-lose. KatKan (talk) 13:12, 1 September 2014 (UTC)
Ukraine has about 50% of electricity produced by nuclear power plants. Reactors are of Russian design, and supposed to be fueled according to Russian standards. My understanding (seen in the news but lost reference) is that outside, possibly US made, fuel rods are used. This is not under Russia's warranty, and price tag if someting happens is huge. --Resup (talk) 12:14, 1 September 2014 (UTC)
Organization for Security and Cooperation in Europe shares Moscow's concern on world nuclear safety --Resup (talk) 12:20, 1 September 2014 (UTC)
I wonder can China play a role, they will be more efficient in restoring certain things (like roads, buildings, etc) and USA owes them a lot of money; so if China is allowed to make some profit there, as the US back-payment (and somehow --but unclear how--reducing the US debt), this may be interesting. But hard to see concrete scenario how this may happen in practice. Unfortunately finance is more like gambling than like investment --Resup (talk) 14:19, 1 September 2014 (UTC)
China already has investments in Ukraine,including leases on agricultural land, and is buying a lot of military equipment from Ukraine. Closer ties between Ukraine and EU would jeopardize these. If they do any rebuilding it will be on their own account, not with a 3-way deal involving the US. China also does business with Russia, although they are not at all friends. They wouldbe a good neutral choice, but USA won't like it. KatKan (talk) 17:08, 1 September 2014 (UTC)
Actual rebuilding, lead by either Russia or Ukraine, will be rather inefficient with a lot of funding not going on target. Actual work, and managing that work, will go better if outsourced to East and West. If they want to do so, of course. --Resup (talk) 14:45, 1 September 2014 (UTC)
Ahem, look at the history of such rebuildings. It is given as foreign aid, or the aid is given in cash on condition the donor country's experts are used. Invariably leads to huge corruption, both in awarding the contracts (cf Halliburton) and in the receiving country. People in positions of power are able to skim off from the aid, or allocate contracts to related companies. In a way such schemes go to, perhaps are designed to, entrench the people in power.
I think similar sort of thing is called "the overhead" in the art of academic funding, can go up to 40% of the award. This is not the most wonderful thing, but still it is competitive, transparent, explicit and agreed by all in advance ...All conflicts of interest are also disclosed in advance... The difference with the local custom is that it is not clear in advance who will win the competition --Resup (talk) 18:38, 1 September 2014 (UTC)
How do you think today's Ukrainian oligarchs got to be billionaires? they all had a finger in the gas pipeline deals or bought for pennies businesses being privatised when the Soviet broke up. You think they can't find a way to touch rebuilding loans?
Anyway only the south east is destroyed. If there is not a very total change of government, they won't bother rebuilding it at all. They'll let the locals get along best they can by themselves. A truly inclusive government could manage it without outside interference. The country is extremely advanced technologically. KatKan (talk) 17:08, 1 September 2014 (UTC)
Kerry suggested a coalition against ISIS, maybe also somebody can put up a coalition for rebuilding Ukraine (with everybody doing some bit of it) --Resup (talk) 15:20, 1 September 2014 (UTC)

Motorolla gunner 'Chervonets' discusses his views on direct (or minimalist representative) democracy, transparency, and accountability, quoting some Concept of Public Security. This is apparently something which started in Gorbachev times, apparently with Russian institute of USA and Canada participation, and culminated in 200+ manuscript 'Dead Water', nowadays banned in Russia by a court decision as being 'extremist'. That manuscript appears pretty unreadable vague philosophy with some terminology of control theory (or predictor-corrector computational method) occasionally used here and there. The best account of all that is probably due to Chervonets, why is that I and other muzhiks ride a bicycle Ukraine, while my public servants ride a Porsche Cayenne 4-cycle?--Resup (talk) 12:51, 16 September 2014 (UTC)
Pravyi sector pickets Ukraine President office. Special status for Donbas territories is one of the issues.--Resup (talk) 09:56, 17 September 2014 (UTC)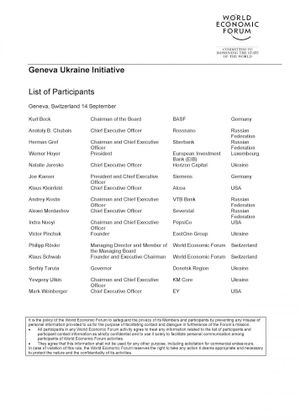 Davos meeting was reported. OSCE ceasefire was supported. One of the proposals is a meeting in Geneva involving Ukraine, Russia, EU, US. That idea was earlier circulated by Ukraine (Yatseniuk and co). Well, major unresolved issue is territory where special status applies. And a major part of why this is not resolved, among outside of Donbas parties, may be economic (including natural resources) issues. While Donbas rebels desire self-governance, following the military outcome and their sacrifices. It appears that rebels are not part of the proposed Geneva meeting; if so, it is questionable what result can be realistic achieved: rebels will not accept partial self-governance. But self-governance implies that rebels will gain control over economic issues, and the other parties in Geneva will not agree to that. Unless they somehow all decide to collaborate on all of the issues, both economic and political, to find an acceptable solution. --Resup (talk) 17:10, 17 September 2014 (UTC)

Kononov ("tsar"), DNR DM, comments on current state of ceasefire. Over 100 violations by UAF logged. In Donetsk airport, UAF is fully blocked, no supplies; cannot be attacked due to ceasefire but have no choice but to surrender. UAF attack capabilities upgrades noted; about 10 Tochka U in a career near Volnovakha; from Slavyansk and Kramatork, about 6 Tochka U. Also howitzer batteries, modernized tanks from Warsaw pact countries. Infrared vision equipment with friend or foe recognition, automatic aiming (such modernized T72 tank captured, presumed to be upgraded outside of Ukraine in a Warsaw pact country). Pow exchange to continue, 50 for 50 expected. Previously, from 73 handed to Novorossia POWs, 60 had to be hospitalized with serious injuries in captivity (broken bones, kidney injuries). Airport area, foreign fighters (Albania, Poland) alleged but not confirmed. Well-trained sharp shooters with hot spot experience present. Zhdanovka: controlled by UAF, surrounded (up to 1500 UAF), active military actions not taken due to ceasefire. Mariupol: no comment. ON MH17, Kononov stated his education at aviation and technical college of civilian aviation (aircraft engine mechanic). Konov shared his opinion ("based on black boxes (?) and wreckage condition") that MH17 was downed by Buk system. He stated that the rebels did not have Buk at the time and do not have it now. He continued that at this height, only Buk can do it in his opinion. --Resup (talk) 12:20, 20 September 2014 (UTC)
Here is a version with English subtitles. Most of the MH17 comments are at the very end. In addition to Resup's summary he says a bit earlier that they know who shot it down, but nobody would want to reveal it "specifically". Later he not only says they have and had no BUK in the DPR, but also explicitly that it was downed "from UA side" (if the subtitles are correct). --CE (talk) 13:47, 21 September 2014 (UTC)
Normandy format talks. Quoting Valerii Chalyi, an assistant head of the administration of the President of Ukraine, interview to "Shuster live" program: "we have reached an agreement with the USA President Barack Obama, that the USA will be involved in this negotiation format. " 'Chalyi noted the importance of peace talks in the 'Normandy format", that is with participation of Ukraine, France, Germany, and the Russian Federation ' (yes, these days it is Germany which has the resources, ---but what happened to the Great Britain ??? ). --Resup (talk) 13:52, 20 September 2014 (UTC)
Scotland: rebels lost, 45: 55 (full-time, -game is over).

OSCE published the memorandum, (as of now, in Russian). Detailed distanced for heavy weapons to be moved given, e.g. 70 km for Smerch, tactical missiles (Tochka U ) 120 km. (Well, finally something sensible on the technical side is signed). --Resup (talk) 14:05, 20 September 2014 (UTC)
Minsk meeting
Putin meets Poroshenko in Minsk on 26 August (all 3 persons involved got Kievan Rus' as ancestor ) Well, that's better, but outcome of it appear rather uncertain. Europe press-releasing something [ http://europa.eu/rapid/press-release_STATEMENT-14-254_en.htm ] --Chingachgook (talk) 14:52, 19 August 2014 (UTC)

Unknown force with unknown, but clearly bad, purpose, claimed by UAF colonel working on POW exchange for a long time. (Rebels agree) . (Well, that seems to be not controversial at all). --Chingachgook (talk) 14:12, 20 August 2014 (UTC)

Well, if anybody who cares to read this thinks that Europe is going to bend backwards to resolve the situation, than well, I've been there sometime for quite a while, and this does not seem to me to be exactly the case, or this is not clearly visible to me at this point time. So if those guys involved in this situation will not sort it out for themselves, one way or another, I do not see any evidence that anybody will do it for them, and especially against their wishes,and at least in a reasonably near future. Exactly how anybody sees Europe getting involved, and exactly what it is supposed to do? No clue here. (There is some sort of EU association agreement with Syria, and so what good did that do? Any comments here? I just have no clue at all. There are trucks on the border with food already , I do not see humanitarian supply to be an issue . They can stand for themselves, if nobody is pursuing an active military attack, than it seems to lead to an OKish de-facto situation . Why not to do something in Minsk, really? (Or maybe in Kiev?) Why to go to Europe, what good that is supposed to do? No idea --Chingachgook (talk) 15:42, 20 August 2014 (UTC)
Well, one thing is perhaps for Europe to give credibility for any investigations taking place (and figure out a way to manage it without inflaming things by too much). Objections? Anything else? --Chingachgook (talk) 16:17, 20 August 2014 (UTC)
There was outrage in Europe about MH17. Crimea and Russian help for Donbass reignites fear of serious war; let's not forget a lot of EU nations were under Soviet rule and didn't like it. So they went along with some sanctions. Russia's retaliation not buying their products now is hurting them bad, when their economies are just coming good. They are now democracies,where losses like that can lose them votes, too. They will wont a chance to reverse this. Some of them also had Freedom Fights and remember those, too.
Russia came out of the Humanitarian Aid business very well. Kiev came out of it looking very bad, for the pointless 8 day delaying tactics. This changes the balance of power in the Minsk talks. Russia has saved some face so can afford to make some concessions -- but will want some in exchange.
Kiev cannot keep blaming separatists for the civilian deaths, either. Their only approach has been to blast away with rockets. They never once offered or tried to negotiate with the people involved - which is NOT RUSSIA. Donbass will not give up without firm guarantees they won't be obliterated if they do. Russia will keep helping them while they fight. So it has to start with guarantees. Threats like "100 will die for every 1 of ours" have to be withdrawn.

Mentally, Rus' is closest to France (creative). But what it lacks is proper order (Britain). This is sort of an issue, actually . --Chingachgook (talk) 10:02, 25 August 2014 (UTC)
Many more Russians speak English, not French. But there are many Russian-speakers in France --Chingachgook (talk) 10:08, 25 August 2014 (UTC)
I think it is obvious which place had more rebellion. I don't know, this is a tough one --Chingachgook (talk) 10:15, 25 August 2014 (UTC)
I am actually curious is Britain possible at all. It is more tense, and may be too tense, but also potentially more to gain here. Britain is like "robust", France is like "diplomacy. --Chingachgook (talk) 11:26, 25 August 2014 (UTC)
Britain only has experience with rebellion from the receiving end, they lost a lot of colonies that way. So not an understanding attitude to rebellion. But the "losing colonies" end may make them understand Russia better. But all the ex-Soviet ones that had their own rebellions are relatively new and "junior" members (but would have a lot of older people who speak Russian). Needs be someone who can talk with Donbass in an understanding way. Or talks Kiev out of being to harsh. It's a hard one. KatKan (talk) 12:17, 25 August 2014 (UTC)

Novorossia is not that rebellious, their administartion may be more professional than Kiev's. If no go-in-between, why not Belorussia, it is a brother, and is neutral in Novorossia vs Kiev. It looks like either Belorussia, or a major power --Chingachgook (talk) 14:45, 25 August 2014 (UTC)
Baltic states, I don't think it's on, unless they themselves suddenly propose and accepted, but it seems to me if somebody has an own axe to grind, should not be in it. This is also, by themselves, not enough weight to stand up to Russia. Other former SU states, or nearby states like Poland, or say Serbia, is not a good idea, in my opinion. --Chingachgook (talk) 14:15, 25 August 2014 (UTC)

Relations with Poland are historically iffy,tho there is a Polish ethnic minority. Ditto with Hungary, which held part of Ukraine as part of the Austro-Hungazian empire. Other Baltic States too small; Lithuania (see their consul) not neutral. Nobody suitable in former Yugoslavia countries. Oh well, back to France or Germany then. Forget UK. Those 2 don't get on. maybe both could try, out of competition between them. KatKan (talk) 14:48, 25 August 2014 (UTC)
I would keep both in the run (+Belorussia). Britain is a shrewd experienced operation, which is, in good case scenarios, is what would be in demand. I mean, the real shrewd player is Russia. Any second player who shows up shall be about as shrewd, but I do not see it now. It looks like, a shrewd player on one side, and no one yet showed up on another side. Empire to Empire sounds interesting to me. France is also excellent, but it is already on good terms with Russia and because of that, there is less extra to gain, which is not there already. The main fault line is between Russian and Anglo-Saxon ways, and some common action may be an interesting new experience. Also Russia vs US is what runs in parallel to Novorossia to Kiev --Chingachgook (talk) 15:21, 25 August 2014 (UTC)
France is on good terms = trusted. France is Good Cop. Germany can be Good Cop#2, gain for France is bragging rights over Germany. UK is Bad Cop (as close to US but US must stay out of it as they're the old enemy. None of their business,it's a Europe thing. Belorus can hold Donbass hand. KatKan (talk) 19:13, 25 August 2014 (UTC)
Oh heck, while I right this it comes on the news Kiev is again claiming they're fighting a huge convoy on the border. For a change the news doesn't state this as fact but qualifies it by "not been confirmed". Ooops, Kiev, people are not taking your word for things anymore..... KatKan (talk) 19:13, 25 August 2014 (UTC)
Yep, that's how it was reported here (in Germany) as well. "Ukraine again claims..." The boy who cried wolf. It seems to be a successful counter-offensive all the way to the Azov sea without much resistance. By now the news are replaced by Poroshenko's dissolvement of the Parliament. New election Oct 26. This could be a good thing, although I really don't know how the situation could be turned around to the degree of having elections accepted by all regions. But it offers an opportunity for a new beginning. Well, for tomorrow I hope that Merkel and Putin have had some good ideas and Merkel made it clear yesterday that some things Putin will offer are backed by her, maybe with a codeword or so. The Russians will make sure to extract all the surveillance stuff the Empire has shoved into Porky's rear end before speaking a word. ;o) --CE (talk) 20:55, 25 August 2014 (UTC)