Talk:Mass graves in Ukraine
Jump to navigation
Jump to search
Slavyansk
Something coming up?
-- Petri Krohn (talk) 09:09, 8 July 2014 (UTC)
BREAKING:
8 unknow bodies found near morgue. All the usual allegations. -- Petri Krohn (talk) 10:53, 25 July 2014 (UTC)
American Kulak said... Also this, from a fanatically pro-Kiev anti-Russia source:
Interesting piece. From the details there, I had to leave this comment:

Hmmm... less like Soviet purges, then, and more like the Libyans murdered mostly "for their cars," almost all black-skinned, killed by fleeing loyalists, executed and dumped around Tripoli in August 2011, as rebels overran it. Interesting. --Caustic Logic (talk) 13:22, 15 August 2014 (UTC)
Grave found
The grave exhumation started on Thursday, conducted by authorities loyal to Kiev. They discovered 14 bodies - one of them female and the rest male, according to media reports.
Local residents told Human Rights Watch activist, Yulia Gorbunova, they had witnessed the exhumation of the grave on June 11. The city was in control of the militia at the time.
Bodies wrapped in cellophane were brought in by a truck in two runs and dumped in the grave, the witnesses said. Later in the day, the militias brought in two priests to the grave to conduct a burial prayer at it.
"We don't really know who the people in this grave are and what happened to them. What is important is that there is an investigation," Ole Solvang, researcher and security adviser for Human Rights Watch, told RT.
But Ukrainian officials didn't even wait for the exhumation before saying the grave would produce evidence of atrocities committed by the militias.
"I met a police team of criminal investigators in Slavyansk. They discovered a grave of Slavyansk civilians tortured to death by the terrorists. There are dozens of them. They were cut and burned alive," media presidential aide Yury Lutsenko said.
Zaporozhye
Kommunarskaya Mine No. 22
Sources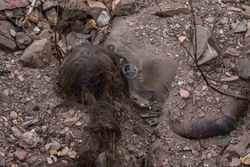 Via Vesa Kumpula on Facebook:
Four missing women were found dead on Monday close to a mine in the region of Donetsk, with strong evidence suggesting the women were executed.
The bodies of all four women were found with their hands tied behind their backs in shallow graves. One of the women was found beheaded while another is believed to have been pregnant at the time of her death. It is unclear how long they had been dead for before the discovery but all four bodies displayed signs of decomposition.
The women were discovered at the Kommunarskaya Mine No. 22 near the village of Kommunar after self-proclaimed Donetsk People's Republic forces entered the area after Kiev forces relinquished control. The latter had been based in the region for the past two weeks.
Terrible discovery made by Donetsk People's Republic militia in the cities and villages where insurgents were active. Defenders of Donbass stumbled upon the camp executioners. In it, according to resistance activists, the military tortured and killed civilians. Soldiers of self-defense who – it would seem – are accustomed to the horrors of war, were shocked by what they saw.
All the time that the troops were based in the territory of the mine, in the surrounding villages and towns disappeared people, mostly young girls. Now militias have no doubt that they were raped and killed in the camp executioners. Found the bodies of two women with their hands tied. It is evident that their long and painful torture. Close yet found two dead local residents, which dealt not less severely.
On Tuesday, militia members of the self-proclaimed Donetsk People's Republic came across the burials of bodies in the grounds of a timber depot of Mine 22 "Kommunar" (Nizhnyaya Krynka, 60 km from Donetsk).
A spokesman for militia told ITAR-TASS, "Possibly, this is a mass grave. Disinterment is to be carried out and the entire territory will be explored. Other burial sites have been also found and will be cut open". Discovered so far are four bodies, including beheaded ones. Only two days ago National Guard units stayed in the area of the discovered burials.
Mine workers' Kommunarskiy "that fifty kilometers from Donetsk, found on its territory corpses of civilians who were shot Kiev" liberators. "
- Here they lay, not even added dropwise, just took them away for examination, - lead us to two small pits mine guards. At the bottom - female brown hair and wet rock, over which hover flies. And the smell ...
- No, camouflage them was not all in civilian clothes, was one in a skirt ... hands tied behind his back ...
According to local residents, Ukrainian valiant warriors who went to the mine on August 20 staged their headquarters here. Hence the beat of artillery through towns and villages, here also rounded up the people who were taken directly from the gardens.
- For what?
- They each enemy imagining guns in people poked and yelled at everyone: "separatists, separatists!" Some were taken away with them ...
Gone punishers literally three days ago, under a white flag. And before that have spoiled the maximum: shot cars, buses, bulldozers pinched tubes burned Mining Administration, have done everything to the mine was hard to recover. Both horizontal mine shaft flooded now: the technology of coal mining is that of mine constantly need to pump out the water, and for a while that there were punishers, the pumps were powered down.
- So what's in it, do not want to even think - say the miners. - We are afraid that there will be as in Krasnodon, where during the Second World fascists threw mine in the Young: the inhabitants of the neighboring farmsteads have for this month many went missing ...
.@OSCE is currently investigating a mass grave site near #Donetsk. Claims that #Ukraine executed civilians in mines.
Militias of the self-proclaimed Donetsk People's Republic on Tuesday found burials on the site of Kommunar mine's wood depot, 60 kilometres from Donetsk.
The first exhumation results following the discovery showed that the civilians, mainly young women, had been raped, tortured, tied up and gunned down.
A detailed examination of bodies found in the graves of civilians killed, who left during the retreat of Ukrainian soldiers, we found that some of them have no internal organs. This is true for women's bodies found far not away from "Kommunarka" mine number 22 near the village of Nizhnyaya Krynka, and civilians killed from other graves the National Guard.
One of the mass graves contained some 40 bodies of civilians, while the two others had the bodies of captured militia members and Ukrainian soldiers, the self-proclaimed Donetsk People's Republic's Prime Minister Alexander Zakharchenko said on Thursday.
-- Petri Krohn (talk) 12:32, 24 September 2014 (UTC) (Updated 17:49, 25 September 2014 (UTC))
The 'military police' of 'Donetsk People's Republic' ('DPR') told the SMM that three unmarked graves allegedly containing multiple bodies had been found; two of them were located in a coal mine Komunar near the village Nyzhnia Krynka (35km north-east of Donetsk) and one inside the village. The SMM proceeded to the scene and saw in the coal mine two areas located fifty metres apart, each containing two human bodies. All four corpses were in the process of decomposition. The SMM also saw eight 9mm Makarov pistol cartridges approximately five meters away from the bodies. Near the road on the edge of the village, the SMM observed a pile of earth resembling a grave which had a stick with a plaque, written in Russian and containing the names (or in one case – initials) of five individuals. The plaque indicated that the individuals died on 27.08.2014. On top of the plaque there was another inscription saying: 'Died for Putin's lies'. Neither in the coal mine nor in the village did the SMM see any forensic experts. COMMENT: The SMM cannot provide a forensic assessment of the sites.
According to Zakharchenko, an examination of the bodies showed that the victims lacked internal organs. However, he noted, it remains unclear whether the organs had been harvested at the time when the victims were alive or dead.
...Noteworthy, the Facebook account of Yulia Tymoshenko's former lawyer, Sergei Vlasenko, was hacked in July. His correspondence with German doctor Olga Wieber and commander of "Donbass" battalion of the National Guard, Semyon Semyonchenko, was exposed to the general public. ... (see below) --Caustic Logic (talk) 22:29, 26 September 2014 (UTC)
Location and control?
Minepit 22 Kommunarskaya is located about midway between Nyzhnia Krynka and Zhdanivka --Resup (talk) 12:57, 26 September 2014 (UTC)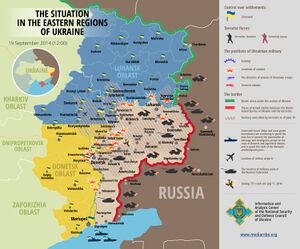 This seems to be only AFT photo of UN meeting, used in a publication by Malaysian Rakyat post.
Russia has sent its investigation committee, and also asked for international help to investigate. According to KP reports above, quoting locals, Ukraine forces were there, in Nyzhnya Krynka, from around 20 August, to some 3 days before KP publication, which would be around 20 September. Pro-rebel maps of military activities for that period, show that Ukrainian forces were present; Pro-Ukraine sources are not inconsistent/apper to show the same. --Resup (talk) 00:56, 26 September 2014 (UTC)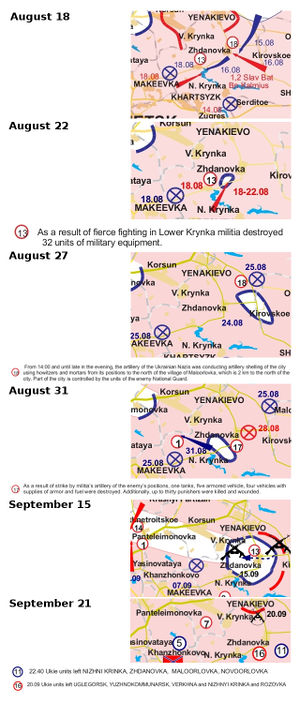 I've collected both the "ATO" maps and the Kot-Ivanov/Hartin maps since mid August. Well, most of them. Comical Andriy's disinfo map is a complete joke and far too undetailed to have any value here. It shows the region in "rebel" hands all the time. As to the other maps. They start showing the region in "rebel" hands. Then, on August 18, "as a result of fierce fighting in Lower Krynka militia destroyed 32 units of military equipment". On the next map August 20 a mini-cauldron appears there. Two maps later it has disappeared and one map later indicates that fighting happened from 18-22.
Following maps show the region again in "rebel" hands, undisturbed. Then on August 31, the mini-cauldron appears again, with the description "As a result of strike by militia's artillery of the enemy's position, one tank, five armored vehicle, four vehicles with supplies of armor and fuel were destroyed. Additionally, up to thirty punishers were killed and wounded". Maps in early September show "rebel" artillery fire on the mini-cauldron. It stays unchanged until September 10, when Kot-Ivanov seem to have stopped (or paused) with their maps and someone else took over with far less useful maps.
It seems that the Slavyangrad team took it upon themselves to continue the English maps based on the Kot-Ivanov material as they reappeared on September 15, showing a now much larger cauldron with a corridor leading north-west out of the "rebel" territory. I read somewhere that this was kept open for the remaining troops to leave, but they refused for a while. The map of September 21 shows the cauldron disappeared and has two points saying that the troops left on Sep 20, 22:40h, and Sep 21, 20:09h.
To me this all sounds like it was initially a stay-behind Ukie unit that went unnoticed for a while hiding in that mine, maybe with the Aug 18-22 fighting being a supply convoy. --CE (talk) 11:38, 26 September 2014 (UTC)
Organs Stolen?
According to Zakharchenko, an examination of the bodies showed that the victims lacked internal organs. However, he noted, it remains unclear whether the organs had been harvested at the time when the victims were alive or dead.
...Noteworthy, the Facebook account of Yulia Tymoshenko's former lawyer, Sergei Vlasenko, was hacked in July. His correspondence with German doctor Olga Wieber and commander of "Donbass" battalion of the National Guard, Semyon Semyonchenko, was exposed to the general public. In the correspondence, the sides discussed organ trafficking. Thus, in one of the messages, Wieber wrote in detail, which organs were needed: "17 hearts, 50 kidneys, new livers - 35 pieces, 30 pancreases and 5 lungs." Vlasenko responded with a promise to deliver all the organs. Vlasenko also wrote that Semenchenko should collect organs appropriately, not to deliver "bad quality" organs again. --Caustic Logic (talk) 22:29, 26 September 2014 (UTC)

I don't know for a fact, but Olga Wieber story is likely fake, Die russischen Staatsmedien ergehen sich in dieser Übung, sie versorgen ihr Publikum mit einem geschlossenen Weltbild wie aus alten, totalitären Tagen. (When Cyberberkut is quoted, may be worth checking whether old story still there; with Pravda, it was last reliable perhaps a 100 years ago). Organ trade, in general, is still fairly probable as such --Resup (talk) 22:49, 26 September 2014 (UTC)

Little surprise, I agree with that. The usual hacked FB leak exposes serious crimes, hints of doublecross and borderline comical idiocy in the same package, over and over. This is the formula again. I always doubt this scripted-sounding stuff. The organ removal itself, likely enough. Just this leak part is no good. --Caustic Logic (talk) 23:31, 26 September 2014 (UTC)
Pravda is John McCain favorite; however his resent publication there received such comments" Some were mostly perplexed that McCain chose Pravda.ru to publish his op-ed. In Soviet times, the "Pravda" newspaper was the official mouthpiece of the state, but it fell into disarray in the 1990s. There is now a newspaper version run by the Communist Party, but the Pravda.ru website is unrelated to the print edition. Ilya Yashin, leader of the opposition Solidarity movement said, "McCain obviously doesn't know that the Pravda.ru website isn't related to the Cold War-era newspaper," but is just a Kremlin-connected parody " rferl.org
Spiegel: Russland vs. Ukraine: Der Propagandakrieg (Von Moritz Gathmann, Moskau) --Resup (talk) 22:59, 26 September 2014 (UTC)
Investigations
"There has been a lot of misinformation surrounding the whole thing," she said, pointing out that the area where four bodies had reportedly been found had at different times been under control of Ukrainian troops and the rebels. "Both sides are pointing fingers at each other," she said. --Caustic Logic (talk) 11:16, 28 September 2014 (UTC)
The same day, Ukraine announces its own sudden find of three mass graves it will likely insist have to be examined first. Kyiv Post snippet says "Ukrainian authorities" - perhaps recently - found three grave sites in or near Slavyansk, "which had been under the control of independence-seeking pro-Russian militia, officials said." The last is true, up until (how many weeks ago?) Since then, some say, has been something of a reign of terror under Kiev's occupation. And they know where to find dead people, as well as when to announce it. Hmmm.... --Caustic Logic (talk) 11:16, 28 September 2014 (UTC)
Slavyansk was "liberated" in early July. --CE (talk) 11:54, 28 September 2014 (UTC)

As previously mentioned on Talk:Ukraine_war_casualties page, there is a documentary film by Alexandr Kots and Dmitry Stepashin. 'Farewell of Slaviansk', describing emerging UAF shelling tactics. At 17:18 'Drovosek' (woodcutter), a volunteer giving funerals to civilians in Slaviansk, talks about 5 killed civilians daily, half of them not identified. This could be those. Also there were reports that when electricity was cut off, unidentified bodies were moved from a morgue to a mass grave, on or around 11 of June. "Drovosek" on the video is saying there is no electricity so he buries victims at once. --Resup (talk) 13:07, 28 September 2014 (UTC)
An example of unbalanced reporting by human rights watch. This girl heard a story about one man killed, in unclear circumstances, and that another man vanished after a street fight. She concludes/implies that rebels kill civilians en mass, and that idea is now human rights reporting. It does not cross her mind that some 5 per day civilians are killed by shelling, as she sticks to her 1.5 --Resup (talk) 13:44, 28 September 2014 (UTC)
That's pretty s**t reporting even by HRW's lower standards (they employ different standards in rotation, some are okay). "Independently, it is crucial to bring to light the abuses that happened in Sloviansk while it was under insurgent control." Two links to previous findings on that are provided. Thank God there's no reason to suspect, consider, or rule out violence by Kiev during its artillery and mortar and attack jet assaults, military takeover, or occupation. No hint that this is part of the picture at all, aside from the positive force of nature that ended the reign of terror. (disclaimer: HRW is owned by "New York," the parent company of the Kiev government ;) ) --Caustic Logic (talk) 22:41, 28 September 2014 (UTC)
Aside from the investigation synch, this should move to Slaviansk section, a new one if warranted, when we figure out if this is at all new or just mentioned anew. --Caustic Logic (talk) 22:41, 28 September 2014 (UTC)
A Russian-led international delegation visited the site on September 28th. This reminds me of Graham Greene's and Harrison E. Salisbury's visit to the Klooga concentration camp outside Tallinn exactly 70 years earlier.
I have met or know two of these people personally. Dmitri Linter from Estonia and Alexander Brod from Moscow. Unfortunately neither of them is fluent in English, so my communication with these people has been very limited. -- Petri Krohn (talk) 12:50, 1 October 2014 (UTC)
Interesting. Your contact has been limited, was limited , whatever... so you seemingly appear from nowhere? You've got a readership and a CIWCL and so on. You could ... well, I don't suppose they need much help, but ... eh, I'm sure you're keeping it in mind. --Caustic Logic (talk) 12:53, 2 October 2014 (UTC)

I understand that there were about 5 independents accompanying OSCE mission (selected in some way by somebody). People seen in Novorossia video are Энорст Гроныш (human rights activist from Latvia), Andre Brod (Director, Human Rights Bureau, member of human rights committee of the Russian President), Абдул Яо Никез , Independent Expert, International Law, Côte d'Ivoire ; Андрей Гульцев; Russian expatriates Society of France , and Europe; Наталья Николаева, Russian expatriates Society, UK. Criticism of the sort that they are not OSCE (or not pro-"Western" enough, etc) was raised. You may want to check Catherine Fitzpatrick comments after Russia-insider article, if curious to do it , of course. A problem is that official investigators are not likely to make detailed public comments early on; but for investigation to be of any practical relevance, somebody should care (enough people passionately enough). (And as usual, people yelling the most may be those who understand the least).That was the nature of expatriates comments in the video, that there is no/little sensible info in the Western mass media. --Resup (talk) 15:16, 2 October 2014 (UTC)
Another point is that OSCE is not going to assign blame, I understand that they do not have criminal forensic experts. There is Russian criminal investigation, they say civilians were executed by UAF and they have proof. (But if it is not international conclusion, perhaps it may be attempted to disregard this; ----and they are not going to be splashing info on social networks)--Resup (talk) 17:38, 2 October 2014 (UTC)
Einars Graudins (Энорст Гроныш from Latvia) is getting some attention, with his reports now being misconstrued in a way that begs clarification. Apparently FM Lavrov got confused and said there were 400 bodies in these mass graves, when really it's 9+ and the 400 refers to unidentified bodies in area morgues. Further, some Russian sources are calling him an OSCE expert, with the organization denying any connection, leaving a vague impression that he's posing as one. And while most reports acknowledge he did visit the sites with the OSCE team, some point out "apparent contradictions" to question his assessment. (see Telegraph, RFE/RL) The 400 bodies, OSCE expert claims, and misattributed MH-17 victim photos have in recent days tricked the Western media into finally talking about the (technically) mass graves more than they would otherwise, but they've also caused some confusion and give a couple new, lazy excuses to ignore and downplay the emerging war crimes evidence. --Caustic Logic (talk) 09:56, 4 October 2014 (UTC)
The Saker translates and reports on the visit:
Today, buried 9 minutes into the latest edition of the Channel 1 news report on Russian television, was a 23 seconds long statement by Latvian Human Rights investigator Enorst Gronych who declared on camera that he has interviewed the people of a village recently evacuated by the Junta's repression forces who had told him about "repeated cases of gang rapes of minor girls aged 12, 13 and 14 years old" by Ukrainian thugs.
-- Petri Krohn (talk) 19:30, 1 October 2014 (UTC)
The results of probes that would be carried out by Western non-governmental organizations (NGOs) on the cases of mass graves in southeastern Ukraine's Donetsk, won't be accurate and objective, Director at Principal Asset Management Eric Kraus told RIA Novosti in a Monday interview.
-- Petri Krohn (talk) 04:10, 15 October 2014 (UTC)
Daily Psaki
30 Sept 2:51 p.m. EDT MS. PSAKI. State Department "We remain deeply concerned by the intensifying violence in eastern Ukraine.
 ???
Russian military forces
(???)
and equipment are still in Ukraine, and the Russia-Ukraine border is still unsecured. Since the ceasefire was signed on September 5th, attacks on Ukrainian positions and towns,
(by whom???)
including around the Donetsk airport and the village of Popasna in Luhansk, have killed and wounded scores of Ukrainian armed forces and civilians and destroyed critical infrastructure. We call on Russia and the separatists it backs to immediately end these attacks. We also call on Russia to withdraw all Russian military forces
(???)
and equipment from inside Ukraine
 ??? most of equipment on both sides is Russian made .
OSCE monitors are on the ground in Ukraine monitoring and verifying the ceasefire, and ready to further support the implementation of the September 5th Minsk protocol and September 19th Minsk agreement. Russia must allow them to do their work
(???) "

No clue about big picture items, that it is UAF shelling that is killing civilians; that access is not controlled by Russia; and that there is actually no problem with the access. No awareness of details (like that there was an offer and opportunity for UAF to leave the airport, which was not taken, etc) --Resup (talk) 23:32, 1 October 2014 (UTC)
2 October. Ukraine should lead in the Donetsk investigation. at (29:35). (Note. War crimes investigations have no time limit. But living humans do). --Resup (talk) 20:10, 2 October 2014 (UTC)
---
Novotroitske
Military Maps points to a possible mass grave site north of Novotroitske along the H20 road from Donetsk to Mariupol:
с августа по сентябрь укры хоронили людей, ямы копали трактором, трупы подвозили на КамАЗе "савке, точно место нужно узнавать у местных, ориентир кафе "Перлина"
From August to September Ukry people were buried, dug pits with tractors, hauled corpses with KamAZ trucks "Savka, you need to learn the exact place from locals, landmark cafe "Pearl"
-- Petri Krohn (talk) 17:23, 8 October 2014 (UTC)
Krasnoarmeisk?
The bodies of 286 women have recently been discovered in the eastern Ukrainian city of Krasnoarmeisk while almost 400 women between the ages of 18 and 25 are still listed as missing, Alexander Zakharchenko, prime minister of the self-proclaimed Donetsk People's Republic said Friday.
"Around 400 women between the ages of 18 and 25 have gone missing in Krasnoarmeisk where [Ukrainian forces] Dnepr-1 was based. The bodies of 286 women around Krasnoarmeisk who had been raped have been discovered," Zakharchenko said at a meeting with students from Donetsk National Technical University.
I do not believe any part of this. It is just good enough for Sorcha Faal. Show me the video, or it does not exist! -- Petri Krohn (talk) 06:39, 10 November 2014 (UTC)
Doesn't sound like they're claiming a mass grave, but bodies discovered, maybe one at a time "around" Krasnoarmeisk. That in a way makes it more difficult to believe (did they just liberate signifcant territory around there? "Where Dnieper 1 was based?") What would help bear this out if pre-existing reports of women going missing there (of that many, some should have been reported, and enough that it would be reported as a serious concern, somewhere). 400 women don't go missing in a few months with no noise. If that's set, the claims of finding most of them will start to feel more solid as well as heavy (right now, the claim seems more heavy and loose, a bit damp and steaming) --Caustic Logic (talk) 10:28, 10 November 2014 (UTC)