Talk:Maan Massacre, 2014
Jump to navigation
Jump to search
There are news coming in that Maan was "seized" again by Islamists as part of an offensive trying to cut supply roads today. SOHR says 25 NDF fighters were killed, the government talks of mainly women and children and a "massacre". SANA says 10 women were "massacred and their bodies mutilated". Pro-Assad TV journalist Alaa Ebrahim has published a list of "20 out of 60" names of people killed "by Al-Nusra" on facebook and linked a video with Islamic Front logo on twitter (which doesn't show much of use). --CE (talk) 02:30, 10 February 2014 (UTC)
Death Toll
As of February 11, there's still no clear answer. First it was about 20 dead, being 20 NDF, then 20 NDF plus 20 civilians, then apparently 40 civilians plus the defenders. Most reports now have the 40 range singled out one way or another, but enough indicators point higher that it seems more likely - around 60 people of Syria killed in total. 62 is the best single guess at the moment. --Caustic Logic (talk) 13:02, 12 February 2014 (UTC)
The General Command of the Army and Armed Forces said that 42 women, children and elderly people were murdered in a horrific massacre committed by Jabhet al Nusra terrorists in the village of Maan in Hama's northern countryside on Sunday.
Hama, (SANA) – With official and popular participation, victims of the Maan massacre which was committed by terrorists last Sunday were laid to rest. (number laid not mentioned)
Damascus, (SANA) The Cabinet denounced the massacre committed by terrorists against the town of Maan in Hama province which claimed the lives of 42 victims, mostly women and children. (suggests 42 total)
The government delegation denounced the "massacre" by Al Qaeda-linked rebels of 42 civilians in the town of Maan in Hama province. The pro-opposition Syrian Observatory for Human Rights said 25 people, most of them members of a militia loyal to the government, were killed when Islamic fighters overran the town in an attack with sectarian overtones. (SOHR position since updated)
"The number of those killed yesterday by the terrorist groups is over 50," al-Meqdad told reporters. The opposition Syrian Observatory for Human Rights reported that 21 civilians had been killed in Ma'an - whose residents belong to President Bashar al-Assad's Alawite sect, seen as heretics by many Sunni Islamists - along with 20 pro-government militiamen.

Confronted with 41-42, it sounds like, he specified the total was well above that.
The list examined below claims to name 20 (actually 21) of about 60 total victims.
Besides those confirmed as already dead, Syria News.cc reported, "the missings list extends to 80 civilian." [1] Only so many people can just get lost and turn up later. This, if true, means rebels took quite a few captives. The actual death toll could therefore wind up much higher.
Reported Victims
An initial List of 20 names out of 60 alleged victims was posted by Alaa Ebrahim on Facebook, Feb 9, and a text version was also posted by Jablah News Network. It's 21 victims actually (last entry split here). Google Translated:
And now is our response to the first list of the names of some of the martyrs of the massacre in Hama glitter (Maan) 02.09.2014 and the remaining names will be published as soon as received
Martyr Hikmat Kaddour
F martyr Fatima Kaddour
F Martyr (Alham?) Kaddour
Martyr Ghassan Kaddour
Martyr Karam Kaddour
F Martyr (Frish?) Kaddour
Martyr Ali Kaddour
Martyr Suad Kaddour
F Martyr Riifah Kaddour
Martyr Yassin Kaddour
F Martyr (Mhasn?) Kaddour
Martyr Ali Saleh
Martyr Ibrahim Nasser
Martyr Fatoom Maihoub
F Martyr and communication Wessal Nasser
Shaheed Mohamed Ibrahim
F Martyred Zarifa (Al-Shar?)
F Martyr (Jwhr?) (family unclear?)
Martyr Ayham Ibrahim
Martyr Abotahir Tahir ,,,
F ... and his wife, Um Haider
Mercy and glory and immortality to the martyrs
Clearly a Kaddour family was singled out, in this alleged incident. I forgot, not just names, but the form of "Shahid" shows gender. Those with the suffix in Arabic, marked F above. Nine out of 21, with at least 5 Kaddour women. There are also quite possible female Shabiha, FWIW. Some sign up last minute, perhaps. But not this many. This will include old women, girls, boys, etc. --Caustic Logic (talk) 10:28, 10 February 2014 (UTC)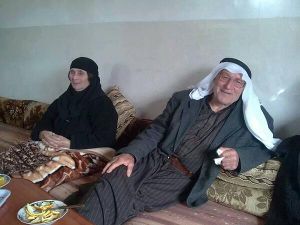 Tweet: "Abu Mousa refused to flee the house he lived in, that's where "rebels" found & killed him & his wife. #Maan #Syria pic.twitter.com/IBHBUHLTAU" --CE (talk) 21:07, 11 February 2014 (UTC)
Two bits of information from As'ad "Angry Arab" AbuKhalil:
He says Syrian novelist Hasan Ibrahim An-Nasir lost his father, mother, and two sisters. On the list are Ibrahim Nasser and (F) Wessal Nasser which could be the parents. The two Ibrahims seem to be male, maybe the sisters married into the Kaddour family?
This is interesting. It's specific and it'll pan out or not. I'm used to seeing maiden names even on those who marry in, but that's how the VDC does it, so maybe the sister married in, or is on the other list of civilians. We may or may not see. --Caustic Logic (talk) 00:43, 14 February 2014 (UTC)

New piece at syrianews.cc with information about both Maan massacres. I leave checking the details of the first to you, am not on speed on that. About the current one, he writes that Maan has only one road to connect it to the outer world, which seems obviously false from the map, where two roads cross and villages are on each end. According to the article, a number of the victims died on this road while leaving to shop. Some rather plausible sounding details in addition, from a resident named Mohamad. The article sports the picture of the funeral (which seems to feature a couple of Bedouin-looking people indeed) and the one of the older couple posted in the tweet I linked to above. According to the description here, "Abu Mousa"'s full name is Ibrahim Mousa Al-Naser and his wife was named Fatoum Mayhoub (13. and 14. on the list). The novelist's parents. --CE (talk) 01:40, 14 February 2014 (UTC)

This is the type of report I was waiting for. Thanks. Will add to sources and in time work in, to both pages. --Caustic Logic (talk) 10:28, 14 February 2014 (UTC)
I have been following events in Maan closely for the last two years as it has been attacked, since its on a "strategic" road, as people like to say, on the way down to Hama. Almost all its residents have already fled due to successive attacks. Its residents could not be accused of being shabiha and actually had good relations with local Beduin and Sunni neighbors. As of yesterday there were about 40 dead in the attack, or as the opposition calls it, a "liberation." 18 of the dead were women and children. 15 were very old people. 8 of the dead were handicapped. Of course the men were in a local defense group, they have been under attack since 2012. There were also about 17 soldiers, and the survivors fled to the nearest government held town."
Which fits the already emerged picture quite well. --CE (talk) 23:45, 13 February 2014 (UTC)
Bedouins, huh? That was just mentioned below. Might well be a coincidence. Maybe the town was empty aside from defenders ... defending an empty town. Or those were on the farms attacked. It's entirely possible. As far "accused of being Shabiha," there are no standards to meet, really. If any had guns, that's more than fair by non-standards. "Of course the men were in a local defense group" = "Shabiha" as they say it. --Caustic Logic (talk) 00:43, 14 February 2014 (UTC)
VDC Maan Martyrs
Hm. Looking at the Center for Documentation of Violations database, there's this pattern to consider, which you can see with the Talk:Homs Massacres#Marmarita Massacre where the fact that some of the dead are called "Shabiha" (NDF/Local Committees/Lijan Shabiyya), their civilian family members and them and anyone rebels killed in this or that raid on a Christian or Alawite village, gets listed under "regime casualties," rank: civilian, if anywhere, rather than as "Martyrs." maybe they don't consider that a violation? I've wondered that before. Conversely, in that case and others (like the Latakia Massacres or see last link), rebel fighters do get reported to whatever degree, and listed as martyrs, including foreign Salafist ones killed in the course of committing a massacre.
That's alleged here. First reports said only Shabiha died, now maybe it was their families too. Looking at the current updates (Feb. 9-10, all martyrs from Hama province) this pattern seems to hold. No sign of any scale of massacre in Maan. And the "regime casualties" list stopped being added to on January 1. A scattered few were added in late December, one guy listed twice, then two "rank: civilian" regime forces from Idlib, dead on the 1st, and none added since. over a month on. Check it. Until that changes, there's no place to list the Alawite and Christian children, women, and elderly killed alongside related men considered "Shabiha" in alleged massacres like this. Below, their paltry martyr's list, closest things to documenting this. --Caustic Logic (talk) 13:22, 11 February 2014 (UTC)
In nearby Soran, a serious massacre is recorded - worth some exploration (below). But for people from Maan, this alone: Abdul Nour Bakour al-Husain, Non-Civilian. Adult - Male. From Hama, area: Maan. Died 2014-02-09 by shooting. Rank: FSA. Notes: Martyred during the clashes with the regime`s army forces in Hama suburbs. They add he was "buried in Khween village." This translates قرية which Wikimapia, when asked, suggests is in the village labeled Fan al-Wastani and/or the other Fan al-towns just north and south of it. All about 13 km SE of Ma'an as the crow flies. There is/was a small Sunni minority in Maan he might be from. Or maybe he just died there and it's mislabeled.
I'm not trying to catch them all, but here's a rebel fighter with Martyrdom location: Hama: Maan - Yosef Ahmad Bahjat Hassani Child-Male (looks just about 18, hit in the head with a good shot). Another killed there is Anas Mohammad Hasan Hassani, adult male. Must be big brother who talked Yosef into this? No image. Both are Rank: FSA, from Soran (worth checking other Soran fatalities then), with the note: "Martyred during the clashes with the regime`s army forces." --Caustic Logic (talk) 13:29, 12 February 2014 (UTC)
VDC Regime Forces
Before, it wasn't filled in. By now, a year and a half later, the VDC lists 5 "regime forces fatalities" specified as martyred in Hama in the days of the offensive.
Mouahmmed Ahmed Ibrahem - from Lattakia: Jabla - Brigadier general - died 2-11 in Maan (mistranslated "Nan" in the English version, but the Arabic says Maan)
Ala'a Bakri Mahouk died 2-10 in Hama rank: unknown
Ali Hafez Naman rank unknown - from Baniyas - died 2 -12 in Maan
Ahmed Shaban Sleman - from, unknown rank: unknown - died 2-10 in Kokab (Kawkab, south of Maan) - photo Notes: National Defense Forces
Ala'a Mouahmed Hemdoush - Province Lattakia Qadmous - Second Lieutenant - 2-08 shooting Hama - photo
Note how none of these is dated for the main conquest on the 9th. Are they claiming it was a blood-free conquest, on the loser's side anyway? That can't be true. So did they just not list the killed fighters, or since it was more of a massacre of people in homes, some of them armed ... did they put them with the man-heavy civilian massacre toll that was listed in other towns? --Caustic Logic (talk) 23:20, 1 August 2015 (UTC)
Rebel Denials
James Miller's Enduring America has been weighing back in to try and clear every Islamist crime that occurs in Syria or is, as they put it, alleged by the Assad regime. The logo has been changed from THE Pentagon to A Crescent (rainbow colors, no star, meaning unclear). Anyway, after the Jihadist takeover there...
...Within 24 hours (of the rebel victory), State media was claiming a "massacre" of civilians. The Assad delegation at the Geneva II talks used the claim as their opening salvo against the opposition on Monday. Mainstream press have been spreading the news of at least 20 civilians among 40 dead. However, those reports are almost exclusively based on the claims of the Syrian Observatory for Human Rights — which, as usual for its assertions, provides no sources.

Hint for the slow: if they don't specify the source, it's their activist network, as usual. Perhaps Mr. Lucas thinks the regime is their source? Less than 24 hours before massacre reports is made to seem suspicious, but that's about how long it takes for rebels to kill people after getting access, for that to become heard about, verified, and reported.
"Beyond the SOHR's "report", the only evidence that has surfaced so far," Lucas writes, "is from Tahrir Souri, journalists who have posted a photograph of an elderly couple allegedly killed by the insurgents." This is supposed to seem easily outweighed by the evidence he adds, a 15-minute rebel-provided video posted Monday (link) and a translation he got from Reddit. This helps us learn there was no massacre. The town was "liberated," and only combattants were killed. In one excerpt (around 1:20), an informed fighter explains:
We first circled the village from three axes, we left a single axis open as a corridor for women and children to escape. When the firefights started, the women and children began to leave. When we entered the village we found Shabiha (pro-Assad militia), and women combatants armed with sniper rifles and automatic rifles, grenades too. One of the women took out two of our men, shortly afterwards she was shot.
It goes on, worth citing here actually. Anyway, there were civilians, children, women fighting to the death, people they allowed to escape, all very good. But their ostensible leaders in Turkey suggest that's all made up. In fact, they said in another bit helpfully provided by Enduring America, as the two things they have on the subject so far: "The opposition Syrian National Coalition has issued a statement refuting the allegation that insurgents "massacred" civilians as they captured Maan in Hama Province last weekend."
Monzer Akbik, the Chief of Staff to Ahmed Jarba, President of the (Coalition) said: "It is important that events is Maan are clarified. There was a battle between the Free Syrian Army and the Assad forces. The village was evacuated of civilians more than six months ago. Those who were killed in that battle were killed in action –– no civilians were killed. The regime is trying to create a clouds of lies to cover up their crimes, like the barrel bombings we've recently seen."
Six months they were all gone? Did the fighter mean we surrounded them six months ago and let people escape, and only pounced now? No, the interviewer got that in answer to this question:
You already told us that the confrontations lasted 24 hours. Could you tell us more about who you faced? What happened during the firefights? And how they started?
And there you go - one way or another, it must all be regime lies. They aren't sure if the civilians were all gone months ago, or if they let them all flee at the start of this day-long battle. But one of the stories must be true, because otherwise ...--Caustic Logic (talk) 10:54, 13 February 2014 (UTC)
According to the videos I have no problem believing that the place was mostly abandoned for months. Some show a battle for a checkpoint outside the village. Maybe this family Kaddour didn't live directly in the village either, but outside on some farm or so. Could explain why SOHR changed their reporting later, maybe the news took some time. Tried to google the name and Maan, nothing of note - a couple of people actually named Kaddour Maan and a professor named Maan in Lille, France who has a Ph.D student named Kaddour. --CE (talk) 14:32, 13 February 2014 (UTC)

Well that would make the rebel fighter's story untrue and harder to explain. Why make up civilians just to explain away? I'll have to watch the videos closer, but tenancy in wartime, not always able to tell. But armed women in number, snipers ... doesn't sound made up, suggests some kind of town with a number of people. SOHR reported that civilians were evacuated, suggesting they were there. Maybe six months ago they left for some reason, but trickled back? Certainly no sign any large number were caught and killed there. Otherwise, people on remote farms are in fact the standard prey of roaming "Shabiha." Quite possible, depending. Qaddour is a common name, too common I think to say much. A possibly Bedouin Qaddour family who lived in tents were killed in a Homs Massacre south of Homs, April 2013. too far to draw a link. Not Alawite either. :) --Caustic Logic (talk) 15:59, 13 February 2014 (UTC)

For possible reference: Homs Massacres#Qaddour Family Massacre
To clarify, on February 12, the opposition coalition issued a statement
The Syrian Coalition reiterates its full respect for the international law, and confirms in a statement released today that "all the brigades and battalions under the umbrella of the Syrian revolution are committed to charters of human rights and Geneva Conventions." The Syrian Coalition stresses that "the battalions liberated the village of Ma'an in rural Hama to protect civilians and ensure their safety. All those killed in the battle of Ma'an were fighters and armed militias. We stress that the regime's claims of massacres against of civilians are completely baseless, as the Assad regime has been reiterating  these lies to tarnish the image of the revolutionaries in front of the Syrians and the world." It is important to note that the liberalization of Ma'an dealt a blow to the Assad regime, as the village was a key stronghold for Assad's thugs in northern Hama, from where they used to launch atrocious attacks on civilians in neasby towns and villages to suppress the revolution for freedom and dignity. (Source: Syrian Coalition)

(you can just sense their confidence in the future here) --Caustic Logic (talk) 11:40, 15 February 2014 (UTC)
Or, perhaps, it's a third explanation why the opposition at large is free of blame here. It's actually apparently the first one chronologically, but it was an unofficial (alleged) comment, and they would say it's trumped by the more informed statements above. But we can't ignore how, according to Breaking News.sy, there was a meeting on Feb. 10 in which coalition spokesman Luai al-Safi, at one point, "described Ma'an massacre that took place in Hama as a personal mistakes and excesses may occur. " That's only an alleged acknowledgment as it stands - there's nothing else I can see to back this up. --Caustic Logic (talk) 11:40, 15 February 2014 (UTC)
World Reaction
Syria has urged the United Nations to condemn the killing of over 50 Syrian civilians in an Alawite village by foreign-backed militants in the Arab country.
Syria's Foreign and Expatriates Ministry demanded a stern and urgent UN condemnation in two identical letters addressed to the United Nations secretary general and president of the UN Security Council on Monday.
One of these two complied the following day:
"The Secretary-General condemns in the strongest terms all violence against civilians and calls for the perpetrators of this massacre, and all other crimes in Syria, to be brought to justice," the statement said, adding that "such horrific incidents should be a reminder to all of the urgency of ending the conflict and launching a political transition towards a new Syria where all people and communities are guaranteed protection, rights and freedoms."
This statement has been heralded as the first global voice to say such a thing. However, there's an ambiguity to it worth noting. If Ban were the omnipotent voice of the West and its allies, this could easily read as a threat: "It's urgent that we press ahead with our regime change plans, and until that happens, massacres like this will continue. Yadda yadda justice." Meanwhile, the government to be transitioned from is already implementing the only concrete plan anyone will ever propose regarding that justice. --Caustic Logic (talk) 12:15, 12 February 2014 (UTC)
Syria's government of course strenuously denounced the acts, as did its people with mass rallies nationwide. In Geneva, Syria's information Minister Omran al-Zoubi "said that the coalition delegation should have condemned, out of patriotic and moral duty, the massacre in Maan, which claimed the life of Syrian citizens including women , children, elderly and disabled people," as one report puts it.
"It's shameful and disgraceful that the coalition delegation would come to Geneva while remaining captive of terms and positions characterized by political immaturity," the Minister said, stressing that every incident or massacre that took place in Syria since the events began are documented, and that the coalition delegation and those who share their opinions know full well who committed them.
Instead, the opposition issued a statement denying categorically that there even could have been a massacre.
Outside Syria, and aside from Ban's ambiguous statement, there has been little by way of condemnation of what all credible sources consider a massacre of some scale. Iran's government, unsurprisingly, was one exception. The Iran Project posted on Feb. 13:
Tehran has strongly condemned the massacre of Syrian civilians in the village of Maan in Hama Province by terrorist groups.
Iran's Foreign Ministry Spokeswoman Marzieh Afkham on Wednesday expressed condolences to the families of the victims, decrying the terrorist act.
Apparently no other nation is convinced enough yet that anything worth denouncing happened. In other news, of course, no one's blaming regime forces for this one and using it as another reason the government should be dismantled. --Caustic Logic (talk) 14:27, 14 February 2014 (UTC)
To Be Blamed on Assad/Iran?
Consider from the AP's report:
The raid on Maan is likely to bolster efforts by the government delegation to convey their narrative at the Geneva peace talks that the three-year uprising to overthrow Assad is dominated by al-Qaida extremists. The extremists see Alawites as apostates who should be killed.
That will raise red flag with anyone familiar with the theory that Iran, actually, is largely behind channeling Al-Nusra into Syria, that Syria helps fund ISIS with oil deals, etc. (see here). All that, more or less, allegedly seems to be "to bolster efforts by the government (everything) to convey their narrative" that they're fighting Terrorists. Brilliant plan. Simply make it true, then claim it as true. But we're not so fooled by simple truth! Anyway, the timing and audacity of this clear terrorist massacre will be seen by some, maybe powerful folks, as pointing to certain state sponsors of terrorism, and they ain't "friends of Syria."
And since this is all an exercise in reverse psychology, the obvious implications is - the "friends"-supported terrorists timed their own audacious massacre to frame their real enemies as trying to frame them. And no, I do not suspect the regime of making it look like the rebels are making it look like the regime's making it look like rebels did it. That's clearly too many turns of the wheel. The turn before, might be just perfect. --Caustic Logic (talk) 14:07, 11 February 2014 (UTC)
And round and round we go. :oD The problem the "friends" would have if their audience wasn't brain-dead anyway is that the operation is clearly dominated by Ahrar Al-Sham, whose flag gets raised on the broadcasting tower in the videos, and one of the leader-looking guys wear Suqour Al-Sham shirts. Their nice "FSA" friends under new label. I wonder by the way how Assad managed to get Uncle Zawahiri to do his bidding. Maybe he was hiding in Syria all the time anyway and that's why nobody can find him? Stay tuned, tomorrow in the NYT. --CE (talk) 19:32, 11 February 2014 (UTC)

Good point. They could claim it's a false flag using, well, false flags! The VDC lists FSA guys killed there (but not the massacre victims of course) ... well, the logic is there for the desperate to claim anyway, and even a debunk ready, just in case. --Caustic Logic (talk) 13:34, 12 February 2014 (UTC)
Further Developments
Re-Conquest of Maan
Reuters, February 18: Government retakes Alawite village in central Syria State media reports and provided photos from Talet Alghaliya claim that Maan and its surrounding area have finally been secured by the military on the 17th, 8 days after the massacre.
The army entered Maan "to eliminate the last group of terrorists who had infiltrated it and committed a massacre against its residents," Syria's state news agency SANA said, using its term for all rebels fighting Assad.
'"Army units have established total control over Maan, after crushing the terrorists who had infiltrated (the village) and committed a massacre against its civilian residents, killing dozens of them, including women," (SANA) said.
(side-note, from that report) The so-called Syrian Observatory for Human Rights, which relies on a network of spies working for the foreign-backed opposition, said that the militants attacked the village on February 9, killing pro-government fighters. However, Syrian officials said the victims were mainly women and children and accused the extremists of committing a massacre in the village.--Caustic Logic (talk) 11:56, 18 February 2014 (UTC)
False information
Someone is reposting photos from Houla as victims of the M'aan massacre. -- Petri Krohn (talk) 00:38, 19 February 2014 (UTC)
Possibly this section should be emptied again, and these pictures moved higher. I don't recognize the first one, and I have a good visual memory for shit like that. It's similar to Houla-type injuries, so maybe one you saw and I missed? Then looking at the set of six, it all looks new. I may have missed all these, but I doubt it, and that means I'd need to see a link. Until then, as far I as I know, these are new images, from Ma'an. But I suspect reports will help clarify if so. --Caustic Logic (talk) 10:44, 19 February 2014 (UTC)

Oh, the set of six is from Houla? Hm... well, main things the images existed in June 2012 so can't be from Ma'an. And good catch, however you caught that. :) --Caustic Logic (talk) 10:50, 19 February 2014 (UTC)
the question remains, does this set of pictures bring anything new to the Houla investigation? Can we identify the victims? -- Petri Krohn (talk) 14:35, 19 February 2014 (UTC)

I'd have to brush up to answer that, but possibly they could be correlated to someone, if it's worth it. I wonder did I see that kid and just different lighting/etc. disrupted the link? Quite possible. What I wonder is IF it's linked - blog posts can be backdated to any date. Where did he get it that no one else did, or copied at the time, that I saw? Did you see it at the time, or just now? I just wonder. --Caustic Logic (talk) 10:51, 20 February 2014 (UTC)
Laundered Death Toll?
Parts of this came out early, parts only on review now 18 months later. I just finished a blog post on possible victim laundering. Considered: the Ma'an massacre some (SyGov, SOHR) reported, and two toher massacres they didn't mention, at the same time and same area, that rebel sources mention instead of Ma'an. Noting the reported Ma'an death toll: 45+ (SOHR) to government's 42 civilians +17-25 defenders = 59-67, the SOuran massacre is a bit small - the 0-5 killed soldiers/NDF the VDC lists adds little - but including the further-off "Jalama Massacre," the total is 17 Jalama + (31-34) Souran + (0-5) regime = 48-55 deaths. With a few supporting points it seems like a compelling case.
Below, the pre-existing analysis - the Souran victims considered in detail in two groups. I won't bother re-explaining the Jalama massacre here as well as the blog post. It's less interestin in that the VDC and LCC both reported it, and it might be a separate massacre. Souran (Soran) is more interesting for being larger, closer to Ma'an and its offensive timeline (8th and 9th, when rebels were attacking) and because the LCC somehow failed to report it when "regime forces stormed the town" on the 8th and massacred 26 local men. How do you miss that, at the same time you're trying to miss the Ma'an Massacre? --Caustic Logic (talk) 23:42, 1 August 2015 (UTC)
Update: I messed up and cited Feb. 8, 2013 - not 2014 (right page). Turns out the LCC mentions a Souran massacre just fine. Blog post being updated. They still don't seem to report the refugees of that covered as #Al-Taman'ah Bus Victims --Caustic Logic (talk) 09:22, 2 August 2015 (UTC)
Al-Taman'ah Bus Victims
To amend the above, the VDC may contain laundered victims. Firstly, there is, below, the day-before #Soran Massacre in the rebel hotbed just south of Maan, just before the alleged rebel attack (makes a certain sense). 31 men killed, but a day too early, it seems, to help conceal the Maan operation. Only on the other side, just north of Maan, do we see a more likely set of people, but again described as from Soran. Here are the entries:
On the bus victims: They were supposedly "passing by Tamanat town." That's Al-Taman'ah on Wikimapia, 12 km NNW of Maan - sort of an odd escape route from Soran, south of Maan, as Maan itself was being overrun. These might Alawi people fleeing from Maan. They would be moving north, then. Rebels instead say they were from Soran, which would also leave them driving north - through Maan - to the same effect. If we ever get to see video of this attacked bus (if there even was a bus, etc.), it should be headed away from Maan, and that's just the clue it is, absent the dubious explanations. Add this from a rebel fighter in a video cited to cast doubt on any rebel massacre: "We first circled the village from three axes, we left a single axis open as a corridor for women and children to escape." [2] Was it the north axis?
After the regime shell hit their bus, rebels were on hand. What happened to the remaining living people on the bus (or were there only the three?) remains unexplained. But three died and the rebels there scooped up the bodies and took photos. The entries mostly draw on one image of all three bodies in the bed of a truck. That picture is shown with each entry, with two individual entries using crops from that. As I see it the victims shown are:
foreground: a person, maybe female by the face or male (by deduction), in a distinctive tan leathery faux fur coat - cause of death unclear, all seemingly intact.
Middle: a woman in a large black coat, horrific wound down the right side of her head and neck, and across the right shoulder. Looks too rough for a sword - flying pieces of a bus might explain these.
Background, another person in a large black coat, no detail visible but for what looks like a bit of floral headscarf. That suggests another woman.
One might guess these are three women - the foreground victim's face is somewhat feninine, no sign of facial hair anyway, and it seems the person has long hair. Plus the tan coat is a little fancy. The VDC agree and cropped this person as unidentified 3, a woman. The gashed woman is unidentified 2. Unidentified 1, the man, is not the third person in a black coat, but rather someone (else?) wearing perhaps the same exact tan fuzzy coat. From a different image finally, this person is seen from the backside (furry trim more clear, darker cuffs, a hood - looks more feminine here, but seems to be the same coat.) All else suggests three women, and only the text on the page says anyone here is male.
But comparing the two presented tan-coat victims, one has an intact face while the other has no head above the partly-raised hood. The head stops, on a nice lean line across the back or perhaps top of the scalp, with the rest hanging below, pink skull interior. His or her head has been sliced in half. That looks a bit more like a sword. No sign of a brain. Looking back at the frontal view, it becomes apparent the person's intact face is resting too far below the shoulder to be properly attached. Ugh. It's all one person.
If I'm following this right and the three bodies are the only ones, the rebel documentors claimed this dead woman once, and then logged her again as a man (in a deliberate insult?), after turning her over to display their handiwork. If these people were in fact Alawi, that could help explain this kind of psychotic abuse.--Caustic Logic (talk) 05:29, 17 February 2014 (UTC) and --Caustic Logic (talk) 09:04, 17 February 2014 (UTC)
I suppose, hypothetically, a "shilka shell" and flying bus debris could do this to a person's head - I can accept that for the gashes on the other woman, and I'm no expert. But I just feel this is a clear terrorist blade execution. I went ahead and tweeted it, with the graphic images and a bunch of text built in. Be forewarned, but the theory can be visually checked right there. Tweet by @CL4Syr

Syria #Maan #FSACrimes #Blameassad Words in picture for those who can handle it. Ref: http://www.vdc-sy.info/index.php/en/details/martyrs/111483 … pic.twitter.com/AxyvzPDxlL
In Context: If these are Ma'an refugees killed and scooped up by rebels, they are not likely to be among the initial (42?) civilians confirmed dead. They would probably be victims in addition to that, raising the death toll to (45?). These three maywould likely then be among the 80 people initially listed as missing, and if so their status could need updating. Two could be identified from the face, by people who should never have to see that.
This possible clue should be promoted to make sure it gets its possibly crucial place in setting the record here. --Caustic Logic (talk) 11:28, 20 February 2014 (UTC)
Soran Massacre
The days surrounding the Maan Massacre seem to have witnessed a surge of violence in rural Hama province, starting on the 7th and peaking the 9th to 11th, then falling off again. Most of it, as recorded in the VDC martyrs database anyway, doesn't seem massive, and of course as noted there's no sign of the Maan Massacre we're examining here. This contextual violence will deserve a section at the Hama Massacres page, but aside from a large massacre in Jalama (north of Tremseh), the heart of it seems to be a big massacre of somewhat the size, time, and area of the Maan Massacre - Soran, feb. 8 and 9. That just seems to0 interesting to not explore right here. --Caustic Logic (talk) 04:45, 17 February 2014 (UTC)
2015 update: there are 36 now, not sure who was added. --Caustic Logic (talk) 23:42, 1 August 2015 (UTC)
There are some interesting death in the preceedeing days as well, but this seems to be where it took off - just as and just before rebels from there attacked Maan a ways up the road, the regime was attacking Soran. A specific revenge motive is suggested, with suspicious clarity.
On the 8th, these 25 people - all civilian, all but the linked one adult males - are listed as being killed, all by "field execution" with the note "The execution of several people on the ground when the storming of the city": Ahmad Awad al-Hardan - Mohammad Yasin al-Wahbi - Abd al-Qader Ahmad al-Nabhan - Mahmoud Abd al-Hadi al-Omer "al-Goro" - Mohammad Hosain al-Ibraheem "al-Dibeh" - Nidal Ahmad al-Ismaeil - Mohammad Ahmad al-Ismaeil - Mahmoud Ahmad al-Esmaeil - Jomea Ismaeil al-Ismaeil - Osama Esmaeil al-Esmaeil - Basheer Esmaeil al-Esmaeil - Ahmad Awad Salloum - Hosain Mohammad al-Mohammad - Moetaz Hafez al-Ibraheem - Khaled Ahmad Qtait - Mohammad Mowaffaq Qtait - Ahmad Hussam Qtait - Molham Jomea al-Draj - Hosain Mohammad al-Khelo - Mahmoud Abd al-Aziz al-Basheer al-Nabhan - Malek Abdullah al-Sbaih - Abd al-Qader Nawwaf al-Omer - Mohammad Hosain al-Sbaih Child - Male (age 17) - Ahmad Awad Saloum al-Omer
(Note: the name Khelo appears here - someone was killing a bunch of Kelo folks in Deraa a few days later - any relation to Christian opposition figure Michel Kilo?) --Caustic Logic (talk) 04:45, 17 February 2014 (UTC)
On the 9th, no more field executions. 10 total.
Ziad Ismael Husain al-Nabhan Adult male, age 40, a (blacksmith?), mother's name Sumaya, "Martyred by the regime`s army forces sniper`s gunfire"
Wael Tareq and Mahmoud Myasar Qtait, shooting. "Martyred due to his wounds sustained during the storming by the regime`s army forces to the area near the barracks in the day before." So field executed, delayed reaction. That makes sense.
Omar Ahmad Abdul Aziz and Maher Ahmad Abdul Aziz al-Omar, adult males, notes: "Martyred by regime`s army forces after being detained the day before during the storming of the town"
The two rebel fighter Hassani brothers (one a teenaged "child") who got shot dead in the fight for Maan.
Note that that's only seven. The other three deserve a section. --Caustic Logic (talk) 08:40, 17 February 2014 (UTC)
These are likely enough to be actual Maan massacre victims they've been promoted. See Al-Taman'ah Bus Victims, above --Caustic Logic (talk) 11:08, 20 February 2014 (UTC)
Sources
Firas, a man who didn't reach thirty was injured in the second massacre, the one that took place on 9/2/2014 now he's in a wheelchair. Injured in the 2014 attack/massacre, "Firas" recounts - in an apparently original interview - this and the 2012 massacre in which he says his mother, cousin, and two sisters were slaughtered. [1]
This article is also posted, almost as if the original, by Ahlul Bayt News Agency (ABNA). But that's dated Feb. 15.
A source in Hama told SANA that terrorist groups attacked the families in Maan town in Hama northern countryside, perpetrating acts of killing, terrifying and burning the houses of scores of civilians.
It added that the armed terrorist groups massacred 10 women and mutilated their bodies.
List of 20 names out of 60 alleged victims, Alaa Ebrahim on Facebook, Feb 9, 2014
Alaa Ebrahim tweet with embedded youtube-video allegedly showing Maan (not obvious from description), Feb 9, 2014
Urs' video collection, quite a bunch. Nusra and IF with Ahrar Al-Sham and Suqour Al-Sham logos/flags to see. Couple of dozen guys, most of the douchebag allahuakbarking kind, with two or three showing some apparent intelligence who could be the leaders. Some tanks/military vehicles. Not much fighting seen (but some heard), one dead, a couple of captured soldiers/militia guys in a dark room. Looks like the place was almost abandoned. No signs of massacre or mass casualties. --CE (talk) 07:47, 10 February 2014 (UTC)
Hmm, thanks, interesting. The list of names in particular is something concrete. Too bad it's an image, not copyable text. I know where to drop that. --Caustic Logic (talk) 08:42, 10 February 2014 (UTC)
I watched some of the videos. The town does look empty of people, but I couldn't say for how long it had been. Maybe just a few hours. I took an interest in the suggested eye problems of the prisoners. Pretty sure it's just the bright light - and so we see their clenched lids. What they're saying might be interesting. --Caustic Logic (talk) 10:56, 15 February 2014 (UTC)
More videos collected Feb 11. It seems like the attack came from the West, namely the city of Mork/Morek which is directly at the highway. --CE (talk) 22:53, 11 February 2014 (UTC)
25 Alawi persons most of them are NDF fighters, were killed after the Islamic battalions took control on the village of Ma'an, regime forces evacuated the civilians of the village before the breaking in by the Islamic battalions .
I left comments pointing here and to our work. Do note the careful pairing of civilians and "regime forces" in what SOHR was told by its activists. If anything bad can be shown to have happened to the civilians, it can't be the Islamists - the regime completely shielded them, so says the credible SOHR. --Caustic Logic (talk) 08:42, 10 February 2014 (UTC)
'The drama in Homs, where Amos said around 800 civilians have been evacuated so far, played out as activists on Monday reported new sectarian killings in Syria's civil war.
Al-Qaida-inspired rebels killed more than two dozen civilians, including an entire family, when they overran a village populated by minority Alawites on Sunday, Rami Abdurrahman of the British-based Syrian Observatory for Human Rights said. They also killed around 20 local fighters in the village, he said.

Alt version? AP: Rebel Attack on Syrian Alawite Village Kills 40

Half of the victims in the attack, which occurred on Sunday, were civilians, including women, while the other half were village fighters defending their homes, the British-based Syrian Observatory for Human Rights said. ... Rami Abdurrahman, who runs the Observatory, said Islamic fighters overran Maan after Alawite villagers lobbed mortar shells on the rebels using nearby roads. There have also been heavy clashes for weeks between hard-line rebels and Assad loyalists in the nearby community of Morek, Abdurrahman said.
According to an Army statement, the official number of dead civilians is now 42. --CE (talk) 00:50, 11 February 2014 (UTC)
+ the 25-ish NDF martyrs, and it's like 60-70 dead, reportedly, not including the rebel side. --Caustic Logic (talk) 00:53, 11 February 2014 (UTC)
UNSG condemns the Maan massacre where "Dozens of civilians are said to have been brutally killed". Ahrar Al-Sham tweeted three hours ago "Destroying a tank and killing tens of the Shiite militias while repelling their convoy to regain Ma'aan village in #Hama countryside". --CE (talk) 21:01, 11 February 2014 (UTC)
References