Talk:Khan al-Assal Massacre
Jump to navigation
Jump to search
Victims
A Lot of Soldiers
The now famous scene of soldiers laid face-down in the dirt, but all looking up at their fate: It seems there are about 30 men here, some in civilian clothes, but mostly military, overwhelmingly young - I'd say all but maybe a few are between 17 and 23. This might be a majority of the executed soldiers (the numbers and proportions still seem hazy to me). These are the same victims, at least in part, as those seen laid along a wall in large numbers after execution (as this video explains). --Caustic Logic (talk) 12:45, 1 August 2013 (UTC)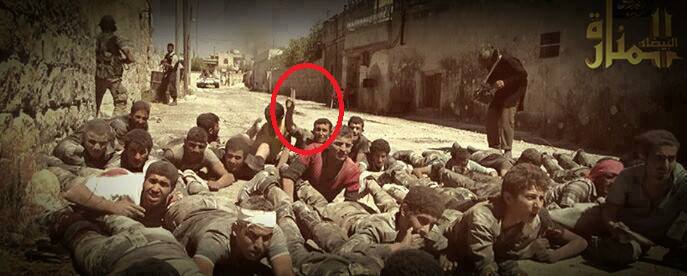 The famous thing about this famous image is the soldier apparently flashing a heroic V sign. It's taken as a clear and victoriuos FU to his executioners, a bold going out, and has gone viral in loyalist (normal) Syrian circles. It could in fact mean a few different things, but I like the sound of that version, and it's entirely possible. The man in front of him is less about politics. Sadly, he blows a kiss off of his hand, to whoever exactly and to all of it, into the space beyond - but not through - the Islamist's camera. --Caustic Logic (talk) 12:45, 1 August 2013 (UTC)
It's quite likely, but not certain, that two victims from this or a related batch of soldiers or Shia militia defenders are those proudly filmed by rebels desecrated and mutilated in the most horrible ways as described below. --Caustic Logic (talk) 11:23, 4 August 2013 (UTC)
The Syrian Center for Documentation of Violations (SCDV) has a database dedicated to "regime's army"/ "regime fatalities." Set broadly for all Aleppo province in the days July 20-25, the result isn't clear. 86 names come up across all days but heaviest on the 21st. But some are specified in other areas, most not specified anywhere. "Province" (From) tends to be not Aleppo but Lattakia, Tartous, or primarily unknown. Rank tends to be unknown, but several officers are listed. Most seem to have no added details aside from Cause of Death: 4, Rank: Shooting (as with Talib Asaad Shahin with a photo and Martyrdom location Aleppo: Khan al-Asal. Searching for that, a more useful list: 68 entries. Might be useful info in there, even true stuff. --Caustic Logic (talk) 11:23, 4 August 2013 (UTC)
Dumped in a Pit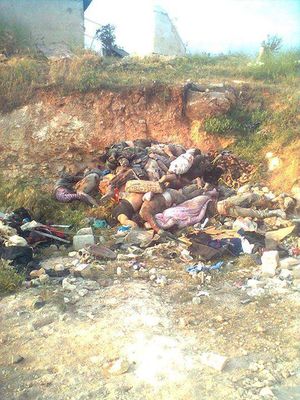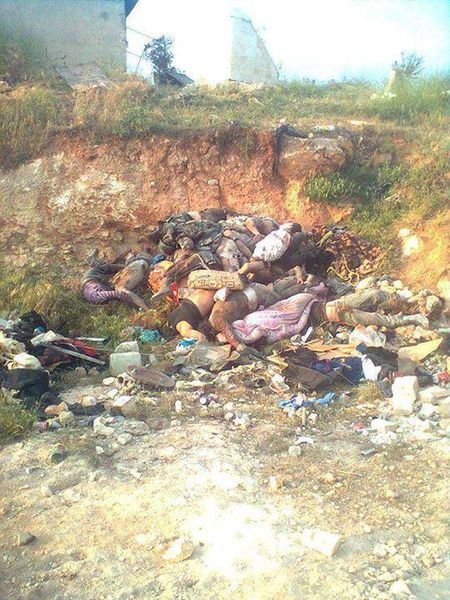 SANA's May 27 report mentioned perpetrators "mutilating the bodies of the martyrs and throwing them in a big hole on the outskirts of the town." [1] A photo run at least with this Facebook post of July 27, 12:34 AM Syria time, seems to show that (see inset). Text, Google translated: "Khan honey .... Photos of the massacre following Anammelt the military personnel God Arahman the"
( خان العسل .... صور المجزرة يلي انعملت بالعسكريين الله يرحمن )
There appears to be around fifteen bodies, at least three in military garb and at least four in civilian clothes, the rest not as clear. One at least seems to be a woman in a pinkish floral dress. They are just tossed into a pile with disdain. There is debris around them as in a random pit used lightly for select garbage. But there is also clean clothing. Were they killed trying to flee? --Caustic Logic (talk) 10:38, 31 July 2013 (UTC)
Rebel Denial?
There has been little doubt expressed, even among parties supportive of the rebellion, that their champions - or shady allies of same - are responsible for the massacre. It's odd then to stumble across this video: FSA we did not massacre anyone in Khan Al assal. All in Arabic, 2:17, a man reads from a statement. FSA guy, it says, but in front of a Jabhat al-Nusra flag, looks like. So do both groups jointly deny responsibility? Or are they just quibbling over semantics? Answering summary execution charges with clear proof those killed were members of a criminal sect, making this their duty, in fact? I don't see any text sources popping up relating to any denial. --Caustic Logic (talk) 05:37, 5 August 2013 (UTC)
UNHRC Investigation
On August 2, the UN's Office of High Commissioner for Human Rights (OHCHR) announced there was reason to investigate the possibility of mass execution of soliders, if not of civilians, by rebel forces in Khan al-Assal. And they had in fact done some rudimentary investigation, perhaps about on par with what we hhave here so far. The statement and a same day UN News service press release quoted High Commissioner Navanethem "Navi" Pillay saying "Based on the analysis by my team to date, we believe armed opposition groups in one incident - documented by a video - executed at least 30 individuals, the majority of whom appeared to be soldiers." In a sign that she's at the very least not been paying attention, Ms. Pillay described the charges as "deeply shocking," perhaps even a total surprise. [2]
The OHCHR adds:
There have been reports that the overall number of dead in Khan Al-Assal was much higher and the OHCHR team in the region is continuing to investigate the circumstances and scope of the killings.
The High Commissioner said her team in the region was investigating the reports, and had examined the videos and collected accounts from people in Aleppo. Their early analysis had identified two men not in uniform who were alive in one video but were among the dead bodies in another, she said.

That would be the guys in yellow and red shirts. --Caustic Logic (talk) 04:29, 5 August 2013 (UTC)
The OHCHR team also received information from a reliable source that opposition fighters still hold government officers and soldiers captured in Khan Al-Assal. The High Commissioner reminds the parties to the conflict that all persons no longer taking part in hostilities, including captured and wounded soldiers, shall in all circumstances be treated humanely and in accordance with international law. ... "Opposition forces should not think they are immune from prosecution. They must adhere to their responsibilities under international law," Pillay said. [2]
other sources:
United Nations experts are investigating allegations that rebels killed dozens of Syrian soldiers in a village near Aleppo after they captured it from government troops, an incident that could amount to a war crime, the world body's human rights chief said Friday.
...
While abuses by troops loyal to President Bashar Assad have been systematic and widespread throughout the two-year conflict, human rights groups have said the frequency and scale of rebel abuses also has increased in recent months. Specific allegations against opposition fighters include claims that rebels have routinely killed captured soldiers and suspected regime informers. Rebels say any such violations are condemned and an unfortunate result of the brutal regime crackdown.
Complicating UN CW Investigation
U.N. hopes of investigating chemical weapon attacks in Syria suffered a blow when rebels seized a key town, diplomats said ahead of talks starting Wednesday.
Opposition fighters took Khan al-Assal from President Bashar Assad's forces two days ahead of the arrival in Damascus of Ake Sellstrom, head of a U.N. inquiry into the use of chemical arms in the 28-month-old conflict, and U.N. disarmament affairs chief Angela Kane.
Khan al-Assal was the scene of a deadly March 19 attack that the government blamed on the opposition when it called for a U.N. investigation.
...
"If the government does not control Khan al-Assal then there is little chance they will let U.N. experts in," said one U.N. Security Council diplomat. "There is no opportunity for them to exploit any inquiry now," added a second council diplomat. Both diplomats spoke on condition of anonymity because the Damascus talks had not started. "But for the UN the longer this goes on the less likely it will be that there is any usable evidence to find."
...
"We have yet to receive the full Russian report relating to their evidence on Khan Al Assal," one western Security Council source told AFP. "We believe the use of chemical weapons is sanctioned and ordered by the Assad regime: Assad built up the stocks of these weapons, trained military units to use them and retains command and control over those units. So the urgent responsibility lies with him to stop them being used," added the source. [3]
See also: Khan al-Assal Massacre makes UN's CW investigation impossible [4]
As SANA reports, Ja'afari claimed today at UN GA that the "Massacre of Khan al-Asal has been committed to kill the witnesses who would testify in front of the general secretariat committee on the identity of who has used the chemical weapon in Khan al-Asal". Corroborated (that he said it) by Innercitypress who also report about the pathetic machinations with the new SNC headclown. RIA Novosti has an article about it as well, just out but in German, which made me look up the other sources. Seems a bit like a tall tale I would spontaneously say. Fadel over at SyrPer (in small bits over the days) has the line that the SAA more or less deliberately let the "rebels" take back Khan al-Assal last week because "they threw everything they had at it" and "it wasn't worth holding". And that a logistical mistake was made while leaving the area - or even some mole created confusion, MI investigates according to him - so that the people who he says were "SAA, NDF and some civilians" were caught and killed. --CE (talk) 21:59, 29 July 2013 (UTC)
CE, thanks! Excellent adds. The witnesses things sounds general - soldiers were gassed, soldiers are killed. But to the extent the Ottoman rats have anyone's name, they might be trying to eliminate the brain attached to that name. Or better yet, compel them to change stories on video, then have "the regime" kiill them for breaking script. We probably won't know one way or another if this is happening. --Caustic Logic (talk) 21:37, 30 July 2013 (UTC)
Here's an elaboration on this. It seems the conquest was indeed irrational ("throw everything at it") from a military point of view, so maybe it's not that far fetched that the aim was indeed to get rid of witnesses. Text is again a somewhat flawed translation from German but to his credit, the original writer uses an even more sophisticated German than apxwn - not easy to translate. --CE (talk) 10:59, 31 July 2013 (UTC)

I don't know how to assess the validity of his ruling out all strategic considerations, leaving only witness offing as a motive. And I didn't notice if there are specifics behind the claim of "numerous witnesses for the chemical weapons attack" killed. The point about supply routes as a reason seems maybe valid. True, the rought through Khananaser and Safirah area I've heard of, and not through KAA. But I'm not sure that means much considering the growing rebel control, successful attempt at blockade, and changes in supply routes. Don't get me wrong - I want to see about what he's saying. As far as clarifying the picture of the CW attack, it would be gold. But then I want to know more before being sure on such an important point, and I don't want witnesses to have been killed. It's sad for them and their families, and has a chilling effect on the truth. It could also be enough for the U.N to say, all sound logic aside, "well, that wasn't corroborated by the witness, who died instead of talking to us, so it was probably the government after all..." --Caustic Logic (talk) 13:55, 31 July 2013 (UTC)
Murad Makhmudov and Lee Jay Walker, Modern Tokyo Times:
Dr. Riad Haddad, the Syrian Ambassador based in Moscow, is in no doubt that this barbaric massacre in Khan al-Assal was aimed at erasing the chemical false flag. He stated to Ria Novosti that "The main goal of this carnage which was committed by Jabhat al-Nusra and Ansar al-Khliafa brigade is killing all witnesses on the use of the chemical weapons use by the armed terrorist groups." [5]
AFP, via Times of India, July 31: Fighting rages in Syria for town in centre of chemical weapons row includes a strangely (accidentally?) fair summary of the CW context:
The town was the scene of what both the government and the opposition say was a chemical weapons attack that killed 30 people on March 19.
The Syrian government says the rebels carried it out, and its ally Moscow says it has concrete proof.
"The opposition says President Bashar al-Assad's regime was behind it and Washington has said it has seen no firm evidence of rebel responsibility.
The Damascus government has pressed for Khan al-Assal to be the primary focus of a planned UN inquiry into a total of 13 allegations of chemical weapons use during the 28-month conflict.
The rebels' capture of the town last week came as two UN envoys visited Damascus to thrash out the ground rules for UN weapons inspectors. They came away with an agreement but UN chief Ban Ki-moon has said he is still reviewing the details.
World Reaction
Russia
Russia Today (RT) has conducted an interview with the spokesperson of the Russian mission to the United Nations (UN) in the beautiful Geneva, Maria Khodynskaya, in terms of the recent events in Syria and the horrible massacre carried out by foreign-supported terrorists against over 120 Syrians in Khan al-Assal, near the strategically important city of Aleppo (Halab).
Maria Khodynskaya, the spokesperson of the Russian mission to the UN in Geneva, said in this interview that the massacre that has been committed by a group of terrorists in Khan al-Assal near the Syrian city of Aleppo (Halab), and whereby the terrorists have massacred over 120 Syrians, was caused by the financially support as well as the arming of these terrorists from foreign sides.
While the spokesperson of the Russian mission to the United Nations (UN) has not named specific governments that are behind the financially support and arming of these criminals and terrorists on Syrian soil, it is already clear since months that Western governments such like the leading parties in Britain, France, Germany as well as Italy and Sweden support the terrorist groups in Syria.
...
The Spokesperson of the Russian mission to the UN in Geneva, Maria Khodynskaya, said in her recent interview with Russia Today (RT) that the main step to prevent such massacres committed by the terrorists in Syria would be to stop the financially support and the arming of these terrorists from abroad. It is easy – when the terrorists do not receive modern and new weapons, they are no more able to commit such horrible crimes against Syrian civilians. This is known since a long time but the Western governments just did and do not care.
Reversing the Rebel Conquest
About a week after the rebel takeover, the Syrian army reportedly began its fight to re-claim Khan al-Assal.
Syrian troops attacked rebel positions outside Khan al-Assal on Wednesday as they seek to recapture the northern town ... Fierce fighting erupted on the outskirts of the town ... the Syrian Observatory for Human Rights said.
Little there, but a strangely (accidentally?) fair summary of the CW context follows (cited above).
Sources
Reports
A media source said that the death toll from the massacre that armed terrorist groups committed in Khan al-Assal in Aleppo countryside reached 123 martyrs, with many others still missing.
The majority of the victims are unarmed civilians, the source pointed out.
Medical tests helped identify 6 of the martyrs, the source said, vowing that the perpetrators will pay a heavy price for their barbarity and affirming that the Syrian people and army are on high alert.'
The armed terrorist groups committed a genocide against a number of civilians and military personnel in Khan al-Assal town in the countryside of Aleppo.
Gang of the so-called Ansar al-Khilafa Brigade admitted committing the terrorist massacre in Khan al-Assal, mutilating the bodies of the martyrs and throwing them in a big hole on the outskirts of the town, in addition to incinerating a number of the martyrs' bodies. [1]
Syria's main exiled opposition group condemned Sunday the reported execution of scores of government soldiers by rebels in a northern Syrian village earlier this week. The Turkey-based Syrian National Coalition said in a statement that it was forming a commission to investigate the incident in Khan al-Assal. ... "Those involved in such crimes will be held accountable," the SNC statement said. [8]
Accountable! Consider how they dealt with that famous cannibal - they condemned the action, and that's all. Salem Idriss insists they can't arrest him because they have no structure and he has his own guns and paid for it himself so it'd be wrong to take it away,plus deadly, and maybe they don't want to "force him out of the revolution," and people should not focus on this one instance when thousands are dying from his stupid "revolution." (in his own words here) It seems only only the SAA is capable of keeping these people in check. --Caustic Logic (talk) 09:17, 2 August 2013 (UTC)
A senior Iranian lawmaker says the West should be held accountable for the recent massacre of more than 120 people in Syria's northwestern province of Aleppo by foreign-backed Takfiri groups. Alaeddin Boroujerdi said on Tuesday that the United States and its allies are responsible for the "genocide" committed by the extremist groups in the Syrian town of Khan al-Assal as they continuously arm Takfiri militants in the Arab country.
Al-Jarba's comments (that rebels won't even consider negotiating until someone helps them start winning again on the battlefield) coincided with a new assault by Syrian government forces to regain control of a northern village that was the site of an alleged chemical weapons attack earlier this year, activists said. The push on Khan al-Assal, a village on the southwestern outskirts of the embattled city of Aleppo, comes more than a week after it was captured by the rebels. ... The Britain-based Syrian Observatory for Human Rights said 150 government soldiers were killed as Khan al-Assal fell to the rebels. The Observatory said the army attacked rebel positions Wednesday outside the village after bringing in reinforcements.
The Russian Foreign Ministry condemned the barbaric massacre by stating that "The gunmen of the two terrorist groups have perpetrated a brutal crime two days ago in Khan al-Asal which they captured on July 22nd, 2013."
"The fighters of the two extremist groups have committed genocide against the captives of the Syrian officers and soldiers as well as against the pro-government civilians."
...
Like usual, President Obama of America, President Hollande of France, Prime Minister Erdogan of Turkey and Prime Minister Cameron of the United Kingdom remain mainly silent about this brutal massacre. These four NATO powers also have collectively agreed to allow NATO Turkey to be a conduit for al-Qaeda affiliates and other terrorist forces entering northern Syria via Turkey. Similarly, weapons to al-Qaeda terrorists, sectarian forces and covert operatives are happening based on the role of NATO Turkey. However, this seems to be bypassing a mainly compliant and propaganda based media. [5]
Videos
Mutilation/Castration Video
Note: Recycled video, not from Khan al-Assal in July. It was already posted here, as "regime thugs" abusing rebel dead, January 4, 2013, by Saqba Revo (Damascus suburbs). FWIW, video description below. --Caustic Logic (talk) 23:47, 7 September 2015 (UTC)
This video is probably not, or won't remain, on Youtube, or maybe Facebook, but this is the link I have, and I saved a copy. And I'll describe it so no one ever has to watch it again. It's not certainly connected to the Khan al-Assal massacre, but recent, said to be Aleppo (the text helps little otherwise, except in a religious sense), and shows two adult male victims, pants removed in humiliation and - yes, quite mutilated, like SANA said some victims were. Compared to this video still, we can see similar handling - pants removed, shorts remaining, groin injury, blood down the legs - but with two different victims. The one in the video is shirtless, different blood pattern and a slash on his legs, perhaps bearded. But his face is a bloodied mess, his chest too, slashed and stabbed many times. They pull down his shorts to revel his genitals are removed surgically, leaving a neat bloody hole with two white spots (retreating testes? bone? rocks?) set inside. They're proud of this and having a great time. The other victim in a red shirt (a different one from the soldier seen blowing a kiss before death) gets extra hate. His red shirt is pulled up, his belly slashed cross several times. I think his throat's been cut, before or after the rest I don't know. His face is mauled too, and they're stomping on it and pushing, as if to tear away his jaw (and some flesh is coming loose). Then they jam a red bar into his mouth and start prying, with the same idea (that's the hard-to-decipher still frame - inset). People keep kicking both bodies. They lift the guy up by the bar in his mouth and animate him like a human puppet show, perhaps to mimic him performing oral sex (or neck wound sex) on the other guy (if he was still so equipped). His own genitals are gone as well, torn out horribly with the flesh all around, down the thighs a little, with a loose flap of the lower belly hanging over a raw crater big enough to hold a water-mellon. That I've seen before, following "regime shelling" in al-Houla in August 2011. Hope that helps. --Caustic Logic (talk) 09:53, 2 August 2013 (UTC) and edits --Caustic Logic (talk) 12:20, 3 August 2013 (UTC)
Photos
Photos with the bodies on blue tarps. First is the best view of this scene, first image below. This I got second-hand from a short article, but is clearly the same scene captured in two other photos run with the original SANA report of the 27th. The first time I saw that re-posted, the first two pictures were missing but all the video grabs following remained. Then the second one re-appeared, the second scene below. A Google image search suggests just which view of the same scene is the first image, and it's not the same as image 1 here, so when I get a full-res copy of that it will be #3 at right below. --Caustic Logic (talk) 09:37, 29 July 2013 (UTC)
Syrian Arab Red Crescent Organization transport the bodies of some of the martyrs in Khan al-Assal in Aleppo Official labeled photo, residential courtyard, beautiful place, body(ies) covered. --Caustic Logic (talk) 12:03, 1 August 2013 (UTC)
Bodies dumped in a pit (covered above, could use more source etc. analysis here) --Caustic Logic (talk) 04:42, 5 August 2013 (UTC)
Opinion
There was a time during the 30-month covert dirty war on Syria when the Western governments and mainstream media would make a clamor over reported massacres. Now, despicably, these governments and media just ignore such atrocities.
Why? Because it is increasingly clear that the groups committing these crimes against thousands of Syrian civilians are the foreign-backed mercenaries, whom the Western media and their governments have tried to lionize as "rebels" fighting for "democratic freedom".
That charade is rapidly disintegrating, exposing not just criminal Western governments sponsoring the violence against civilians, but an entire media industry that is also guilty of war crimes through its willful complicity. This is not mere hyperbole. To disseminate false information and lies about conflict - under the guise of independent news - is to be complicit in covering up war crimes. You can hardly get more serious misconduct than to tell lies about crimes against humanity.
These toxic lies and propaganda are now being exposed as the Western-backed plot to subvert the sovereign state of Syria unravels; this unraveling is accentuated by the West's death squads becoming even more unhinged as they stare at looming defeat at the hands of the Syrian army.
The latest massacre occurred in the town of Khan al-Assal in the northern province of Aleppo. Some 150 people, mostly civilians, were reportedly slaughtered in cold blood. Many of the victims were shot in the head execution-style. The groups claiming responsibility are the al-Qaeda-linked al-Nusra Front and Ansar al Khalifa. Reliable sources say that the killers tried to cover up their barbaric crimes by mutilating the corpses and burning the remains. Only days before this orgy of murder, the same groups are believed to have massacred at least seven civilians in the town of Maqbara in the province of Hasakah.
...
Contrast this void in Western government and media reaction to earlier massacres. In May and June 2012, the Western media went viral with reports of mass killings in the villages of Houla and Qubair where some 108 and 78 inhabitants were murdered, many of them with throats slit. Immediately, the Western media then claimed or implied that the perpetrators were Syrian state forces and roundly condemned President Bashar al-Assad. Back then US Secretary of State Hillary Clinton accused Assad of "ruling by murder and fear" and led the chorus of Western governments calling for Assad to step down.
It later transpired that the Houla and Qubair massacres were the work of the Western-backed foreign militants. But Western media did not follow-up with corrective reporting. This is the conduct of a propaganda ministry, not independent journalism.
References
↑ 1.0 1.1 Media source: 123 martyrs in Khan al-Assal massacre Syrian Arab News Agency (SANA), July 27, 2013. Also, numerous mirror posting exist like this one
↑ 2.0 2.1 Pillay urges investigation into alleged executions by anti-government armed groups in Syria's Khan Al-AssalOffice of theHigh Commissioner for Human Rights, statement, August 2, 2013. Syria: UN human rights chief urges probe into alleged execution of Government soldiers UN News Center, August 2, 2013
↑ 3.0 3.1 U.N. Chemical Inquiry Hopes Hit by Fall of Syria's Khan al-Assal Naharnet Newsdesk, 24 July 2013, 04:16
↑ Khan al-Assal Massacre makes UN's CW investigation impossible Posted to Liveleak by Shireen Said, July 27, 2013
↑ 5.0 5.1 Syria and the Khan al-Assal massacre: Western silence, Gulf crimes and Covert Operatives Murad Makhmudov and Lee Jay Walker, Modern Tokyo Times, July 30, 2013
↑ Syria rebels seize key northern town of Khan al-AssalAgence France-Presse via Global Post, July 22, 2013 08:03
↑ 150 Syrian regime forces killed in Khan al-Assal battle AFP via the Nation (Pakistan) July 27, 2013
↑ National Coalition condemns soldier killings in Khan al-Assal Associated Press via the Daily Star (Lebanon), July 29, 2013 AM