Talk:ISIS False-Flag Plans in Falluja
Jump to navigation
Jump to search
Copied Stamp?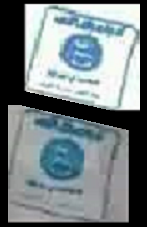 Looking at the documents compared, the square blue stamp in the lower left corner is intriguing. Perhaps this is built into the paper at this angle, but it seems more like a hand-placed stamp, and placed at the exact same angle in both. Looking a bit closer, as shown inset, the later one might be rotated about 0.5 degrees clockwise, or that's from the crumpled paper giving false perspective. If these are the same exact angle, it would suggest someone copied the one onto the other, without even a basic rotation adjustment. It would suggest sloppy forgery, of the kind meant to be noticed.
Furthermore, the later stamp seems blurry and low-resolution compared to more crisp lettering. Is that sloppy compression maybe, or stretching from a smaller copy?
Does anyone have a counter-thought to pointing this out? Would that make us look dumb? --Caustic Logic (talk) 06:49, 6 June 2016 (UTC)
Supporting point: another document found more recently (June 6 tweet) tells Daesh fighters to flee to Raqqah. It's a bit suspicious itself, with the convenient little battle-burns, but has what seems like the same stamp, but done at a different angle from these two. --Caustic Logic (talk) 11:20, 6 June 2016 (UTC)
Context
One person who might be playing right into this ISIS repeated fake fakery to demonize Iraqi and Shia forces is the former governor of Nineveh Province, Atheel al-Nujaifi, as Kurdistan 24 gives it, reporting June 3 that "Iraqi Sunnis are concerned about the presence of Iraqi Shia militia and Iranian commander near the city of Fallujah." They cite the former governor, and let him explain:
"We prefer that the official forces of Iraq retake Fallujah from Dae'sh [IS]," Nujaifi told Kurdistan24. He said locals are weary of Hashd al-Shaabi and the Iranian Quds Forces Commander, Qassim Soleimani, near Fallujah. "Their presence will have a negative impact on Sunni people in general."
"The presence of Qassim Soleimani in the area is a message that Iran interferes in the internal affairs of Iraq and increases its hegemony in the country," Nujaifi explained.
Nujaifi highlighted the situation in Nineveh Province in the post-IS area and called for autonomy. "We [Sunnis] want to have autonomy for Nineveh in Iraq. It's the people of Nineveh who will decide on that, and I hope Baghdad will support our efforts in this case."
He implies the same for Anbar province, which was in question - any place ISIS took over should not even be part of Iraq now. But look who's talking. Atheel al-Nujaifi = Esil Nuceyfi = Esil Nujayfe - apparently behind the effective surrender of Mosul (in Nineveh) to Daesh in June, 2014.
He loves just handing places to ISIS, and using that as a way to keep them out of "Iranian hegemony" forever. No stated opinion on Saudi or Turkish hegemony, or playing around with promises of Kurdish hegemony... --Caustic Logic (talk) 13:32, 6 June 2016 (UTC)
Atrocity Reports
Kenneth Roth tweet, June 6: "Fallujah civilians allege torture by Iraqi Shia militia--exactly what ISIS would want."
In other words, "Fallujah civilians allege exactly what ISIS would want." Not all civilians there support the group, its sectarian agendas and its propaganda, but some do. And that might be just who's speaking here. --Caustic Logic (talk) 04:48, 12 June 2016 (UTC)
Abu Mohammed: 17 men and boys executed
Now ... who could get a single flag but not enough proper uniforms to look like militiamen in police uniforms instead? Recall the Shia militia plan had been to pose as themselves, pretending to be ISIS posing as them, and demonize themselves on video. But they would have enough uniforms to do that trick right. (or were the uniforms a last-minute change, and they forgot to lose the flag?) --Caustic Logic (talk) 10:48, 8 June 2016 (UTC)
The dpa staff was not able to independently corroborate Abu Mohammed's account, although it appears to correspond to killings reported by local lawmaker Hamid al-Mutlaq last week.

(I can't find these claims yet) --Caustic Logic (talk) 11:17, 8 June 2016 (UTC)

The local provincial council meanwhile backed claims by refugees from the city that pro-government Shiite militias were responsible for the alleged abuses. The council called on al-Abadi to pull the militias, known as the Popular Mobilization, out of operations as security forces close in on the Sunni-populated city west of Baghdad.
Rupert Colville, spokesman for the UN High Commissioner for Human Rights, told Al Jazeera, that they have received reports that at least 21 males had been summarily executed. "We can't confirm the reports but they seem to be credible." --Caustic Logic (talk) 11:17, 8 June 2016 (UTC)
They heard about the above incident on June 3, and report that "members of the Federal Police and the Popular Mobilization Forces (PMF) ... had executed more than a dozen civilians from the Jumaila tribe fleeing Sajar, a village north of Fallujah." It happened on June 2, one witness said. They talked to three spared witnesses and two officials. The original report was on Tigris (Dijla) Channel television
One of the Anbar governorate officials provided Human Rights Watch with a list of names of those killed and said that the incident happened near the Sharhabil school in Al-Bu Sudaira neighborhood in the northern outskirts of Fallujah. The other Anbar official said that the witnesses met with senior Iraqi government officials on June 5, following which he said Prime Minister al-Abadi launched an investigation into the incident. A former Iraqi government official with good contacts in the security forces told Human Rights Watch, on June 5, that the investigation had already led to the arrest of a police officer whom survivors could name.
Another person says he say saw, in the same area and a few days earlier (May 28) police and PMF "fatally shoot civilians with white flags raised fleeing toward the government forces," and was also told by a solider that they were ordered to do that. The same witness "also told Human Rights Watch he was in Saqlawiya around May 30," when some 600 members of a al-Mahamda family (with reports of another 600 also taken, for some 1,200 total men and boys). This person said a villager and several PMF fighters in the area told him that PMF fighters stabbed dozens of villagers to death with knives."
HRW also says released prisoners at a hospital, mostly from the 600 al-Mahamda men "showed signs of torture, including rape, burns, knife cuts, and bruising from beatings."
HRW cites video evidence of atrocities; On May 27, HRW received two video of men "in a mix of civilian and military dress" dragging bodies behind their trucks, and counting beaheaded bodies in a pile. Both candidly-filmed incidents were somehow intercepted and sent out by "Iraqi activists," not the responsible parties (unless...) "Human Rights Watch was not able to verify the origins of either video." They also cite a video of men being beaten, and a May 23 upload stamped as Abu al-Fadhl al-Abbas brigade, which shows "a commander tells a room filled with fighters that Fallujah had been a bastion of terrorism since 2004 and that no civilians or true Muslims were left inside the city." --Caustic Logic (talk) 07:47, 10 June 2016 (UTC)
Official Recognition
Prime Minister Abadi is said to have acknolwedged abuses occurred (might have meant he recognized there are allegations he takes seriously), and ordered and investigation, specifically into the Abu Mohammed claims. (sources and details forthcoming) --Caustic Logic (talk) 04:48, 12 June 2016 (UTC)
"There are extremely distressing, credible reports that some people who survive the terrifying experience of escaping from ISIL, then face severe physical abuse once they reach the other side," the High Commissioner for Human Rights, Zeid Ra'ad Al Hussein, said in a news release.
The operation to liberate Fallujah is facing yet another problem as evidence of sectarian violence is coming to light, the governor of Anbar Suhaib al-Rawi told Rudaw Saturday. Images depict some of the armed groups taking part in the offensive committing inhumane acts and abuse. These actions have tainted the scene and affect the overall operations, he said
Atrocity Videos
Otherwise, these are presumed (but not verified) as legitimate, recent crimes: