Talk:Haswiyeh Massacre
Jump to navigation
Jump to search
Comment Activism
Damn if I haven't taken off with this one (as CE has with the 44-sources-having Ras Al-Ayn page!). I got activist and dropped some comments about. This I just left on the SOHR's Facebook page:
Sorry for the late comment - hope it gets seen. The UN will not be investigating. Citizens already are. A Closer Look on Syria, the Haswiyeh Massacre. Locals clearly blame rebels, black-clad, perhaps Al-Nusrah. The homes they hit were nearest the orchards rebels invaded from the NW. Activists say the Shabiha killers parked at the ceramics factory, east edge of town, and apparently walked the rest of the way. Locals and soldiers say the rebels wanted to use roofs to attack the nearby base (as they admit to doing before) and massacred and burned at least 30 locals who resisted, and many rebels died in the fighting after. A list of 100 names from these 13 slain families are 75% adult men (15 women, 10 children, perhaps counting adults young). Hmmm....
And this was accepted (followed by a thanks) at the "Saudi Gazette's" article:
A guy in the UK hears from rebels the government/Shi'ites killed 106 from Sunni families. A list of 100 names has 75 men. Locals say 30 massacred, many rebels killed in fighting. The massacre, they say, was by black-clad Salafist rebels, presumed by some to be Jabhat Al-Nusra.
SOHR has some good info, but from there, get INFORMED about what happened at Busatin Al-Haswiyeh and THEN decide for yourselves, people.
I plan to drop something similar in several other places over the next couple of days.--Caustic Logic (talk) 14:14, 22 January 2013 (UTC)
At Enduring America, a bit of snark:
James, some good info here, and some pretty wild imagination exercises (both cited). For those interested in a still-ongoing investigation into this particular episode, with more details, graphics, emerging coherent picture, etc. you might check out A Closer Look on Syria's work on it (mostly my own work). Looks like another rebel massacre after all. A lot of people are struggling to keep it confused. --Caustic Logic (talk) 14:27, 22 January 2013 (UTC)
SOHR and LCC Reports
I just checked both sites, and nothing yet. Will check back if no one else does first. SOHR LCC --Caustic Logic (talk) 12:08, 18 January 2013 (UTC)
SOHR's main site is not updated with many things at all, never the best spot to check. The Facebook page has the following from Thursday the 17th (don't know how to link single posts):
The SOHR received information regarding the regime storming of the Basateen al-Huswiya in the suburbs of Homs city, in which stated that 106 people were killed as a result. The area is between the military college, the Dik al-Jin checkpoint, and the industrial part of Homs. It is a deprived area inhabited by the poor of Homs. Regime forces began on Tuesday to raid and search houses, some of the victims were burnt with their houses, others were killed with knives and blunt objects. The SOHR has fully documented the names of 25 civilians so far, 14 of them were from the same family (3 of them children). There is information that other families were killed en mass, one family reportedly lost 32 members, the SOHR has fully documented 8 of them so far.
We condemn the International community's complicity in the suffering of the Syrian people, particularly regarding the suffering of the inhabitants of Homs who have suffered siege, starvation and several massacres. We urge them to work on supplying the necessary humanitarian aid to Syria, where 4,000,000 people are incapable of acquiring basic human necessities.
We urge the Office of the UN High Commissioner for Human Rights to send an international investigation team to Homs immediately, so as to investigate and fully document the massacre in order to bring all those responsible to justice.
I looked again for Local Coordination Committees, and nothing. No mention of Haswiyeh. Daily Homs fatalities:
There was eventually a report on SOHR's website. --Caustic Logic (talk) 14:39, 22 January 2013 (UTC)
other reports n stuff
This is a 26 min long video with some masked guy in black talking. "Homs, a survivor of the massacre gravel recounts the details of what he saw of the massacre". Next to useless, but it confirms that the name of the spot translates to "gravel". Located here on wikimapia. See the river Neely talks about, military installations to the west. This comes from a german article which also links to this breakingnews,sy headline from Wednesday: "Homs: 50 insurgents were arrested in a raid by the Syrian Army on several dens in al-Haswia". The video linked above was found by Urs who also found some more embedded here. A rather detailed "official SOHR story" article here on Lebanese Daily Star. --CE (talk) 15:46, 18 January 2013 (UTC)
Good finds. You know I love locations, and didn't have it yet. That's really in Homs,visually. I thought it'd be a small town a couple miles north. The article seems to be a slight re-mix of the other Mroue/AP article around. Nothing to add myself today. --Caustic Logic (talk) 23:05, 18 January 2013 (UTC)

Yeah I was fruitlessly searching for myself earlier but only the video description made it clear to me that I was digging in the right area. Only skimmed the last mentioned article - these sources are so obviously corrupt by now that it's difficult to waste any time on them. Intending to add the ITV report but maybe I won't get to do it before someone else decides to (and you know by now how lazy I am, and I did some stuff today) :oD --CE (talk) 23:18, 18 January 2013 (UTC)

Later. --Caustic Logic (talk) 23:45, 18 January 2013 (UTC)

According to both Mroue articles "Abu Yazan" is an activist from Houla (are we aware of him - don't think so), while according to Reuters "Abu Yazen" from Homs knows the contradicting details you just added. --CE (talk) 01:24, 20 January 2013 (UTC)

No,doesn't ring a bell. But I looked into him a bit. See new section. --Caustic Logic (talk) 10:52, 24 January 2013 (UTC)
Enduring America collects some stuff. Miller spoke to Neely, adds "According to Neely, the river divides the village, half of which the rebels control and the other half of which the military controls. The rebels use the orchards and nearby homes to attack the Intelligence Headquarters to the east." ... "ely maintains that there is no hard evidence as to who is really responsible - and we agree." Fair enough, for now, AFAIK. --Caustic Logic (talk) 23:45, 18 January 2013 (UTC)
EA says BBC's Lyse Doucet visited. See article here, a sample tweet here From the article:
Soldiers who escorted the team to the area said hundreds of men from a militant Islamist rebel group, the al-Nusra Front, committed the killings.
One woman told the BBC the same. But out of earshot of the official Syrian minders, another woman said the army was present at the time and that some soldiers even apologised for the murders, saying others had acted without orders.
They admitted and apologized, a woman says, then denied it as we've seen. Hmmm... --Caustic Logic (talk) 23:45, 18 January 2013 (UTC)
Excellent. Where are all those on-the-ground reporters coming from? Did some outlets stop drinking their own kool-aid? Hopefully so, we can use every pair of eyes on the ground. --CE (talk) 23:54, 18 January 2013 (UTC)
Hmm, after reading at EA - dunno if they even get the location relative to the river right - the military intelligence academy to the west looked a more valuable target ... but that film isn't available to me. At least we're at the pulse of British journalism tapped by that blog ... watching. --CE (talk) 00:12, 19 January 2013 (UTC)
How level is this characterization? 90 degrees off, I say. --Caustic Logic (talk) 13:37, 20 January 2013 (UTC)
The BBC reported Friday that it had found evidence of a massacre that government opponents said was carried out Tuesday in Al Haswiya, a suburb of Homs in northern Syria.
It found evidence that partly contradicted that characterization, and the unmentioned ITV report found much more. "The BBC reported that visibly shocked villagers said at least 100 people, almost all of them Sunni Muslims, had been killed. Soldiers escorting the BBC journalists blamed the extremist group Jabhet al-Nusra for the killings, while out of earshot of the soldiers, villagers blamed the army and said some soldiers had apologized for the killings. Villager, single. Numerous ones agreed with the soldiers to ITV, and none disagreed, and Doucet's sampling of apparently two woemn came out 50-50. And in fact ...
Soldiers who escorted us to the edge of Haswiya insisted this was the work of the Islamist al-Nusra Front.
They said hundreds of men had entered the village from adjoining fields. It begs the question [her own question] of why the atrocities, which villagers said took hours, weren't stopped by the military base which is just around the corner. [best guess- it was under attack at the same time]
Others [plural] in the village confirmed the army's account. But one woman, who spoke to us off-camera, out of earshot of our minders...
So even in her report, those supporting the "official story" outnumber those who hint that the activists were right. --Caustic Logic (talk) 13:37, 20 January 2013 (UTC)
Scrape TV Comic Releief
Some comic relief via this silly article from "Scrape News": MORE EVIDENCE OF MASSACRE IN SYRIA APPEARS JUST BY LOOKING AROUND (I distinctly sense a joke I'm not getting, laughing at it anyway - near-perfect delivery. The photo at top is pretty clearly fake to start with, but the article winds up more true than almost anything else yet) --Caustic Logic (talk) 09:24, 20 January 2013 (UTC) Edit: Yes, it's a humor site, and I think I get it and dig it. Thumbs-up, Emil Uliya, International Correspondent. --Caustic Logic (talk) 09:27, 20 January 2013 (UTC)
Now the BBC, embedded deep in the country, has found fresh evidence of just such an event having taken place in Homs. They found it really by just looking around. ... Other agencies in the country, both news and humanitarian, have previously seen evidence of similar slaughters, really just by looking around.
(WTF? LOL. Read as "journalism," I guess) --Caustic Logic (talk) 09:24, 20 January 2013 (UTC)
"The BBC has found evidence to support reports from Syria of a massacre this week in which at least 100 people were killed and burned in their homes," ... Home has of course been one of the most assaulted cities throughout the war.
Check their resident expert:
"This is pretty awful if true, but all these events are awful if true and almost all of them are. Over and over again these types of things are happening, over and over, and they are all awful but it's not like it matters that they are awful. I mean it's not like uncovering them has stopped them or anything," said Scrape TV Middle East analyst David Gershwin. "I mean we don't know what happened here, not technically. It could have been all kinds of different things but it was more than likely just a bunch of villagers slaughtered by government forces because, well, that's the way it always seems to be and I'm sure this one was no different."
Government officials blamed Islamist militants for the deaths, which is entirely plausible really. ... "I mean it's not like the rebels are very good people either, they are treasonous killers. They are perfectly capable of slaughtering people too," continued Gershwin. "I'm not saying that's what happened here but I'm not not saying that either. It could have been anyone. It was likely the government because they really are jerks but it really could have been anyone at this stage."
Abu Yazen/Yazan
One of the activists cited as a local expert on the Haswiyeh massacre is one "Abu Yazan"alt. "Abu Yazen." (father of Yazen). One sourcesays he's Homs-based, but might mean Homs province. The other says he's from Al-Houla, and is (cited a few times on this new page). How he got the info is of some interest - it suggests, but far from proves, a Houla link. 20 km of fields separate Taldou from Al-Haswiyeh. Reuters: Abu Yazen, an opposition activist in Homs, said the rebel Free Syrian Army occasionally entered the farmland of Basatin al-Hasawiya to attack a nearby military academy. "Assad's forces punish civilians for allowing the rebels to enter the area," he said. Mroue/Karan, AP: Haswiyeh is controlled by government forces, but activists said many of its residents have sons in the Free Syrian Army, the main rebel group fighting to topple Assad's forces."This is a purely sectarian attack meant to punish the rebels by targeting their families," said Abu Yazan, an opposition activist speaking via Skype from Houla.
Also to consider in possible Houla link is Jalal's video of the apparently foreign Aroor disciples in Aqrab with their "captured" military police car I posted on the connecting the dots page. That is dated Jan 14, the day before this here apparently started. Some mean looking characters, not the local douchy rebels. --CE (talk) 11:46, 24 January 2013 (UTC)

Good catch, belated note. Quite possible. Others from the north, they'd first arrive at recently-conquered Aqrab for a smiling and nodding spree. Then to see the famed Al-Houla and hear the real story, and then into action a bit further south where a new front for "freedom" had been propped open for them. --Caustic Logic (talk) 11:13, 7 February 2013 (UTC)
Most of the men look local. The exception is the one in a track suit, running shoes, balaclava and carrying a folding stock rifle. -- Petri Krohn (talk) 11:44, 7 February 2013 (UTC)
Past record: He may be Homs-based in part. A [www.youtube.com/watch?v=TPzOqiwVjwk since-pulled video] still appears in a Google search: "Activist Abu Yazan shows the destruction of Alsaltaniya .Homs 28.4.12" A month later, he spoke about Al-Houla, claiming 118, by his statement, had died. Associated Press, May 26:
A local activist giving his name as Abu Yazan reached via Skype said 12 people died in shelling and 106 were killed when pro-regime thugs known as shabiha stormed the area. … Abu Yazan, the activist, said regime forces started shelling the village, located about 40 kilometers (25 miles) northwest of the city of Homs in west-central Syria, following an anti-regime demonstration that took place after Muslim prayers on Friday. Later, the shabiha stormed the village of Taldaw, just south of Houla, raiding homes and shooting at civilians.
"They killed entire families, from parents on down to children, but they focused on the children," he said. Abu Yazan said most residents were fleeing the area Saturday, fearing further killings.
Prior to this, he was there to explain other, much smaller Shabiha and army rampages that initiallkilled less civilians and more "defected soldiers." Oweis, Reuters, Sept.19, 2011:
Syrian forces shot dead at least six villagers and two rebel soldiers on Monday, in a sweep of countryside north of the city of Homs, one of the most defiant regions in pro-democracy protests, activists and residents said.
...]
The assault on Houla, a collection of villages north of Homs, 165 km (100 miles) north of Damascus, followed a large protest on Sunday demanding Assad's removal. About 12 government soldiers manning rural checkpoints had defected, activists said.
"Several of the defectors put up a fight but they were overwhelmed. The rest were civilians who were killed by the random gunfire from the tanks as they went through al-Houla," said a resident who gave his name as Abu Yazan.
He said 14 people, including school-age students, were arrested in Taldo, Kfar Laha, Takltheb Tibeh and Iqreb villages.
After most but before Haswiyeh, it was someone else apparently (??) that was killed. As a side-note, documents.sy, Dec. 26, 2012:
Anti-government coordinations: the media activist Abu Yazan al-Hamwi has been killed by the Syrian Army during accompanying Al-Jazeera channel's crew and filming the continuous battles in Ma'aret al-Nu'man area of Edlib countryside
That's a ways from his turf, Idilb area. And the name - could be his. Either way, Al-Hamwi is a name we've heard before from Hama province, activists and fighters and massacre victims in the Halfaya-Mazraat area. --Caustic Logic (talk) 11:14, 24 January 2013 (UTC)
Death Toll Thoughts
Familiar patterns: Similar scale to Houla and other attempted massacres, specific family primarily targeted, cruel, blade-centered death prevalent, burning, being near Homs or Hama. But despite the similarities, this is no Houla massacre, with the killers enjoying total control and real family-level death dished out with 49 dead children. The Telegraph cited "Youssef al-Homsi, an activist based in Homs," who had a list ready of 100 names, "including 15 women and 10 children." That is, a list with 75 men. Like Tremseh or Qubeir, this would seem to be a smaller rebel massacre of maybe 35 members of one family, then many battle dead from after the army responded. If families, why so many women and so few children? They count adults from 13 up sometimes. Some girls are women, some boys among the 75 men. --Caustic Logic (talk) 12:20, 18 January 2013 (UTC)
AP: "...the pro-government daily newspaper Al-Watan reported Thursday that Syrian troops advanced in the countryside of Homs "cleansing the villages of Haswiyeh and Dweir as well as their fields" from gunmen. It did not elaborate."--Caustic Logic (talk) 12:33, 18 January 2013 (UTC)
Or go directly to Neely's article (should have read the comments first). Thomson anyone? Those damned brits reporting from the ground... ;o) --CE (talk) 13:29, 18 January 2013 (UTC)
Videos
News videos (British/Western)
embedded with the original articles:
Other News/opinion/investigation
Nothing at all yet on Youtube for "Haswiyeh" or "Husweyeh." --Caustic Logic (talk) 09:35, 19 January 2013 (UTC)
Activist Videos
Arabic spelling ("الحصوية") yields at least three distinct videos (plus re-posts), all here from the prominent set from user Souriaty. --Caustic Logic (talk) 09:35, 19 January 2013 (UTC)
Geographical Issues
Location
James Miller at Enduring America: "According to Neely, the river divides the village, half of which the rebels control and the other half of which the military controls. The rebels use the orchards and nearby homes to attack the Intelligence Headquarters to the east." Otherwise called a military academy. CE and I both see a place that looks like intel HQ/academy, to the west Smaller possible matches to the east, but I'm going with a mix-up. Next, Neely's ITV video shows a built up town with streets and buildings. That's not out in the fields Miller IDd. So my guess for the town is the small triangle of city just NE of the river, with some connected orchards and homes south, and more SW across the river (Orontes, by the way). The whole span, including homes along the road on the far (SW) side, might or might not be included. Even locals may not be sure or care where the town ends, but the bank along that far road might be the edge. A ceramics factory is mentioned. I see a sugar factory labeled NE of town, an unlabeled factory with giant vats NW, and piles of dirt/clay on the westeast (that happens) side of this town, with arguably factory-type buildings and a yard. That's my best guess for that, and it might be where the men are walking at 1:40 in ITV's video. --Caustic Logic (talk) 01:34, 21 January 2013 (UTC)
Finally checked the area Wikimapia has highlighted, and it agrees, including the triangle town, possible ceramics factory, and orchards to the S and SW, framed by roads to the E S and W, arbitrary straight line along the edge of town bounding on the north. I'd include the orchards a bit north of that line as well, but it seems the best definition. Map coming up. --Caustic Logic (talk) 04:10, 21 January 2013 (UTC)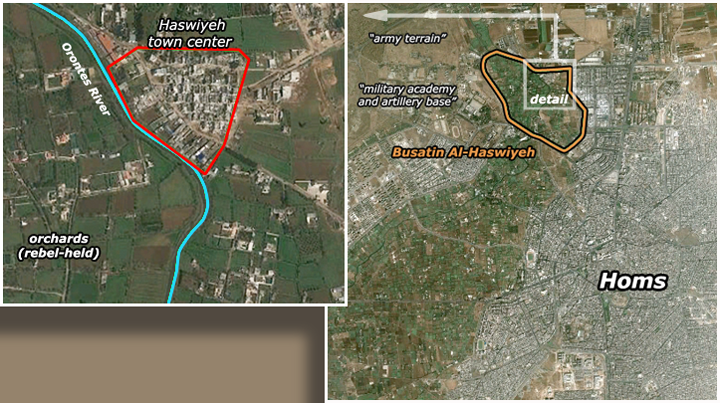 HomsUp-to-date cites the killers parking at "Al Boushi factory for ceramics," which I think might be on the east edge of town, by the big mosque. That's the Homs side, government-held, but not the direction of the military stuff we've heard about to the west (but a good place to park after driving the long way around). Google Earth images say whatever this place is, it's new, built during 2011, only seen finished by about the Feb. 2012 imagery. This isn't clear or anything, but having the killers come in from the east makes sense, given the clues that they came in the opposite way. Doucet had soldiers, corroborated by locals, who "said hundreds of men had entered the village from adjoining fields." To the south is more orchards and the bulk of Homs, city areas west and N-NE, generally under government control, so not likely the route meant. It most likely means from the northwest, where orchards soon yield to fields, and a bit off places like Rastan, Al-Houla, Aqrab, Mazraf, Halfaya... where hundreds of rebels can gather and act at a time. They'd have to cross the highway and over or very near the "army terrain" on Wikimapia to get there, but otherwise it's small town, fields, back-roads all the way from their closest hotbed no more than 20 km distant (Taldou). It's said rebels and their snipers afterwards controlled the orchards and houses across the river, where the closer roofs are anyway. The town itself wasn't likely entered, but it is in sniper range. --Caustic Logic (talk) 10:05, 21 January 2013 (UTC)
Seeing both BBC and ITV footage now side-by-side, they definitely come in from the east, down that sloping W-SW road towards the smokestack thing at the possible ceramics factory (it is what they're near in the ITV video). Army base they come from "just around the corner" unclear - possibly the grounds of the sugar refinery, or somewhere quite near. Doucet says "most of the killings took place in houses down this hill," shown, a heavily tree-lined dirt road, walled complex of large, red-roofed buildings at the bottom. That would put the kill area here on GM. It would seem they did enter the town center proper, or across the river anyway. How many others they slew in their home base in the orchards side, unsure - must be some. --Caustic Logic (talk) 09:24, 22 January 2013 (UTC)
Town Name
Neely's smart report from the scene gives a different-sounding name than most: Huwaisa, to the usual (our) Haswiyeh. CNN got Husweyeh. The Hu links the two and suggests something, but the sound order (S-W not W-S) is different for Neely, similar for the others. Neely was there, so that's a point for his version. But I checked Google translate, FWIW. That takes "الحصوي" (usually translating gravel, done in reverse yields "Tophaceous." - a word I do not know). Anyway, it has the audio pronunciation I transliterate "Al-Hasawee." Probably not quite right, but it's S-W, so I suspect we're right, and so is Neely. Maybe it's Al-Huwasawiyeh. Not the biggest deal, but I was curious. But I'll add the fuller name Neely gives - "Basatin al Huwaisa; the orchards of Huwaisa," or orchards of gravel? --Caustic Logic (talk) 15:51, 19 January 2013 (UTC)
Just watched the BBC report you linked above and Lyse Doucet also clearly pronounces it S-W. Haswia is perfect for how Germans would pronounce it, maybe Haas-wee-yah for Americans. Report adds nothing to the written article other than that the orchards are quite pretty while Lyse isn't. --CE (talk) 16:12, 19 January 2013 (UTC)

Reportedly the orchards are full of dead people, and Lyse isn't. She's okay looking (in the photo), just distinguished (older). I like your American spelling - like Hee-Haw. --Caustic Logic (talk) 00:08, 20 January 2013 (UTC)

Uhm sorry if this somehow came over as anything but a lackadaisical (actually found this amazing word just now looking for what I wanted to say) throw-away remark. Not intended. --CE (talk) 00:35, 20 January 2013 (UTC)

No, not really.I did use two es toover-emphasize, as in hee-haw. I was just having fun with you. Sorry if it came across bad at all :) I'd usually use i for the sound as well, and in Busatin or Haswiyeh. BTW I checked "Tophaceous" and it means of/having/suffering from monosdium urate crytals, as in a type of gout. Gravel/crystals/stones, kind of fits, but for the unexplained switch from ground and road surface to internal medical areas... --Caustic Logic (talk) 11:12, 22 January 2013 (UTC)
Scary Side-Note
From the Telegraph:
Several videos have been posted online over the past month of men being slowly, torturously murdered with knives.
In one piece of footage seen by The Daily Telegraph, two man stand, whimpering, with their hand against a wall. Behind them, bearded men in military fatigues begin slashing at the men's T-shirts with knives, swearing and proclaiming their support for the Syrian president. Then they begin cutting the flesh on the men's backs. Whipping themselves into frenzy, they eventually stab their screaming victims several times in theirs sides until they cannot stand any longer and fall bloody and dying to the floor.''
In private conversations, senior ranking rebel commanders have admitted to The Daily Telegraph that the killings are being perpetrated on both sides.