Talk:Coastal Uprisings of 2011
Jump to navigation
Jump to search
Talk Talk
Up late, been on a bender here. Maybe this page should be compressed into events of 2011, maybe Deraa should be split off from that to give it all space. I'm in history mode, thinking ahead, a lot of space is needed. Space for mulling here. Thoughts? --Caustic Logic (talk) 16:29, 24 November 2013 (UTC)
Locations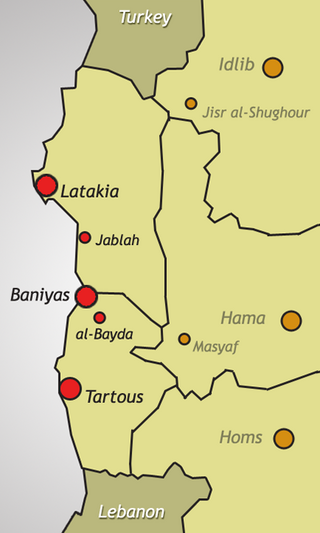 Tartous, for reference, is the relatively peacefully-held major port city and capitol of Tartous province. It's home to Russia's only extraterriorial navy facility outside the old USSR, and of great strategic importance. We have little to report from there yet, but it clearly needs a slot. It's province at large has seen many problems, especially the areas around Baniyas at the north edge.
Baniyas is a mid-sized, Sunni-majority port city, with adjoining oil refinery, on the northern coast of Tartous province. It was among the first places to witness violent protests; while Deraa is widely recognized as being the initial flashpoint with staying power, a serious attempt at the same was tried in Baniyas. As this Google search shows, in early reports from the first month of events "Dara'a and Baniyas" were often cited as the twin cradles of the "revolution." --Caustic Logic (talk) 11:15, 26 November 2013 (UTC)
Jableh/Jablah (Google translates "protoplasm") is a Sunni-majority town near Baniyas with a vibrant extremist activist network frequently working with their counterparts in Baniyas. Geographically, however, it lies in Latakia province, almost halfway to Latakia city.
Al-Bayda is a smaller Sunni-majority town nearer yet to Baniyas, in the mountains just south of the city and closely linked by kinship with like minds nearby, making the whole area between and around them into the kind of place the roving al-Bayda and Baniyas massacres of May 2013.
Latakia is one of Syria's primary cities, home to a major port, and the capitol of the Latakia province, the most Alawite-predominant one in Syria. It's been relatively peaceful but has seen some horrific episodes. Some locales in its provincial hinterland have seen much worse. Those from the early weeks should be brought here when found.
Demographics
The three larger cities, Tartous, Latakia, and even Baniyas, seem to have - or have had - a pretty representative mix of different sects, especially including Alawites in Baniyas and a good number of Christians as well in the other two. That's a vague impression I'll share, as it seems most Syrian cities of a certain size start to reflect the national demographics and also, as it so happens, they have remained relatively peaceful. Latakia I think is Alawite majority but, being mixed in the big city way, contains enough Sunnis to include a few of the trouble-making kind. Maybe those invited enough friends to cause the minimal trouble it seems they've had there. Any thoughts, facts, or reports anyone wants to add to this vague impression, feel free. --Caustic Logic (talk) 13:30, 26 November 2013 (UTC)
Events in Baniyas
Baniyas Emirate Plans
(copied from Al-Bayda Massacre talk page, Biassi family politics)
Twelve Biassis were among those arrested in the raids of mid-April, 2011 [1] At least one member (possibly among those detained) seems to have been planning very ambitious "protests." A confession aired on May 23 claimed one "Abu Ali" Biassi was the "defense minister" of an "emirate" planned for Baniyas in these first days. According to the informant, a captured driver Abdul Qader Al Zeer, the "emir" to oversee the new kingdom was Sheikh Anis' ( انس ) Aarot. * They met at his home, and they were paid money and provided weapons from outside - explosives, rifles and pistols from Lebanon. Rahman Mosque was their warehouse. There was a plan of minister Biassi's to rig explosives at the Baniyas refinery and the thermal station, to be blown up on the orders of the ministers. They had the explosives, the captive driver says, but this was apparently where they were busted instead. [2] --Caustic Logic (talk) 10:58, 9 August 2013 (UTC)
This alleged would-be Emir is apparently alive and well, free in Turkey, and helping the "legitimate representatives of the Syrian people." To our "Sheikh Anis' ( انس ) Aarot," a Reuters report on the rebel push into Latakia, August 2013, cited one "Sheikh Anas Ayrount, a member of the Syrian National Coalition who is from the coastal city of Banias," as touting the closeness of strikes on Assad's ancenstral hometown of Qardaha. [3] Sheikh Anas Ayrout now has his own page here.
On April 10, 2011 there was an ambush of Syrian soldiers by armed men on the Highway in Baniyas that killed nine soldiers (see below #April 10 Violence)). Al-Watan newspaper reported at this time (via Joshua Landis) that the first people arrested over this "explained that arms were financed by Abdel-Halim Khaddam (exiled opposition leader) and a man named Mohammed Ali Biasi aka Ahmed Musa, is prominent for securing weapons coming from Lebanon and distributing shipped guns to "rebels"" (as I translate the provided Arabic) Is this the same Abu Ali Biassi? Defense minister vs. distributing guns suggests probably so. --Caustic Logic (talk) 07:45, 4 July 2015 (UTC)
Khaddam is interesting - vice president for 20 years until 2005, a Sunni from Baniyas, linked to Lebanon's Hariri by business and marriage, he defected in 2005, using the Hariri assassination to blame Syria. He predict the regime's fall and formed a "Salvation Front" government-in-exile that ran from 2006 to 2007. And he says he got money from the US and EU in 2011 to help overthrow the government. He's in trouble at home, needless to say. Wikipedia) --Caustic Logic (talk) 07:45, 4 July 2015 (UTC)
Further, Landis cites la Republica reporter Alix van Buren explaining
"Sunday (April 10) two of ex-Vice President Khaddam's men were arrested in Banyas. A human rights activist confirmed that they were sowing trouble by distributing money and weapons. I don't know what to make of the confessions of the three guys shown on Syrian tv today. However, several Syrian dissidents believe in the presence and the role of "infiltrators". Michel Kilo, though he accepts that possibility, cautioned that the issue of "infiltrators and conspiracies" should not be exploited as an obstacle in the quick transition towards democracy. --Caustic Logic (talk) 07:45, 4 July 2015 (UTC)
Oh, and as for would-be emir and probably Khaddam associate Anas Ayrount, he's likely related to local protest leader in Banyas Omar Ayrout who confessed - perhaps under duress - to taking a personal hand in the brutal murder of Alawi farmer Nidal Jannoud on April 10 (see below). --Caustic Logic (talk) 07:45, 4 July 2015 (UTC)
Sectarianism in Baniyas
Syria Tribune's informative report on early signs of sectarianism in the "protests" cites a video uploaded April 9, 2011 (incident date unclear) in which "Protesters actually attacked minibuses that work as public transportation on villages' routes, which has a clear sectarian significance in that town." [4] Which town isn't made clear, but the video says it's in Baniyas. --Caustic Logic (talk) 09:37, 4 July 2015 (UTC)
Nidal Jannoud
(copied from Persecution by Rebels: Alawi/Alawite)
In the early days, before there was a bitter war as excuse for the brutality, at least one Alawi man was singled out for death, in April 2011, by Sunni "protesters." Nidal Jannoud was a 31 year-old farmer from those sinister Alawite villages surrounding Sunni Baniyas, killed in the city when he went to sell his crops, reports TruthSyria. He was callously filmed as he tried to walk on coated in blood, chased by jeering youths who had sliced his face deeply, were threatening him with rocks, etc. He was reportedly then killed by the mob, for being the wrong kind of Muslim. TruthSyria's article (July, 2011) explains "This is the Muslim Brotherhood style. What is more disgusting than the Muslim brotherhood is the media agencies that claimed recently that Nidal has been killed by the Syrian security.. After they kept silent for three months from his death, and after all the reports have been made about him, came some media agencies to claim that the Syrian security killed him." [5]
(new expansion)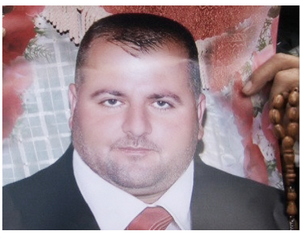 According to Syria Tribune, the killing was on April 11, the author being sent morgue photos at that time. That's significant as later postings claimed this was a Shabeeh or spy named Abu Hadi "who appeared in Al Baida Video abusing our fellow revolutionists," almost surely referring to the famous videos from al-Bayda even though that raid wasn't until a few days after the farmer's death. (see April 14, below) So at first they admitted killing him but changed his identity, but later decided to blame security forces for killing an innocent farmer? Weak. This piece also names two youths identified in the videos of the attack, both of who have confessed to their role after being arrested in May, it seems: "P.S.: Omar Ayrout and Yahya Al Rayes confessed later that they killed Janoud. Their confessions appeared on the Syrian TV." [4] Omar Ayrout is the protest leader in Baniyas, and quite likely related to would-be Baniyas emir, Anas Ayrout, mentioned above. --Caustic Logic (talk) 04:42, 25 November 2013 (UTC)
Note: the VDC has an entry for Nidhal Ali Jannoud listed with regime forces, rank: civilian (by virtue of being killed by rebels, as so many other civilians even in the CDV database have been. All non-blank lines:
Name: Nidhal Ali Jannoud
Province: Tartous
Sex: Adult - Male
Age: 31
Family Status: Married
Area: Haker Samakeh village
Date of death: 2011-04-10
Martyrdom location: Tartous - Banyas
Cause of Death: Shooting
Rank: Civilian
News Article: http://www.tartous2day.com/Martyrs/show_news.php?id=1637
By this, he was shot after being hacked, or as often it seems, "shooting" is default for cause of death, like 0 is default for age. And it says he was killed a day earlier than I was saying, on day 22 of peaceful protests. According to a more Syrian but more spottyl center for documentation, the CDV was wrong on Jannoud's age. In another month exactly he would have been 31. They too say it was April 10 he died, at age 30. Same day as the interesting violence in Baniyas - next section. --Caustic Logic (talk) 11:15, 26 November 2013 (UTC)
Another source for images of this ghastly "peaceful protest" http://www.tartous2day.com/Martyrs/show_news.php?id=1637 --Caustic Logic (talk) 10:36, 1 July 2015 (UTC)
April 10 Violence
The same day the Alawite farmer was murdered by a terrorist gang in Baniyas (see above), two days before a widely condemned regional crackdown on peaceful protesters dubbed terrorist gangs in nearby al-Bayda (see below), something interesting went down in the area. I'll see what other sources say, as it's not ringing a bell with me, but the VDC has a spike of regime casualties, most of them less civilian, harder targets, than Mr. Janoud was. See: all 35 "Regime's army" fatalities in Syria on April 10, 2011. Note that 30 of those are listed as martyred in Baniyas, on that single day. A crackdown in the following days, even with stepping on people, might be less out-of-bounds than it seemed, considering. There are policemen listed killed in this area and these days, but here it's all military: two corporals (from Hama and Aleppo) and the rest listed as locals, all either soldier or "officer," unspecified. Cause of death is mainly "shooting," (like Mr. Janoud, perhaps with some prior slicing, etc.) but three of the soldiers died from an explosion, it says "on Lattakia-Tartous Road." April 10. --Caustic Logic (talk) 11:15, 26 November 2013 (UTC)
Much later on ... I figured out this is the day of the should-be-infamous rebel ambush in Baniyas accepted as taking the lives of 9 soldiers - though rebels said they were killed for refusing to shoot unarmed protesters. I finally re-visited this, here at Monitor on Massacre Marketing - with its attempted forced-admission video of a captured soldier that failed but was released anyway. Joshua Landis had panned that, I recall seeing, but I didn't know his wife's cousin was one of the victims, and he took that case personally. I know that now, and it's a thread in the article. I was able to locate the scene and the building with rooftop rebel shooters (northernmost tip of Ras al-Nabi district, at the (??) river). A better VDC search shows 34 soldiers killed either in Baniyas or "from" there. Can that be true? Or did they have dead rebel fighters they couldn't admit to? Of these, 33 are listed in regime forces, but some noted as refusing to open fire, and just one is listed as a martyr - only martyr listed for all of Syria that day (once the Alawi farmer Jannoud - see above - was scooted over...) --Caustic Logic (talk) 07:18, 4 July 2015 (UTC)
Attack location:

Al-Arabiya heard about special violence there April 10: video And bleeding in the coastal city of banias, the Syrian 10-4-11 Arabic. Wish I could tell how they spin it. Oh, here we go. It says an unnamed activist told AFP that "security forces fired on the perimeter of the Al-Rahman mosque in the outskirts of banias what resulted in four dead and 15 wounded at least" while "according to the official authorities one officer was killed and another wounded in an ambush military unit Syria and in the region of banias." Sounds like incomplete reports of the same thing - one less informed but correct, one more aware of the death toll but fudging the details. "Activists said that the connections to mobiles and landlines with the banias cut off completely. As reported by activists fired on the mosque of Abu Baker al siddique in the city, what resulted in the injury of 5 people." --Caustic Logic (talk) 10:36, 4 July 2015 (UTC)
Ooh, interesting twist. Their sources said at least 4 were killed and 15 injured (not close enough to be sure) at the "perimeter of Rahman mosque." Well that's labeled on Wikimapia, and it's here, 300 meters north of the ambush bridge with a clear line of sight to see how far away that is. But still it's close enough that perhaps a sniper in its minaret could have provided a third angle of fire no one noticed at the time. And this seals the location the video and everyone agrees on, and that clarifies the activists were talking about the same batch of people shot by "security forces." --Caustic Logic (talk) 12:19, 4 July 2015 (UTC)
Events in Al-Bayda
April Operations
This deserves a better section. We've said April 14, but there were at least two days of arrests, starting April 12, so the date of the famous standing-on-protesters video needs clarified. And we needs a good still of that. There are a few lists of those arrested, and I could go after a translation of the Ahmad Biassi video too. Below then is some starter material. --Caustic Logic (talk) 11:22, 26 November 2013 (UTC)
(copied from Al-Bayda Massacre talk page I came across this: activist videos of a April 14, 2011 raid on al Bayda.
-- Petri Krohn (talk) 04:22, 21 July 2013 (UTC)
I remember seeing video from that, same square we're studying, dozens of men bound and laid face-down. Soldier-types sometimes stood on them and jumped up and down. It was on a list of videos I was slapped with of gov't brutality, and the only one I felt was genuine and not fake. --Caustic Logic (talk) 10:13, 21 July 2013 (UTC)

CNN shows some activist video (in thumbnail size) from April 16th, used to establish the that the roundup scene was genuine and happened in al Bayda. They do this by giving the viewer a tour of the central square. We have very little footage from the scene and many things still need to be placed on the map, including the cafeteria with the 30 burnt bodies. We should find this video for reference. -- Petri Krohn (talk) 11:35, 21 July 2013 (UTC)
Apart for searching videos for the name linked above, here is something to start with: -- Petri Krohn (talk) 11:46, 21 July 2013 (UTC)
Found it: here. -- Petri Krohn (talk) 12:09, 21 July 2013 (UTC)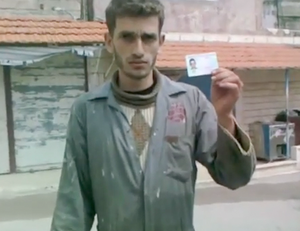 One young man given as Ahmad Biassi was shown on a video of this time, in the al-Bayda square, holding his ID card and perhaps announcing his defection or anti-government beliefs. Ahmad was reported in May 2011, by the BBC and others, to have been arrested and tortured to death in a government prison. [6] He appeared on Syrian state TV swiftly refuting that; he claimed to be alive and free, never was arrested, and was surprised and disturbed to hear otherwise. (excerpt, Google translated, using a slightly wrong name spelling)
Syrian television broadcast on Saturday night to meet with "Ahmed Biash" refuted what it aired and claimed some satellite channels inflammatory that he had died after being arrested by Syrian security forces. And said, "Biash": "I was surprised by what I saw on TV where Al-Arabiya aired on شريطها news story that, the death of the young man Ahmed Biash who is I, under torture in one of the jails or prisons." And stressed, "Biash" he practiced his natural life and that one did not arrest him. The Al Jazeera aired a report which sang, and organized a poem on how to kill him by breaking the neck under Shoes intelligence in the Investigation Branch 285. Al Jazeera said that kill Biash, was under the direct supervision of the senior leaders of the Syrian intelligence, knowing that "Biash" originally was not arrested. [7]
Reason for the Raid
A witness in Baida said told Al Jazeera that at least one person was injured on Tuesday (the 12th) when the security forces opened fire there, in an operation apparently spurred by the participation of Baida residents in a protest in Baniyas over the weekend. On Saturday (April 9), Reuters reported, protesters in Baniyas "carried empty white coffins in sympathy with an estimated 200 people killed in pro-democracy protests in Syria." (Mackey, NYT, 4-12)
Yeah, and on Sunday (the 10th) some events notmentioned here: an armed gang ambushed a convoy of soldiers there, killing 9, and capturing one after shooting him in the back. They tried to make him say he was shot for refusing to shoot them, failed, had the video posted by activists anyway, as they reported 4 dead at a mosque when Alawites shot them, and murdered an Alawite farmer. (Monitor) The farmer, Nidal Janoud - activists would later accuse of being one of the "Shabiha" involved in the April 12 raid and Sunni-"stomping" seen on video, and so he got what he deserved ... but it was on April 10. "He would have been involved, whatever, Alawite scum!" --Caustic Logic (talk) 11:03, 18 August 2016 (UTC)
Events in Jableh
Sectarianism in Jableh
Syria Tribune's informative report on opposition lies mentions the following for March 25 and some other early date on or before April 9:
...Videos leaked at the very beginning of the events showing clear sectarian slogans and even actions as early as March 25th. This video for example shows the very first demonstration in the coastal town of Jableh. Not only that you can clearly see swords and sticks, but the person speaking also incited protesters to "drink the blood of anyone who comes between them". Protesters also chanted "Down with Shiites", which is quite outrageous in a town also inhabited by many Alawites who belong to the Shiites sect.
This video, however, goes beyond that. Protesters actually attacked minibuses that work as public transportation on villages' routes, which has a clear sectarian significance in that town. [4]
Actually the second one is from Baniyas, it says (copied), and not dated, but also uploaded on the 9th - and the bus thing may matter here. But the one in Jableh, day 11 of peaceful protests and they had had enough of the Shia/Alawi already. No killings seen. --Caustic Logic (talk) 08:51, 4 July 2015 (UTC)
Jableh Death Records
As usual, I'll start with the VDC. All "martyrs" in March and April, 2011 81 total, killed by "shooting," tending to have no explanation at all. Four are non-civilian: the earliest is Safwan Marzoq March 29, already FSA. The others must be too - Marzoq is from Sakantouri (central Latakia city?), the others all from Jableh. --Caustic Logic (talk) 08:58, 4 July 2015 (UTC)
Between that liat and this one just for Jableh covering May through August, we can see only one day stands out as extremely deadly - April 24. 23 killed - 2 FSA, 21 civilians. 2 are women, 19 men. 3 are named Obied, 2 el-Deins, 2 Jomaa/Jumaa, and others are mixed names. They tend to say "shooting," no explanation at all. Abd Al-Menaem Abeed Karbooja has this video attached - shot between the eyes it seems. --Caustic Logic (talk) 10:01, 4 July 2015 (UTC)
This episode did make the news reports for April 24: AFP with the first version of the day not including Jableh:
Syrian forces shot dead at least 72 people ... A day after President Bashar al-Assad scrapped decades of emergency rule, his forces used live ammunition against demonstrators in several towns and cities ... "The Syrian security forces committed massacres in several towns and regions today (Friday), so far killing 72 people and wounding hundreds," said the London-based Syrian Human Rights Committee in a statement received by AFP.
Several rights activists also published provisional lists recording the deaths of more than 70 people. ... Ammar Qurabi, chairman of the Syrian National Human Rights Organisation, spoke to AFP of "49 deaths and 20 people reported missing" on Friday.
BBC with a leter version
At least 95 people were reported killed across Syria on Friday and a further 12 on Saturday, as mourners came under fire....
Police and soldiers opened fire from rooftops in the coastal town of Jabla, though no protest was being held at the time, witnesses said. ... Security forces in Jabla, a town of 80,000 near the city of Latakia, opened fire after a visit to the town by a new regional governor, an unnamed human rights activist told AFP news agency.
It's not clear why they didn't report that over 20 civilians were killed like the VDC eventually listed. --Caustic Logic (talk) 10:01, 4 July 2015 (UTC)
Four killings on June 5 are interesting - 2 Ojeils and 2 Istanboulis - the latter is the name of an FSA fighter from Jableh killed April 4.
Events in Latakia
From the VDC's list of the first 81 "martyrs" in Latakia province (up to the end of April)we can see the first killings were apparently in the capitol. First person shot dead, Ibrahim Saqer March 23 from Dawar al-ZIra'a (meaning either the central roundabout in Latakia, or the central district just SW of it). --Caustic Logic (talk) 09:05, 4 July 2015 (UTC)
March 26
3 men and a boy were shot dead on March 25, the day of the rally with anti-Shia slogans and weapons seen on video above. Were the shootings before or after? Unclear. 16 civilians were somehow shot the day after. One has this video attached of what seems to be the aftermath of a sniper shooting of about 4 people, being carried away wounded. Another video of one of the victims It seems well in the city, but streets are emptied. Other dead are from Tabiyat, Aweyna, Sakantouri, etc.(central districts). No notes to explain. --Caustic Logic (talk) 09:05, 4 July 2015 (UTC)
2 more died on the 28th, by the VDC list, one on the 29th, and 3 on the 30th (see next section), then Only a couple more deaths are listed in the city until April 17, another bad day with 16 shot dead. --Caustic Logic (talk) 09:05, 4 July 2015 (UTC)
Train Station Massacre
This is a small and obscure event of March 30, 2011, with about two dead and a few injured, with all circumstances being murkier than one would think.
The incident came following days of contested unrest. Loyalist sources described this so: "The city of Latakia in the last few days witnessed shooting incidents that led to the fall of more than 12 people, including two militants , were killed and some 200 security elements injured." [8] A short period of calm followed, then following a defiant speech by president Assad in Damascus, protests broke out anew in Latakia on the 30th.
The Protest(s);
The protesters were anti-regime but flew a Syrian state flag, brandished bibles alongside korans, waved white shirts, chanted "peaceful, peaceful, one country, freedom, no sectarianism," and were falsely dubbed a pro-Assad rally by state-friendly media. Or so participants told an activist who compiled the definitive opposition "Confirmed account of the events of March 30, 2011 in Latakia, Syria, to be reported by the media" (the only such source cited around in English or Arabic), from the Facebook page of "The Syrian Revolution 2011". [9] This is from an activist who didn't see the events but saw blood and shell casings and videos of those shot. His sources strenuously insisted they had no weapons whatsoever. And so security forces opened fire for no reason with their Kalashnikovs, and it was clear to all of them that it was the commander's decision, not some hot head's impulse. No exact death toll is given, but security forces dragged away numerous bodies and shot at anyone who tried to do the same, he heard. Hospitals were closed to the public, funerals were banned, and bodies were held until the family agreed not to speak of the details. "The families of citizens are being tracked down by government forces," the report adds. [9] --Caustic Logic (talk) 15:02, 24 November 2013 (UTC)
Further:
The protesters said that the man called
Muawiya Jaafar, who is a government accomplice, in their own words, sent two individuals to
negotiate with the protester's center to wait until after the President's speech but they refused and as
a result, the police surrounded the area. There was military security in army uniform. The protesters
said that the government security forces and Al Shabiha (an armed gang, outside the government)
worked together as one hand, and they are responsible for terrorizing the population and aiming at
protesters.[9]
In contrast, loyalist Syria News reported what seems to be the pro-government rally version of events: "the peaceful demonstration started from the neighborhood Saliba roundabout towards Yemen , and remained organized without any problems , but acceded to groups who provoked riots , which led to a clash between the two parties , which forced the army to intervene to disperse the demonstrators ." [8] That's Google translated - what "acceded" really says or means isn't clear. But this sounds like two groups of protesters who wound up "clashing" and triggering some kind of security intervention. Both sides would agree on that last part, but the details clearly will differ, as they do on the nature of the peaceful parts of the protest situation. --Caustic Logic (talk) 15:02, 24 November 2013 (UTC)
The Attack
SyriaNews blamed the shooting on "an exchange of fire between the security authorities and unidentified gunmen in the train station roundabout," with the latter being the ones more likely to shoot innocent civilians just to escalate the situation. They specify "a group of militants were present within the School November 6 in (translates a bad Askntore)," similar to a nearby "mosque of Khalid bin Walid , which is believed to have militants hiding in it." Outside the school, they were "shooting people in the pool area and yard Yemen ( roundabout station)." [8]
The activists cites the same places in explaining "Gunfire rang out from the side of the police and government forces between the school 6 Tishreen and the train station." [9] Not just a bit further to one side in the school, it was the forces outside near it. This might be worth mapping out visually, but even without that, we can see where this is going. It might deserve a slot on the unseen snipers page, but the allegation is that it was visible and seen fire from ground forces.
Victims
2-6 people were injured and/or killed, all unclear: Syrianews reported vaguely but it seems appropriately "fire from an unknown source has led to casualties among the demonstrators have been appreciated by the witnesses between 2 to 6 deaths and injuries " [8] The video record suggests four adult males at least injured in the streets in daylight, only one looking obviously fatal but none seen quite dead yet, plus at least one other adult male, killed elsewhere and seen in the morgue.
The VDC lists two Latakia civilians killed March 30, the morgue one and one street victim. The former is Mohammad Abdulnour, with video attached: http://www.youtube.com/watch?v=O_a3Bl5WfM4 - short-haired young man, shot in lower back, seen only in the morgue, face-down - black pants, black leather jacket, might have been a night-time "protester."
The other VDC listing: Ismael Larri, age 42. Video: http://www.youtube.com/watch?v=fZcRi0uA5R8 - "Shahid Ismail Alera, Latakia" A middle-aged man, short hair and mustache, shot in the head and pouring blood across the sidewalk, still alive but paralyzed, eyes wide open, jaw moving a bit but seemingly paralyzed above and below that and probably to be dead soon. The takbeer men filming him within seconds of getting shot, run from more loud gun shots just around the corner this man is just past. They got video but were unable to pick him up. Other videos show them carrying him, perhaps still alive, I don't know, but these guys keep running away as if they've written him off. --Caustic Logic (talk) 15:02, 24 November 2013 (UTC)
The most widely-shown victim of the "train station massacre" is also upsetting, but may have survived. An older man, bald-headed and paunchy, can be seen laying with guts or belly fat ruptured through a hole in his blood-soaked shirt, and what's concealed under the rest remains unclear. He's alive and conscious but stunned and unable to stand up, looking around with sadness and gesturing for help. No one is helping, just shouting Allahu Akbar and documenting with close-ups, several videos at once, with lots of horrified screaming. Unnerving and unhelpful, by the way. Another video shows protesters carrying him to another spot to lay him down there, still writhing. As noted, the VDC has only two death entries, both with visuals, neither being him, so he might've lived through this. --Caustic Logic (talk) 15:02, 24 November 2013 (UTC)
The above-linked video of the bald man also shows early on a paunchy middle-aged man with glasses shot in the arm, another man wounded in the street, kneeling, no aid and details unclear. --Caustic Logic (talk) 15:02, 24 November 2013 (UTC)
The Activist report on March 30 mentioned that "One of the martyrs of today was Ahmed NoorAllah, a soldier on vacation who participated in the protests." [9] I could find no further information on this: A seller of something with that exact name is listed by that name here for Saliba, Latakia. Unless his name was mangled into the mentioned Mohammad Abdulnour, the VDC doesn't list him, and only re-posting of this report repeat the name in the right context.
Other than Mohammad Abdulnour and perhaps the vacationing protest soldier, those kiled and wounded appear to be markedly non-militant protesters, as opposed to the Salfist gangs authorities called them. If these few victims were part of the same protest the men and boys filming them and running around shouting Allahu Akbar, they stand out as the least militant capable. This is, I've argued, one of the criteria for the unseen snipers, allegedlt of the regime, really provocateurs - too young and scrawny, too old and stiff, too dim or innocent, not Sunni enough, etc. It's the least loss to the cause and the greatest propaganda value, making it a no-brainer obvious choice for false-flag snipers that might be at work here.
And if these killed people were not in the same protest when shot in the street near the Islamist protesters not getting shot, well ... that's bad, and interesting.--Caustic Logic (talk) 15:02, 24 November 2013 (UTC)
Martyr Records
The sections above show where the first violence in Latakia was - in the center of the city. This only ran clearly from March 25-30, ending with the battle at the train station roundabout and ensuing crackdown. From there through April and May ... Province-wide by month, to the end of 2011:
References
↑ Two links from mid-April 2011, same or similar content, with the name Biassi. April14: http://www.syriakurds.com/home/index.php?option=com_content&task=view&id=23717 April 12: http://www.odabasham.net/show.php?sid=44687 Another page, May 2012 http://syrianncb.org/2012/05/30/الثورة-السورية-قائمة-معتقلي-محافظة-طر/ lists people arrested by "the regime" including many of these, with 16 Biassis listed and dates given, mostly April 11/12.
↑ بث التلفزيون السوري أمس اعترافات عضوي خليتين إرهابيتين مسلحتين ألقي القبض عليهما في مدينتي درعا وبانياس تكشف قيام الخليتين بأعمال إرهابية وتخريبية ضد المنشآت العامة والحكومية والجيش. (Syrian television yesterday broadcast confessions ... Banias ... cells of terrorist acts and sabotage...) Tishreem News, Syria , May 23, 2013
↑ Syrian rebels push into Assad's Alawite mountain stronghold By Khaled Yacoub Oweis, Reuters. AMMAN | Mon Aug 5, 2013 6:04pm EDT
↑ 4.0 4.1 4.2 The Syrian Revolution: Under the bonnet Syria Tribune, undated
↑ Nidal Ali Jannoud The Truth About Syria, Posted on July 7 - 2011
↑ aoda.com Forum discussion May 20, 2013: it mentions (Google translated from Arabic): "News that Ahmad Biasi died under torture in the State Security Kafr Sousse." Cited, Cham ( شام ) and Ugarit, "quoting BBC." Others say al-Arabiya and/or Al-Jazeera also reported the story.
↑ بعدما تغنت الجزيرة بطريقة قتله على يد المخابرات السورية .. الميت " احمد بياسه " ينطق على شاشة التلفزيون السوري Aks Alser, May 22, 2011
↑ 8.0 8.1 8.2 8.3 تفاصيل احداث مدينة اللاذقية وانباء عن وجود قتلى اثر اطلاق نار من مجهولين (Details the events of the city of Latakia and news about the presence of the dead after a fire of unknown) Syria News.com, undated (around April 1, 2011)