Talk:Alleged al-Nusra Chemical Attack, April 2014
Jump to navigation
Jump to search
Location?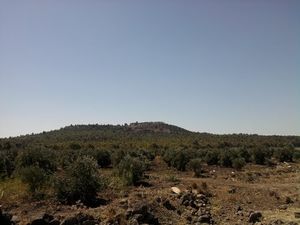 A quick search says this could be Army Brigade 61 base on Tal-al-Jabiyah in the Horan Plain 3 km northwest of Nawa, 9 km from the nearest point in the UNDOF zone on the Golan. -- Petri Krohn (talk) 01:43, 30 April 2014 (UTC)
Now confirmed. -- Petri Krohn (talk) 06:33, 30 April 2014 (UTC)
April 24 explosion
The hill - Tel Jabiya - is shown in this video on April 24. There is a huge explosion probably from an ammo dump.
The title suggest Brigade 61 as the location. But other videos talk about Syrian Army Regiment 74. There is also mention that the base was abandoned at the time. --Charles Wood (talk) 02:21, 30 April 2014 (UTC)
Re "abandoned" – This is what it says in this video title. This is simple a references to the fact that the rebels walk around the base undisturbed, with huge amounts to "abandoned" tanks and other gear, all clean and tidy without any battle damage. I guess the soldiers "abandoned" them when they died. -- Petri Krohn (talk) 03:18, 30 April 2014 (UTC)
The video is filmed from the direction of Nawa. (Satellite dishes confirm direction.) Wind is blowing from east or northeast. -- Petri Krohn (talk) 02:49, 30 April 2014 (UTC)
P.S. Please provide links to all videos you can find! -- Petri Krohn (talk) 02:58, 30 April 2014 (UTC)
Gas Symptoms
Various sources talk about Mustard Gas. In fact that's very unlikely. Mustard Gas takes a day to start blistering and is initially in moist areas - groin, armpits, and sweat stains. Early facial blistering is very unlikely. That's more a symptom of burns.--Charles Wood (talk) 02:16, 30 April 2014 (UTC)
P.S. I think the gas-masks on the bodies are most likely placed there by JAN. Either as psy-ops or a boast. --Charles Wood (talk) 05:39, 30 April 2014 (UTC)
Sources
Please add links to videos and other sources here!
Urs1798
Urs has collected a ton of videos. She says targets have been the Tell Jabiya, positions in Al-Sukaryeh and the 61 regiment. Then the 74 regiment and the eastern Tell Ahmar. The western Tell Ahmar had been conquered in a similar operation already two weeks ago (she links to these two videos). She also says she already suspected a nerve gas attack a year ago in the same region when the 38 regiment was attacked. Have no time to watch all the videos but from the comments we have an "Omar the Chechen" leading the pack, also an "Egyptian General" commanding the "Raed Al-Masri Brigade". JaN clearly being in charge here, and pretty well-equiped (an attack with a "TOW" on one of the Tells is shown). Al-Jazeera shows some Islamic Front "good guys" instead. Our EAworldview "friends" spin this into some not declared Assad-Sarin stock accidently blown up or something. This English language "presentation" has some pics of visible gas in the valley. A commentator says he has counted a total of at least 70 dead soldiers over the videos. This as summary. --CE (talk) 12:22, 30 April 2014 (UTC)
Based on professional experience as an air-quality micrometeorologist the gas plumes in the nutsflipped video will have had a very limited effect. They rise very rapidly. This indicates a lighter than air agent (or at least components associated with the agent are lighter than air). As a result the affected area is very small.
More likely the plumes are fires as a result of artillery or rocket strikes. It's quite unlikely they are heavier than air Sarin and even if Sarin is somehow entrained the area affected is very small. Any other agent will similarly have extremely limited effect given the buoyancy shown--Charles Wood (talk) 14:12, 30 April 2014 (UTC)
Possible. Over there they speculate that it might be a visible component mixed in to show which region is affected. There are other, uncut videos over there, showing in principle the same effect.
Took me some time to locate the Tell Ahmar's on the map - they are around 10 km north-west of the other places, directly at the border or already inside the UNDOF zone. There's an observation post just a Km west of the western one. Maybe that's an independent attack, with or without similar signs of chemicals involved. No 74 regiment found. --CE (talk) 15:08, 30 April 2014 (UTC)
UN-OPCW
It just clicked this is the same incident I was recently puzzled by - I should have paid better attention. UN-OPCW (PDF) - report from 2015 - lists several allegations lodged by the Syrian government of opposition CW use, mainly against SAA soldiers. One accusation of 70 fatalities reported by the government in a chemical attack given as in Nawah, Daraa, on April 24, 2014. Exactly 70 dead, they said, possibly rounded-off, I thought, or a typo, and presumably soldiers. There aren't any details on it in the report, that I saw. It just appears on two "note verbale" lists, once with 70 casualties, again specifying those are all fatalities. (implicitly:no affected survivors ... rounded down?) Nothing else compares. In the big table I just assembled, this is responsible for just about 50% of all SAA and allied CW fatalities so far. It's a big story. --Caustic Logic (talk) 13:24, 15 February 2017 (UTC)
Tell Mal – September 2014
It seems that similar weapons were used in the Tell Mal hill some 10 north on September 9, 2014.
-- Petri Krohn (talk)
Similar weapons, not clear. Some smoke is seen in both scenes, in neither case looking to me like some nerve gas or blister agent. But on reviewing, FWIW the Brigade immigrants and supporters mentioned here is Jaish al-Muhajireen wal-Ansar (WP) - by then NOT affiliated w/ISIS nor yet opposing them. In August, 2013, they used the same flag as ISIS and were the Chechen-heavy sister groups to it. I noticed Joanna Paraszczuk's claims of no civilian attacks, which is wrong. At the least, JMA's commander Abu Jaafar al-Libi was found by HRW to be the leader of the operation to attack Alawite villages in the August 2013 Latakia Massacres, in which an activist bragged "We caught 150 women and 40 children, and killed all the men." The number of "Assad's men" killed was put at about 175 to 240, but the initial death toll included 18 children and 57 women killed in the attack, at least 6 women apparently raped first. Then 17 of the 200+ hostages were killed right away, by the investigation of Human Right Watch, no less. As HRW found, the remaining hostages were split up under the control of ISIS and JMA. Abu Suhaib Al-Libi, another JMA commander, is seen in a video of his half of the captured women and children, promising to treat them well forever, or whatever - it would be in line with Islamic law - unless some of his people were released in an exchange. (the hostages were later all transferred to Ahrar al-Sham. It's not clear how many were finally released vs. vanishing into other fates.) (compiled for the Paraszczuk's benefit, could be moved) --Caustic Logic (talk) 11:12, 11 January 2019 (UTC)