Talk:Alleged Chemical Attack, August 21, 2013/Locations/Zamalka
Jump to navigation
Jump to search
UMLACA strikes
There are several rocket impact zones linked to the chemical attacks given as in Zamalka, but at least one - the famous rocket #197 - landed in what might be technically Hazeh, just south of Google Maps' district border, which might not be accurate. Still, they seem worth including as locations within this page in addition to on the relevant (?) UMLACA analysis page. The spot located by a collaborator of Brown Moses, borne out by imagery analysis, and agreed by me at least, is in the center here on Google Maps. --Caustic Logic (talk) 13:19, 28 September 2013 (UTC)
I'm not sure if we or anyone ever set the location of the second field strike UN investigators were filmed at. But scanning around, I decided on a fit in most or all regards: here on Google maps - just about 75 meters west/on the other side of those buildings from the impact of #197, so also in Hazeh. That's the same water tower. Did they also get taken to the other site there, or the nearby ghost house or mass grave? video 1 (images coming) video 2 (on Google Earth, Feb 11, 2012 imagery is really good for checking views to the west - and has there not been an update here since August 2012, or am I just missing updates?) I thought the burn mark near the other missing chunk of wall was already there, but it seems to be a tree that's no longer there? --Caustic Logic (talk) 13:19, 28 September 2013 (UTC)
Al Mazraa
Ghost house
See /Ghost house
Abu Salah, head of the local council
Mr Abu Salah, head of the local council in the city of Zamalka, 6.9. 2013
Interviewed in "Mazraa" area where our ghost house likely is. 5 rockets in the are, 734 body count in Zamalka (those identified)
At 26s: We can't get the final statistics for the number of martyrs before several week until the return of the people that were resident in this area of Zamalka.
What the Fuck! The rescue workers still have not found ANY survivors of the attack that could tell what happened or who the people killed are. The just mysteriously managed to escape and go into hiding somewhere. Eastern Ghouta is so huge they could lost for weeks!
This kind of confirms my suspicion: The ghost house area has been abandoned by its residents weeks age. It is a contested area near a government road, under constant shelling and sniper fire. It makes a perfect place to keep prisoners or plant victims. Overall I am not sure there are any civilian residents in all of Zamalka. All we are shown are on the mainstream press are empty houses, fighters on the streets and Liwa al-Islam pickup trucks. -- Petri Krohn (talk) 21:47, 15 September 2013 (UTC)
A trip with Mohammed Al Saeed

21min field trip in the area, interviewing alleged witnesses/residents (then the familiar repeat-without-sound). There is a part one and a part two I didn't watch yet. This part three starts here and first moves to the mosque around the corner from the ghost house. This comes from Urs in this new piece where she points out:

The "activist journalist" with the "protection" he later drops is one Mohammed Al Saeed who has been seen with the UN Investigators, in a field hospital with children and fighting age males during the event, and at other events like reporting about the Adra attack from Douma. On his facebook page he is seen together with Liwa Al-Islam leader Zahran Alloush, apparently at a wedding. Alloush has an entry on his facebook page from August 13, with a photo described as "The final steps to prepare for a new surprise of the system on the verge of completion ...". Hmmmmm. --CE (talk) 13:37, 20 September 2013 (UTC)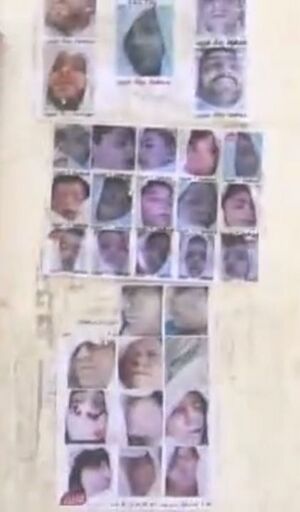 Part one is filmed at the place on the other side of the mosque, you will have no problem locating it if you've seen part three. Not much to see, only interviews. Part two is more interesting, it shows him and his fellow fighting age males (and a grandpa, nobody else on the streets) with apparent rocket remains I think here and after a quick walk they enter this house where they show empty pet cages inside and dead hens and doves on the rooftop. Finally they end up at a small garden right in the backyard of our two-stairwell-house. Dead animals there as well. --CE (talk) 15:51, 20 September 2013 (UTC)
At least one guy, the one with the grayish hair first interviewed in the embedded video, is also seen in the DailyFail video Petri located (0:54min center) which also shows the group that enters the ghost house. --CE (talk) 16:25, 20 September 2013 (UTC)
Interesting pictures of victims (some children) pasted on the wall. Is that the Erbin CC logo we see on some of the photos? I would expect the photos to depict unidentified victims found in this area. Not many shown – and these ones do not even seem to be from Zamalka. -- Petri Krohn (talk) 17:21, 20 September 2013 (UTC)
I'm not sure but think technically all those places are suburbs of Irbeen. Here are two more videos from the place with the rocket remains in part two. It's the same place where the dead sheep herd is seen (cleaned up on the 26th, apparently). Those are allegedly from the 21st. One guy somehow under chemical influence, another guy not so much. The second is uploaded on August 27 and undated, but obviously shows the scene untouched. --CE (talk) 18:25, 20 September 2013 (UTC)
CE, thanks, I hadn't looked at this yet. I'm having a hard time with the video ATM, but the little stills say it looks like the rooftop spot the UN team was filmed at. Supposed UMLACA strike. Checking the location, nice continuation of an implied tight ring around a point well south of where alleged, like Sasa Wawa painted out. Didn't verify the geo-location, but I know you're good, so I'll presume you're right. --Caustic Logic (talk) 12:39, 30 October 2013 (UTC)
Dead sheep
I believe this pile of dead sheep is someplace near.
This video too has the Erbin City logo. -- Petri Krohn (talk) 18:49, 20 September 2013 (UTC)
Not sure where to put this interesting dead dog photo. Caption: "An activist wearing a gas mask stands next to a dead dog as he looks for dead bodies to collect samples to check for chemical weapon use in Zamalka area (Picture: Reuters)" The dog should likely have been gassed by their story, but probably died from the little wounds to the chest. --Caustic Logic (talk) 09:29, 27 October 2013 (UTC)
A dead dog in Ain Tarma, number 6 here. (Bassam Khabieh/Reuters) -- Petri Krohn (talk) 10:04, 27 October 2013 (UTC)
Abandoned by residents?
It has been my understanding that this part of Zamalka was abandoned by its residents long before the CW attack. It would therefore be a perfect place for a staged false flag attack. I see that Mother Agnes has also made the same observation:
The report from the International Support Team for Mussalaha (Reconciliation) in Syria (ISTEAMS) claims that based on eyewitness testimony and video evidence, the affected areas had been largely abandoned by local residents in the days prior to the attack.
This view is supported by the footage we see here as well as by the head of the local council quoted above. -- Petri Krohn (talk) 22:41, 21 September 2013 (UTC)
Zamalka Medical Point
This location is also given as in the unfortunate Mazraa part of Zamalka covered above, but I think deserves its own section. I'm not sure we can geo-locate this. Anyone feel like trying? It's allegedly a crucial and central location (actually, who knows?)
by one account this was at first one of 4 "medical points" in Zamalka. The other three (all also in Mazraa, or some other, even less fortunate parts of Zamalka? Not clear) were somehow attacked/shut down by the general you-know-whatever chaos, within 30 minutes of the attack's start (given an hour or more early from usual) And so about 600 patients had assembled at this last one by that point. Note: overall Zamalka death toll said to be 400, maybe 500 by one list (always rounded like that). Abu Bilal says 400 alone were counted at this one and only medical point this all happened at. WTF?
It was so intense there, the shelling ... the final point was itself was then hit with chemical stuff(another launch, 30 min. after the first) and became unbearable inside. So people were taken to the roof, where the regime blew them up with another hit of some kind. Abu Bilal says this killed dozens of patients and the entire medical staff. He also suggests maybe he was there when it happened and survived. He also clearly claims to be the only survivor of the Zamalka coordinating committee - the rest all died, but the VDC and he can only name one, and he died not in the field but with his family - maybe 18 members or more from diffeent areas ... similar patterns with the few named medical peronnel. WTF? --Caustic Logic (talk) 12:21, 30 May 2015 (UTC)
Videos
Harvesting Youtube
Some vids searching for "Zamalka":
Mr Abu Salah, head of the local council in the city of Zamalka, 6.9. 2013
Uploader has two videos, this one is the other, uploaded the same day:
crimes against humanity
Collage of many photos and video snippets showing victims footage
زملكا zamalka
Collage of photos of heavily damaged infrastructure
---
UN Investigators in Zamalka taking samples, 4 parts. Equipment is beeping
Two of the videos show heavy blast damage at the UMLACA impact site. The third one is inside someone's living room and evidently did not explode. -- Petri Krohn (talk) 00:14, 16 September 2013 (UTC)
UN Investigators arrive, drive through Zamalka, long straight road, should be identifiable:
More footage arriving, sample taking, inside and outside - there's the guy with the green scarf (2:26) - member of UN team
And there he is in the related videos, same video as by our Zamalka friend, reposted with English subtitles by Sham News Network
Again the green scarf guy, they interview survivors in a hospital (everyone is male and fighting age)
---
Syria - to meet a father and son after he lost by chemical bombardment in Zamalka city.
Little lost son thought dead reappears, heartbroken father relieved
Some group - Liwa al-Islam - engaged in attacking gov positions from empty building, 29.8.
Same logo, four days earlier, heavy machine ratmobile in tight street (didn'T the investigators pass there?)
For the hilarious title:
Poorly Armed Syria Rebels in Zamalka Use Homemade Weapons in Freedom Fight 8 18 13
"Berm talking about the course of events Syrian Revolution in Zamalka city of funeral and depicts the massacre and massive destruction of the city and displays the Berm free for military operations in the liberated city"
11min collage, random skip shows it contains extremely gruesome footage of slashed people, will watch when I have the stomach for it, enough for now - this was uploaded on August 18, I checked everything uploaded since then -- CE, September 15, 2013
Mass gaves