Talk:Alleged Chemical Attack, August 21, 2013/Latakia connection?
Jump to navigation
Jump to search
Hostages gassed?
Moved from Talk:Latakia Massacres
I received this tip via Twitter from Brian Souter:
@PetriKrohn – FYI a Libyan kidnapper named Abu Suhaib Alleebi, Emir of the Mujahadeen Brigade. Kidnapped (children) in Latakia. May be connected to the kids in Ghouta.
Here is the kidnapper in Lattakia. It is believed this is same guy at 4:47 mins.
The first video ("Unless aired by Al-Jazeera for Latakia" – original) follows an al Jazeera team embedded with al Nusra / al Qaeda in Latakia. It shows a large group of women and children hostages "protected" by a hooded Nusra terrorist. One woman is interviewed by the reporter. (I do not know if al-Jazeera ever aired any of this, the video seems to be an al-Qaeda production of the al-Jazeera visit.) The second video (Issuance of the Mujahideen Brigade in Latakia to Abdullah the Chechen) is a 11 minute feature on Abdullah the Chechen uploaded on July 6, 2013. One of the people interviewed seems to be the kidnapper terrorist at the Latakia scene.
Fascinating footage. Anyone recognizable I wonder? On the guy, it could be the same. From that bit of his face I'd think no, but his voice and energy seem pretty consistent. How does it matter, though? He's perhaps seen twice as a Jihadist in Latakia, and allegedly the kids wound up in, or attributed to, reef Dimashq (Ghouta)? If the kids things is separately illustrated, as a guy overseeing them prior to their gassing, I guess he's a suspect. --Caustic Logic (talk) 07:36, 26 August 2013 (UTC)
Yesterday Arabi Souri suggested that "some pictures of the children killed by 'Sarin chemical gas' in Ghouta (#Damascus Countryside) are for children kidnapped from #Latakia countryside." claiming that "their families recognized them." I do not know what the source is, but seems to reflect what is said in this Arabic language post on Facebook. I can only understands one comment: Brian Souter this explains why as Voltaire net observes the chldren were without parents.
And this is what would matter. It surely makes enough sense to pursue. Were they taken to Ghouta? No, way too far. If this is true, it must be those in locations that can't be placed, but are in Idlib or Turkey or something, with the names of Ghouta towns brought up there and stapled on. --Caustic Logic (talk) 07:36, 26 August 2013 (UTC)
The reference is to this article on Voltaire Network:
On these videos, shocking at first, one quickly detects a setup: the wounded children appear haggard or drugged, do not have parents who accompany them. Boys are often naked, while the girls are all dressed. We see no hospital structure, not even a clandestine one, except screens and pockets of serum.
-- Petri Krohn (talk) 02:15, 26 August 2013 (UTC)
The story is picking up steam. Problem is, no new evidence is presented. -- Petri Krohn (talk) 12:10, 9 September 2013 (UTC)
Syrian Children Kidnapped By Rebels Identified As Gas Victims By Obama Administration (Video) – Steve Foley, September 8, 2013

www.theminorityreportblog * com/2013/09/08/syrian-children-kidnapped-by-rebels-identified-as-gas-victims-by-obama-administration-video/
November 2014
The "Moderate Opposition", the Children from Ballouta, and the Sarin Gas Attack on Eastern Ghouta --Petri Krohn

"after the lab report came back from the UK Defense laboratory, that the sarin used could not have come from the Syrian 'regime', then Pres. Obama had to back down on his threat to destroy Syria". The lab is apparently Porton Down. That was RT/Friends of Syria claim as well, but no details on how it was determined, or statements in the Western press on the matter. Seymour Hersh had a milder claim that it could not be established whose sarin was that. --Resup (talk) 13:57, 10 November 2014 (UTC)
A lot of errors or omissions - Balouta was one of about ten towns taken over. The attackers were JaN, ISIS, and FSA, working together - there were dozens of videos from different areas, not just one - some of those are verified to be in parts of Ghouta (about 100 dead people in Kafr Batna at least). He seems to refer to the one with tons of kids laid out, as seen in the two stills used, a scene that's not placed - so maybe this one was shot in Salma. No evidence provided. As for that main claim, not aware of any such finding from an official lab. It's in the part citing this Gareth Porter report. But that doesn't explain it, just pointing out the lack of clear signs (combined with traces of Sarin, suggests token amounts were administered). So ... an unexplained claim with no known supports - maybe a mix-up. --Caustic Logic (talk) 23:10, 10 November 2014 (UTC)
Mother Agnes
Mother Agnes Mariam el-Salib is saying the Ghouta CW massacre footage is a hoax. I am fast coming to the same conclusion. -- Petri Krohn (talk) 10:15, 7 September 2013 (UTC)
She might be right, but some points sound silly. She asks, among other things, "How come we don't see any female bodies among all those supposedly dead children?" The significance, of course, is war booty, the fatwas saying any non-Sunni female over age 14 captured in Jihad is yours to do with as you please. And hasn't there been enough killing and not enough "loving?" So if these are the Alawites (or app. non-Muslim "infidel" Kurdish parties) this pattern matters. This has popped into my mind too looking at images where you see men and then children (the Kafr Batna morgue for one). The obvious answer is that the women are the ones the ones under the blankets, of which there are several. And it could be. But as already noted, the SCDV database also shows, of 515 total victims listed at the moment, only 116 are adult females, age cut-off unclear. That's to 299 men. But with exactly 100 children - evenly spread 51/49, it appears more an abundance of male captive-victims that stands out here. Some higher number of men is likely for a few reasons, but for supposedly home-invading gasses that killed all, these numbers are out of whack. Also consider teenagers are likely split-off from children at about 14 (depending who files the reports, perhaps). The bloated men's category took that boost and the women's... perhaps that's the missing segment? Who doesn't like them kind of young? --Caustic Logic (talk) 12:48, 8 September 2013 (UTC)
Mother Agnes explains the lack of evidence for the Latakia identification: First of all, there are family members who say they have recognized their children. They pointed to specific videos from Kfar Batna and Jobar. -- Petri Krohn (talk) 23:26, 21 September 2013 (UTC)
Is there anything new here? -- Petri Krohn (talk) 03:24, 30 September 2013 (UTC)
"these photos and videos were not taken in Ghouta or even in Syria at all, but that they were actually photos taken from Cairo Egypt during the Muslim Brotherhood riots. " Previously I thought it was just the one image, not all of them. Now, I still think that's the case. Not the best article, or the worst. --Caustic Logic (talk) 09:18, 30 September 2013 (UTC)
Killed hostages?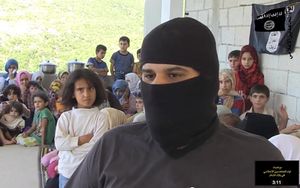 This video tries to identify some of the victims, matching them to rebel prisoners shown on Shabiha videos. -- Petri Krohn (talk) 21:23, 15 September 2013 (UTC)
The uploader is on Facebook here. I do not know where he lives. Maybe Australia. -- Petri Krohn (talk) 21:23, 15 September 2013 (UTC)
Here is a list of missing children: -- Petri Krohn (talk) 23:23, 21 September 2013 (UTC)
That list is from the Mother Agnes IS Teams report. The chart therein is better, including surrounding entries and other details. Unlike most of the report, that table is text-copy-able (hence this list). The names are recognizable, but with different French-style transliterations (Chehade = Shehadeh, etc.) Very useful list, though without images it's impossible to make or verify a match. I did check the CDV database for name matches, in case they were that sloppy. No such luck. --Caustic Logic (talk) 02:41, 22 September 2013 (UTC)
Identified victims?
Some attempts to match victims here:
-- Petri Krohn (talk) 10:14, 25 November 2013 (UTC)
To answer the question, I'd need to know more, like if there was any clear match in the video record. I'm sure these are kids from those Latakia towns, and added bits for that case, if not too important. If they show up in the alleged Ghouta videos, obviously more important ... Unless they're in the same clothes, it'll be hard to identify these kids in normal resolution videos even if they do appear. I kind of doubt there will be such a visual link, despite what Mother Agnes says. Of course, I look forward to being shown wrong if possible. But not motivated to scan the videos again looking for a match. --Caustic Logic (talk) 14:18, 26 November 2013 (UTC)
Extra-compelling matches here:
Haneen Talal Saleem, 9yrs kidnapped by "rebels" from her home in Baloutah Latakia on 4/8/13. Isn't this the not-stabbed girl in Irbeen? If that birthmark can be verified ...
Yosef Shehadeh, 17 year old, was kidnapped by the FSA from Inbateh, Latakia in August 2013 (seen in the Kafr Batna "Sun Morgue" - gray, smoke-infused mucous?)
All the others mostly are fairly compelling. --Caustic Logic (talk) 13:49, 28 April 2014 (UTC)
Here is a list with photos: -- Petri Krohn (talk) 18:00, 4 October 2014 (UTC)
Yep. --Caustic Logic (talk) 22:06, 4 October 2014 (UTC)
ACLOS Refutation
How long have I delayed putting this here? The Latakia-Ghouta connection remains a major point of reference for a lot of people, but I can fairly prove now how unlikely it is. At the Monitor blog is this overview of death tolls including mine at the bottom: app. 420 visual minimum, probably 500+ victims. The visual majority of that are seen in various body displays, some recycled in 2 or more scenes, but not counted twice. This is explained more in-depth in this Monitor post, pointing to Talk:Alleged Chemical Attack, August 21, 2013/Victims Analysis#ACLOS Visual Matches. How these are all placed in Ghouta:
1) "WhiteMorgue" (said to be in Douma) contained 187 bodies min., maybe well over 200 at fullest
2) This contains 2 bodies seen in Saqba, geo-located, so all WhiteMorgue victims must be not far away
3) other large body arrays do not seem, so far, to feed into the WhiteMorge total and should be added.
3a) Kafr Batna's set, SunMorgue: at least 85 bodies, Tuberculosis hospital geo-located 3b) Irbeen's hospital basement set, said to be 63 in number, visuals say 60-65 - had NBC News visit the site a week later, in Irbeen (filmed), and film it looking the same 3c) 78-88 reported in Moadamiyeh, many seen in unique images - not proven there but somewhere, unlikely to be recycled anywhere else 3d) some 30-ish unique photographed victims said to be buried in Ain Tarma, not proven there but somewhere. --Caustic Logic (talk) 02:23, 25 October 2015 (UTC)

Furthermore, reports have many or all of these surviving well past the Ghouta incident, and being freed or still held months later. Recalling there were about 225 known civilian hostages to start, a partial record. --Caustic Logic (talk) 03:05, 14 December 2015 (UTC)
105 captives video was released September 9, but possibly filmed on August 20th or before.
March 18 2014 mentions rescue operations: "The latest release operation was on March 14, when three women from the villages of Hambushiyeh, Barouda and Ballouta in the northern countryside of Latakia were set free. "
Al Jazeera in Marcg runs a video of 94 captives still held, exchange pending
Al-Akhbar May 8 40 released and speak of captivity
Eleven children and four women were released through the checkpoint at the Kefraya village on the outskirts of Latakia. They were then taken to the National Hospital in the city for medical checkups.
...The ceasefire deal in the Old City of Homs includes the release of 40 civilians from the villages of Salanfa in the Latakia countryside, out of more than 95 kidnapped civilians, but not much has been revealed about the fate of the other hostages. Today, 25 civilians are expected to be released and moved out of the opposition-controlled eastern countryside of Latakia.
Oum Ali, the woman who was scouring the hospital asking about the fate of her six-year-old boy. Oum Ali asked the freed hostages one by one about her son. She persisted until one woman, a freed captive herself, gave her the shocking answer: "Your son was shot and killed by the fighters months ago."
May 18 45 released (same 40 +5?)
In interviews with Press TV, the released hostages recounted their ordeal during their captivity at hands of extremist kidnappers in Latakia. "When we were in Salma, they killed some of the people who were with us," said Zeinab, a young girl among those freed, adding that the militants killed a boy from a nearby village as he tried to escape.
Human Rights Watch has reported that 54 women and children taken hostage by armed rebel groups in Alawite villages in rural Latakia are still being held, one year later.
We know 40 of them were released this May, but there have been some troubling reports saying others – we have the names of 17 – were executed immediately after their abduction.
Now we have [this new list] of individuals identifying themselves as being in the custody of the Muhajireen in the Latakia countryside. And there are unconfirmed reports that other hostages are being held in other locations.
Fifty-four civilians, women and children, have been held captive for 17 months by armed groups in the northern Latakia countryside. ... Each child then says his or her name: Dala' Ayman Maryam, Ahmed Ayman Maryam, and Farah Ayman Maryam. The mother introduces the child she is carrying in her arms: Mohammed Ayman Maryam. She concludes: Today is December 6, 2014.