Talk:Alleged Chemical Attack, April 13, 2013
Jump to navigation
Jump to search
Location
Sheikh Maqsoud is a large district, per the boundaries on Wikimapia and density of buildings within, it must be one of the more populous districts. It has a majority Jurdish population, and didn'tfall to the rebels until shortly before this incident. It's been the site of looting, kidnapping, torture and executions by rebel brigades even the SOHR reported, the public beheading of a prominent pro-government Imam, and more. More detail/links etc. later. --Caustic Logic (talk) 10:28, 1 May 2013 (UTC)
Death Toll
Initially it was a woman and two babies, then another woman, with 16 others seriously affected. Total affected plus dead was 20. That was in 2013, last I checked. Perusing VDC records just now, in 2017, I see at some point 10 more deaths were recorded, for 14 total! Query: all deaths by "Chemical and toxic gases", April 13, 2013. "Many victims were martyred due to regime forces shelling using chemical weapons, at the beginning news were reporting that shelling was using white phosphoric material and then other sources said it is (Sarin Gas), news to be validated." In the end the tally was 2 children, 3 women, and 9 men, who apparently held out longer against the poison, now widely accepted to be sarin.
9 men: Garnas Koubani Jasem al-Ali, Mahmoud al-Bakri, Alaa al-Bakri, Mounir Younes, Yaser Younes, Ismaeil Maamow, Mousatafa Horow, Rashad Abdow, (in approximate order of listing, or top-to-bottom)
3 women: Ghadir Naddaf, Ghalya Koubani, Rojehlat Ali,
2 boys: Abo Baker Abdullah age 2, Younos Abdullah Four months old. Both say Mother's Name: Ghadir Naddaf, and father's family name should be Abdullah)
Summary: Ghadir Naddaf and her two young boys were all killed, with no Mr. Abdullah to be the husband/father. He was likely away (on business? fighting rebels?) Two Younes men and two al-Bakri men were killed, both with no children and perhaps no wives. Rojehalt Ali and perhaps Ghayla Koubani may have been wives (maiden names are kept). The last and the Koubani man could be brother and sister, or husband and wife if they were modern or non-Muslim. But of the nine men killed, at least seven were apart from their families somehow when they died in ... what, some single men's shelter? To me this reeks of a mini-purge of Kurdish fighters and/or their family members as rebels took over. --Caustic Logic (talk) 12:50, 20 January 2017 (UTC)
Adding: Kurdish fighters and/or pro-government fighters/loyalists, and/or their families. At least one name sounds Kurdish, and others are ambiguous. It's a Kurdish-majority district, but a big one, with a number of Sunnis and other kinds bound to live there. --Caustic Logic (talk) 13:07, 20 January 2017 (UTC)
aksalser.com (Arabic) heard at the time (dated April 13, even though the attack was 3 or 4 am on the 14th), from survivor Yaser Younes, a different story than Tracy Shelton heard. Compare:
"a small explosion occurred in our house ... I rushed to the children's room to find them unconscious and there was smoke in the room," said Yasser Yunis" who then called up his brothers to come help (as he said here)
"He recalled waking up to a loud noise at 3 a.m. Opening the door, he said he saw smoke. And that was it." told to Shelton).
This report also gives names for the affected and dead, including the Younes family, neighbors to the rescue, and first wave of cops to the rescue. Only three died at the time. This I've compiled into a table to compare with those the VDC lists as having died. --Caustic Logic (talk) 06:26, 26 November 2017 (UTC)
Adding Bahar Org. via Niazi Habash list on Facebook (Arabic) (cited by Mohammed Sergie, Syria Deeply) and Anthony Lloyd, Sunday Times --Caustic Logic (talk) 09:57, 4 December 2017 (UTC)
victims affected vs. dead
number
Bahar Org.
killed - aksalser
Y.Yousef via Lloyd / affected - aksalser
killed - VDC
1
أبو بكر يونس

Abu Bakr Younis, age 18 mo.

Abu Bakr Younis (child, Yaser's son)
Sadiq (Yaser) Younis, 18 mo. (Lloyd)
Abo Baker Abdullah Child - Male
2
يحيى يونس

Yahya Younis, age four months

Muhammad Yahya Younis (child, Yaser's son)
YahYah (Yaser) Younis, 4 mo. (Lloyd)
Younos Abdullah Child - Male
3
غدير نداف

Ghadir Nadaf

Ghadir Nadaf (their mother, Yaser's wife)
Gadir Nadaf, age 25 (Lloyd)
Ghadir Naddaf Adult - Female
4
ياسر يوسف

Yasser Yousef, age 26

Younis (meaning Yaser) Younis
Yaser Younes Adult - Male
5
منير يونس

Munir Younis, age 24

Ammar Younis (brother?)
Mounir Younes Adult - Male (match?)
6
عبدالله يونس

Abdullah Younis, age 28

Abdullah Younis (Yaser's brother)
not listed dead?
7
ريم يونس

Reem Younis, age 16

Reem Younis from Jabrin
not listed?
8
محمد البكري

Mohammed al-Bakri , age 42

Mohammed Bakri from Mariamin
Mahmoud al-Bakri Adult - Male
9
علاء البكري

Alaa Bakri , age 18

Alaa Bakri (his son)
Alaa al-Bakri Adult - Male
10
احمد بكري

Ahmed Bakri, age 40

nl
nl
11
جاسم العلي

Jassim Al-Ali age 14

Jassem Al Ali from Tal Daman
Jasem al-Ali
12
يوسف علي

Yusuf Ali, age 30

nl
nl
affected rescuers / other
13
اسماعيل معمو

'iismaeil maemu age 32

Ismail Mamo
Ismaeil Maamow Adult - Male
14
رشاد عبدو

rashad eabdu age 36

Rashad Abdo
Rashad Abdow Adult - Male
15
مصطفى هورو

mustafaa huaru age 31

Mustapha Horo
Mousatafa Horow Adult - Male
16
روج هات

ruj hat, age 33

nl
Rojehlat Ali Adult - Female
17
كرناس

Karnaz, age 47

nl
Garnas Koubani Adult - Male
18
ايبو

'iybw or Aibo, age 45

nl
Ghalya Koubani Adult - Female (match?)
One possible argument is they just goofed up and listed all the effected and dead as dead. And missed a couple, and got some names different ... That sounds reasonable, but somehow I doubt it. Some analysis still to come, but consider: "The most notable survivor was Yasser Younes, who remembered nothing but an explosion at 3 a.m. It was his wife and two children who had died. But Shelton could not interview him; Younes had returned to his home village. "He'd left to another village… and I was trying to get there, but I couldn't get anyone to take me out there. I didn't know the exact location" she recalls. Shelton had learned to be careful about accepting rides." (article in Tracy Shelton's work here) Is went back to his home home code for he died, and the guy playing him retired the role to live his own life? (for example) --Caustic Logic (talk) 06:49, 26 November 2017 (UTC)
Foaming at the Mouth?
Still no discussion? Well, here's a good starter. I heard this Israeli talk of foaming at the mouth (see NYT article for example), and was a bit confused until I learned the missing link, making this alleged sarin attack this same one in Sheikh Maqsoud (although Khan al-Assal still has no better guess than "super-strength tear gas"). --Caustic Logic (talk) 10:28, 1 May 2013 (UTC)
Experts believe that chemical weapons may have been dropped on Kurdish residents of Aleppo's Sheikh Massoud [sic] region during an attack which saw two babies and a woman killed earlier this month. ... It is thought that the April 13 assault may have been in revenge for residents' decision to defect to support the rebels.
(Wonder if all the foreign fighters and weapons influenced their decision to hand the place over to rebels?) --Caustic Logic (talk) 10:28, 1 May 2013 (UTC) 15 people were injured, they report, and rebel sources provided names for the dead, still only three. Four-month-old Yehia, 18-month-old Abu Bakr Younis and adult Ghadeer Neddaf. There's a video you can see there (see below for analysis) "posted on the Facebook page of British-trained doctor Niazi Habash, who treated some of the Aleppo victims."
He said that they displayed symptoms of chemical exposure including foaming at the mouth, constricted pupils and difficulty breathing. They were treated using chemical weapons antidote Atropine, Dr Habash claims.
Experts claim that their injuries appear to be similar to those suffered by victims of an attack on Khan al-Assad [sic], near Aleppo.
The most likely chemical to have been used is sarin according to former British Army specialist and director Hamish de Bretton-Gordon.
He told the Telegraph: From what we've seen and the descriptions of the containers being dropped from the air, it certainly seems that the regime is using sarin in an unprepared state in these attacks. But, as in the Tokyo subway bombings, sarin does not need to be weaponised and placed in missiles to kill. 'It is still lethal when people are exposed to it.'
Unprepared sarin, because it was in canisters, and the people in the video look so much like sarin victims? Hmmm.... --Caustic Logic (talk) 10:28, 1 May 2013 (UTC)
Some of the videos in circulation online show alleged victims foaming at the mouth, but that is not listed as a sarin symptom on the website of the US Centres for Disease Control and Prevention.
(I saw drooling and runny nose cited for low-level exposure clues, so high-level, who knows...) --Caustic Logic (talk) 11:41, 1 May 2013 (UTC)
Richard Guthrie, a British chemical weapons expert and former head of the Chemical and Biological Warfare Project of the Stockholm International Peace Research Institute, said: "That [foaming at the mouth] would not be indicative of use of nerve agents but is more likely to be a sign of a choking agent such as phosgene being used, if anything were used. Phosgene is a widely used industrial chemical as well as being a first world war-era chemical weapon."
(or choking agent like swallowed milk combined with a funny joke?) --Caustic Logic (talk) 10:28, 1 May 2013 (UTC)
Jean-Pascal Zanders, an expert at the EU Institute for Strategic Studies, said: "It's not possible that what is being shown to the public is a chemical weapons attack. The video from Aleppo showing foaming at the mouth does not look like a nerve agent. I'm wholly unconvinced."'
Kudos to Eliot Higgins/Brown Moses for doing some follow-up on the CW allegations, speaking to a few experts in this article, who offer thoughts of varying credibility. Specifically on the foaming-mouths video claim, when asked "This video shows victims from the Sheikh Maghsoud attack. In your opinion would you be able to draw any solid conclusions about the chemical agent used from the information in that video alone?" they said this: Paul from Allen Vanguard:
None of the people in the hospital are wearing IPE (individual protective equipment); they are not being affected by the same condition as the patient on the stretcher. The first 'victim' is not in pain and does not have any visible symptoms beyond a non-moving fresh thin, white trail of foam leading down his face from each nostril.  This is not a recognised symptom of nerve agent attack and the early signs (pinpointing of pupils, running nose, tight chest & difficulty of breathing) are absent. ... The presence of a camera person, lack of IPE worn by the staff, lack of general panic and lack of recognised symptoms amongst the 'victims' makes me think that the event has been staged.  The symptoms that have been presented have probably been elaborated with single applications of foam; the foam has stopped emerging by the time the camera is shown at them.
He says the one woman looks less fake: "She appears to have red blotches on her face and has breathing apparatus in her mouth.  She is not moving.  I don't think that this is a nerve agent.  However, red blotches and shortness of breath (patient requiring artificial respiration) is a symptom of a blood agent, such as hydrogen cyanide."
Steve Johnson, Deputy Editor of CBRNe World:
I can see ER room chaos and an extremely unusual foaming at the mouth. Doubly unusual as the person, despite being able to move makes no attempt to remove it.  No solid conclusions one way or the other could be made from this video. Although it does raise a suspicion of faking symptoms with the highly uniform, highly white foam.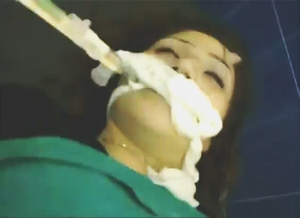 The other expert is Hamish de Bretton-Gordon, widely-cited blamer of the Assad regime (see above):
Not really, there are some inconsistent symptoms with nerve Agent poisoning in this attack. There is however some evidence to suggest that this attack is where the samples that the UK and US Govts and others, analysis comes from, which reported microscope traces of Sarin.

In other words, govt's say one thing, this supposed evidence says another, and he doesn't know which way to go. Not the best turn compared to the other two. --Caustic Logic (talk) 07:25, 16 June 2013 (UTC)
Miri Wood, writing a scathing and half-decent analysis at SyriaNews perhaps put it best:
Yellow urinalist Amanpour shows video of people with cans of shaving cream on their faces, while lying on litters, as uncorroborated, corroborating, evidence. --Caustic Logic (talk) 07:25, 16 June 2013 (UTC)
Samples?
The Times article then gets even stranger. To quote:

"In the chaos of Syria's civil war, no hospital in the rebel-held areas has the facilities to test which gas was used. Yet medical sources in northern Syria have told The Times that in the immediate aftermath of the attack a team from "an American medical agency" arrived at the hospital in Afrin. They took hair samples from the casualties for testing at 'an American laboratory.'
It is likely that these samples formed part of the evidence cited by the US Defence Secretary yesterday."

Really? A CW attack takes place in the middle of the night in Aleppo, and in its "immediate aftermath" an "American medical agency" arrives to collect samples for testing?
…
It is likely that all the speculation in the past few days revolves around an incident that is looking more and more like the "false flag" operations anti-rebel Syrians have been warning about this past year. Given where the "evidence" is coming from, and the alleged presence of a western or American "medical agency" present on the ground, it is quite remarkable that Washington went full-court press on this.
This seems to be about the same incident as well. Except Afrin/Ifreen is way the heck north of rebel-held Sheiqh Maqsoud, half way to Turkey. Did that happen? Did the samples show sarin, phosgene, chlorine, or none of the above? --Caustic Logic (talk) 11:41, 1 May 2013 (UTC)
Video Analysis
Main Video
Video, 0:31, included with the Daily Mail article: "The video was posted on the Facebook page of British-trained doctor Niazi Habash, who treated some of the Aleppo victims." Also at these Youtube postings that popped up first: http://www.youtube.com/watch?v=WtfXchDny0k http://www.youtube.com/watch?v=tf6P3e6XD48
Initial assessment: At least four people are shown affected in a hospital setting, two women and two men. I hear sarin kills quickly when it does, so these are not apparently any of those who died, unless something else intervened. One woman seems real from her body language, in distress and very sad (0:08-0:12). The other might be real too, but it's more complicated - she's the same woman shown in SOHR photos (image 3), apparently alive here, no mucous bubbles, different room. But she looked dead in the SOHR image (So did the kids), so was it later? Nothing else says fake - alive, getting air, (then?) dead and covered with bubbles and snot. Also, she has what look like burns or nasty rash on her face (right cheek mainly), perhaps from that cloud of partly hydrochloric acid that chlorine's supposed to make when mixed with (water? - yes - mixed with saline, salty water). The burns are there when she's still alive, that's part of how I identified her. --Caustic Logic (talk) 11:41, 1 May 2013 (UTC)
The guy in image 4 I thought had a plugged nose is one of the two possible rebel fighters seen "foaming" here. Only the men do that, unlike the woman or the child, and no men died. That was when the white stuff first started coming out. Here (0:04-0:06), it's run down his face, looking like milk. The other allegedly affected man has the white stuff, a little foamier, on his chin, not lip. He acts like he has a headache or something, unconvincing. Both of them. --Caustic Logic (talk) 11:41, 1 May 2013 (UTC)--Caustic Logic (talk) 10:28, 1 May 2013 (UTC)
Azad Video
Global Post posting: "This unedited video was shot by Kurdish media activist Rojhit Azad and obtained by GlobalPost Senior Correspondent Tracey Shelton." Video attached to this article wherte the supposed husband of the hit family speaks -out of it for two days, woke to a dead wife and kids. Not convinced, but could be. --Caustic Logic (talk) 10:24, 15 May 2013 (UTC)
The original interview with the survivor Yasser Yunis, on whose home the sarin-filled riot control grenade was dropped killing his wife and two sons, appears to be in this article on 23 April 2013 in The Times (Revealed: tragic victims of Syria's nerve gas war; Anthony Loyd in Aleppo reports on the Assad regime's use of chemical weapons against his own people Tragic victims of Assad's nerve gas war. 26 April 2013, behind paywall). However the VDC records that Yasser Yunis was killed along with his wife and two other male family members (one a child) on 13 April.
The article notes that "Subsequent video footage taken by the medical staff at the hospital in Afrin, an hour's drive from Aleppo, provided even more compelling evidence. Provided to The Times by Dr Kawa Hassan, an orthopaedic surgeon who received the first casualties at about 4am, it shows victims, among them Yasser and his dying wife, frothing at the mouth and nose in a trance-like state. A rescuer overcome by the gas is making repetitive arm movements as if he were having an epileptic fit, typical of nerve agent poisoning."
CL: is this consistent with being the video that you describe below? Evidently the person in the video matches the person interviewed by Loyd - but presumably the real Yasser Yunis was dead. This attack was one of those from which physiological samples were shipped to Porton Down and reported by David Cameron on 14 June to have tested positive for sarin Pmr9 (talk) 13:48, 21 October 2015 (UTC)
I can't get it to play now, and I don't know what this other Yaser looks like anyway - but they're said to match. And it sounds consistent - they say he lived. VDC said he died, wife may be listed (maiden name). Simple answer is the listing is wrong, but other answers include that it's right, he died, and the guy doing interviews is a faker. Did 14 people die? That's what VDC lists but at the time it was just 4 reported - 2 boys and 2 women, with the 9/10 men missing. (should note that in right spot) --Caustic Logic (talk) 23:20, 21 October 2015 (UTC)
The video has been saved on this site https://humanrightsinvestigations.org/2013/06/15/obama-cameron-syrian-chemical-weapon-scam/. It's worth studying this again because we now know that Loyd and HBG were together on this operation. Specifically was the person that Loyd identifies as "Yasser" one of the men obviously faking it with shaving foam in the videos Pmr9 (talk) 00:35, 12 February 2017 (UTC)

I had forgotten about all this - we already saw 14 dead (I re-discovered that later) and one of these was interviewed later (plain forgot). The video url is https://www.youtube.com/watch?v=vu5ijl2FtWI Copy saved. Here's another copy, provided as video of the killed person, but for Yaser Younes and for all entries. But if Lloyd thought that was the same guy he interviewed, then I suppose it is. He was in there faking (?) at the first moments. Looking back, he'd be a good one to have "survive" and testify - apparently the only man to die with his wife and kids, besides an apparent male relative, he can speak for several people. --Caustic Logic (talk) 03:16, 12 February 2017 (UTC)
I'm not sure if it's the same video Lloyd refers to though. It doesn't look like much of a hospital worth driving an hour for, but maybe. --Caustic Logic (talk) 03:22, 12 February 2017 (UTC)
I've watched this video pretty carefully, and realize some things I've been missing - this is the source for the SOHR's early stills, except one of the kids. Two are shown, and one is the same, but the other appears closer to the 18 months old than the other kid SOHR showed. All appear as much asleep as dead - unclear. The apparently dead woman isn't. She looks that way at first, even on this video, but later talks to the camera with the bubbles out her nose and mouth (7:38), looking fake now. There are three males here doing the milk out their mouths/nose thing, and also "convulsing" in an unconvincing manner, too mellow and continuous - no sense of crisis, just pacing, ready to keep it up for a 5-minute video if needed. Two are the same as the other video, a third guy in a leather jacket joins them here. There's also what I think is a different other woman here (for three total between the videos). She wears black and stylish makeup. Jihadists wouldn't like her. Symptoms - no tremors or "foam," just laying still and looking unhappy, feet beaten and tortured-bloody spots, bruised, swollen badly, especially at the ankles (6:20). What chemical does that? Gender segregation of symptoms: men foam and convulse, women don't convulse, sometimes foam, kids just die. --Caustic Logic (talk) 10:24, 15 May 2013 (UTC)
At the beginning, the scene of the gassing, the stairwell with the grenade remnants. There's blood along the ground by the stairs. Victims coughing blood, shrapnel injury, or what? Plastic covers the stairwell (enclosing?), lightly held down with rocks, I guess previously, to keep out rain. The plastic is torn through in a spot, somewhat on the side, and the cameraman suggests the grenade was tossed through that hole. Hard to see this falling from a helicopter and tearing such a hole itself just on gravity. But it wasn't by itself - An apparent second grenade (or ??) is on the step above the plastic one - flayed out and burnt. Two chem grenades for some deadly combo? Did they both fall through the same hole? What luck if so. Red-line-crossing regime scum. --Caustic Logic (talk) 10:24, 15 May 2013 (UTC)
Other Videos
Aleppo Media Center, April 14: the home is locked up, men are loading their belongings in a truck. The plastic sheeting over the stairwell is gone. Locals are interviewed
Jobar Attack
Perhaps concurrently or near it, there was an alleged chemical attack clear across the country, that led to one death reported by the opposition VDC: Ibrahim Darwesh from Jisreen, non-civilian with "FSA," died Damascus: Jobar. "Martyred due to inhalation of toxic gases as a result of the regime`s use of chemical weapons on one of Jobar front-Eastern Ghouta side, report to be validated." Photo and videos included.
It so often happens there's a coordinated attack across the country at the same time or the next day. This is part of the "scale" of attacks that some use to explain why they think "Assad" did it all. Having "FSA" people killed also helps, and this started happening more in mid-2013, per VDC: small batches of usually 1-3, but one time nine rebels at once (June 23, apparently in Zamalka). --Caustic Logic (talk) 15:37, 20 January 2017 (UTC)
There was a string of mid-April attacks in Jobar. As I note here, claimed by the US and France to invlove sarin, but the UN-OPCW probe didn't get enough info to back that up. As I listed them in the Red flags report anyway, there were on April 11, 12, and 14. Strangely (and somehow not noted and flagged as I assembled the report), this Aleppo incident fits right in the empty slot on the 13th, like the regime was dong one per day and paused hammering Jobar to punish the Islamist takeover in Sheikh Maqsoud, but then resumed gasing Jobar. Odd. --Caustic Logic (talk) 09:12, 25 November 2017 (UTC)
Sources
SOHR post, April 13: Casualties and injuries in Aleppo
Aleppo province: Two children aged 1 and 2 years old were martyred and a woman was killed by wounds. They were killed by 2 bombs dropped by a military helicopter on their house in the al-Sheikh Maqsoud neighbourhood, based on activists from the neighbourhood. The casualties' neighbours reported to the Syrian Observatory that they heard a helicopter at dawn and later heard two explosions, after heading to the house they found some of the residents unconscious and others killed. 16 were wounded by poisonous gases and were transported to the A'frin city, medical sources reported that those injured suffered hallucinations, severe vomiting, nose bleeding and eye burning, one of which lost eye sight. The Syrian Observatory calls upon the United Nations and the Red Cross to immediately send committees for treating the injuries and discovering the nature of the gases, that has been reportedly used in al-Sheikh Maqsoud neighbourhood. --Caustic Logic (talk) 13:38, 13 April 2013 (UTC)
Five photos accompany:
Later update, Preliminary death toll for Saturday 13/04/2013
2 children and 2 women were poisoned to death by gases from bombs dropper by an aircraft on the al-Sheikh Maqsoud neighbourhood.