Talk:Acknowledged Rebel Attacks on Hospitals
Jump to navigation
Jump to search
Videos
Here are some more videos of attacks on hospitals:
-- Petri Krohn 17:23, 20 October 2012 (EST)
One more: -- Petri Krohn (talk) 12:08, 2 November 2013 (UTC)
Al Qaeda FSA females (allegedly) shelling residential neighborhoods, bridges and hospitals in Damascus suburb
– For Orient News, Yaman Sayyed, from the outskirts of Dahiyet Assad neighborhood

Crazy. They do say they're targeting the military hospital. By the outfits you can tell this is no modern feminist thing. I suspect the main reason, from the Islamist/rebel perspective, is to make any hits more insulting. "Hah, you were bombed by a woman!" I wonder if those women realize they're the turds on a stick their hubbies use to smear people with? --Caustic Logic (talk) 13:37, 2 November 2013 (UTC)
Abdul-Hadi Al-Khalif?
From Syrian Perspective (February 24, 2013)
A captured rat appeared on Syrian state t.v. yesterday and described how he, a native of Homs, blew up the National Clinic in the area of Al-Qusayr. He is one Abdul-Hadi Khalif.
-- Petri Krohn (talk) 19:10, 24 February 2013 (UTC)
From SANA via Real Syria Updates:
DAMASCUS, (SANA) – Terrorist Abdelhadi Mohammad al-Khalif confessed to taking part in destroying the National Hospital in al-Qseir, Homs countryside, along with a terrorist group by detonating explosive devices planted in a tunnel they dug under the hospital, claiming the lives of a number of hospital workers and nurses.
In confessions broadcast by the Syrian TV on Saturday, al-Khalif said that he joined a group led by Mohannad Ghannoum who came from Baba Amro area along with 25 gunmen fully armed with machineguns, launchers and equipment.
He said that Ghannoum, aka Abu Bakr, planned the tunneling under the hospital, and they dug a 300 meter tunnel from the home of a man from the Harba family, and upon reaching the area beneath the hospitals they tunneled in three different directions.
Al-Khalif said that after they finished digging, another group came and planted explosives in the tunnels then detonated them in time with an armed attack on the hospital.
He also confessed to committing acts of abductions, including the abduction and torture of 15 people from the town of al-Aqrabiya, and the abduction of 5 people from the village of al-Ghassanye who were transported to the home of one Firas al-Akari where they slit the throat of one of the abductees. Al-Khalif said that they also abducted two people from the village of al-Hamidiye and stole two large cars, adding that they received weapons and funds from a man named Dabbah Ghannoum and his two sons who got them from Lebanon.
In Arabic:
Video:
Aleppo, Shifa Hospital
I cannot find active posting of this article: "Sep 11, 2012... It had been a calm day in Aleppo's Shifa Hospital, said Dr. Osman al-Haj Osman, his face etched with exhaustion from just three hours of ..."
(was that me talking? I'll respond as if not)

from above, wrong link has a snippet you saw, this one has a photo of the girl and doctors, this one the story, no relevance here -it says everything is the regime's fault and rebels are only tenacious and trying to help. (can be moved soon) --Caustic Logic (talk) 23:11, 22 October 2013 (UTC)

Which raises I guess is this is not an older story about one of those two bombed two days earlier? Or another place that didn't work with the army that rebels didn't bomb? Strange clientelle as usual for rebel-approved hospitals. Bloodied people have to arrive for the media guy-a girl is shot through the knees after coming under fire while riding in a car. Visualizing, and it doesn't seem true. --Caustic Logic (talk) 23:25, 22 October 2013 (UTC)
Al-Baasel Hospital, Deir Attiya
Deir Attiya is a smaller town between Qaraa and Nabak, in the contested Qalamoun region between Damascus and Homs. It's a Christian-majority town like many in the area. (Deir means monastery, so it apparently has been so for a while) First there was the car bombing report, I think on November 19 or maybe 20 - part of a small string of suicide car bomb attacks by ISIS and Jabhat al-Nusra in the area that day, just after the Islamists lost Qaraa. Al-Jazeera, Nov. 20, for example:
Four suicide car bombs have struck Syrian regime targets in the Qalamoun region north of Damascus, killing at least seven soldiers, a monitor and state news agency SANA said.
It might be three. They have SANA reporting two at once in front of the hospital in Deir Attiya, while the SOHR failed to report that and cited two explosions that killed at least seven soldiers (5 more in critical condition). An official said there was just one blast at a checkpoint in Nabak - the car was stopped, the driver fled and was shot, but the car blew up anyway.
Meanwhile, SANA reported two suicide attacks in front of the Bassel hospital in Deir Attiya, a majority Christian town under army control north of Nabek.
"Several guards were killed, then the terrorists broke into the hospital and tried to destroy the equipment, but the army managed to chase them down," SANA said.
While the SOHR didn't mention the car bombs, it did have rebels entering the hospital somehow, after people if not equipment as well. Again al-Jazeera: "The Syrian Observatory for Human Rights said the opposition forces had entered the hospital to capture a wounded officer but were unsuccessful." The hospital gets little mention after that, it seems.
Then, reports that rebels had "liberated" the town at large, with order restored about a week after the initial attack, in a now-familiar pattern. (forthcoming)--Caustic Logic (talk) 14:38, 29 November 2013 (UTC)
After, November 28, SOHR the SOHR had news on the hospital:
The SOHR documented the death of 5 doctors and 4 hospital staff members (nurses and paramedics) who were killed during the clashes between the Khadra battallion/ISIS and the regime forces in the Deir Attiya hospital, which took place on the 21-23rd of this month.
There was fighting in the hospital? Fighting has both sides shooting, deaths can be ambiguous. That ambiguity is challenged by alleged witnesses speaking to Ziad Fadel of Syrian Perspective: SAUDI RODENTS COMMIT ATROCITY AT AL-BAASEL HOSPITAL IN DAYR 'ATIYYA (Nov. 28):
THE RATS SLAUGHTERED EVERY CHRISTIAN DOCTOR, NURSE, TECHNICIAN AND PATIENT AT THE AL-BAASEL HOSPITAL BEFORE ESCAPING INTO THE HILLS
Actually that line might be exaggerated, but:
WE ARE SADDENED BY THE NEWS THAT THE MONKEY ARMY OF ISLAMIST WEASELS DELIBERATELY WENT TO THE AL-BAASEL HOSPITAL FOR THE PURPOSE OF KILLING EVERY SOUL IN THAT BUILDING. WE DON'T HAVE THE HEART-BREAKING DETAILS YET, BUT, MONZER NOTES THAT WITNESSES SAW RATS THROWING GRENADES INTO ROOMS AND FIRING AT ALL STAFF MEMBERS. IT WAS HORRIFIC. OBAMA, HOLLANDE AND CAMERON WILL PAY FOR ARMING THESE DEGENERATES. --Caustic Logic (talk) 14:38, 29 November 2013 (UTC)
Little things like this misplaced entry, (should be Damascus/Reef Dimashq province) suggest this town at large and that week deserve a page here - again [ SOHR, Nov. 28], daily deaths for Nov. 27:
Homs (1 rebel, 3 civilians). A woman and her child were killed by a sniper in Deir Attiya. A woman was killed by regime bombardment on al-Husun town. --Caustic Logic (talk) 14:38, 29 November 2013 (UTC)
"Arabi Souri" translated a state TV video from immediately after the retaking of the village, dead terrorists still lying around. Hopsital shown from in- and outside. Creepy. Sucks when the hills you live below contain this kind of zombies.

--CE (talk) 17:00, 29 November 2013 (UTC)
Good, visuals! And some details. One local man cites the terrorists' odd looks - beards dyed red being one feature. That is historically an Ikhwan (WP) thing - ideally they use the blood of infidels, but sometimes they use dye. As I've noted before, Utaybi is one Ikhwan tribal name, and SyrPer lists another Utaybi killed here or nearby in recent days. Same link, 11 names given, four specified as Saudi, including "Abdul-Rahmaan Al-'Utaybi (SAUDI ISSUE OF A RAT-MONKEY MOTHER)" All-in-all, "Once they departed, it was easy to see that the rodents left behind 150 or more carcasses with 42 being confirmed Saudis and another 24 confirmed Emirate rodents," most not identified yet.

Fascinating. I wasn't aware of those guys at all. Thought Ikhwan is only a synonym for the Muslim Brotherhood. --CE (talk) 14:11, 30 November 2013 (UTC)

Creepy people they were/are - ordinary Wahabbis were weak infidels to them, barely tolerable. The beards might really add something. Just the tribal names (or the ONE I can recognize) appearing means little when this Ikhwan stuff is 100 years old or more, hardly practiced since. But if they're doing the beards, they might be doing other stuff they used to. Cutting open pregnant women is one of those, and that's been happening, like in Latakia under another Uteybi. So considering the beards, maybe it wasn't so imaginative to wonder... --Caustic Logic (talk) 00:54, 1 December 2013 (UTC)
Sources
THE RATS SLAUGHTERED EVERY CHRISTIAN DOCTOR, NURSE, TECHNICIAN AND PATIENT AT THE AL-BAASEL HOSPITAL BEFORE ESCAPING INTO THE HILLS.
Thanks, Petri. I noticed SOHR had got confirmation on nine medical staff at least, killed in fighting inside the hospital, somehow. Added this there. Will look into it more soon. --Caustic Logic (talk) 10:14, 29 November 2013 (UTC)

Gets a section above. --Caustic Logic (talk) 14:37, 29 November 2013 (UTC)
Aleppo: al Kindi University Hospital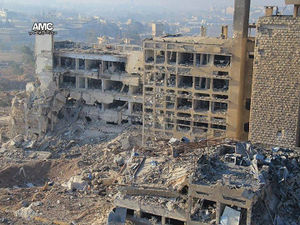 This what insurgents (80% of them are foreigners), whom the US and NATO call "moderate," "Syrian," and "freedom fighters," did with to what used to be Syria's largest and best hospital, where people were receiving free health care. Aleppo, Syria. The "moderate" rebels fought the battle for the hospital under the banners of al Qaeda. They are al Qaeda. Last Friday, a long siege of the hospital ended with two suicide bombers detonating dozens of tons of explosives.
alkindi Hospital #Aleppo , which was destroyed yesterday by two booby-trapped operations carried out by the criminals of Wahhabism supported by Saudi Arabia, is a free hospital for the treatment of cancer and malignant tumors. Though the costs of such treatments are exorbitant, but it was offered freely to Syrian people by the government. The hospital evacuated a year ago and it was completely empty of any patient ,or any military personnel inside . Only a force of about 200 soldiers has remained to guard the hospital which is a very important health facility. Some of them martyred and others withdrew after they strongly defended the hospital and remained steadfast for almost 13 months. Yesterday, the "regime" did not lost a military barrack or an airport base for military aircraft but the poor of Syria lost one of their important properties and thousands of patients lost the right to survive. May God give mercy to our heroes, the martyrs of #al-kindin Hospital.
Damn, it's hard to even verify the photos really show the same place. I presume so, and it's unrecognizable. That was some big explosive load. And indeed, anyone holding out inside would be done after that. Take that, civili society! --Caustic Logic (talk) 03:19, 23 December 2013 (UTC)
News search: The good news: rebels didn't just destroy they seized back control of it. This is a big step forward for the rebel cause to be in control of Aleppo's biggest pile of rubble that can no longer save any lives. --Caustic Logic (talk) 03:19, 23 December 2013 (UTC)
Syrian rebels seize strategic hospital in Aleppo
BEIRUT (AP) — Syrian rebels have gained control of a strategic hospital in the city of Aleppo despite days of relentless barrel bombings of opposition-held areas in the northern city, activists said.
The shattered remains of the five-story Kindi hospital is close to Aleppo's besieged central prison, which rebels have been trying to capture for months to free their comrades.
The rebels captured the hospital on Friday, according to two activist groups — the Aleppo Media Center and the British-based Syrian Observatory for Human Rights. Aleppo-based activist Abu al-Hassan Marea said the rebels who overran the ruins of the hospital included both conservative Muslim groups and al-Qaida linked factions.
At least 35 rebels were killed in the battle for Kindi, the activists said, a relatively high toll for a single day that spoke to the intensity of the fighting even by the brutal standards of Syria's three-year civil war, said the Observatory, which has a network of activists on the ground. It was not clear how many soldiers were killed.
Rebels in the Syrian city of Aleppo have set off a massive lorry bomb to seize back a strategic hospital occupied by Assad loyalists.
A huge fireball engulfed the al-Kindi Hospital, and the blast brought down the central section of the disused building, in Friday's daylight attack.
Video footage uploaded to YouTube by a rebel group on Friday appears to show the lorry approaching the hospital followed by the blast.

So it was already disused? Then what's the point of winning it back? And why does al-Arabiya report:
Syrian opposition fighters gained control of a strategic hospital near Aleppo, despite days of persistent air strikes targeting rebel-held areas in the northern city, activists reported on Saturday.
ALEPPO: It appears Operation Canopus Star is going on schedule. The withdrawal from the Al-Kindi Hospital is now making sense. At first, it seemed to be a symbol of SAA determination, i.e., not that the institution was important or functioning (which it wasn't), but that the rats had to see a red line over which they could not cross. Then, as Operation Canopus Star exploded on the scene, there was a greater need for boots and they were at the hospital to the tune of 300+. General Ayoub clearly believed that the soldiers and guards defending the dilapidated hospital could be put to more use in other locations.

Hm, if that's so, the remainder should've been pulled out sooner. I don't know how many soldiers were killed there, but SOHR reported the other day:
Fighters from Jabhat al-Nusra and an armed Islamist movement executed yesterday 10 captive soldiers detained during the clashes over the al-Kendi hospital. The captives were shot dead after a being tried in a 'Sharia court'.
Those 20 boots at least could have been better used elsewhere than a rebel "sharia court." --Caustic Logic (talk) 09:47, 7 January 2014 (UTC)

More here: -- Petri Krohn (talk) 18:16, 7 January 2014 (UTC)
Video
May 2014
This is what is left of Al-Kindi hospital in Aleppo after terrorists blew it up this morning
Jassem National Hospital, Deraa
January 4, 2014: Islamist rebels overrun the Jassem National Hospital/barracks near Deraa, at least in part.
The devastated National Hospital on the outskirts of Jassem controlled by the rebels, The hospital had been used as a barracks by the regime

Note the second video is labeled "The devastated electricity substation beside the hospital." There's fresh smoke in one spot, so this devastation might have just happened - next to the hospital, not at it. First video seems to be filmed just inside the walls of the same place.--Caustic Logic (talk) 08:07, 5 January 2014 (UTC)
Syrian Arab Army confronted yesterday a suicide bomb attack, launched by al-Nusra Front around the National hospital in Jasem city.
The militants have trapped a stolen personnel carrier with large amounts of explosives and a Saudi suicide bomber called by Ibraheem al-Arefi, whose alias is Abu Qutaiba al-Najdi, attempted to implement this suicide attack, but the Army managed to explode the vehicle with RPG rockets before it reaches its goal.
After that, Severe clashes broke out between Syrian Army and gangsters of al-Nusra Front inflecting them heavy losses.

As far as I can tell (not far yet) the video doesn't rule this out. It may have blown up at the electric substation. --Caustic Logic (talk) 08:07, 5 January 2014 (UTC)
Homs National, April 2012
LCC summary, April 2, 2012: "75 unidentified corpses were found in the refrigerator of the National Hospital after the FSA captured it." The nature of how might be testified by the 75 bodies they failed to identify, which were just found there. The branch responsible seems to be the infamous Farouk Battalion. An early morning raid captured on video here (Liveleak) or here (Youtube) (saved). The latter is older, dated April 2, 2012 to match the LCC report. Title translates "Farouk Brigade of the National Liberation hospital Brigades Assad." Abdulrazaq Tlass can be seen leading here in his bright blue shirt. Distance, at 0:11, closer up at 1:00, and at 2:12 is the source of the still Alfredo Embid found. --Caustic Logic (talk) 09:27, 29 December 2013 (UTC)
Coincidentally, a 4-day later re-post of this video, or video of a later attack on the hospital, just came up in Tim Anderson's piece, linked here but which I hadn't read yet. Syria's hospitals targeted by NATO-backed armed groups: Citing a December 22 press conference between Syria's Health Minister Dr Sa'ad al Nayef and "a visiting Australian solidarity delegation on 22 December" - "Minister al Nayef showed the delegation video of the FSA (Farouk Brigade) attacking Homs National Hospital on 6 April 2012, another of the damage to Al- Salamiyeh National Hospital (Hama) after an attack on 21 January 2013 and a third video of the damage to Al Zahrway Hospital (Damascus) after yet another terrorist attack on 5 May 2013." --Caustic Logic (talk) 11:01, 29 December 2013 (UTC)
White Helmets propaganda
WHO'S KILLING MEDICAL WORKERS IN SYRIA?
97.4% BY SYRIAN GOVERNMENT
1% BY OPPOSITION
1% BY UNKNOWN
0.6% BY ISIS
Statistics from Physicians for Human Rights Report, 11 March 2015