Syria news/Current
From A Closer Look On Syria
29 Apr. While a Pentagon spokesperson confirms that US forces are in the border region "monitoring" the situation, Erdogan tells Turkish industrialists how he and the US could turn "Raqqa into a graveyard for ISIS".
28 Apr. Trump delegates the decision about use of force in Iraq and Syria to defense minister Mattis. Videos emerge showing a convoy of military vehicles flying both US and YPG flags said to be from Darbasiyah in Hasakah province near the Turkish-Syrian border.
27 Apr. Assad is interviewed by teleSUR (transcript).
After a couple of Israeli missiles hit Hezbollah targets near Damascus airport, the Kremlin asks Israel to respect Syria's sovereignty.
26 Apr. The Iraqi parliament starts an investigation into the Turkish airstrikes. The spokesperson of the YPJ (female part of the Kurdish YPG, the dominant force in the SDF) calls on the US to do more than issue statements of concern to stop further Turkish attacks, or they will rethink going to Raqqa and withdraw.
25 Apr. 26 Turkish warplanes attack Kurdish targets in the north of far eastern Syria and far western Iraq. US State Department spokesperson Mark Toner claims to be very, deeply concerned about these actions done "without proper coordination". He also reaffirms "our view that military action in Iraq should respect Iraqi sovereignty" while leaving open their view about Syria.
24 Apr. A pocket cut off by the SDF north of Raqqa the days before is quickly cleared of remaining ISIS fighters. This officially concludes phase four of Wrath of Euphrates. Tabqa city and parts of the dam remain under siege but in ISIS hands, with heavy clashes going on.
23 Apr. According to media reports citing proverbial unnamed US officials, ISIS has moved its "government" from Raqqa to Deir ez-Zor.
According to SOHR, the US-led coalition has killed 7,631 people in Syria since it intervened, among them 1,256 civilians including 275 children.
Patrick Henningsen publishes part one of his reportage about his recent visit to Aleppo.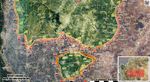 Militants flee Halfaya and a couple of villages in northern Hama countryside, leaving them for the SAA to overtake.
22 Apr. The SAA continues to advance in northern Hama countryside.
To the sound of little skirmishes on the Golan heights, the ex-Israeli defense minister Moshe Ya'alon tells a story about how ISIS apologized for hitting the IDF in November 2016.
21 Apr. Assad is interviewed by Russian news agencies (transcript)(video). On al-Baghdadi arrest: 'that's not true' (around 3:25). OPCW: they were invited to investigate Khan Sheikhoun and previous attacks, but the arrival was blocked by the West.
The first stage (evacuation of civilians) of the four towns agreement is completed.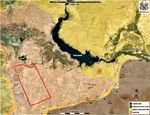 20 Apr. Since the beginning of the fourth phase of Wrath of Euphrates, more than ten thousand civilians have fled ISIS-controlled northern Raqqa countryside towards the advancing SDF.
19 Apr. Planes of the Us-led coalition destroy all bridges in Hazimah town in northern Raqqa countryside.
The Russian Air Force destroys a Hayyat Tahrir al-Sham training camp in sothern Idlib and an underground base northern Hama. White Helmets later release footage of rescue work at what they claim was an underground hospital south of Idlib.
18 Apr. The constituent congress of the Raqqa Civil Council takes place in Ain Issa to the north of Raqqa. With over 100 attendents of important social functions, among them clan leaders, a sort of exile government is formed to which the SDF will hand over power once Raqqa is liberated from ISIS. After the congress, a statement is released.
17 Apr. A fifth batch of almost 2,000 green bus travellers leaves Al-Waer.
According to German Damascus-based correspondent Karin Leukefeld, the Saudi-sponsored Army of Islam group has claimed the attack on the buses from Fou'aa and Kafraya immediately after the event, but quickly deleted the statement from their website when it became known that the victims are mostly children.
14 Apr. Thousands of civilians take a bus out of both Madaya and Al-Zabadani and Al-Fou'aa and Kafraya. The latter are then attacked, RT reports, by a suicide bomber, wounding many and killing at least 39 (first reports), later at least 126 (Reuters, and over 150 (including 68 children) by some sources. Ahrar al-Sham at least denies responsibility, claiming it was a "regime" attack (tweet). (Red Crescent workers seen fleeing before the blast?)
13 Apr. The beginning of the fourth stage of Wrath of Euphrates is announced by SDF command. Aim is to take over the northern countryside of Raqqa and tighten the siege of the city.
The Pentagon announces that two days ago, they killed 18 SDF fighters near Tabqa in a "friendly fire" accident.
Assad is interviewed by AFP (transcript).
12 Apr. A revised version of the Western draft resolution for the investigation of the Khan Sheikhoun incident circulates in the UNSC. Unlike the first version, it contains no blame of Damascus and speaks of a "reported" CW use. Yet it still demands unlimited access to SAA sites at threat of military action and gets vetoed by Russia later that day.
Prominent Iraqi Shiite cleric Muqtada al-Sadr calls on Assad to step down, warning that otherwise he will share the fate of Gaddafi. It's the second time in recent days that Sadr makes that call.
Trump asserts that the US will not invade Syria.
According to the SAA command, a US-led coalition airstrike between 17:30 and 17:50 h in Hatla village east of Deir ez-Zor blows up an ISIS warehouse which contained toxic substances. The resulting white-yellow cloud allegedly killed "hundreds" including civilians. Reactions: US called these claims "incorrect" and Russia said it had no information, would send drones to take a look.
Russia's UN rep attacks British representative--gross. Video, Engl, Russ. (full)
11 Apr. Buses arrive to Madaya and Al-Zabadani in preparation for the execution of an unusual deal brokered by Qatar and Iran.
10 Apr. Iraqi Kurdistan: Due to a technical issue on the Turkish side, the oil flow to Ceyhan will be interrupted for three days, causing $23 million damage per day.
9 Apr. "Euphrates Shield" command orders to close all roads from Turkish-controlled Jarablus border post into SDF-controlled Manbij area.
8 Apr. In the fourth batch of proverbial green bus rides, 480 gunmen plus family members leave al-Waer, the last militant-controlled neigbourhood in Homs city.
A large market called "Silk Road Souk" with 211 shops opens in New Aleppo part of Aleppo city, temporarily replacing the historical souks in the old town that were left in different stages of destruction by the militants.
7 Apr. Russian MoD official statement -Engl. captions (footage at the end suggests low effectiveness).
TASS: frigate of the Black Sea Fleet 'Admiral Grigorovich' will enter the port of Tartus. Said to pass Bosporus(@YorukIsik); equipped with Kalibr cruise missiles, +modern naval version of 'Buk' (SA-N-7C Gollum).
After US airstrike, Russia calls it an aggression against sovereign country, suspended memorandum on safe flights in Syria, calls for an urgent -TASS (Russ.)(Engl.)
At least 6 people were killed. Military source: six MIG-23 planes undergoing repairs, decommissioned AN-26 , and several small foreign transport planes destroyed; damage estimated at 1-2 mln $, strike cost, at 90 mln $.
6 Apr. US media reports that two US warships fired 50 Tomahawk missiles at a single target - Shayrat military airbase in Homs province, "the airfield from which the United States believes the government of Syrian President Bashar al-Assad fired the banned weapons [on Khan Sheikhoun]".
Video from the airbase after the strike (an old air defense system is seen). More photos, videos 1 ,2 showing damage. Vesti.ru video claims that Russian MoD was notified and parts of airport where Russian military could be located was not hit; Herbert McMaster quoted to make similar statement; while Russian MP Vladimir Dzhabarov believes there was no notification. More photo/visuals -Cassad 1, 2.
The Turkish Health Ministry says that autopsies they conducted of victims of the alleged chemical attack on Khan Sheikhoun point to exposure to Sarin.
"US ground forces kill 'Islamic State' (IS) militant linked to Turkey nightclub attack" - occurred on 6 Apr. and announced around 21 Apr.
Assad was interviewed by Croatian newspaper Vecernji List (transcript).
5 Apr. Tabqa is under siege and the SDF are moving towards the city center. Violent clashes are taking place.
The "municipality of people" governing the regions liberated by the SDF have given out 600 licences for stores to be opened while the residents are returning.
The US army expands the runway of a military airfield near Kobane to make it capable of handling large cargo airplanes.
4 Apr. Reports of a chemical attack with many victims, including children emerge from southern Idlib province (ACLOS page).
3 Apr. Turkey announces to not attend the EU conference about the future of Syria to be held on 4-5 April. Meanwhile Erdogan promises "very good surprises for all terror groups" in new military operations under new names.
1 Apr. The third batch of militants leaves al-Waer district of Homs city in green buses to Idlib.
The "successful completion" of Euphrates Shield doesn't mean that Turkey plans to end their occupation of Syrian land anytime soon, says Turkish FM Çavuşoğlu, while also reporting about his meeting with US counterpart Tillerson which seems to have mostly consisted of C.'s complains about the YPG.
According to Al Masdar, in the late evening three Russian jets crossed into Turkey while targeting Islamist positions around the border in Idlib province.
31 Mar. The US-led coalition announces the death of ISIS propaganda chief Ibrahim al-Ansari. He was allegedly killed by an air strike in Iraq.
The fifth round of talks in Geneva concludes with statements by De Mistura and al-Jaafari (video).
30 Mar. According to US ambassador to the UN Haley, it is no longer a priority of the US to make Assad leave his office.
29 Mar. After a meeting chaired by Erdogan, the Turkish National Security Council issues a statement declaring that Operation Euphrates Shield has been "successfully completed".
Kurdish sources report that a maintenance team led by the Syrian Red Crescent got attacked by ISIS artillery while inspecting the Tabqa Dam. Excess water is being released into a watering channel through a gate at the northern end of the dam that is controlled by Kurds.
Clearing up confusing reports of last week, Al Masdar reports that the SAA enters Deir Hafer for the first time after ISIS had left it heavily mined. Later the army announces that the city is now completely under their control.
28 Mar. ISIS withdraws from a larger area in southern As-Suweida province, which is then taken over partly by both "rebel" and loyalist forces without a fight.
A Wrath of Euphrates spokesperson states that they found that no damage to Tabqa dam has happened. But analysis of footage released by ISIS, the US and satellite images seems to show that there is at least some damage to the control rooms, which must have happened between 24 and 26 Mar. A Russian General Staff statement critizises the US-led coalition for apparently deliberate destruction of Syrian infrastructure, including the dam where "the latest such air strike was delivered on March 26".
The statement also claims that against pronouncements that the border is sealed, more than 800 ISIS militants have been allowed to leave Mosul in the direction of Deir Ez-Zor.
27 Mar. Amed Dicle interviews PYD co-chair Salih Muslim about Raqqa, Manbij, Afrin and the current relationship of the US and Russia to the Kurds, Turkey and each other.
26 Mar. While the SDF has taken control of the northern end of Tabqa dam, ISIS media claims that the dam is damaged and out of service due to bombing of the US-led coalition. Reports that ISIS tells civilians in Raqqa to flee due to the danger of the dam collapsing are picked up by news agencies.
The SDF takes over Tabqa airbase from ISIS.
25 Mar. Iranian president Rouhani announces that Iran will build a railway from Teheran through Iranian, Iraqi and Syrian Kurdish regions to the mediterranean coast.
23 Mar. According to some reports, the SDF with US help captured the Tabqa dam following yesterday's airdrop operation. The quoted statement by CENTCOM speaks in future tense, though, but affirms that the dam is the target of the operation. A Wrath of Euphrates statement the next day clarifies that the liberation has yet to happen.
The Turkish Army continues to shell Kurdish villages in Afrin canton across the border.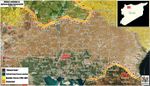 While the SAA was about to close the surrounding of Deir Hafer in the morning, the same loyalist sources report in the afternoon that ISIS agreed to an offer to withdraw from the city and has already left. The next day it turns out that this was a misinformation and the city is still in ISIS hands.
22 Mar. The US airdrops SDF and own special forces onto the Shurfa peninsula on the southern side of Lake Assad, south-west of Al-Tabqa. They liberate several villages and reportedly block the highway that runs north-west to Maskanah and Deir Hafer, where on the latter part it is blocked by the SAA.
21 Mar. The Kurds celebrate Newroz, the beginning of spring and the new year (report and pictures from Rojava).
The Idlib "rebels" led by Al-Qaeda start their annual Hama offensive.
20 Mar. According to a Reuters report citing YPG spokesperson Redur Xelil, yesterday they made a deal with Russia who will help to train them and set up a base in Kafr Jina in Afrin canton. Troops have already arrived, he says, which seems to be corrobated by video evidence. Reacting to the Reuters report, the Russian Defense Ministry denies plans for new bases in Syria and describes the troops as part of the Reconcilation Center's operation to "prevent ceasefire breaches".
19 Mar. The SAA continues to advance in eastern Homs province to the north and east of Palmyra.
Iraq: The head of Badr organization states that all escape routes for ISIS to Syria are closed.
18 Mar. According to several sources, the offensive to take Raqqa city, which is isolated by now, will start no later than early April.
The SAA is closing in on Deir Hafer from north, west and south.
The Manbij Military Council releases a statement offering locals fighting in Euphrates Shield a safe return home and participation in Wrath of Euphrates. The offer is valid for one month.
17 Mar. Four Israeli jets enter Syrian airspace and strike military targets around Palmyra. The Syrian side answers by firing anti-aircraft missiles, claiming that one jet was shot down and another one damaged. The Israelis deny that any of their jets were hit and claim the target of the attacks was Hezbollah. Russia summons the Israeli ambassador over the incident.
Russian Defense Ministry's spokesperson Konashenkov states that if the money spend by western countries on producing a "mountain of garbage of their own fakes and open lies" would be spend for humanitarian aid instead, Aleppo "would be a blooming garden city".
Following a reconcilation agreement, a first batch of 1,500 militants, of a total of 10,000 persons including family members, leave al-Waer, the last militant-controlled neighbourhood in Homs city, taking a proverbial green bus ride north.
16 Mar. Damascus urges U.N to stop US air raids on Syrian infrastructure, Euphrates bridges.
A US airstrike first falsely attributed to Russia by several media outlets strikes what opposition activists say was a mosque near Idlib, reportedly killing dozens of people (ACLOS page).
15 Mar. At a hotel in Turkey, 50 Syrian tribe leaders found "a new army" with the goal to fight everybody else in northern Syria on behalf of Saudi Arabia, Qatar and Turkey. Sightings of unicorns have not been reported.
14 Mar. For the first time in 74 days, water from Lake Assad reaches Aleppo city through the pipelines.
A report by the UN Syria Commission claims that the water supply from Wadi Barada had not been poisoned, and that the damage to the spring resulted from SyAF bombing, not actions of "rebels".
The third round of talks in Astana begins.
13 Mar. Convoy of Russian MOD lightly armored vehicles arrived to a Kurdish village of Arima near Manbij and delivered humanitarian assistance (report and video). Russian sources credit the convoy with a role in separating Turkish and Kurdish forces.
12 Mar. The Manbij Executive Council with 13 committees is formed and sworn in.
Hayyat Tahrir al-Sham claims responsibility for a twin bomb attack on Iraqi Shi'ite pilgrims in Damascus a day earlier, which killed 74 and wounded 120. Syrian Perspective wants to know that the group only provided the suicide bombers while the attack was planned by Saudis and Brits operating out of Jordan.
11 Mar. Assad is interviewed by Chinese TV (transcript).
The US declares the latest ecdysis of Al Qaeda in Syria, Hayyat Tahrir Al-Sham, a terrorist organization.
10 Mar. The Syrian government urges the UN to make Turkey withdraw from Syria.
Accompanied by a strong delegation, Erdogan visits Moscow and meets Putin.
The prominent Turkish Middle East analyst Fehim Tastekin speaks at a conference in Cologne, Germany, about Turkey's role in the Syria crisis (summary).
There are conflicting reports about the status of the fight over Jirah airbase, with Syrian Perspective claiming that it is already completely liberated.
9 Mar. According to information obtained by SouthFront, the Turkish government plans to build a new city for 80,000 people north of Al-Bab in six months time.
8 Mar. After reaching Lake Assad, the SAA takes the water pumping station and several villages, moving south towards Jirah airbase. These parts of Syria had been in various militant hands since 2012.
The first five villages in western Manbij countryside are handed over from the SDF to the SAA.
The Washington Post reports that "Marines have arrived in Syria to fire artillery in the fight for Raqqa".
De Mistura: Next (fifth) round of Geneva talks set to begin on 23 Mar.
7 Mar. The SAA advances almost to Lake Assad, takes Al-Khafsah town and enters the water pumping station to the south of it. It also clears the pocket between their and SDF territory bordering north. ISIS seems to retreat south without much a fight to a defense line between Deir Hafer and Jirah airbase.
The military chiefs of staff of Turkey, US and Russia meet in Antalya, Turkey to discuss Syria. According to an Al-Monitor report Russia and the US agree that Ahrar Al-Sham is a terrorist organization and the YPG is not, while Turkey takes the opposite stance.
6 Mar. Wrath of Euphrates cuts off the main road and reaches the Euphrates half-way between Raqqa and Deir Ez-Zor.
A statement by the Manbij Military Council clarifies that Manbij city is not part of the agreement with Russia. Only regions south-west of it at the contact line with Euphrates Shield are supposed to be taken over by the SAA, while the SDF and the "international coalition" will keep military control over the city. Surfacing of footage of US special forces near the city is called a "deliberate action" by a US army spokesperson. A list published later by Al-Masdar of twenty villages to be given to the SAA contains names going north all the way of the western front up to Arab Hassan Kabir. Meanwhile, attacks by Euphrates Shield forces on the villages bordering their control are going on.
The second school semester begins. 34 schools in eastern Aleppo are reopened, according to UNICEF.
5 Mar. The SAA continues its advance towards Lake Assad and is around 6 km away from the ISIS-controlled Al Khafsah water pumping station, which still doesn't deliver water to Aleppo.
4 Mar. The Turkish PM states that the SAA moving into Manbij "is not a negative development for us".
3 Mar. The Russian defense ministry says that Manbij city is part of the agreement with the SDF to hand over power to the SAA. Convoys are already on the way and basic government services are to be provided as of today. The US seems to be fine with this agreement, although not directly involved, as it fulfills the main demand of Turkey that the YPG leaves the area west of the Euphrates. It remains to be seen if these developments mark the end of Operation Euphrates Shield and how any further occupation of Syrian land by Turkey could be justified.
A press conference by De Mistura concludes the fourth round of the inter-Syrian dialogue in Geneva.
2 Mar. Following attacks of the Turkish army and its proxies on SDF-held villages in Manbij countryside, the Manbij Millitary Council releases a statement announcing that as part of "an alliance we made with Russia" they are handing over a buffer zone at the contact line to Syrian state forces.
The US military estimates that there are between 12 and 15 thousand ISIS fighters left in Syria and Iraq, which is around half of their estimates in 2015.
After ISIS retreats, the Russian defence ministry announces the complete liberation of Palmyra.
1 Mar. After a rapid advance, the SAA takes Palmyra citadel back from ISIS and stands in front of the city.