Syria news/Archive/2020-03
Jump to navigation
Jump to search
29 Mar. Russia is bailing out Venezuela.
22 Mar. Assad issues the annual decree on amnesty for prisoners, going further than the previous years.
The health ministry reports the first case of COVID-19 in Syria, a "man in his twenties coming from abroad".
Pakistani prime minister Imran Khan appeals to Trump that the US should lift the sanctions on Iran until the COVID-19 crisis is over.
19 Mar. According to Iraqi military sources, the US-led "coalition" has left several smaller bases in Iraq and the infamous Al-Qa'im base on the Syrian side of the border.
11 Mar. It is reported that 2 Americans and 1 British citizen are killed in rocket attack on base in Iraq, apparently using a DIY launcher mounted on a light truck, later abandoned (1, 2). Counter-strikes reported 1, 2.
A Russian soldier died in a road accident in Syria.
9 Mar. Oil prices crash overnight nearly 30% after OPEC+ agreement (apparently) collapsed; ruble is down vs Western currencies; media reports Saudi-led oil price war.
8 Mar. While combing through recently conquered territory west of Aleppo, the SAA finds a fortified underground compound with a large tunnel network near the village of Anjara, which on further exploration turns out to have been the HQ of Al-Qaeda in Syria/Nusra Front/HTS-Leader Al-Jolani (video).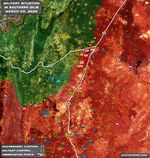 6 Mar. According to SANA, "calmness prevails" in Idlib half a day into the new ceasefire. Later, some violations were reported including a drone attack on a team of ANNA News in which nobody was injured.
Putin and Assad have a phone call (SANA,Kremlin).
5 Mar. After a six-hour meeting in Moscow, Putin and Erdogan present a plan for Idlib that includes a ceasefire starting at midnight and the formation of a security corridor along the M4 highway that will be jointly patrolled starting March 15. (Additional protocol).
Assad gives an interview to Russian TV (English transcript).
Syrian Mig-29 with ADS Talisman under the wings is videoed
4 Mar. Erdogan and Putin are to meet tomorrow in Moscow, with Idlib crisis on the agenda.
A major strike by LNA forces on targets at Mitiga airport in Tripoli, Libya is reported.
Syrian SU-22 reportedly escaped an air-to-air missile strike from a Turkish F-16.
Russian military at the reconciliation center reports "a work accident" with rebels exposing themselves to (unspecified) chemical weapons material while trying to set out a provocation; further details are promised later.
3 Mar. Assad issues a decree setting the date of parliamentary elections to April 13th.
A Turkish convoy with heavy equipment including ATILGAN air defense systems is spotted on the way to the Idlib front.
It is reported that Turkey (or aligned forces) shot down Syrian L-39 plane. The pilots (2?) bailed out. One pilot landed on a territory controlled by the rebels; videos posted on social media indicate that a pilot was killed. Another video linked to the report suggests that another pilot was rescued.
2 Mar. The SAA's Tiger Forces reportedly re-gain control over Saraqib while some of the villages lost yesterday in the south-west are also recovered with help of intensive Russian airstrikes. Erdogan claims that the Turkish goal is nothing more than a lasting ceasefire and assures Russia and Iran that "we have no problems with you in Syria". Russia deploys military police units to Saraqib.
ANNA news posts a report from Saraqib and a brief video from a location on the M5 highway in Saraqib
1 Mar. The Turkish Defense Minister reveals the name of his army's illegal activities in Idlib as "Operation Spring Shield". Several villages in the south-west of the pocket that were conquered by the SAA in recent days are taken over by the Turkish-backed Islamists again.