Syria news/Archive/2018-09
Jump to navigation
Jump to search
30 Sep. Advancing in the al-Safa volcanic fields, the SAA busts an ISIS hide-out and kills a high-ranking leader and his four bodyguards.
Firat News Agency interviews Salih Muslim about the situation in Idlib, Afrin and the rest of Syria.
Jaysh al-Izza, a large "rebel" fraction in Idlib, counted as "moderate" and Turkish-backed, releases a statement rejecting the to-be-created buffer zone of the Turkish-Russian agreement. Meanwhile, their ally Faylaq al-Sham has started to retreat from the area, as reported by Al Masdar citing SOHR. Later the group issues a statement saying that they are staying where they were and the news is false.
29 Sep. Foreign minister Walid al-Moallem delivers Syria's speech at the UN General Assembly.
Iraq: Adel Abdel Mahdi, known for politics trying to balance the influence of Iran and the US, becomes the country's new prime minister.
28 Sep. Erdogan accuses the US of not keeping its promises regarding the roadmap in Manbij, complaining that the YPG hasn't left the city.
Lavrov says that the S-300 delivery to Syria has already begun.
27 Sep. The Saudi foreign minister calls the Idlib agreement "excellent".
26 Sep. Trump takes credit for stopping the Idlib offensive with a single tweet.
Syria and Jordan are preparing to re-open the strategic Nassib border crossing in the coming weeks.
25 Sep. The Israeli security cabinet orders the IDF to "continue to act against Iran's military build-up in Syria without stopping coordination on Syria with the Russian military."
24 Sep. Russian Defense Minister Shoigu announces that Syria will get S-300 air defense systems within two weeks and "underscores" that the planned delivery was halted in 2013 by request of Israel in a situation that "has now changed". Russia will equip Syrian air defenses with 'friend-foe' system so far only available to the Russian forces. In Syrian offshore areas, radio -electronic suppression of satellite navigation and airborne radar and communication systems of combat aviation attacking objects on Syrian territory will be deployed (Shoigu statement on video starts with re-stating the Russian version of IL-20 shoot-down). Later, Putin has phone conversations with Assad and Netanyahu.
A German court sentences a Syrian man to life in prison for war crimes he committed in Aleppo as a "rebel" commander, including plundering, kidnapping and torture. The man was identified in Germany by a survivor of his crimes.
At an exhibition for sustainable development in Italy, the organization of the economy in Rojava is presented.
23 Sep. Following a Russian MoD presentation about the details of the downing of their IL-20 plane, in which they stay by their initial assessment that Israel deliberately used it as cover and is therefore to blame for the accidental Syrian downing of the plane, Israel insists that this information is false and they also warned the Russians in time about their actions.
Eva Bartlett publishes an English-language video interview she conducted yesterday with Syrian comedian Treka.
Syrian inventors win 15 medals at int'l exhibition in China.
According to the regional head of the opposition Future of Syria Party, Turkey has started to move Al Nusra (HTS) fighters from the to-be-created Idlib buffer zone into Afrin canton, where the YPG is now fighting a guerilla war against the Turkish army and their proxy "rebels".
22 Sep. Unnamed Turkish officials talking to Middle East Eye share details about the Idlib deal with the Russians and how it came into being.
SANA reports that according to local witnesses, helicopters of the US-led "coalition" have evacuated a number of ISIS commanders from the village of al Marashida in the Euphrates pocket near Hajin.
21 Sep. After three days of battle, the SDF have liberated the village of Al Bagouz and are now heading towards Hajin, the last town on the banks of the very eastern Euphrates occupied by ISIS, thought to be the hide-out of some of their remaining leadership.
The SDF hands over a Sudanese woman and her baby to a diplomat of her home country. The woman was one of over 500 who were captured in the fight against ISIS, in addition to over 1,000 children and over 500 fighters, all foreign nationals from 44 countries. The SDF calls on their home countries to take them back and doesn't see it as their duty or even inside their capabilities to put them on trial/keep them detained.
Rumours about US-Russian negotiations over an evacuation of the Rukban refugee camp inside the artificially created US protectorate around Al Tanf persist and seem to substantiate.
SANA publishes what is said to be 3 slightly different versions of staged chemical attack videos. White helmets emblem is briefly seen on video, in quite poor quality. See Rusvesna report. (Originally published by SMM Syria in July 2017)
20 Sep. According to an CSTO statement, more than 2,500 ISIS fighters have been transferred from Syria to Afghanistan in 2018. The statement does not say how and by whom this movement was organized, but calls Afghanistan the new "principal center" of the terror cult.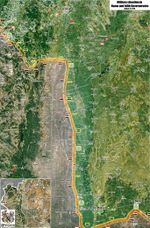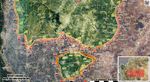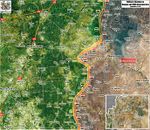 19 Sep. Nebenzia tells the UNSC that preparations for chemical weapons provocations in Idlib are still going on.
The hardcore Islamist groups in the Idlib pocket reject the Turkish-Russian agreement which expects them and their heavy weapons to leave the to-be-created demilitarized zone by October 15 (map showing zones in question).
The UAE's The National publishes the full text of the Russian-Turkish memorandum as submitted to the UNSC in Russian and English.
The PYD turns 15 years old.
The SAA seizes ISIS' last water resource in the volcanic field of Al Safa.
The SDF continues to make slow progress against ISIS in the very east of the Euphrates after having taken an important bridge the day before.
18 Sep. Russia has formally complained to Israel about its air raid on Monday, which led to the downing of a Russian IL-20 plane off the Syrian coast. Moscow has laid the blame for the crew's deaths "squarely on the Israeli side", which had only given a warning one minute before the attack, so there was no time to get the IL-20 out of the way of the Syrian air defense which seems to have accidentally hit it. 15 Russian soldiers were killed. Russia vows to respond. Russia also accuses France of firing cruise missiles and thus being partly responsible for the crash. France denies any involvement. (Sputnik Newsticker)
Both Syria and Iran welcome the Turkish-Russian Idlib deal.
17 Sep. Following a meeting by the presidents and defense ministers of Russia and Turkey in Sochi, a memorandum is signed expressing the intend to install by October 15 a 15-20 km wide demilitarized zone along the contact line of the Idlib zone, which will be policed by both Russian and Turkish troops. Included in this zone is the crucial M5 highway which shall be reopened by the end of the year. No further military operations are planned (Putin-Erdogan press conference).
In the evening a larger number of missiles apparently coming from the Mediterranean Sea target spots in the coastal regions of Syria. Some are intercepted by air defense while others hit. So far it is unclear who committed these acts of war.
The hacker group Syrian Electronic Army releases footage allegedly showing the planing of a fake chemical attack video by the White Helmets.
Former UK ambassador to Syria Peter Ford issues a Bluffer's guide to bombing Syria countering "talking points" developed by FUKUS "propaganda mills".
16 Sep. In local elections all across government-held Syria, over 40,000 candidates run for over 18,000 seats in local administration councils.
15 Sep. In the evening SANA reports that air defense is shooting down Israeli missiles attacking Damascus International Airport.
Another Russian Reconciliation Center warning says that several canisters of chlorine have been delivered by Nusra fighters to the village of Bsanqul.
14 Sep. According to Ziad Fadel citing Ba'ath party sources, there are a total of around 300,000 people in the Idlib pocket, 33,000 of whom are fighters. According to recent UN statements, "at least" 3 million civilians are endangered by a possible Idlib operation. Wikipedia has the pre-war 2010 population at around 1,5 million people.
SAA sources talking to Al Masdar say that there is no plan to take back the whole Idlib pocket at the moment.
Several convoys of Turkish military are spotted entering Idlib province, apparently to reinforce the 12 observation points.
The US military conducts drills with "rebel" groups in their illegal protectorate around Al Tanf.
13 Sep. The battle between ISIS and the SAA in the volcanic field of Al Safa is still going on.
The battle between ISIS and the SDF in the Euphrates green belt close to the Iraqi border is still going on. In the process the YPG says they have captured a key ISIS figure of Italian citizenship who is providing crucial information for the further fight against the remains of the terror cult.
12 Sep. SANA comes out with its own warning about staged chlorine attacks, according to which the play shall take place at several spots in Jisr al-Shughour, the al-Ghab plains and northern Hama countryside.
11 Sep. Bashar al-Assad turns 53 years old.
The Russian Reconciliation Center in its daily briefing states that today several TV teams including "a regional branch of a leading US news channel" have arrived in Jisr al-Shughour and are filming the anticipated false flag chemical attack. Ziad Fadel describes more alleged details from his sources, including the composition of the US/UK film crew and a wikimapia link to the alleged place of the scene, near the village/suburb Shughour Tahtani just north-east outside of Jisr al-Shughour.
According to Belgian researcher of Jihadi networks Pieter van Ostaeyen, a purge of Idlib "rebels" Telegram accounts occurs.
10 Sep. Research by Dutch media shows that their government has supported "rebel" groups classified as terrorists with 25 million € worth of "non-lethal aid" including pick-up trucks, starting in 2015. The government says they have stopped the program in early 2018 due to their own, similar assessment.
Robert Fisk reports for Independent from Syria and finds no military build-up in the parts of Idlib border region he traveled.
9 Sep. A certain Dion Nissenbaum in The Wallstreet Journal has proverbial anonymous US officials claiming that Assad has approved a chlorine gas attack in Idlib.
8 Sep. RU MoD: after a rebel's meeting on 7 Sep., preparations for a chemical attack provocation are to be finalized by the end of the day today, 8 Sep. (robo-translation)
According to Russian and Syrian pro-government sources (1) rebel's multiple-launch rocket attack on a Christian town of Mahardah left 10 civilians killed, among them 5 children, 23 people were injured. (2) Russian and Syrian forces delivered sustained airstrikes on rebel's positions; those were presented as in response to the rebel attacks. Those strikes are also reported by SOHR and Western media (Rusvesna photos, videos, robo-translation; Southfront; SOHR; BBC).
Iranian rocket attack on Kurdish KDP, PDKI parties headquarters in Iraqi town of Koya killed a number of people-reports (1,2, video, Cassad (names,photos, video)).
7 Sep. The Iranian, Russian and Turkish presidents are meeting in Tehran to discuss the situation in Syria and especially in the de-escalation zone Idlib, including expected chemical provocations. They produce a joint statement.
At the UNSC Ja'afari states that Syria will not bow to FUKUS threats and attempted blackmail.
YouTube terminates the SANA channel.
US Marines start training exercises near al-Tanf, inside Syria (OIR version). This follows media reports that pro-Assad coalition threatened to clear that area.
This 'conveniently-timed' report includes text (Rus) and video of interrogation of a prisoner, said to belong to ISIS, who says he was trained and equipped 'by Americans'; training claimed to occur in Er- Rubkan camp (map), in al-Tanf area. Report cannot be independently confirmed and appeared in Russian sources. Prisoner responds in a weak voice, and does utter 'Americans'. No obvious signs of mistreatment on video.
6 Sep. The new US State Department special adviser on Syria, James Franklin Jeffrey, states that there's lots of evidence that Syria is preparing a chemical attack in Idlib. "I am very sure that we have very, very good grounds to be making these warnings", he claims.
The 60th edition of the Damascus International Fair begins. Eva Bartlett reports.
4 Sep. Reports of Syrian (or Syrian and Russian) airstrikes in Idlib (Almadar, Topwar, Cassad, photos, Rusvesna). Also, Syrian reports on Israeli airstrikes in Syria.
2 Sep. In the early morning hours, several big explosions rock Mezzeh military airport near Damascus. It is first speculated about another Israeli attack, but the SAA says a short circuit led to a fire in one ammunition depot which exploded and caused several others to explode as well. They stored stuff taken from "rebels" marked to be destroyed anyway, it is said.
1 Sep. The activist known as "Syriangirl" publishes part one of a video interview with Peter Ford, UK ambassador to Syria from 2003-2006.