Syria news/Archive/2017-06
Jump to navigation
Jump to search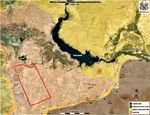 30 Jun. Syrian Army encircles ISIS forces in Khanasser region.
According to the UNHCR, almost half a million Syrian refugees, more than 90% of them internally displaced, have returned to their homes in the first half of 2017.
29 Jun. Iran confirms that ISIS leader Baghdadi is dead. (Reuters offers alternatively nuanced claim details).
Rusvesna: subsequently, Iranian IRIB TV published Bagdadi photos, claiming that he was killed. Noted: photo search gives this article in Arabic with the same photo and dated 7 Mar. 2015. Another Russian source published the same photo on 12 October 2015 (and commenting on fake use).
28 Jun. CNN: The US military has ships and aircraft in place to strike Syria if ordered to do so by President Donald Trump...The US recently observed the movement of an aircraft and chemical agents on a base toward possible preparation for an attack...(this?). More on WaPo.
US Defense Minister Mattis states that Assad must have taken Spicer's warning seriously, because "they didn't do it".
Erdogan: Turkey ready for military operation against Syrian Kurds (talk).
27 Jun. Russian sources report that in a White House press briefing Assad government was accused of preparations for 'another chemical attack' , like the one in in Khan Sheikhoun on Apr. 4 (but a transcript not found yet). Frants Klintsevich of The Russian defense committee of the Federation Council accused USA in preparing another attack on Syrian government forces. The Hill reports White House press secretary Sean Spicer said on Monday night the U.S. has "identified potential preparations for another chemical weapons attack by the Assad regime ... similar to preparations the regime made before its April 4, 2017 chemical weapons attack." Spicer explained "the United States is in Syria to eliminate the Islamic State of Iraq and Syria. If, however, Mr. Assad conducts another mass murder attack using chemical weapons, he and his military will pay a heavy price."
26 Jun. Israeli air strikes are targeting SAA positions for the third day in a row, while al-Qaeda is attacking on the ground.
The month of Ramadan ends.
25 Jun. The SAA is advancing north-east along the Iraqi border and has almost reached the T2 pumping station. The spokesperson for the US-coalition Dillon states that they welcome this development because they are not in the land-grabbing, but the killing-ISIS business and are fine with Syrian and Iranian-backed forces doing the same.
The German daily WELT publishes an article by Seymour Hersh who had contacted its publisher Stefan Aust after his former publisher London Review of Books decided to not publish the already paid for piece, because it basically confirms the positions of the Russian and Syrian government that no Sarin attack happened in Khan Sheikhoun on April 4, and states that US military knew it when they attacked a Syrian airbase two days later.
Second day of spillover fire and Israeli strikes - J. Post; Rusvesna.
24 Jun. Israel acts as Al Qaeda's air force again, and more on Moon of Alabama. However, unidentified Russian MoD source told Russian RIA that al-Nusra armored vehicles were hit; while Syrian military source did not mention military casualties or equipment losses (SANA).
23 Jun. Problems with reckless behaviour of officials adressed by Assad on Jun 20 while launching the "National Project for Administrative Reform" are reacted upon today through several arrests done by Damascus traffic police. This comes a day after news of a crackdown on looting pro-Governments militias in Aleppo reaches "Western" "analysts".
The SDF has completed the siege of Raqqa by taking al-Kamb on the southern banks of the Euphrates.
22 Jun. It is said that Russia negotiates with Kazakhstan and Kyrgyzstan on deployment of a police/peacekeeping force to Syria. A day later the Kazakh foreign minister denies any negotiations.
US Defense Minister Mattis tells his Turkish counterpart that the weapons given to the YPG would be taken back once ISIS is defeated.
The Turkish army sends large reinforcements into the Euphrates Shield zone, sparking YPG fears of an attack on Afrin canton.
Russia fires S-300 over Mediterranean Sea from the naval base in Tartus, Syria, on unknown target. Some connect this to reports of a U.S. Air Force RQ-4 Global Hawk crashing in California. Speculation is that the drone may have actually been a EQ-4 coordinating attacks against "ISIS".
The Russian Foreign Ministry now has verification through various channels and deems the death of Baghdadi "highly likely".
21 Jun. Iraq: ISIS blows up Mosul's historic Al-Nuri mosque with the iconic leaning minaret (built in 1172-73) where Baghdadi proclaimed the "caliphate" in 2014.
In an interview new French president Macron breaks with the position of his predecessors in "that I have not stated that Bashar Assad's departure is a pre-condition for everything because nobody has shown me a legitimate successor".
20 Jun. US F-15 fighter jet shot down armed Iranian-made Shaheed-129 drone after it advanced on Tanf, where US SOF trains rebels
The ceasefire in Deraa ends without the "rebels" showing interest in further negotiations. The SAA goes into offensive and captures a significant base west of the city. Hours later, they lose the base again.
The Russians have not been able to confirm the death of ISIS leader Baghdadi yet.
19 Jun. The SAA liberates Resafa (aka Sergiopolis) from ISIS. At the end of the day SANA reports over twenty towns and an oil field liberated in southern Raqqa province.
Following the downing of the SAA jet, the Russian military de facto implements a no-fly-zone for US-coalition jets west of the Euphrates ('planes will be tracked by air defense as targets'). The US-Coalition prudently re-positions its aircrafts, 'continue target ISIS', Australia halts its air strikes in reaction.
The Syrian Foreign Ministry writes two letters to the UN Secretary General and the president of the Security Council complaining about the repeated US aggressions against the SAA and calls on the UNSC to "break its silence and condemn these cowardly and reckless military actions, particularly as they are carried out by an illegal coalition, adding that this blatant US aggression can only be seen as a violation of Security Council resolutions on combating terrorism, the sovereignty and independence of the Syrian Arab Republic, international law, and the UN Charter."
The joint Syrian-Iraqi Chamber of Commerce and Industry is inaugurated in Baghdad.
18 Jun. US F/A-18 fighter jet shot down Syrian SU-22 attack plane dropping bombs near SDF fighters south of Tabqa. Also reported by SDF and Kurdish sources, and Rusvesna. SANA, Almasdar News: the plane was conducting a raid on IS positions. But a US Navy (navy.mil) statement claims Syrian forces first attacked Kurdish SDF forces, chasing them from the town of Ja'Din ("which sits approximately two kilometers north of an established East-West SDF-Syrian Regime de-confliction area" and per Peto Lucem's latest, just on the ISIS side of the line (Adam Larson tweet)). Then at 6:43 p.m., a Syrian SU-22 "dropped bombs near SDF fighters south of Tabqah" and "was immediately shot down by a U.S. F/A-18E Super Hornet" in accordance with rules to protect coalition partners. There's no claim the bombs were dropped on or aimed at the SDF fighters, as opposed to ISIS. Pilot (Ali Fahd) landed in rebel area and was located; clashes as well as negotiations with SDF were reported. Reports differ on whether he was liberated or still held prisoner by Kurds.
CBS: US F18 fired 2 missiles at range of 0.6 miles; 1st missed, 2nd blew rear SU-22 off; chute spotted
Majd Fahd: SDF now holding negotiations with the government to get the downed jet pilot back to his family
'A number of mid-range ground-to-ground missiles were fired from the IRGC aerospace force's bases in Iran's western provinces of Kermanshah and Kurdistan' on 'terrorist sites in Syria's Deir Ez-Zor' in retaliation for the June 7 terrorist attacks in Tehran - Tasnim News
17 Jun. A ceasefire of initially two days is implemented in Deraa after negotiations between the SAA and "rebel" forces operating near the Jordanian border. Part of the negotiations is said to be a reopening of Nassib border crossing which is in "rebel" hands since spring 2015.
New rounds of Syria talks in the established formats are scheduled for July 4 in Astana and July 10 in Geneva.
16 Jun. After a new wave of rumours about ISIS leader Baghdadi's death, the Russian Ministry of Defense states that they are in the process of checking whether he was among the "30 commanders and 300 militants eliminated" in a strike on a meeting on the southern outskirts of Raqqa city on May 28.
FP: Two top White House officials push for an offensive in southern Syria, while def. sec. James Mattis, military commanders, and top U.S. diplomats (Brett McGurk) all oppose.
15 Jun. The SAA is advancing along the Palmyra-Deir ez-Zor highway and has liberated the western parts of the Arak oil and gas fields.
14 Jun. U.S. moves HIMARS long-range guided MLRS rocket launchers into al-Tanf on Syria-Iraq border - Reuters. TASS quotes Reuters report, + discusses second US base being established at Al Zakaf--as claimed by a rebel leader Abu al-Atheer, but denied by the official OIR spokesman Colonel Ryan Dillon.
13 Jun. It turns out that the damage of the Euphrates Dam is not confined to the control room, but eight turbines have been destroyed and the whole machinery and equipment looted.
A military source told the correspondent of rusvesna, located in Syria, that on June 13, 2017 in the province of Hama in the vicinity of Zellakiyat, which is located on the border of the de-escalation zone, the positions of government troops were attacked by combat unmanned aerial vehicles - "kamikaze". Such drones were ordered in May by US special operations forces to fight ISIS (rusvesna infers those were the same, Switchblade, photos and video from the ground shown).
In a wide-ranging two hour podcast episode, Mark Ames and Gary Brecher interview well-connected Al Rai-correspondent Elijah Magnier.
12 Jun. Large column of IS vehicles is shown (quoting IS media wing) moving in the desert, said to be from Raqqa to Deir-ez Zor (Rusvesna, robo-translated), while it is also reported that ISIS is in mass retreatment from eastern Aleppo/western Raqqa provinces against the advancing SAA. However some of the video fragments were shown back in 2014 (0:21 here is 1:43 above, and everything after 1:43 is at the same location- same foreground white stone, distant structures, etc); see also Paveway on MOA.
The infamous Iranian General Qassem Suleimani visits SAA, PMU, (Afghan) Liwa Fatemiyoun, and Hezbollah at their new meeting point at the Syrian-Iraqi border.
11 Jun. With the beginning of the operation to liberate Raqqa, the Turkish-backed "Euphrates Shield" mercenaries have increased their attacks on Kurdish forces especially in Afrin canton, as a YPG statement summarizes.
ISIS retakes the Division 17 army base north of Raqqa in a surprise counterattack.
10 Jun. YPG fighters drive through a new liberated neighborhood in Raqqa. (In addition to Arabic, Russian text is seen on one of the buildings: институт шариата аиши -institute of Sharia AIShI).
In a phone call between Lavrov and Tillerson, the Russian FM urges his counterpart to prevent further attacks by the US airforce against the SAA.
9 Jun. Despite the illegal US attacks on their forces, loyalists are reported to have reached the outskirts of al-Tanf (town). Later reports say that the SAA has reached the Iraqi border northeast of al-Tanf border crossing and met there with the Iraqi army. (map). Video, said to show pro-government forces at the Syrian-Iraq border north-east of Al-Tanf.
Commander of Russian Armed Forces in Syria Sergey Surovikin alleges that the pattern of ISIS retreats from sites attacked by the SDF to those where the SAA is fighting is the result of collusion with the US.
WSJ: 'U.S. in Talks With Moscow on Syria Safe Zone' (free summary-Rus.) It is claimed that at least 2 secret meetings took place in Jordan. No official comment from the US or Russia.
Photos and video show phosphorous munitions use by the Western coalition in Mosul and/or Raqqa. (Coalition claims it is used for smoke screens, masking and marking).
8 Jun. ISIS retreats from the 20 villages on the southern bank of Lake Assad that separated the areas controlled by the SAA to the West and the SDF to the East.
Third US strike on pro-government forces near al-Tanf is reported (OIR spokesman), (Rusvesna),(Almasdar News)
US shot down pro-government armed drone near Al-Tanf.
Q: The drone that was shot down, was that an Iranian Shahid 129?
COL. DILLON: ... had to be pro-regime -- a regime drone. It was an MQ-1-like drone (Predator) and that's as far as I know right now.
7 Jun. Syrian Army pounds jihadi rebels in Daraa as major offensive begins
6 Jun. The SDF announces that the "Great War" to liberate Raqqa from ISIS has officially begun. It is said that US Apache helicopters and Marines are providing assistance - Sputnik quoting Capt. Jeff Davis Pentagon briefing, which actually says:
"We have there assisting in this battle Marine M777 howitzers, which are providing a significant enabling capability to our special operations forces and partners on the ground," Davis said, adding that U.S. attack helicopters, AH-64 Apaches, are also being used.
Operation Inherent Resolve press release indicates support but is less specific.
Another coalition airstrike on pro-government forces near al-Tanf - (Rusvesna), (TASS-Eng.), (Almasdar News), (video) ,(coalition statement).
It is said that in this airstrike 2 were killed, 15 wounded, 2 self-propelled howitzers 'Gvozdika', one 'Shilka' and several vehicles destroyed -report and photos.
5 Jun. Saudi Arabia along with other GCC countries cuts diplomatic ties, trade and traffic with Qatar, because of the latter's alleged support of "terrorists". Both countries have been training and funding terrorist groups operating in Syria.
In a night offensive in Deir ez-Zor, ISIS managed to break through the SAA's defense lines and is still advancing in the morning with heavy fighting and Russian Airforce bombardment going on.
Heavy fighting in Daraa area with urban and rural fighting continuing.
4 Jun. The US-supported Maghawir al-Thawra "rebels" announce that they have established a new camp in the desert half-way between al-Tanf and Bukamal at the border to Iraq "to combat ISIS".
The SDF takes Azadi Dam 20 km west of Raqqa from ISIS. In Iraq, the PMU takes the important city of Baaj near the border from the terrorist group.
3 Jun. According to military sources talking to Al Masdar, ISIS has withdrawn from Maskanah and the SAA taken over the group's last stronghold in Aleppo province. (video with combat footage).
Meanwhile the SDF takes from ISIS Mansoura town 20 km east of Tabqa.
Assad is interviewed by Indian TV (transcript).
2 Jun. The SAA continues the encirclement of Maskanah and cuts off the main supply road between the city and Raqqa.
After the "success" of Euphrates Shield, and the SAA making it to Lake Assad - are the Kurdish cantons connected or not? Somehow yes, finds this article.
1 Jun. In an interview with Al Monitor Muhannad al-Talaa, the leader of the US-backed Maghawir al-Thawra "rebel" faction, claims that there are 150 US Troops at al-Tanf base, in addition to troops of five unnamed coalition countries including two Arab nations.