Syria news/Archive/2016-10
Jump to navigation
Jump to search
31 Oct. AKP-connected Turkish newspaper Yeni Safak claims that there's a deal between Russia and Turkey that would allow the Turkish army and proxy "FSA" militias to "liberate" northern territory four times the size it already did, including the city of Aleppo from which the SAA should withdraw. In Russian media, fresh publications on Turkey apology and planned prosecution for downing of the Russian SU-24 plane.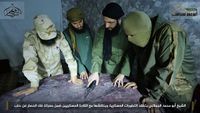 30 Oct. Al-Nusra Front publishes photographs of its leader Joulani planning the attack on west Aleppo with FSA leaders.
29 Oct. Update + ANNA news video from Aleppo.
28 Oct. Aleppo. Islamists captured Dahiyat Al-Assad district, and 1070 Apartment Complex. Elsewhere attacks were thwarted.
BBC: Syrian rebels 'start Aleppo offensive' (with Grads).
TASS: Putin declined request by military to renew air strikes on Aleppo. Russian aviation did not perform strikes on Aleppo in the past 10 days. Further actions will depend on situation on the ground. Russia reserves the right to use all means at its disposal to support Syrian armed forces.
Kerry & Lavrov discussed Aleppo
27 Oct. Russian FM published Comparative Analysis- Russia-US Agreement Implementation (pp 4-6 Eng.)
School in Syria's Idlib province not hit by airstrike, drone photos show – Russian MoD, RT report including RU MoD response, and interview with former Pentagon official Michael Maloof. UN urges inquiry-BBC.
Prof. Tim Anderson is extensively interviewed on Germany's most prominent alternative political TV channel KenFM about his book "The Dirty War on Syria" (video, English language with German subtitles).
26 Oct. The Ron Paul Liberty Report interviews Virginia State Senator Richard Black about what he learned from his recent visit to Syria (video).
At least twentytwo children and six teachers are said to have died in an attack on a school in the village of Hass in Idlib province (ACLOS page).
24 Oct. Russia24 documentary made around their interview and meetings with Asma al-Assad released (by the Syrian Presidency) in Russian with English subtitles (video).
23 Oct. ARA News: Syrian Kurds call for international support to deal with Mosul refugee influx, after thousands of civilians have already crossed the border and arrived mainly in the al-Hawl and Newroz camps in Hasakah province.
22 Oct. Turkish Armed Forces: Turkey-backed FSA soldiers have established control in 156 residential areas since the beginning of Operation Euphrates Shield.
Syrian Arab Army: Any presence of the Turkish army units across the border into Syria, under whatever excuses, is rejected and condemned and will be considered an "occupation force" and confronted with all the means available.
21 Oct. Turkish Army and their proxies attack SDF forces inside Syria "to prevent them reaching al-Bab", according to Turkish statements that claim to have killed 200 fighters. From Kurdish side the casualties are claimed to be much lower but attacks by artillery and warplanes are documented. The three-way fighting between Turkish-backed FSA, Kurdish-dominated SDF and ISIS is documented in detail on the maps by Cristian Ionita (today's map).
20 Oct. Russian Military sets up publicly viewable livecams monitoring the evacuation efforts in eastern Aleppo.
In Germany the first trial against a Syrian refugee for war crimes starts. The 25 year-old Suliman al-S. is accused of having taken part in the abduction of a Canadian UN worker in 2013 organized by the al-Nusra Front.
ISIS claims to have shot down an American A10 military jet in Margada at the border between Hasakah and Deir Ezzor provinces.
19 Oct. ARA news: Sources report several convoys of ISIS fighters plus families leaving Mosul towards Raqqa taking the unofficial Ba'aj roadway.
SANA: Fighter jets of the US-led coalition destroy two more bridges in Deir Ezzor province, one of them over the Euphrates in al-Bsira. This (see previous reports) makes it at least nine bridges over the Euphrates recently destroyed.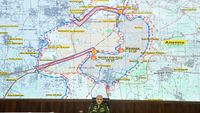 18 Oct. Russia suspends airstrikes in Aleppo prior to a humanitarian pause on 20 Oct., describing it as a goodwill gesture. First rebels are seen being evacuated from east Aleppo in a UN convoy. (video)
According to Russian Center for Reconciliation, on October 18 at about 3 am there was an air strike on the village Hassadzhek, near the city of Afrin, Aleppo province. As a result of the bombing, two houses were destroyed, killing 6 and wounding 4 people. Russian or Syrin air force did not perform strikes in that area. Air situation monitoring recorded presence of two international coalition F-16 planes this specific time and location; said to be of the Air Force of Belgium--however Belgium denied that its planes were involved.
Syria's first lady Asma al-Assad gives her first interview since the beginning of the crisis (video).
17 Oct. A day after the beginning of the operation to liberate Mosul from ISIS, which will likely cause a flood of fighters and/or civilians into Syria, Rudaw has a handy Mosul factsheet.
16 Oct. RT's Oksana Boyko interviews Mokhtar Lamani, representative of the UN-Arab League mission in Damascus from 2012 to 2014, who resigned over a lack of political will towards a national reconciliation he saw back then and still sees today (video).
Turkish-backed militias take over the symbolic village of Dabiq in northern Aleppo province from ISIS. The Turkish foreign minister declares that they intend to go south and take Al-Bab next.
13 Oct. Al Masdar: 4 children killed and 5 wounded in "rebel" shelling of Al-Ta'ai Grammar School in Suleimaniyeh District of western Aleppo city.
Rudaw/Raqqa_SL: 10 Buses and 35 SUV Chevrolet with Iraqi Plates arrived in Raqqa full with ISIS fighters and their families.
Assad was interviewed by Komsomolskaya Pravda (transcript).
12 Oct. US and Russia to resume talks on Syria-BBC.
Kerry, Lavrov to meet in Switzerland on 15 Oct. Saudi Arabia, Turkey and Iran are also expected to attend.
...'despite war crimes row'...no longer in the context of ...U.S. military cooperation with Russia ... (Reuters).
11 Oct. Jawad Abu Hatab, the "prime minister" of the "Syrian Interim Government" of the western-created external opposition construct "Syrian National Coalition" is interviewed by Al Monitor.
SANA: Among other things, the Cabinet discusses the reasons behind the rising prices of eggs and the decreasing prices of chicken meat.
10 Oct. Putin and Erdogan meet on the sidelines of the World Energy Congress in Istanbul. According to public statements by both, Operation Euphrates Shield was discussed and on Aleppo it was agreed to do everything needed to deliver humanitarian aid to the people of the city. According to Putin, he informed Erdogan that the US refused to use their influence for a plan to make both the Syrian Army and "rebel" forces withdraw from Castello Road to make it a save path for aid to inhabitants of both parts of Aleppo.
9 Oct. Basma Qadamani, Member of the delegation of the Syrian Supreme Commission for negotiations calls for unilateral American intervention to save Aleppo (alhadath.net, Arabic), (TASS, Russian). Western sources report (aa.com.tr, English) a call to impose EU sanctions.
7 Oct. SANA: Fighter jets of the US-led coalition destroy the al-Syasia Bridge, the largest one in Deir Ezzor, which makes it a total of eight Euphrates bridges in the province recently destroyed by that coalition founded to fight ISIS.
6 Oct. TASS source: Russia (rolling UNSC chair) calls for UNSC meeting to discuss Staffan de Mistura initiative on withdrawal of militants from Aleppo. The meeting occurred on 8 Oct.
Reuters reports Syrian army promises to ease airstrikes in Aleppo after criticism.
"Edward Dark", inhabitant of Aleppo: Rebel shelling of Jamilieh market in west Aleppo leaves 10s dead & wounded today. [pics]
A high-ranking member of the government of Syrian Kurdistan (Rojava) states in an interview that for them to march on Raqqa as the USA wants, they demand political support for their model of democratic federalism and representation in full delegation strength at the negotiations in Geneva (against the will of the Turks, Saudis etc).
Assad was interviewed by Denmark's TV2 (transcript).
5 Oct. SANA: 100 kg (600,000 pills) of Captagon confiscated in Damascus.
4 Oct. "Secret operation in Aleppo - Turkish special forces are preparing to de-block the surrounded militants", Rusvesna, (robo-translation) .
3 Oct. U.S. suspends talks with Russia on Syria ceasefire, Reuters.
John Kerry Consults with Russians on Syria Less Than 48 Hours After Suspending Ties, Foreign Policy, 5 Oct. 2016
2 Oct. Firat News: Democratic Syria Debate Platform in Girkê Legê with 160 representatives of opposition groups ends with calls for a federal system and a solution without international powers.
Obama Warned to Defuse Tensions with Russia-"Consortium News"
A group of ex-U.S. intelligence officials is warning President Obama to defuse growing tensions with Russia over Syria (discussion)
FARS News: In attacks on two separate days fighter jets of the US coalition destroyed a total of four bridges over the Euphrates in Deir Ez-Zour province: al-Shihan Bridge, Tarif Bridge, al-Asharah Bridge and al-Mayadin Bridge. (Statement by al-Ja'afari at the UN)
basnews: According to SOHR statistics, 3,686 people, among them 1,228 civilians died in hostilities in Syria in September 2016. For Iraq, their number is 1,003, the majority of them civilians (609).
1 Oct. 'Fierce fights in historic Aleppo', report and video, Kurdistan-Insider.com.
"US Bases in Syria"? Are there any? What says congress? And international law? Check the new ACLOS article.
In this video, Virginia State senator and a retired marine colonel Richard Black provides a brief and clear explanation of the situation in Aleppo in recent months (consistent but easier to grasp than our more cryptic presentation here). He points out that created by media impression that regime forces are fighting civilians and little dusty boys is wrong, and it is in fact up against up a large, motivated, and well armed rebel military force, which is essentially al Qaeda. Further he points out that regime has offered free exit to civilians and rebels laying down arms, and has a history of such sort of arrangements in the past. This is in fact the rebels preventing such exit, and pressure has to be applied to rebels, not the regime.
Note. In a recent interview, Bashar al-Assad has stated that full amnesty is given to rebels laying down arms. In automatic translation, it says for the second question about the possibility of dialogue with the armed groups to give up their arms, the answer is, yes, this is what we have applied, "both decided to lay down its arms we made them a full pardon, we were flexible to the point that we surpassed even the law, the law does not absolve the terrorists from their business, however, and in the interest of the people and to stop the bloodshed, we provide amnesty.
Chlorine use accusation was made by rebels, Oct. 2, 2016 at 5:45 AM report.
Syrian military intelligence source to Rusvesna: "terrorists are preparing a bloody provocation -a chemical attack to accuse Russia" (robo-translated here), Oct. 1, 2016 at 21:49 report.