Shumariyeh Massacre
Jump to navigation
Jump to search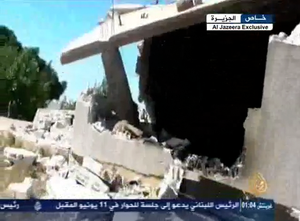 Shumariyeh massacre refers to the alleged execution of about ten civilians including children in the town of al-Shumeriyeh, Homs on May 25, 2012. It has been until now entangled with the same-day Houla Massacre several kilometers north, and totally obscured. Rebel reports never mentioned it, but early government reports had members of two families killed there by terrorists, and no one disagrees it's a predominantly Alawi (Alawite) village. As Tony Badran noted for Now Lebanon: "There is an Alawite village by the name of al-Shumariya, near Houla, which the regime's media and its third-party amplifiers claimed was attacked by "armed gangs."" He too claims it was attacked, but by armed rebels, in revenge for Houla, and only with RPGs or mortars from afar (see below). [2]
What happened there that day, and over the following year is not clear, but rebels held al-Shumeriyeh and used it as a base for attacking other places, from whenever until early May, 2013. On the 8th-10th of May, government re-claimed it as part of closing all the exits in their campaign to reclaim nearby rebel hotspot al-Qusayr. Clearly it had ceased to be an inhabitable Alawi village by then.
Much of this page's content is repeated at (copied from) the page Houla Victims: Shumariyeh/Shomaliya as the original; confusion was that this town was an Alawite family Shomaliya who lived in al-Houla, rather than an Alawite town attacked the same time as Houla. See also the talk page for some overflow material and discussion.
Location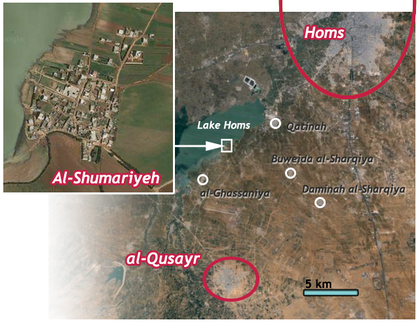 It's nowhere near al-Houla, really. Al-Shumeriyeh is a small town on the south shore of Lake Homs/Lake Qattaniah, here on Wikimpaia, 11 km due north of rebel hotbed al-Qusayr, as the inset map shows. The Wikipdia page for al-Quayr includes a list of localities in the sub-district; one is al-Shoumariyah, population 713, and it gives the Arabic spelling: الشومرية. Ash-Shumeriyeh is also correct, and there are different ways of transliterating it, like Shoomeriyeh. Google Translate for some reason gives "Comreh" at the moment.
Pro-government Syrian sources didn't do much to help locate the place; the initial reports were confusing and made it sound like Shumeriyeh was next to or even in al-Houla (see talk page) or, as explained above, that it was an Alawite family in al-Houla.
However, they did provide a clue we missed early on that might have suggested this area: An official stated that the attackers for the twin massacres of Houla and Shumeriyeh came "from al-Rastan, Talbiseh and al-Qseir (Qusayr)," with the first two near Houla and the last way too far away to be involved in that immediate area. It seems that the Shumeriyeh part only was managed by them. Petri found in this image search four photos showing "Free Syrian Army fighters from the Farouk Brigade in Al Qusayr, Syria, prepare for battle April 18, 2012. (David Enders/MCT via Getty Images)." Channel "Farouq batallion" posted the al-Jazeera video from Shumeriyeh a little over a month later (see below). [1]
Rebel-Held?
The town was mentioned as rebel-held in a May, 2013 report about a neighboring Christian village, Ghassaniya, that had repeatedly been attacked from rebels there. France 24, May 12 "Just two kilometres from Ghassaniyeh lies the remains of the village of Shomariyeh where, two days earlier, the regime army had routed rebel fighters." An al-Mayadeen al-Mayadeen video of May 9 by Tariq Ali shows scenes of this, with some detailed info in the description about regaining "control over town Shumeriyeh in the Qusayr countryside after several months of fighting..." Some rebel sources denied this: on May 9 bland text announced (in Arabic) at syrianarmyfree.com rebels just then "liberated" Shumeriyeh and neighboring Alsalumah inflicting heavy losses on "Shabiha" and "Hezbollah" forces.
Just when this continuous occupation began is far less clear. In the days after the 2012 alleged attack and massacre, it seems SANA was able to film alongside army units. But there was also video filmed before May 29 for, and shown by, al-Jazeera (exclusive) of damaged villages Shumeriyeh and Alsalumah. This was re-posted by "Batallions al-Farok" and seems to show rebels in control, claiming to be the inhabitants, blaming the regime for what happened (translation perhaps forthcoming). Shown: a blasted-open home, heavy damage, heavy metal door flattened, burned interor - cattle slaughtered in a barn and in the field - emptied home or mosque courtyard, items removed: large rugs, buckets, a wall painting of classical Arabic writing. [1]
On Sept. 22, 2012, the opposition SOHR reported "In Homs Province 7 civilians were killed," including "a man, when regime forces raided the Shumariya village." [3]
Victims
Victims Then? Two Families
(Initial info from SANA and similar sources) (moved from Houla Victims: Shumariyeh/Shomaliya) There are no victims acknowledge by rebel sources from that area. The list includes Al-Sayeds on Main Street, Abdul Razaqs on Saad Road, and a few scattered others, plus Army "defectors." If any number of people (as "families" suggests) were killed in a related village, they weren't acknowledged that way. One possibility is that the victims from Al-Shumeriyeh, say there were 18 of them, were mixed into some other tally. There was an extra abundance of dead Abdulrazaqs, a reported 62, most or all from from the homes on Saad Street. One possibility,if a faint one, is that the victims from Al-Shumariya wre among those we saw, laundered into some expanded or wholly fabricated Abdulrazaq family.
Or, they just didn't get listed (next section). --Caustic Logic (talk) 11:57, 22 October 2013 (UTC)
According to Syrian state sources, there are numbers and even names (apparently) attached to these victims. One video (channel unclear, possibly SANA, English version) reported on May 26 a "Terrorist Massacre against Two Families in al-Shoumariyeh Village in Homs," as the text description says (note slightly different spelling). The announcer describes as "related news" to the Taldou (Al-Sayed) massacre they knew of, "an armed terrorist group burned a number of house in Al-Shumeriyeh village in Homs countryside, committing the horrible massacre against the two families of Mohammed [Abu Nehi?] [Al-Binawi?] (phoenetic) Abdullah and his wife and his six children, and [Rata Velo?] and his son in the village." [4] The names are spelled out properly in the SANA text report already cited: "a source in the province told SANA reporter that terrorist groups from al-Qaeda perpetrated two appalling massacres against families in al-Shumariyeh village ... the terrorists brutally killed Mohammad Abdul-Nabi Abdullah, his wife and six sons in addition to the citizen Rateb al-Oulo along with his son.[5]
That would make ten victims, including at least some children (some sons can be old enough to barely count as kids). However, as noted above, Dr. Al-Ja'afari told the UN, based on whatever information, that "dozens" were killed here. [6]
Other Sources
The opposition CDV database does not show any of these victims (trying various spellings and other tricks) or anyone dying in Shumeriyeh on the right day or in fact ever. It shows no deaths in or of people from Shumariyeh, even with their spelling Shoomeriyeh. I know their spelling because they list a guy who worked there, but died and perhaps lived elsewhere nearby. Hashem Youssef Nassour, teacher at Shumariyeh school, died Sept. 27, 2011, by shooting, at Qotayneh road (likely just outside town, headed northeast towards Qataniah). Another database, CSR-sy (Arabic) shows one person died in الشومرية: Abdelrahman al-Sayeed - born in al-Shumeriyeh, died there too June 10, 2012 "as a result of the bombing." But otherwise, the town doesn't appear in these opposition records of Syria's bloody new geography. Interesting it's an Alawi town sitting in that blind spot.
One interesting possible exception appears in the CDV database - a man of rather similar name to one victim, listed as living in the area and dying just a day or so too early to match. Consider "Mohammad Abdul-Nabi Abdullah," killed with his wife and six sons, compared to Mohammad Abdullah Al-Zehouri, 65, married, Qosair, no family reported dying with him. The entry explains:
His home was located near Sweid checkpoint that belongs to the regime forces. He was shot by a sniper stationed at this checkpoint. He went out at 1 am to throw the trash because it is dangerous to do that during the day since the regime forces spread during the day. He was then shot in his abdomen and was transferred to a hospital where he died.
A mention by loyalists, at breakingnews.sy May 24: Mr. Zehouri is a civilian killed in Homs, among the military and civilian martyrs "for the sake of the nation and the earth" (Gtrans). Arabic name: محمد عبد الله الزهوري - Another database lists him: CSR-sy "accident Detail" agrees on May 24, same basic story. An Arabic Name search there shows an unlucky Zehouri family, always listed Quseir: Mahmoud Rez al-Zehouri recorded April 21, 2012 - "His body was found missing several months before a security barriers - The body has been identified from the skull, teeth and clothing." May 31, 2012: another one "died of his wounds in Lebanon, where it went out for treatment." Always dying before treatment. (video: https://www.youtube.com/watch?v=PI5B_QujlN0)
Otherwise, there was reported violence and civilian deaths in the area per the CDV: May 25. Several May 26, killed by shelling, in nearby Qosair: Bwaida Sharqeye, Qosair: Dumeineh Sharqeye, and Qosair: Dabaa. In Qosair: Salhieh (haven't located), two unidentified men reported killed by "detention-torture" - the bodies "showed signs of torture ... found near Salhieh junction," May 24.
Possible Victim-Video Matches
Moved from Houla Victims: Shumariyeh/Shomaliya
There are at least three body arrays that stand out as possible matches with the Al-Shumeriyeh victims, one set or another, or both.
One unusual crime scene that appears in the rebel video record, but only in still images, which featuring ten bodies - five children (uncovered), five apparent adults (covered). (See Houla:Victims#At_Least_10_Bodies here). The children a terror to behold, having been quite brutalized. There have been no clear matches between these kids and those seen later collected at the mosque. That doesn't mean they weren't taken there, just that it hasn't been verified. It could be that one of the Abdullah children as well as Mr. Al-Oulo's son were both adults or considered that and laid with them,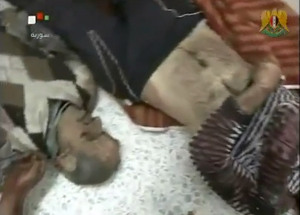 Two other possible matches are shown in only one place yet known: a SANA video of May 27 also showing the more well-known victims left behind at Aref Al-Sayed's house. Like the Al-Sayed family, filmed by SANA May 26 and otherwise absent from activist videos of the night before, both of these sets of bodies might have been left behind by, or unavailable to, the opposition. If so, unlike the Al-Sayeds, the opposition never claimed them or arranged with the UN to have them handed over by the government forces ostensibly controlling the area. In fact, they were apparently never mentioned at all.
One display of bodies is shown by SANA underlaying the description of the victims at Al-Shumeriyeh, where "the dangerous terrorist escalations also prevailed." The names rattled off are hard to make out, but sound pretty consistent with what we have. In the video here, at 6:25, adults predominate, and they're less arranged (few blankets), although not in their original places of death either (not enough blood). Four men of different ages, including one gray-haired man (Mr. Al-Oulo?) and a slightly older woman in black are shown. It's not clear who shot the footage, but it's very rare or non-existent in rebel postings. The number of adults seems to be a mismatch with the families outlined as dying there.
The same video also features at 2:29 yet another scene, in a different spot, that could also be match - a man and a woman, partly shielding at least three young children, probably four of them or perhaps more, on two couches in a well-outfitted living room. The number isn't a clear and full match with the Abdullah family (both parents, six children), but again this unusual scene was shown with the bodies in situ by SANA, and never in opposition videos. It's laid over an explanation of the killings in Taldou, confusingly treated as separate from both Houla and Shumeriyeh.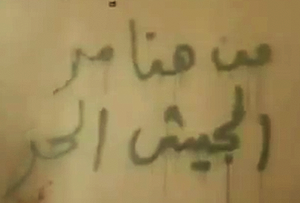 Wherever it is, the slogan painted on the bullet-scarred wall behind them (see inset) is of great interest. As explained on the Talk page, the phrase painted here seems to have a single best reading (not definitive, pieced together here by a few non-Arabic speakers): "من هنا مر لجيش الحرة". The top line seems to be a common phrase in rebel graffiti and slogans, roughly translating "from here over" (Google translate), usually seeming to mean from here on out, forever. The bottom line seems to say, most likely, Al-Jeesh Al-Hurrah, Free Army, common shorthand for the FSA. It cant' be known for certain who scrawled this message, but it apparently says "from here forward, Free (Syrian) Army." It could be arrogant rebel fighters as it literally reads, or Shabiha copying their call sign, as another rebel video at 2:19 alleges they did when attacking a pet store in August.
A Retaliatory Attack?
Moved from Houla Victims: Shumariyeh/Shomaliya
Why would the Alawite Shabiha stray over to an Alawi family/village during their genocide against the Sunnis in Taldou? Of course that makes no sense, and explains why, if there was an attack there, it has been down-played and obscured by opposition-fed sources.
Tony Badran derided the government claim that Al-Shumeriyeh "was attacked by 'armed gangs.'" But he followed that with an acknowledgment that this Alawite village was attacked, actually, by rebel forces.
However, even some pro-regime websites noted that what had taken place in al-Shumariya was in fact a reprisal operation that lobbed RPG and possibly mortar rounds on the village after the Houla massacre had taken place. In other words, it may have been, at best, a retaliatory attack, especially since the onslaught on Houla was launched from Alawite villages. [2]
The sources saying that remain unclear at the moment, but they mention nothing about home invasions or massacring whole,families. This reprisal couldn't have happened long after the massacre; SANA was talking about an attack on Al-Shumariyeh on the 26th, just hours after the main massacre wrapped up late at night, about as the UN monitors arrived, the dead were buried, and as the Army was trying to re-gain control of their overrun posts. Including, perhaps, the one that would have allowed access to that little village we know so little about.
While Badran can see the revenge part of this, being an Alawite village that could spawn Shabiha, the rebels also never specify the attack on May 25 came from this village itself. They point the finger to the southwest, never talking publicly about this place one way or the other.
References
↑ 1.0 1.1 1.2 re-posted by تقرير محمود عرابي عن قرى الشومرية والسلومية.flv Al-Jazeera news broadcast, re-posted May 29, 2013 by Batallions al-Farok
↑ 2.0 2.1 Defensive PropagandaTony Badran, Now Lebanon, June 14, 2012
↑ Syria News 26 May 2012. Syrian Official Tv Channel Published on May 26, 2012 by SiriaNews (1:35 mark)
↑ Syrian Arab News Agency, May 26, 2012 See also: U.N. condemns Syrian killings; toll in massacre rises as violence goes on CNN, May 27, 2012.
↑ Dr. Bashar Al-Ja'afari, in response to UN resolution on al-Houla Massacre. 28 May 2012Published on May 27, 2012 by MrGeourg or Dr. Bashar Al-Ja'afari, in response to UN resolution on al-Houla MassacrePublished on May 27, 2012