Russian security proposal of 2021
Jump to navigation
Jump to search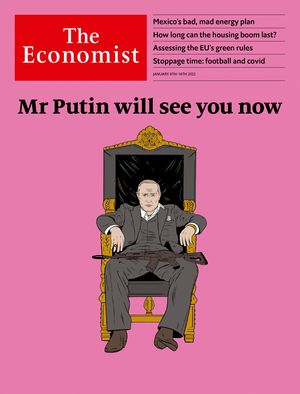 On December 17, 2021 Russia published a list of demands for avoiding war with NATO - RU FM statememt (Drafts: USA, NATO), BBC, TASS En, TASS Ru, Saker Analysis: MofA, Orlov, Saker, John Helmer, Buchanan, Patrick Armstrong, Russian media. EU responds: "Only winners can make demands."
Russian thinking
Russia has focused its mind: the country and the world on the eve of great changes - Igor Kazenas, Russtrat, November 21, 2021
Russia's powerful response to the US: Matveychev revealed the Kremlin's strategic plan, Free Street, YouTube, via [Rusvesna, January 21, 2022

RU MP Oleg Matveichev talks about possible Russian steps after (predicted/predictable) failure of negotiations: (more?) nuclear weapons in Kaliningrad; strengthening Russian triad; projections in Venezuela, Cuba; Russia-China-Iran alliance (presented as economic, including trade routes to India, etc); deploying weapons in Chukotka/Far East --Resup (talk) 18:17, 22 January 2022 (UTC)

Putin names possible reason for Russia-NATO war - RT, February 1, 2022
News
Western reactions
Negotiations
Response?
Allegedly, US and NATO responses were leaked in Spanish media.
Possible Russian actions
We've Seen the Ultimatum, What Is the "or Else"? - Patrick Armstrong, December 21, 2021 (mirror)
Rabobank: Russia Is Prepared To Declare Economic War On The West, Inflicting "Huge Economic Pain" - Michael Every, ZeroHedge, February 2, 2022
As West refuses to back down, what is Russia's next move? - Ivan Timofeev, RT, February 4, 2022
Analysis