Taldou
Jump to navigation
Jump to search
Taldou (also spelled Tall Daww, Taldo or Taldao, Arabic: تلدو) is a town in the Houla region of northern Syria, north of Homs in the Homs Governorate. Nearby towns include Kafr Laha to the north and Kabu to the southwest. In 2004 it had a population of 15,727 according to the Syrian Central Bureau of Statistics.[1] Taldou was the scene of the Houla massacre in which 108 civilians, including 49 children and 32 women, were killed, allegedly by Syrian Army shelling and ground attacks by pro-government Shabiha militiamen, while Syrian government had accused extremist Islamic groups for perpetrating the massacre.[2]
Clock Tower
A central feature of all Syrian cities and towns. Marks the central point. In Taldou the clock tower is located at the intersection at the northern end of Main Street, south east of the Al Shohada mosque. Renamed by revolutionaries as "Freedom Roundabout"
Revolution Square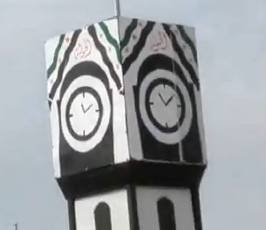 A piece of waste land in the intersection of a side street and a dirt road in the northern part of town near the new mosque. The center of rebel-held Taldou, a site of weekly anti-Assad protests. Symbolically raised to the status of "town square" with the erection of a mock clock tower replica.
The burial site of the massacre victims.
Public buildings
Mosques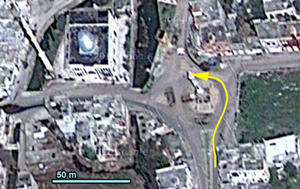 Al Shohada mosque
Also "جامع الشهيد باسل الاسد" – Mosque Martyr Basil al-Assad
"City Mosque" in central intersection, next to clock tower. UN meeting with FSA Major Jihad Raslan is held in mosque. (Video shows inside view.)
Ali Bin Al Hussein mosque
Located in northern part of town, possibly poorer neighborhood. Built some time between 2007 and 2010.
Old mosque
Faith mosque
530 meters east of clock tover. Shelled on April 5th, 2012.
Al Arbad tomb
Around three kilometers north-northeast (map) of the Taldou roundabout, on the outskirts of Houla area.
National Hospital
West of Main Street, at the southern end. Water tower. (There is another water tower north west of the City Mosque.)
Schools
Main Street school
Built in 2004. Overlooks National Hospital
Rebel snipers set up positions in school to target National Hospital
Damage to school from return fire.
School 2
On main road to Kafr Laha
School 3
West of "Revolution Square"
Water tower
Army posts
Army and security positions as pinned on Google Earth maps and uploaded to Facebook on May 16th by the Arabad bin Valid Battalion:
References