Rebel possession of chemical weapons
Jump to navigation
Jump to search
For further details and discussion, see the talk page. (To see what is hot, see recent changes)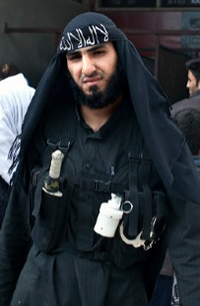 Rebels admit to using chemical weapons?
There are many claims of the rebels admitting to using or possessing chemical weapons. Here is one such video: -- Petri Krohn (talk) 12:23, 7 September 2013 (UTC)
So this is a second story, not a new find: Video: Syrian Rebel Admits Using Chemical Weapons --Caustic Logic (talk) 23:25, 13 September 2013 (UTC)
Arrests in Turkey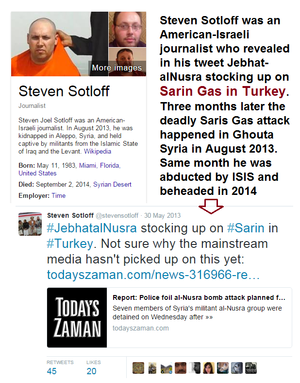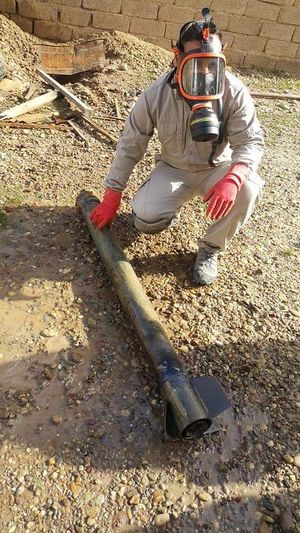 Suspects released & cover-up
OPCW
I am reading this summary of the New York Times article by Finian Cunningham:
What Cunningham is saying, and what I also inferred from between the lines, is that the Syrian government has admitted to the OPCW that is has lost control of one or more of its chemical weapons storage sites. The implication is that ISIL / al-Nusra Front / Liwa al-Islam now has access to unlimited supplies of sarin, far more than would be needed for the Ghouta CW attack. -- Petri Krohn (talk) 22:55, 17 October 2013 (UTC)
Well, it has turned out quickly that most of the stocks are of unweaponized "precursors" which might rot in some underground facilities the "rebels" might not have access to even when they hang around on the airfield on the surface ... so maybe it's not that dramatic, but I also have a hard time imagining how the process of visiting those sites should function. --CE (talk) 23:15, 17 October 2013 (UTC)
November 2013
OPCW experts have so far visited 21 out of 23 chemical weapons sites across Syria. The two remaining facilities are currently too dangerous to visit due to military action between government forces and Islamist rebels.
According to the watchdog, chemical equipment from the unvisited facilities was moved to sites where the inspections were performed.
November 2014
RT's Oksana Boyko interviews Sigrid Kaag, the former (because of successful result against all odds) head of the UN-OPCW mission for the dismantling of Syria's chemical weapons. Now that's an impressive person. Some insights into behind-the-scenes diplomacy that counters the daily doom & gloom in the usual reporting about geopolitics. --CE (talk) 22:32, 27 November 2014 (UTC)
Sources
September 2014
2015
2016
2017
Saudi-Made Chemical Weapons Were Delivered to Al Qaeda Rebels in Aleppo, Discovered by Syrian Forces - Alwaght, via Global Research, January 11, 2017

Bags of material from Saudi company Sachlo were found in liberated areas - believed to be chlorine-related (company makes chlorine and aluminum)

Saudi King Sanctioned Chemical Weapons Use in Syria - Steven Sahiounie, AH Tribune, January 16, 2017

Long timeline of facts and allegations, some perhaps new to us. In particular, under Summer, 2012, is this detailed entry:
Zahran Alloush, the late commander of Jaysh al-Islam (Saudi Prince Bandar bin Sultan's personal brigade in Syria) was one of the terrorists who had close relationship with Saudi intelligence services. Alloush was an expert in rocket attacks, and he bought 500 kilos sarin gas and cyanide, with an officer named Ayhan in the Turkish intelligence agency, from one of the countries of the Caucasus and an Eastern European country. He transferred these chemicals through Turkey into Syria. Saudi officials paid the cost of buying toxic gases through the local staff of the Embassy of Saudi Arabia, to the sellers of toxic gases account. The chemical gases were transferred to Turkey and Lebanon. The four cargoes came under the guise of petrochemicals into Syria. One cargo from Turkey and three others from North Lebanon were transferred with the help of a political character associated with Saudi Arabia.

Original story about Saudi role and Alloush importing sarin appeared on two websites (veteranstoday.com and middleeastpress.com) on 29 August 2016. Both sites are conduits for Iranian disinformation. The story doesn't add up, but its recycling may be a sign that Iran and its allies want Saudi, rather than Turkey, to be blamed when the CW false flag story breaks. Pmr9 (talk) 00:03, 20 January 2017 (UTC)
2018
2021
Islamic State
Chlorine
With Friends Like These: US Stalls Kurdish Offensive Against Daesh in Iraq - Sputnik, February 12, 2016

Sometime after the interview, d'Aymée also sent word that Daesh had deployed chemical weapons against his unit.
"Daesh started shelling us with makeshift chlorine shells, and we only have medical masks for protection," he wrote. "The medics were working all night. I hope that answers your question about the use of chemical weapons by Daesh."
Mustard gas
Attacking Europe?
British Minister claims ISIS planning chemical attack in the UK - Al Masdar News, January 1, 2017

"The ambition of … Daesh (ISIS) is definitely mass-casualty attacks. They want to harm as many people as possible and terrorize as many people as possible," Security Minister Ben Wallace emphasized in an interview published Sunday by the UK-based Sunday Times. "They have no moral objection to using chemical weapons against populations, and if they could, they would in this country. The casualty figures that could be involved would be everybody's worst fear," the minister noted. "We have certainly seen reports of them using it in Syria and Iraq [and] we have certainly seen aspirations for it in Europe."