Rebel Clinics and Hospitals
Jump to navigation
Jump to search
For further details and discussion, see the talk page. (To see what is hot, see recent changes)
Al-Quds Hospital, Aleppo
This famously often-destroyed clinic gets its own page here. See Al-Quds Hospital, Aleppo
Sarmin - October 2015
Aleppo - 11 Febuary 2016
Yesterday, Pentagon spokesman Colonel Steven Warren, sitting in Iraq, said the alleged Russian aircraft bombed during day time two hospitals in Aleppo. As a result, he said, supposedly about 50 thousand Syrians have been deprived of essential services for them. Spokesman could not squeeze from himself anything more on the subject. Neither the time nor the origin of these hospitals or sources of the information. Just nothing.
We had a night to scrutinize this information.
When such nonsense is said by human rights activists in London - is one thing. But when it is said by a Pentagon official, who has positioned himself as a military professional - a completely different situation.
We have carefully analyzed the data on targets, which were affected yesterday in Aleppo province. First of all, to disappoint Colonel Warren upset - he guessed wrong. Russian planes did not work yesterday in Aleppo area . The immediate aim was more than 20 kilometers from the city.
And over by the city yesterday only actively flying aircrafts were from the so-called anti-IS coalition: aircraft and attack drones. As promised to our American partners, we will no longer hide this information.
Yesterday at 13:55 Moscow time from Turkey, on the shortest course right on Aleppo, two "A-10" attack aircraft of the US Air Force entered the Syrian sky and fully 'worked' on the targets in the city. Colonel Warren somehow did not advertise this fly-by in direct and, incidentally, in a figurative sense, too.
Let us not be like the American colonel, and to be honest: we had not have enough time to accurately determine the identity of those 9 objects they bombed yesterday in Aleppo. Perhaps among them were 2 hospital. We will take a closer look.
But the situation is one to one similar to that when the Americans bombed a hospital in Kunduz, Afghanistan, or the position of the Iraqi Army in Fallujah. The first thing they do - they throw allegations against us to take away all suspicion.
If this deal goes further, then soon we will have to hold two briefing, first for ourselves, and then for those guys from the coalition, who consider themselves professionals.
Department of Defense Press Briefing by Col. Warren via Teleconference from Baghdad, Iraq, Feb 10, 2016
Maarat al-Numan - 15 Febuary 2016
News
Syria crisis: Hospital strike deliberate, says MSF - BBC, February 15, 2016

Seven people have died in an air strike on a Medecins Sans Frontieres hospital in northern Syria, the organisation said, calling it a "deliberate" attack. MSF blamed Syria's government or Russia for the raid in Maarat al-Numan. There has been no independent confirmation.
A further eight people are missing from the strikes, the medical charity said. Separate strikes on a hospital in the same town, as well as on two more hospitals and a school in Azaz, killed at least 12 people, reports said.
+ Staged photo: A child is evacuated from the damaged hospital in Azaz

Data Shows Airstrikes on Syrian Hospital Launched by US-Led Coalition Jet - Sputnik, February 16, 2016

Airstrikes on a hospital affiliated with Doctors Without Borders, or Medecins Sans Frontiers (MSF), and a children's hospital in Syria were carried out by aircraft departing the US Incirlik Airbase in Turkey, a member of the Russian upper house's Committee on International Policy said Tuesday.
[ttp://news.yahoo.com/msf-seeks-independent-probe-bombing-syria-hospital-101501368.html MSF seeks independent probe] Reuters via Yahoo News, February 18
According to accounts from medical staff onsite, four missiles struck the hospital in an attack lasting about two minutes. Forty minutes later, after rescuers arrived, the site was bombed again," said Dr. Joanne Liu, international president of the medical charity.
"This attack can only be considered deliberate. It was probably carried out by the Syrian government-led coalition that is predominantly active in the region," she told a news briefing.... "The only thing predominantly in the region is the Syrian government-led coalition."
"We would like the facts to be established, we are open for other mechanisms for an independent investigation," she said.
MSF said it had not provided the hospital's GPS coordinates to Syrian or Russian authorities, at the request of local staff. "In Syria the problem faced by medical staff is if you give GPS (coordinates), you indicate where you are, they think the chance to be targeted is higher," Isabelle Defourny, director of operations for MSF France, told the briefing. "It is known that providing humanitarian assistance inside opposition-controlled areas is something which is criminialized by the Syrian government," she said.
Activist sources
Russian MoD
Russian MoD response (Eng), Feb 16, 2016. Claims that this is propaganda 'cooked up' on February 10, in/by Turkey; and that there are no known hospitals by 'Doctors without borders' in the area, at best they are only 'supported' by the organization.
MSF described the facility as an MSF supported hospital.
Analysis
Syrian ambassador to Russia blamed Western coalition for the February 15 strike-Kommersant and Rusvesna.
However...
MSF, Feb. 15, 2017: Hospital bombings: Building evidence with images With the "forensic Architecture team," * they re-visit the case, hoping to settle controversy with a clear, video-analysis-based answer that Syrian-Russian air strikes did kill 25 in that hospital.
Forensic Architecture, MSF explains, "collects and analyses images taken of a crime committed by a State to establish the facts and ascertain who was responsible." So they might tend to ignore the possibility of guilt by any non-state actors.
Monitor on Massacre Marketing: Analysis of that report (long and rambling). The aircraft can't be clearly identified, but the strikes seen on video don't appear obviously criminal, like those on a false-flag mission would be (as the allegations of Feb. 11 would suggest, if applied again). In summary, this analysis finds:

One unseen incident, possibly not even an airstrike, did obliterate the building described as the MSF supported hospital. The aftermath is seen on 2 videos, heavy black smoke rolling up. The hospital director said there were 2 attacks at 9:02 and 9:05 am, both airstrikes.
About 40 minutes later, an apparent air strike is filmed, hitting targets about one kilometer or so to the southwest. Rescue workers at the hospital take cover. Follow-on explosions might suggest an ammunition depot was hit, some distance away. This is what MSF describes as "confirming" the Syrian government's "use of 'double/triple tap', i.e. repeated bombing of the same target at close intervals – a clear illustration of the relentless persecution of civilians and relief organisations in Syria."
The hospital director then re-located himself and some patients to the National Hospital in Maarat al-Numan, arriving around noon, he said. It was just "moments" later when another air strike happened there. By video, it seems a jet drops two bombs in that area. The video analysis seems well-done, and indicates the hospital wasn't hit, only an area on its grounds, and a road to the south. With little to target there, this might be aiming at vehicles near the hospital, or a bad miss when aiming for the hospital itself.
The fatalities, as listed, are a bit suspicious. Several men of three families (with no women or children) comprise half the dead (a frequent sign that these were possibly hostages).
Aleppo, April 28, 2016
(report is the 28th, alleged attack was the 27th) "MSF says deadly air strike hit Aleppo hospital", BBC, April 28, 2016
At least 14 patients and three doctors have been killed in an air strike on a hospital in the Syrian city of Aleppo, the charity Medecins sans Frontieres (MSF) says. Among those killed in the MSF-supported al-Quds hospital was one of the city's last paediatricians, MSF said.
See also Al-Quds Hospital, Aleppo#April Attack Questioned
Aleppo, July, 27 2016
4 hospitals hit "as a result of the escalating series of aerial attacks taking place against health facilities in Aleppo by Syrian and Russian warplanes", claims a source, quoting some 'Independent Doctor's Association'. Men in warm clothes are shown on top of ruins, somewhere. Must be a stock photo than? (Reported in Rusvesna along similar lines, noting absence of proof. Apparently reported in a number of other sources).
Aleppo, week ending 19 November 2016
Location: unclear. Date: Apparently Nov. 17 and Nov. 18?
Premature babies in Aleppo removed from incubators after air strikes hit city's only children's hospital
"Harrowing video footage shows tiny babies being removed from their incubators in a smoke-filled ward, with nurses reduced to tears as they detach the tubing providing support and wrap the babies in blankets."
Brief Al-Jazeera video shows cameraman entering special care baby unit where two babies are shown being removed from incubators. Unit appears well-equipped and electricity is on. Most of the incubators appear to be unused and draped in cloth. Later photograph provided by "Yasser Al-rahil, journalist and member of the Revolutionary Forces of Syria media office" shows babies on floor somewhere under a blanket. A baby (looks small-for-dates rather than preterm) is shown being removed from an incubator. It's not clear if this baby is alive - doesn't move even when handled, and the neck appears stiff - doesn't sag even when the "nurse" lifts the baby one-handed without supporting the head. The two nurses carrying babies later hug each other for the camera, ignoring the babies they are carrying. If they are really trying to evacuate the unit, why take the babies out of the incubators? Incubators are easy to move on wheels.
There is a longer video on Mirror, walking with flash lights before entering a well-lit incubator room. Incubator baby looks stiff, dead indeed, but not a doc to tell for sure. And more possibly unrelated clips follow in the same video. There was a recent stream of hospital bombing accusations, including a clash with RT correspondent at State Sept press conference (not giving details, providing some later, and denied by the Russian MOD). This episode smells staged (just walking into most emotionally touching few sec moment?), follows numerous fakes routines, reminds of Nayirah testimony, --but as with any internet media hard to be sure exactly what on heck is going on. Having electricity, why and where are they supposedly evacuating? --Resup (talk) 00:45, 20 November 2016 (UTC) Al Jazeera report says their crew filmed this, capturing the attack as they filmed people with breathing problems from a previous attack, from toxic materials in a barrel bomb (a man is not coughing, then later coughing violently, and children wear masks - "when the room suddenly turned dark immediately after a loud explosion." (rather, the video cuts sudden\ly to a different dark room where an explosion of some kind is recorded). It says the babies were moved to an adjacent room and "staff told Al Jazeera that all of the babies survived the attack." The apparently dead baby with rigor mortis is noted as "visibly undernourished," suggesting how he or she died, independent of the attack. (since we're in talk mode) --Caustic Logic (talk) 00:59, 20 November 2016 (UTC)
Rigor Mortis note: In n adult, stiffness starts to set in noticeably a few hours after death reaches maximum rigidity in about 10-12 hours, and gradually loosens again, so they're limp again about a day after. In a small baby, it should progress much faster. Maximum stiffness - about what we see here - should be reached (guessing) about 2-3 hours after death. The alleged blast just happened a couple minutes ago, so this baby was dead for a matter of hours before that happened. It's not clear what, if anything, this means, but they nrefuse to acknowledge it. --Caustic Logic (talk) 04:09, 27 February 2017 (UTC)
Caustic Gas? Daily Mail report with video - This says this unnamed pediatric hospital was bombed earlier that week as well. Between the photos and video, it's a strange scene. Many seem to have fake blood on their hands, or bloody but superficial injuries. One boy has a real-seeming leg injury, but might smile and laugh at the blood on his hand, and turns his head away at that point. However, there seem to be serious breathing problems, lungs full of blood, suggested by bloody-faced men, gasping, seeming dead, vomiting blood, lungs drained by tubes inserted though a hole between the ribs, etc. One man seems dazed, one looks stabbed in the head. At least one room shown has the same flooring as seen in main hall of al-Quds (FWIW).
The children's hospital, which was also hit on Thursday, was forced to evacuate as its doctors treated victims of the chlorine attack who were struggling to breathe.
"We are moving the children's hospital because it has been hit twice this week and is considered a full-on target," the
Independent Doctors Association said. "We took the decision to evacuate it today, to relocate the staff and patients elsewhere."
It is believed the bomb was a vacuum missile, fired by Syrian government forces, the IDA said....
...
One nurse broke down sobbing on a colleague's shoulder.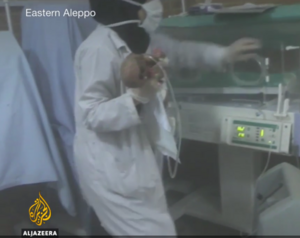 One cold, professional nurse lifts the baby out one-handed - stiff as a porcelain sculpture - and holds the baby one-handed as she puts tubes away with the other then, noticing that the other nurse seems sad, perhaps about the dead baby, she goes and hugs her, with the dead baby between them.
Doctors and nurses used torches and mobile phones as they rushed to collect babies from their incubators, wrap them in blankets and take them to a basement office, where they were lined up together for a little extra warmth.
Again,no mention that any of them might be dead and cold. Here they are lined up - it's not certain that's the same dead baby, but it's quite similar if not. --Caustic Logic (talk) 04:09, 27 February 2017 (UTC)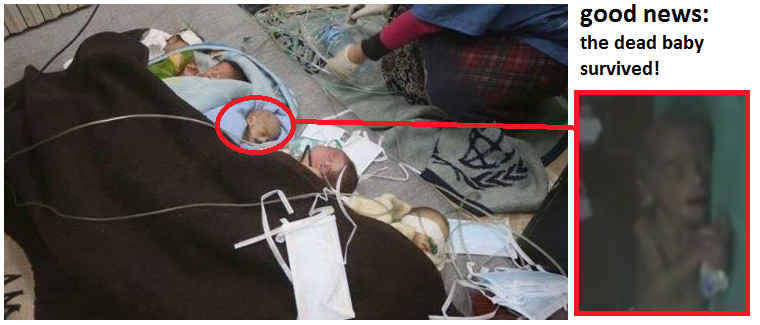 Also, some peripheral child victims and their odd medical care (from Daily Mail article) ---Caustic Logic (talk) 04:24, 27 February 2017 (UTC)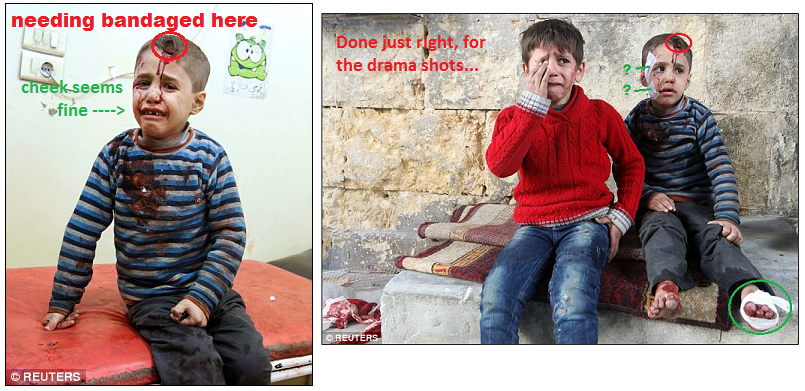 HRW Omission? The exact date and locale remain unclear, with perhaps two attacks in two days, Nov. 17 and 18, with the latter including a chlorine attack and the decision to evacuate. It seems the first incident made little if any news, and all reports are about the dramatic second day.
Human Rights Watch recently put out a report about alleged chlorine attacks in East Aleppo over a span starting November 17. Oddly, they list no attack for that day, and their listing of an attack on the 18th either isn't this same incident, or it's reported quite differently.
As reported, a "chlorine attack had struck Masaken Hanano and Ard al-Hamra" that morning.
Al-Halabi and Abu Ali said that some of the injured were taken to hospitals in the nearby Sha'ar neighborhood. Al-Halabi said he transported three civilians to the Daqaq hospital in Sha'ar. Abu Ali said that he took a woman and a child to the same hospital.
Syria Charity posted on its Facebook page a video from the Children's Hospital, also in Sha'ar, showing a boy wearing an oxygen mask. The boy, between coughs, says that an aircraft dropped a bomb near him in Ard al-Hamra, that there was yellow smoke, and that somebody took him to the hospital. Orient News posted a video of what appears to be the same boy. The same video also shows medical staff examining and giving oxygen to another child and a man.
Mojahed Abu Joud, a staff member of the Aleppo Media Center, said that he saw about 30 civilians in al-Sakhour hospital who had been injured in the attack on Masaken Hanano. He said that the people were pale, coughed, and at least one person had foam coming from their mouth.
Likely the children's hospital in Sha'ar is the place mentioned, but HRW's report mentions nothing about an air attack against the place, or babies pulled from incubators or any relocation. It's just the above, then right to the yellow cylinder proving this came from a helicopter. Why was this story worth reporting at the time, but not worth repeating a few months later?
Alleged attacks on hospitals
Analysis