Operation Peace Spring
Jump to navigation
Jump to search
Operation Peace Spring is the name of a Turkish military operation inside northern Syria. Following renewed threats by Erdogan to "do it alone" if the installation of a "safe zone" along the border wouldn't speed up, and a phone call between him and Trump, the White House announced that the US military would withdraw from the border in anticipation of a Turkish "intervention". Two days later, on October 9, 2019, the operation began.
Objectives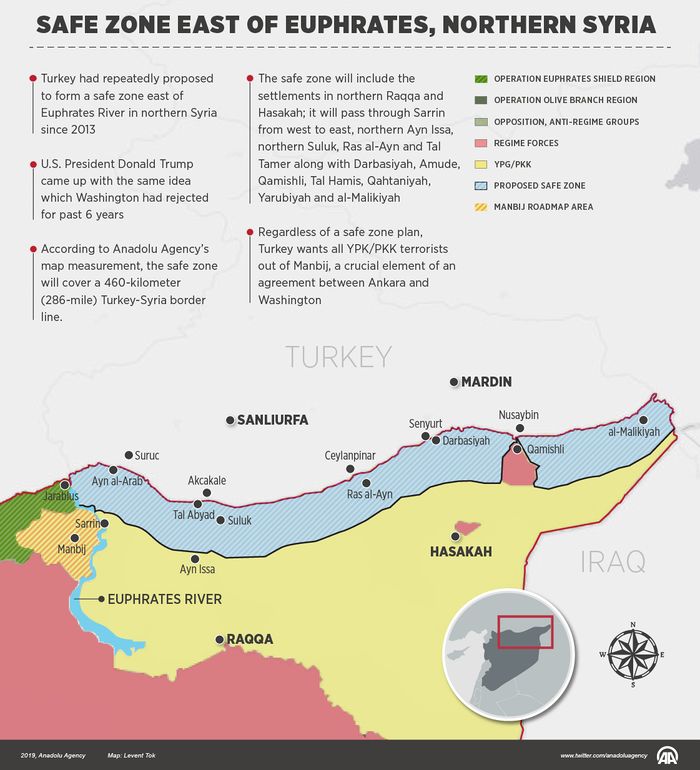 International reactions
Government officials from a large number of countries have expressed concern and/or criticism over the operation, among them Syria, Iran, Iraq, Lebanon, Jordan, Saudi Arabia, UAE, Egypt, Armenia, Algeria, China, France, Germany, Italy, Czechia, Netherlands, Belgium, Denmark, Finland, Australia, Canada and EU representatives (12).
In return Erdogan lashed out at Saudi Arabia and UAE telling them that given their atrocities in Yemen they are in no position to "defame" Turkey. Addressing Europe he threatened to "send 3.6 million refugees" if they don't stop to call the operation an invasion.
On request of Britain, France, Germany, Belgium and Poland the UNSC met in close round on the morning of October 10. The five countries released a joint statement calling on Turkey to stop its military action. No joint UNSC statement was released because the US and Russia opposed the wording "condemnation". On October 11, Russia blocked US-drafted UN statement on Turkish operation.
In a phone call initiated by Erdogan on October 13, German chancellor Angela Merkel demands an immediate end of the military operation. At a joined press conference with Macron in the evening, the two repeat the demand.
On October 14, Trump tweets a lengthy statement threatening Turkish officials with sanctions and the Turkish economy with destruction.
On October 15, the UK joins several other EU countries in stopping new arms deals with Turkey.
Chronology
October 9
At around 4 pm Erdogan announces that the operation has begun. In the following hours essentially all larger cities and many villages along the border are attacked by warplanes. Targets include a prison near Qamishli where ISIS fighters are detained, according to the SDF with the goal to help them escape. According to the Turkish military, 181 "terrorist facilities" have been hit and 109 "terrorists" killed. According to the Rojava Information Center, 10 civilans died and 15 were wounded.
In the night, ground operations most prominently in Ras Al-Ayn start with the help of proxy militias like the newly dubbed "Syrian National Army", Turkish-controlled remnants of the Free Syrian Army who had been carried in buses and ratmobiles from Idlib, Afrin and the "Euphrates Shield" region to Akcakale and Ceylanpinar on the Turkish side of the border in recent days. (See also: "TFSA" on Wikipedia).
October 10
According to regional observers, between 60-100 thousand civilians have fled the border cities in the first 24 hours of the attacks. Under constant aerial bombardment the SDF retreated from several towns and villages and the Turkish proxy forces advanced in rural areas around both Tel Abyad and Ras Al-Ayn, apparently in an attempt to isolate the cities. They also cut an important road near Ras Al-Ayn. The Turkish military claims that several civilians were killed by mortar and rocket fire on Turkish soil by Kurdish "terrorists hiding in schools and hospitals".
October 11
According to a report by pro-Kurdish Firat News Agency released in the morning, fighting in Ras Al-Ayn (Kurdish name Serêkaniyê) is happening on fronts in all four directions, meaning the city seems to be surrounded.
An SDF "balance sheet" claims that in the first 48 hours of the operation, 16 of their fighters were "martyred", while the losses of the other side are given as 262. The Turkish military claims that the number of "neutralized" (meaning killed, captured or surrendered) "terrorists" is 342. Own losses are not mentioned.
Whether intended or not, Turkish projectiles have hit two prisons near Qamishli with ISIS fighters in them, of which five were able to escape, and some US special forces near Kobane.
October 12
The Turkish military claims to have taken Ras Al-Ayn in the morning, assisted by their proxies (1, 2, 3). An ANF correspondent reports from the city center that this isn't true and clashes are going on while the Turkish airforce heavily bombards suburbs and has hit the hospital. Other journalists seems to corroborate him.
At Tel Abyad the Turkish proxies have taken more villages around the town while the SDF brought reinforcements and started a counter-offensive.
Further east, the M4 highway seems to have been briefly blocked and then secured again.
The SDF's October 11 report states that on that day 118 attackers died and 90 were injured, while 23 of their own died and 30 were injured.
October 13
Several Western journalists report about Turkish proxy militias putting up checkpoints on the M4 highway and committing atrocities. Later, video surfaces (GRAPHIC) of a convoy of journalists and their bodyguards being bombed from the air. Another video seems to suggest that this happened in the center of Ras Al-Ayn. ANHA News agency reports that one of their correspondents died in the attack and another was injured. They also name three other journalists injured in the attack. The toal of victims is given as 11 civilians dead and 74 injured.
In the afternoon, Turkish loyalists claim that Tel Abyad has been taken, which seems to be corroborated by released pictures.
The NYT reports about Turkish bombing of Ain Issa which led to a mass panic in a refugee camp and the fleeing of scores of inhabitants including 700 ISIS family members. The US forces in the town are retreating. According to the UN, there are now 130,000 people fleeing due to the operation.
The SDF "balance sheet" for October 12 has 87 attackers dead and 32 injured, while their own losses are given as 31 dead and 36 injured.
Late in the day, starting with an al Mayadeen report, rumours start to spread about an agreement having been reached between the SDF and SAA and soon to begin movements of the SAA north.
In the evening, a telegram channel claims (1, 2) that Turkish armored vehicles are on the move towards Manbij, and reports some warplanes in the skies, with conflicting claims on whose planes
Kurdish-Syrian agreement
In the late evening the "Autonomous Administration" of Rojava releases a statement about a deal it has reached with the Syrian government that will have the SAA being deployed along the Syrian-Turkish border, therefore removing the threat Erdogan is claiming comes from Kurdish militias at the border. According to some informed people on twitter, Manbij has already been handed over in the afternoon (while other sources suggest a 12 hour delay caused by later departure of US forces) and the SAA are on the way to Kobane and Ain Issa. Latest news is that Hasaka was handed over completely to the SAA and people there and in Qamishli are on the streets celebrating. Part of the agreement, although not mentioned in the statement, seems to be that the SDF will be incorporated into the SAA as a 5th brigade.
October 14
Erdogan at a press conference apparently claims that Turkey will enable their proxy forces to safely enter Manbij, Kobani, and that Russia is OK with it (TASS), (aawsat, ntv.co.tr).
US forces hand over Manjib to Russia and "assist the Russian forces to navigate through previously unsafe areas quickly." In the evening, loyalist sources report that SAA enters the city of Manbij (1, 2).
October 15
Russian military police in Manbij (video); more Manbij photos/videos (incl. abandoned military base, "cultural exchange messaging", etc) - Cassad.
Social media reports of Russian planes patrolling the skies in Manbij area
Erdogan-Putin phone call; Edogan is to make a trip to Moscow.
More videos:
October 16
TASS quoting Al Mayadeen: SAA entered Kobane. Cassad: this time around, US forces burned the base in Harab-Ahak near Kobane before departure. RT has fires on video.
SAA is said to be on the outskirts of Raqqa (1, 2).
SAA enters Kobane.
October 17
The Kurds accuse Turkey of using Napalm and White Phosphorus in their still unsuccessful attempts to conquer the center of Ras Al-Ayn.
The Syrian flag is raised at the border crossing in Kobane.
The White House releases a letter Trump wrote to Erdogan on October 9.
US-Turkish ceasefire agreement
Following a visit of Pence and Pompeo in Turkey, the two countries release a statement which other than weasel words contains a point 11 that says that Operation Peace Spring is paused and the YPG has 120 hours to retreat from the borders. If that happens, the operation will be over and the US promises in point 12 that no further sanctions will be imposed on Turkey. Turkey, as stated in point 10, will "primarily" enforce the security in a not further specified "safe zone".
October 18
The SDF report about this day, published a day later, describes that not only have the proxy militias not stopped their attacks after the ceasefire, but also the Turkish army continued with air strikes on Ras Al-Ayn and artillery fire on Qamishli. These observations are corroborated by SANA reporters.
October 19
Again the SDF reports many ceasefire violations including aerial bombardment of Ras Al-Ayn and artillery fire elsewhere by the Turkish army.
The SAA continues to take over strategic points in NE Syria including an already abandoned US base south of Ras Al-Ayn. First skirmishes with Turkish proxy militias take place.
October 20
According to SANA, the withdrawal of US forces towards Iraq is progressing, with "many bases" already evacuated, a convoy leaving Aleppo region in the morning and over 100 empty trucks returning from Iraq to transport the remaining forces out. In some places retreating US forces blow up their facilities.
The SDF says they have withdrawn all fighters from Ras Al-Ayn city today as part of the ceasefire agreement. SANA says Turkish forces now occupy the city.
Trump quotes his defense secretary as saying that "the ceasefire is holding up very nicely". The Turkish defense ministry claims that the SDF has violated the agreement 22 times in the days since it came into effect.
October 22
Russian-Turkish agreement
Following a meeting between Putin and Erdogan in Sochi, a bilateral agreement is released that contains a policing of the borders by Russian and Syrian forces and a YPG retreatment behind 30 kms from that border in a timeframe of 150 hours starting from noon October 23rd. The SDF thanked Russia for the effort but expressed some unspecified reservations. Trump was seen tweeting embracing the developments.
Russian-Turkish Memorandum of Understanding Eng.,Russ.
Press statement following Russian-Turkish talks Eng. , Russ. +video
Putin-Assad phone call Russ, Eng to appear
Erdogan says that if US promises are not kept, Operation Peace Spring will resume. (+ He did not forget the US president's 'undiplomatic' letter but this is not a priority).
Analysis