Manchester Arena suicide bombing
Jump to navigation
Jump to search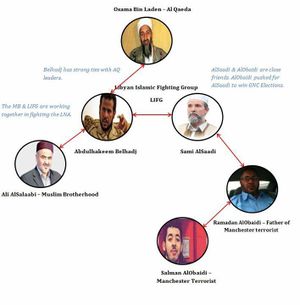 Bomb
...there was somebody with significant bomb making experience behind Abedi, as there was behind the three suicide bombers who blew themselves up outside the Stade de France in Paris in November 2015. In security jargon, the fingerprints on the Manchester and Paris devices are the same.'
Witness tells of suspicious women
Salman Abedi
Times reports Abedi "known to security services as an associate of Raphael Hostey". Rapper Hostey was prolific IS recruiter from Moss Side
.. Abedi, 22, the British-born son of exiled Libyan dissident, returned to the north African country in 2011 with his father to fight with factions linked to the former Libyan Islamic Fighting Group (LIFG), alongside other anti-Gaddafi forces
Salman Abedi is reported to have also had contact with jailed IS recruiter Abdalraouf Abdallah, another British-Libyan from Manchester who suffered paralysing injuries while fighting with the 17 February Martyrs Brigade in Libya.
Abdalraouf Abdallah and Mohammed Abdallah connections
Ramadan Abedi and Hasmhim Abedi
LIFG base in Manchester
Abdel Hakim Belhaj
Analysis
Official report on 2017 UK terrorist attacks
MI5 and Police have together thwarted 22 plots in the last four years, 9 of which have been stopped since March 2017. There are currently well over 500 counter terrorism investigations, involving more than 3,000 subjects of interest – along with a growing pool of more than 20,000 individuals who have previously been the subject of terrorism investigations. These investigations cover the full range of terrorist activity, from attack planning to activity that supports or facilitates terrorism – but a significant proportion involve potential attack planning threats. The tempo is more intense than ever.