Main Street
Jump to navigation
Jump to search
Main Street of Taldou
Clock Tower

Called "Freedom Square" or "Freedom Circle" by rebels.
North end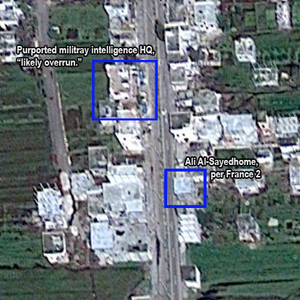 West side, north
660W

Military intelligence HQ, burnt
700W

Two story building with sandbag positions in corners of roof.
730W

Unfinished tree-story building of cinderblocks. Used by rebels as sniper position.
View from across street:
740W

Garage
770W

Two storeys, wide
820W

830W

840W

Two storeys
East side, north
Video FNN Syria Al Hawla one of the streets and the impact of destruction 18 9 2012 – view from west side
510E

three stories

520E

two stories

535E

two stories

535E

one story, three similar houses in back
Empty space at 560 m, opposite street 560W, trees
570E

20 m plot, walled garden on south side

590E

Small, 8 m wide

600E

Narrow, 6 m wide, new house in back of this & 610E

610E

Maybe connected to 600E

620 - 630E

Large building, two stories, battle damage in south-east corner, another building behind on alley 635.
640E

Large building, two stories

650E

two stories

660E

small, maybe wing of building north.
680E

Small walled garden in front

695E

High, two stories, row of new houses in back along alley 705E
710E
Alley, 720 m

Rebel attack on National Hospital from alley:
730E

"Ali's house," (per France 2), burnt (20 m wide)

750E

Drawn in from street

760E

high, built after 2010
790E

Small
820E

830E

860E

880E
Gate
At exactly 890 meters from clock tower.
It is easier to measure distances from the gate than from the tower, so it is now defined to be at 890 m.
South end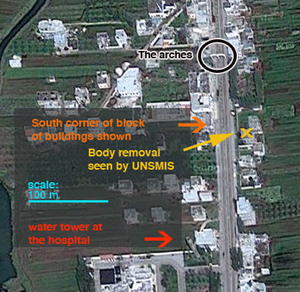 West side, south
900w

Shack

920W

Large building, two stories, 25 meters wide

950W

School, built 2004, rebel base

970W

Two stories, with balcony, seen in Ali video
1060W

Shack
1120W

Two or three stories

1130W

Hospital water tower

1150W

National Hospital, north entrance
Thomson passes school Houla.png

School at 950W (Note battle dammage)
East side, south
900E

Behind trees
trees extend till shack 945E
945E

shack
970E

Two stories, drawn from street, bodies removed by UN, Ali visits house on September 14th, guide explains how one one victim was found sitting in corner, bloodstains on wall.

990E

Tree in front, Ali visits house
1005E

drawn from street

1020E

small

1040E

walled
Empty space 1050 m - 1080 m
1090E

Unfinished sceleton structure, 3 floors + 1/2 floor on top
Empty space 1100 m - 1100 m
1110E

Two stories