Khan al-Assal Massacre
Jump to navigation
Jump to search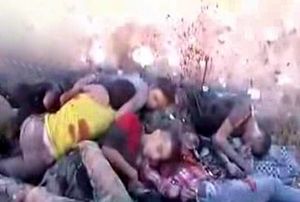 On Monday, July 22, 2013, it was reported that Syrian rebel forces took general control of Khan al-Assal (Arabic): خان العسل, a Shia-majority district on the western edge of Aleppo which they had long fought for.[1][2] Following this was a massacre by contested factions of the rebel forces. In one version, they executed at least 51 captured soldiers, after killing about 100 in battle. [3] Another version has it that a total of 123 people, primarily civilians, were killed deliberately after the rebel victory, their bodies partly mutliated, burned, and dumped in a pit. [4]
Khan al-Assal was the scene of an alleged chemical attack on March 19, which largely killed soldiers at a post in the government-held district. Interestingly, a hard-won UN investigation under Swedish scientist Ake Sellstrom was finally prepared to visit and study the incident as Damascus requested on March 20. But this change of hands came two days before Sellstrom's planned arrival which suddenly made a trip there all but impossible. [5] [6]
This page is currently a stub. Collation and discussion of the various sources and alleged details will happen first on the talk page.
References
↑ Syria rebels seize key northern town of Khan al-AssalAgence France-Presse via Global Post, July 22, 2013 08:03
↑ Syrian rebels seize Khan al-Assal town – AlJazeeraEnglish, July 22, 2013 (video)
↑ 150 Syrian regime forces killed in Khan al-Assal battle AFP via the Nation (Pakistan) July 27, 2013
↑ Media source: 123 martyrs in Khan al-Assal massacre Syrian Arab News Agency (SANA), July 27, 2013
↑ U.N. Chemical Inquiry Hopes Hit by Fall of Syria's Khan al-Assal Naharnet Newsdesk, 24 July 2013, 04:16
↑ Khan al-Assal Massacre makes UN's CW investigation impossible Posted to Liveleak by Shireen Said, July 27, 2013