Joseph Mifsud
Jump to navigation
Jump to search
See also Russiagate and DNC Leak
Spygate (conspiracy theory) -Wikipedia
Joseph Mifsud about World Energy Market Trends , published by Valdai Club on YouTube, May 11, 2016

Joseph Mifsud, Director of the London Academy of Diplomacy, and Dr. Ivan Timofeev, Programme Director of the Valdai Club Foundation, discuss the world energy market trends. Relations between oil exporting countries and the world centers of power are considered as a key factor. They also discussed new approaches to the mentoring of diplomats as well as their professional qualities required in the modern world.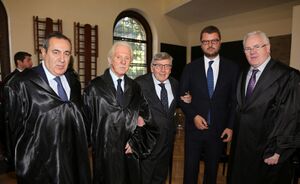 On October 19, 2017, Mifsud attended a fundraising dinner in Reading West, which was also attended by Alok Sharma and Boris Johnson, who was a guest speaker at the event. During this time, Mifsud met with both Sharma and Johnson, as Mifsud had planned to speak with Johnson about Brexit. Mifsud when then photographed with Johnson and Prasenjit Kumar Singh.