John McCain
Jump to navigation
Jump to search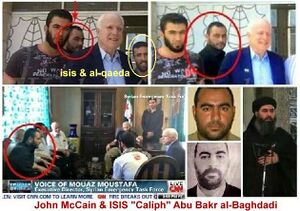 John McCain is a Republican member of the United States Senate, from Arizona. (Wikipedia) He's a notorious supporter of virtually any military conflict the U.S. could get involved in.
McCain has called for a U.S.-led air war to to topple the Syrian government, from as early as March 5, 2012 (ABC News). He's done what he can to arm Syrian rebels, from at least February, 2012 (New York Times). Into 2016 he has lambasted the Obama administration for not doing enough to help the Syrian people by escalating the war.
Meeting With Kidnappers?
McCain said - in late May 2013, "that he is confident the United States can send weapons to fighters in Syria without the risk they will fall into the wrong hands." Having just met some of them on a visit to Azaz, Syria, he told CNN's Anderson Cooper "We can identify who these people are. We can help the right people." (Huffington Post)
Two of the men in the photo – Mohamed Nour, well-known as chief spokesman and photographer for the Northern Storm Brigade, and Abu Ibrahim – have been fingered by one of the abducted pilgrims, and the Lebanese media.
As Lebanon's Daily Star reports:
"The pilgrims were kidnapped by armed rebels in Azaz, in Syria's Aleppo province, in May last year as they were making their way back to Lebanon from Iran. Two of the kidnapped, Anwar Ibrahim and Hussein Ali Omar were released in August and September but intense negotiations are still underway for the remaining nine, believed to be in the custody of the 'Northern Storm' brigade, headed by rebel commander Ammar Al-Dadikhi, aka Abu Ibrahim. The Northern Storm Brigade also claimed responsibility for the kidnap of a Lebanese journalist in October."
This report says the Lebanese hostages were "transferred" to the custody of an Islamist group, perhaps the al Qaeda-affiliated Al Nusra Front. These are the "moderates" Sen. McCain wants to arm.
Anwar Ibrahim, one of two hostages released by the Northern Storm Brigade, says: "I recognized [Mohamed Nour] immediately. He was the photographer who was brought in to take our photos. He works with the kidnappers. He knows them very well."
CNN Political Ticker: :McCain's office was quick to reject speculation the Republican knowingly met with men accused of the abduction.
"If the individual photographed with Senator McCain is in fact Mohamed Nour, that is regrettable.
(however...)
"None of the individuals the Senator planned to meet with was named Mohamad Nour or Abu Ibrahim," Rogers wrote in a statement. "A number of other Syrian commanders joined the meeting, but none of them identified himself as Mohamad Nour or Abu Ibrahim."
ISIS photo controversy
"Songbird", 1969?
There are claims that J. Mc-C is the 'songbird' on propaganda North Vietnamese recordings. As internet claims go, this 1969 recording was 'misfiled by CIA' and became public. Some internet talking heads talk about 32 propaganda tapes in total. So far, no clear-cut refutation, claims that it was manufactured by evil Putin, etc. This all apparently emerged during unsuccessful McCain presidential bid, and potentially could be faked by opponents. No clue is it all genuine. (To those quick to throw stones, torture is a real pain in the ass and most likely they themselves will not fare any better; though of course, this is not the stuff for the legends...) --22:55, 22 February 2017 (UTC)

'No evidence McCain was a traitor', by Shawn Zeller, January 17, 2008 (admits that some talking occurred, denies treason) --Resup (talk) 20:24, 23 February 2017 (UTC)
Patty Hopper mentioned in the above reference was saying that according to 1973 publication he was not promoted during years in captivity, though normally he would be, at least once. With the rest of her account, unclear how she knows the allegations are true (ie, that (1) military information was provided and (2) it was done by McC, not somebody else), with no documentary evidence released. --Resup (talk) 20:24, 23 February 2017 (UTC)