Jdeidat Al-Fadel Massacre
Jump to navigation
Jump to search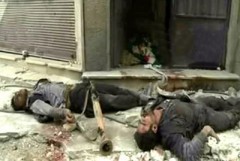 This reported massacre is another attempt at one of those record-breaking moments that could be taken as a turning point. This time, the record claimed is largest number of bodies - 566, rebels say - found in a single day thus far in the Syrian war. The find was in the Damascus suburb of Jdeidat Al-Fadel, on April 21, 2013, as the Syrian military completed its re-conquest of the city. CNN was apparently the first to report it that way, citing the rebel propaganda outfit Local Coordinating Committees (LCC):
The bodies of at least 566 people who were killed over a six-day period across Syria were found Sunday ... That is the highest number of victims discovered in a single day since the war began in March 2011, LCC spokeswoman Rafif Jouejati said. At least 450 bodies were found in the Damascus suburb of Jadidat al-Fadel, LCC activist Abu Aasy said Sunday [... including] at least 300 civilians and 150 members of the rebel Free Syrian Army. [2]
It's clear that these people were killed over several days of a decisive battle to re-take this city, but otherwise just who the dead are, how many they are, who they were killed by, etc. remain tangled up. As usual, both sides in the conflict have different stories of what happened. There will be some attempt to sort it out first on the discussion page, and later perhaps this stub page will be filled in based on that.
References