Israel Air Strikes in Syria
From A Closer Look On Syria
2014
07.12.2014
2015
19.01.2015
BBC: Iran's elite Revolutionary Guards have confirmed that a general was killed in a suspected Israeli air strike in the Syrian Golan Heights on Sunday. Mohammad Ali Allah-Dadi was in Syria to advise forces supporting President Bashar al-Assad, a statement said.--Resup (talk) 17:52, 21 January 2015 (UTC)
11.11.2015
20.12.2015
Samir Kuntar (Hezbollah) reported killed in an airstrike on a Damascus suburb. Strike by Israel (as an interested party) is presumed in Russian media, however neither Syria nor Israel confirmed that.
Wikipedia: On May 26, 2008, Israeli sources announced that Samir Kuntar was among those who would be exchanged for the bodies of two reservists, Eldad Regev and Ehud Goldwasser, captured by Hezbollah in the Zar'it-Shtula incident that sparked the 2006 Lebanon War. On June 29, 2008 the Israeli ministers cabinet approved the prisoner exchange between Hezbollah and Israel which would involve the release of Kuntar despite intelligence stating that the two soldiers were almost certainly dead. Kuntar and four other prisoners released as part of the deal were the last of the Lebanese prisoners in Israeli custody. Also part of the deal was the release of the remains of other Lebanese from all other previous wars and, after a suitable interval, dozens of Palestinian prisoners. On July 16, 2008, Hezbollah transferred coffins containing the remains of captured Israeli soldiers Ehud Goldwasser and Eldad Regev, in exchange for Kuntar and four Hezbollah members taken prisoner during the 2006. Lebanon War.
2016
13 Sept. 2016
Video claims to be the moment when Israeli jet was hit by S200 air defense missile (denied). It is also claimed that a drone was downed, with some downed drone photos on social media.
2017
7 Sept. 2017
JPost The alleged Israeli attack hit a scientific research center where chemical weapons are manufactured, according to the Syrian Observatory for Human Rights. According to the reports, the attack was launched at 2:30 a.m. on targets located in central Syria, in the area of Hama, and also targeted several weapons convoys that were en route to Hezbollah strongholds in the area. The Syrian army charged later on Thursday morning that Israel killed two of its soldiers during the aerial attack.
16 Oct. 2017
S-200 battery near Damascus was damaged by Israeli strike.
The Syrian Army has warned of "dangerous consequences" following an air strike by Israel on a regime SA-5 antiaircraft battery east of Damascus, after it fired a surface-to-air missile at Israeli jets. Syria's SANA state news agency reported that the Assad regime "warned of the dangerous repercussions of Israel's repeated aggression attempts, stressing Syria's determination to continue its war against the terrorist groups, Israel's arm in the region." According to SANA, the Syrian air defense "directly hit one of the jets, forcing the enemy to retreat," contradicting Israeli military claims that all planes had returned safely from the operation. The SA-5 missile battery, which was stationed some 50 kilometers east of the Syrian capital, fired at the Israeli jets which were on a routine aerial reconnaissance flight in Lebanese airspace, IDF spokesman Brig.-Gen. Ronen Manelis stated. Israel believes that the Syrians fired at the Israeli jets at 10 a.m. Monday after thinking that they intended to attack. All Israeli aircraft returned safely to base and a few hours later responded by launching four missiles toward the same battery, destroying it.
IDF Spokesman Brig.Gen. Ronen Manelis told journalists that Russia was updated about the incident, in which no Israeli jets were harmed, in real time, and that it will be brought up during the visit of the Russian Defense Minister Sergei Shoigu who is set to land in Israel in the coming hours.
Syrian contributor to Rusvesna notes that the event occurred on the Syrian air force professional holiday (describing that as provocative and using emotional language throughout). It is notes in the post that no military personnel on the ground was harmed.
2 Dec. 2017
JPost: Israeli aircraft attacked an Iranian base outside Damascus according to Sky News. According to foreign media reports, the Israeli fire was carried out from Lebanese airspace. The reports said that in response anti aircraft missiles were fired on the plane.
2018
6 Feb. 2018
Syrian state media: air defenses intercept some Israeli missiles aimed at an Iranian base in the Jamaraya region- JPost, 7 Feb. 2018
10 Feb. 2018 (from our news page)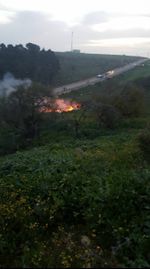 Israeli F16 'crashed' in Northern Israel, amid intensive Syrian anti-aircraft fire, with implication the F16 had been downed by it Sputnik reports. According to IDF spokesman report Israel had been targeting an Iranian drone control centre, and the downed F16 was involved, after an Iranian drone entered Israel from the Golan Heights.
Extended report by RT including details of response in Northern Israel where alarms were sounded and aerial explosions heard. RT reports an Iranian drone was shot down by an Israeli helicopter. In response Israeli F16s attacked 'Iranian targets' in Syria, the drone control centre/drone's launch site at the Tiyas Military Airbase near Palmyra in a 'complicated surgical strike'. There have been earlier reports that Russia is flying small number of SU-25 planes from Tiyas airbase (also Russian commercial interests in the nearby area have been reported).
In a follow-up, Israel strikes more Syrian and Iranian targets in Syria: "Twelve targets, including three aerial defense batteries and four Iranian targets that are part of Iran's military establishment in Syria were attacked."
Haaretz: F16 PilotS were forced to eject. Israel operates a twin seat F-16D variant in addition to the normal single seat variants. Reports suggest that the plane was F16I "Soufa", which Israel has in a 2-seated option. The pilots are safe and were transferred to a hospital. One of the pilots is reported in 'serious' condition.
Videos of drone and command vehicle destruction have been posted by IDF.
Netanyahu shows a piece of Iranian drone in Munich, 18 Feb. 2018
9 Apr. 2018