Israel Air Strikes in Syria
2014
07.12.2014
2015
19.01.2015
BBC: Iran's elite Revolutionary Guards have confirmed that a general was killed in a suspected Israeli air strike in the Syrian Golan Heights on Sunday. Mohammad Ali Allah-Dadi was in Syria to advise forces supporting President Bashar al-Assad, a statement said.--Resup (talk) 17:52, 21 January 2015 (UTC)
11.11.2015
20.12.2015
Samir Kuntar (Hezbollah) reported killed in an airstrike on a Damascus suburb. Strike by Israel (as an interested party) is presumed in Russian media, however neither Syria nor Israel confirmed that.
Wikipedia: On May 26, 2008, Israeli sources announced that Samir Kuntar was among those who would be exchanged for the bodies of two reservists, Eldad Regev and Ehud Goldwasser, captured by Hezbollah in the Zar'it-Shtula incident that sparked the 2006 Lebanon War. On June 29, 2008 the Israeli ministers cabinet approved the prisoner exchange between Hezbollah and Israel which would involve the release of Kuntar despite intelligence stating that the two soldiers were almost certainly dead. Kuntar and four other prisoners released as part of the deal were the last of the Lebanese prisoners in Israeli custody. Also part of the deal was the release of the remains of other Lebanese from all other previous wars and, after a suitable interval, dozens of Palestinian prisoners. On July 16, 2008, Hezbollah transferred coffins containing the remains of captured Israeli soldiers Ehud Goldwasser and Eldad Regev, in exchange for Kuntar and four Hezbollah members taken prisoner during the 2006. Lebanon War.
2016
13 Sept. 2016
Video claims to be the moment when Israeli jet was hit by S200 air defense missile (denied). It is also claimed that a drone was downed, with some downed drone photos on social media.
2017
7 Sept. 2017
JPost The alleged Israeli attack hit a scientific research center where chemical weapons are manufactured, according to the Syrian Observatory for Human Rights. According to the reports, the attack was launched at 2:30 a.m. on targets located in central Syria, in the area of Hama, and also targeted several weapons convoys that were en route to Hezbollah strongholds in the area. The Syrian army charged later on Thursday morning that Israel killed two of its soldiers during the aerial attack.
16 Oct. 2017
S-200 battery near Damascus was damaged by Israeli strike.
The Syrian Army has warned of "dangerous consequences" following an air strike by Israel on a regime SA-5 antiaircraft battery east of Damascus, after it fired a surface-to-air missile at Israeli jets. Syria's SANA state news agency reported that the Assad regime "warned of the dangerous repercussions of Israel's repeated aggression attempts, stressing Syria's determination to continue its war against the terrorist groups, Israel's arm in the region." According to SANA, the Syrian air defense "directly hit one of the jets, forcing the enemy to retreat," contradicting Israeli military claims that all planes had returned safely from the operation. The SA-5 missile battery, which was stationed some 50 kilometers east of the Syrian capital, fired at the Israeli jets which were on a routine aerial reconnaissance flight in Lebanese airspace, IDF spokesman Brig.-Gen. Ronen Manelis stated. Israel believes that the Syrians fired at the Israeli jets at 10 a.m. Monday after thinking that they intended to attack. All Israeli aircraft returned safely to base and a few hours later responded by launching four missiles toward the same battery, destroying it.
IDF Spokesman Brig.Gen. Ronen Manelis told journalists that Russia was updated about the incident, in which no Israeli jets were harmed, in real time, and that it will be brought up during the visit of the Russian Defense Minister Sergei Shoigu who is set to land in Israel in the coming hours.
Syrian contributor to Rusvesna notes that the event occurred on the Syrian air force professional holiday (describing that as provocative and using emotional language throughout). It is notes in the post that no military personnel on the ground was harmed.
2 Dec. 2017
JPost: Israeli aircraft attacked an Iranian base outside Damascus according to Sky News. According to foreign media reports, the Israeli fire was carried out from Lebanese airspace. The reports said that in response anti aircraft missiles were fired on the plane.
2018
6 Feb. 2018
Syrian state media: air defenses intercept some Israeli missiles aimed at an Iranian base in the Jamaraya region- JPost, 7 Feb. 2018
10 Feb. 2018 (from our news page)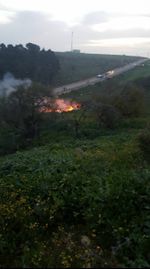 Israeli F16 'crashed' in Northern Israel, amid intensive Syrian anti-aircraft fire, with implication the F16 had been downed by it Sputnik reports. According to IDF spokesman report Israel had been targeting an Iranian drone control centre, and the downed F16 was involved, after an Iranian drone entered Israel from the Golan Heights.
Extended report by RT including details of response in Northern Israel where alarms were sounded and aerial explosions heard. RT reports an Iranian drone was shot down by an Israeli helicopter. In response Israeli F16s attacked 'Iranian targets' in Syria, the drone control centre/drone's launch site at the Tiyas Military Airbase near Palmyra in a 'complicated surgical strike'. There have been earlier reports that Russia is flying small number of SU-25 planes from Tiyas airbase (also Russian commercial interests in the nearby area have been reported).
In a follow-up, Israel strikes more Syrian and Iranian targets in Syria: "Twelve targets, including three aerial defense batteries and four Iranian targets that are part of Iran's military establishment in Syria were attacked."
Haaretz: F16 PilotS were forced to eject. Israel operates a twin seat F-16D variant in addition to the normal single seat variants. Reports suggest that the plane was F16I "Soufa", which Israel has in a 2-seated option. The pilots are safe and were transferred to a hospital. One of the pilots is reported in 'serious' condition.
Videos of drone and command vehicle destruction have been posted by IDF.
Netanyahu shows a piece of Iranian drone in Munich, 18 Feb. 2018
9 Apr. 2018
29 Apr. 2018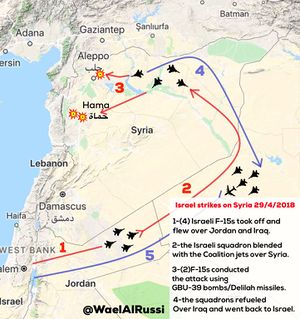 Noted. Those April, 29 events occurred shortly prior to Netanyahu major announcement claiming Iranian violations of the nuclear deal (video) , 30 April, 2018.
8 May.
IDF retwitts a warning on (unspecified) 'irregular Iranian activity'. It is reported that in the evening Israel struck Iranian base near a settlement of al-Kisva
9 May, 2018.
IDF: Iranian forces fired approximately 20 rockets, some of them were intercepted, no injuries were reported. Netanyahu is in Moscow for the V-day celebrations.
10 May, 2018
"Israel strikes Iranian targets in Syria in response to rocket fire" -BBC, 10 May, 2018
28 Israeli jets fired about 60 rockets in overnight strikes on Syria – Russian MoD - RT, May 10, 2018

A total of 70 projectiles, including 60 air-to-surface rockets and more than 10 surface-to-surface missiles, hit Iranian military targets and Syrian air-defense systems near Damascus and in the south of the country on Thursday morning, the Russian military said in a statement.

As part of broader strikes exchanges, Israeli missile struck Syrian Pantsir S1 vehicle at Mezze airbase, Damascus province. Rusvesna commentary: (1) Syrians overlooked the attack, a man (identified as lt. Ali Mustafa) is seen running towards Pantsir vehicle shortly before the strike (2) old model of Pantsir has radar only on one side (3) Rusvesna attributes the attack to Spike NLOS missile, a long range anti-tank missile with a range of about 25 km, saying that fragments were found. It's plausible; Wikipedia describes targeting system as infrared (heat seeking), not the most useful here , but other targeting systems in development are mentioned too.
24 May, 2018
26 June, 2018
8 July, 2018
Syrian TV: Israel Responsible for Air Strikes on T-4 Military Base in Homs -JPost, 8 July, 2018

The air defenses hit one of the "attacking planes and forced the rest to leave" Syria's air space according to Syrian state media citing a military source. Syrian state media did not report any casualties, but according to Syrian opposition forces there are nine dead on the base. Al Jazeera, citing Arab media sources, said between four to six rockets hit the air base and surrounding areas. An army officer in the southern Syrian desert said the air defense system shot down missiles coming from south of the Tanf region towards the Homs air base.
22 July, 2018
Israel struck military post in Hama province, Syrian state television says -JPost, 22 July, 2018

Syrian state television said Israeli air strike had hit a military post in the city of Misyaf in Syria's Hama province but caused only material damage. An intelligence source said a major military research center for chemical arms production was located near the city. Some of Iran's military bases in Syria are next to Syrian military compounds, according to the intelligence source.
(Note: reported in the evening of a day when it was announced that Israel helped evacuate the White Helmets)
4 Sep. 2018
15 Sep. 2018
IL-20 shoot-down
17 Sep. 2018

Moved to Shoot-down of Russian IL-20 in Syria
25 Dec. 2018.
Russia Calls Israeli Strikes In Syria 'Provocative Acts'-JPost, 25 December, 2018

According to ministry spokesman Igor Konashenkov, Israeli F-16s carried out air strikes on Syrian targets as two civilian flights were landing in Beirut and Damascus, putting the passengers at risk. According to a report by Newsweek quoting a source in the US Defense Department, senior Hezbollah leaders were targeted in the air strikes. Other locations reported by Syrian media to have been struck during the strike include pro-Iranian military positions located in the suburbs of Damascus, air defense facilities and headquarters of the 68th Brigade and the 137th Brigade of the Syrian army in the Damascus area, a military headquarters belonging to the 4th Division of the Syrian army in the Al-Muna area surrounding Damascus, and military Unit 10 in the district of Qatana.
Syrian state media said the strikes were carried out from Lebanese airspace and that a number of "hostile targets" were intercepted by its S-200 air defense system. Israel's air defense system was also activated, with a smoke trail seen from Hadera south of Haifa.
Earlier on Tuesday, an Iranian cargo jet belonging to Iran's Fars Air Qeshm landed in Damascus International Airport. The Boeing 747, affiliated with Iran's Revolutionary Guard Corps (IRGC), took off from Tehran at 5:30 p.m. and landed shortly after 7:45 p.m. The airline has been repeatedly accused of smuggling Iranian weaponry to Hezbollah, and was suspected to have transported military equipment from Tehran to the Syrian army and Hezbollah.

Were Hezbollah members targeted near Damascus? -JPost, 25 December, 2018

Hezbollah senior leaders and members were traveling to Damascus during the air strikes that rocked areas west of the Syrian capital. According to several sources, including the Lebanese website NewLebanon.info, the Hezbollah delegation was journeying to Damascus to board a flight bound for Tehran. It was heading to the funeral of Grand Ayatollah Mahmoud Hashemi Shahroudi, an important Iranian cleric who was head of the Expediency Discernment Council. He died on December 24, and senior Iranian religious figures buried him on Wednesday. Supreme Leader Ali Khamenei presided at the ceremonies, according to Iran's Fars News. A Mahan Air flight left Damascus around 10 p.m. in the midst of the air strikes. The claim that the Hezbollah members were targeted and that they were traveling for the Shahroudi funeral has not been confirmed. Newsweek reported that a Defense Department source said the strike was "conducted minutes after the leaders boarded a plane bound for Iran."
2019
11 Jan. 2019
Syrian Reports: IDF Attacked Iranian Militia Targets in Syria's Damascus-JPost, 11 January, 2019

The Syrian air defense system is dealing with hostile targets over Damascus, the official Syrian news agency SANA reported. Explosions were also reported in the skies of the Syrian capital. Syrian air defense units fired on enemy targets above Damascus and destroyed several, state news agency SANA said
News/Updates
Analysis
The Syrian Crisis Escalates - Paul Craig Roberts, April 30, 2018 (mirror)

Noted. This analysis indicates apparent lack of understanding by PCR that (1) the Russian government is driven by commercial and internal governance reasons (as defined by the ruling elites) to a far greater degree then by geopolitics or (constitutionally banned) ideology, and aspires to be part of the West commercially while maintaining free hand in domestic and regional affairs. This is extensively covered from every possible angle in Russian-language analysis, both on patriotic and pro-Western opposition flanks, but is rarely part of English-language discourse. There is talk (including by Putin) of possible reversal, ceasing to pursue cooperation with the West, if it gets too bad; but it is not yet past that barrier, even if now essentially only by inertia (2) Israeli government is driven by security considerations (+occasionally its vital alliances) to a greater degree then by economics. Water is indeed vital and highly competitive throughout ME, but so far it was a factor complicating any Israeli post-wars gains reversals, not a cause of wars of expansion or choice. --Resup (talk) 11:55, 1 May 2018 (UTC)