Houla:Connecting The Dots
Jump to navigation
Jump to search
Why I started this --CE 10:10, 6 October 2012 (EST)
Butting in: Maybe my idea of the right use for a page like this is different, but I'll just add some stuff and see. --Caustic Logic (talk) 06:50, 2 January 2013 (UTC)
Perpetrators
Hallaq Clan
Background a little vague -also called Hassan clan, or having a member called Hassan involved in the battle of Taldou? Marat Musin listed "some of the terrorists who committed these terrible crimes," listing "A terrorist from the Al-Hallaka clan, Nickname: Al-Hassan" and "Al-Hallak Haysam." Sounds almost like the same guy. But witness "the rebel defector" described fighting "even more under the command of Haysam Al-Hassan," and "Arifah" mentioned "a family called Al-Hallak, also locally called Al-Hassan," cited previous crimes: "One of the terrorists called Haytham Hallak kidnapped several persons from a nearby village ... Haytham Hallak, he killed one of the kidnapped people and injected fuel in the other's blood..." (see here for all that.) Elsewhere, Arifah told SANA, as they reported: "one of the gunmen was Haitham al-Hallaq who led a group of around 200 and carried a cleaver along with his firearm." I kept an eye out to see when this PoS finally bit the dust like so many other massacre perps have since done. Only recently did I stumble on the reported fact that he died at the beginning. Not mentioned by these witnesses, opposition sources say he managed to get killed on May 25 itself, in the battle of Taldou. Haitham Al-Hallaq, age 36, non-civilian, "Defected policeman," from or died in Houla, 2012-05-25, from "shooting." So he was the first among these monsters to be put down, aside from Nidal Bakour's brother Talal (see below) who also died May 25 --Caustic Logic (talk) 12:41, 9 June 2013 (UTC)
Interesting. See old clues below in the rebel defector re-visit (I reddened my "Hmm" there). Do we have Jihad Raslan claiming to have lost a relative? --CE (talk) 14:27, 9 June 2013 (UTC)

Thanks, that never sunk in before. To add, we have the possibility of another Hallaq/Hassan in Jihad Raslan/Hassan, who says he lives right around there where there's Hassan land listed. A little tenuous but could be. No lost family, of course, just neighbors, and he had nothing to do with killing them (not so sure he lives there either - maybe just a good excuse why he was there just after the murders) --Caustic Logic (talk) 23:50, 9 June 2013 (UTC)
Mohiuddin Mahmoud Shehab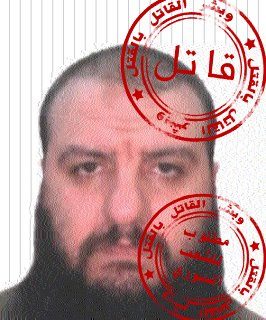 This just in, June 1 (thanks to a tip-off): Houla massacre criminal arrested by authorities in Lebanon. SANA reports from Beirut (from Arabic):
Lebanese army intelligence arrested terrorist salafist Mohiuddin Mahmoud Shehab in the Bekaa region East. Al-Manar TV quoted yesterday by Lebanese security sources as saying: "The Shahab admitted transferred arms to and from Arsal, including inward Syrian."
The sources added that the terrorist Shahab was involved Hula massacre that took place in Homs nearly a year ago and claimed the lives of tens of martyrs.
The sources pointed out the security of the channel that the "Shehab terrorist fled to Lebanon from Syrian territory which is now detained in Roumieh prison."
I don't recall hearing about this guy. Petri, CE? He bears a resemblance to the famous Daily Fail "meathead" "Shabiha" guy, but I suspect when I look closer he won't be our faker. --Caustic Logic (talk) 12:09, 1 June 2013 (UTC)
I checked against the guy (top pic) and seems to be different faces/hair pattern/etc. Just similar, as I thought. Similar enough to be one of the bearded/bald Shabiha Ali Al-Sayed "saw," but probably with a different religion, accent, and victims than what Ali said. --Caustic Logic (talk) 22:33, 1 June 2013 (UTC)
Very interesting. His name is on the list Musin gave in the "Arifah" article. "Muhyiddin Mahmoud Shihab, Nickname: Muhyiddin Dscharban" --CE (talk) 02:44, 2 June 2013 (UTC)

Indeed. This list of six is copied around, and that one adds some of the names we hear more about (Tlass, etc.) Akesh/Okesh/Iksh I recognize. I guess I just don't catalog names usually unless I see a reason like this. However it's hard to identify which names are connected unless you catalogued and recognize it, or someone says so. Luckily the latter here. Also, Jerban/Dscharban ( الجربان ) seems to be name used for people in Homs: videos include a martyr in Homs, and one in Quseir, Homs with that name. Quick check only. Why "religion" ( الدين ) and بمحي are attached, not clear. Also regular names? --Caustic Logic (talk) 06:43, 2 June 2013 (UTC)
Other sources (all Arabic):
2012 material on Shehab (also all Arabic):
(Updated now with the good news)
June 1, 2012, a year ago to the day, a Houla Massacre perpetrator's list with six names. Posted at the top (trans): ""Mohiuddin the Jerban" members of the group," also listed as entry #5 of 6 (translations and list later – also, a number of victims are named – 8 people dead in Mustafa Abdulrazaq's house, for example). This arrest is good news in itself, and can only bring some timely attention to our timely work on that crime. Let's hope he squeals and is handed a megaphone. --Caustic Logic (talk) 12:09, 1 June 2013 (UTC)
Many Bakkours
Like no other family name, Bakkour/Baqour/Bakur (بكار / بكور) pops up like wild mushrooms on a cloudy day on the non-victim side of the Houla massacre. They're given as among those leading the alleged rebel attack on Taldou, those explaining to the media how it wasn't the rebels who did it, and since then being reported captured, injured, or dead in fighting with the government they blamed and whose supporters they slew. Death is always sad, but, hey ... and just who's who within the family and possibly guilty of what clearly matters, so ... Section suggested to lay out specifics. I'll start it soon if someone else doesn't first. --Caustic Logic (talk) 06:50, 2 January 2013 (UTC)
The Many Bakkours Table
Name
Details
Involvement
Akrama/Ikrima Bakour
FSA, key alleged witness (testimony), can decipher all AbdulRazak subfamilies (testimony), possibly killed on Dec 21, 2012, if so he was an important person (him dead and his well-attended funeral, both via Jalal Suleiman, Houla media office). "Arifah": "I heard one armed man called Akram Al-Saleh saying we won't kill him ..." SCDV: Ekremah Saleh al-Bakour, 36, married, 2 children, engineer, Defected Captain paratrooper, "Ansar battalion commander Martyred by heavy shelling in the city, martyred on Turkey road" Dec. 21, 2012.
Bahaa Bakkour
Killed at the roundabout in Taldou on Jan 30, 2013, according to SyrPer.
Basel Salah Bakour
VDC: Basel Salah Bakour from Hula, age 32, Rank: Defected Second Lieutenant, Martyred during the clashes with the regime`s army forces, January 14, 2014. One photo dead.
Farouq Bakkour
Rebel leader, killed on Dec 31, 2012 in Al-Nasiriyah neighborhood (TV announcement, documents.sy)
Jihad Abed al-Rahman Bakkour
Armed person, killed on Dec 5, 2012 in Al-Houla area (documents.sy) SCDV entry (Video and video still included): Jehad Abdelrahman Bakour, age 35, with FSA, died in "Mousa Houla: Aqrab" on 2012-12-05. He was "Affected by his wounds that he got after the liberation of Aqrab checkpoint battle" and died from them, before he got to see their Alawite hostages massacred on the 11th.
Malik Baqur
FSA, ex-Lieutenant, witness, was "in his cousin's house", buddy of Jihad Raslan (testimony)




Mazen Bakkour
Insurgent, killed on Jan 2, 2013 in Homs countryside, likely Houla (documents.sy, breakingnews)
Midhat Bakkaar
Midhat was reportedly killed in Taldou on January 25, 2014 together with Muhammad Bakkoor, Baraa` Al-'Aksh (whose family name is known from accusations of the ANNA Witnesses) and six unidentified others. Their leader Abdullah Hallaaq (see Hallaq Clan above) was wounded.
Mohammed Tayyib Baqur
FSA, ex-Colonel, tells he was ordered to bribe residents into telling the government story (testimony)

A Muhammad Bakkoor together with an Umar Bakkoor were reportedly killed on Dec 13, 2013 in Latakia countryside.

A Muhammad Bakkoor was reportedly killed in Taldou on January 25, 2014 (see Midhat above).




Nidal Bakour
Rebel group leader directing forces on May 25 according to "Arifa". According to opposition CDV, there is a "defected Major Nedal Bakour," whose very own little brother, 23-year-old Talal Bakour, apparently went down fighting in Taldou that same day (see entry below). [1] A Nidaal Bakkour was reportedly killed, alongside an Umar Bakkour, on February 17, 2013 - but way up north in Idlib province. [2]
Odai Bakour
Odai Mouahmmed Wafa Bakour FSA, from Hula, "Martyred during the clashes with the regime`s army forces." January 22, 2014. Two photos when alive, video: funeral
Osama Bakar (وأسامة بكار)
Gunman, wounded around Nov 19, 2012 in Al-Nasiriyah neighborhood (facebook)
Radwan Bakkour
Killed in Taldou on Feb 11/12, 2013, according to SyrPer.




Raghda Saeed Bakour
Reported Houla massacre victim -likely unrelated, but who knows? DCHRS listed as Raghda Sabd Bakkour, and by Center for Documentation of Violations in Syria as Raghda Saeed Bakour, age not given, married with 5 children, killed by field execution "when the town was shelled and then parts of it were stormed by the regime's thugs (shabiha) and entire families were killed." [3]




Safwan Bakkour (صفوان بكور)
Gunman, died around Nov 19, 2012 in Al-Nasiriyah neighborhood (facebook)




Sameer Bakour
Pharmacist: "Killed 22 Apr 2011 in Homs, Teldo. Shot." Implicitly by the Syrian military. From Doctor Coordinate of Damascus, via Physicians for Human Rights, March 2012
Saleem Bakkoor
Lt. Colonel, according to Ziad Fadel one of the earliest and central defectors and plotters against the regime, died in an accident blowing himself up with explosives in a Jordanian intelligence base on June 10, 2016. "Rebel" media says he was killed by an ISIS suicide bomber.
Talal Bakkour
DCHRS Listed victim of the Houla Massacre, like some others, he "lead the army" (killed soldier? Killed defected soldier/rebel fighter?). CDV expands: "He was the brother of defected Major Nedal Bakour." Married with 3 children, he was killed at age 23 on the day of the Houla massacre, not in the usual "field execution," but by "shooting." He went down fighting, it seems. Videos are cited there: the martyr at death (not the worst-looking wound to the right lower abdomen) and his funeral procession starting in the (rebels' Taldou?) mosque; many Bakours might be in this good sized crowd. [1]




Ftam (?) Bakkar (فطام بكار)
Possibly related - Gunman, wounded around Nov 19, 2012 in Al-Nasiriyah neighborhood of Taldou (facebook)
unnamed family head and brother
According to testimony of the "Rebel defector", a family Al-Bakkur was "very close" neighbor of the Okba Al-Sayed family. Nothing happened to them, he says, because "the brother of the family head is one of the most influential bandit chiefs in the region"
Hussam Ali Bakkour
Born in Taldou, confesses to murdering captive civilians in Baba Amro in Homs.[4]
Holy crap, CE, that was quick and effective work. That might be all of them, more than I thought. I added Ikrima and a / to Akrama. That female pigeon is his name meaning when Akrama has no meaning suggests that's his name, it's the same guy, and the possible link to a Houla battle perp is weakened (Ref to "Akram Sal-Saleh would not as likely to be linked to Ikrima, for a local Syrian speaker) --Caustic Logic (talk) 12:36, 2 January 2013 (UTC)
Off topic: There is something magical about the name: I did a Google image search for Safwan Bakkour (صفوان بكور). All I get is images of dead or dying Syrians and other terror crap. – Someone named Hamza Bakour is famous for having his face / jaw blown off. No need to see the pictures, but if you insist, I guess you would find them on his Facebook page: http://www.facebook.com/HamzaBakour (Did not look.) -- Petri Krohn (talk) 05:36, 3 January 2013 (UTC)
More Bakours: Syrian Center for Documentation of Violations lists, many pertaining to Houla/Hawleh/Taldou, Homs, Rastan, etc. Might be different family factions or just different families:
To clarify the significance of Ikrama Bakour's middle name being Saleh: First, as established, there's no name Akrama, just Akhram and Ikrama, which is pronounced Akrama and means female pigeon (but refers to a heroic early convert to Islam) As "Akrama," Mr.Bakour of the FSA explained to the BBC what happened in Houla. So wouldn't it be bad if here were also involved in the attack? We had no solid evidence of that, with only Nidal and Taha testified representing the family/clan there on May 25. But I wondered about Arifah's mention of one "Akram al-Saleh" involved at a decision-making level. Was that maybe Akrama Saleh Bakour, I wondered? Well, that is his name as it turns out, so probably so. He helped run the slaughter, and the concoction of a cover story with more "defectors," and helped peddle the cover story with a detailed run-down of who was killed in such detail that ... well, it seems almost like he helped run the slaughter. Yep. --Caustic Logic (talk) 05:21, 10 June 2013 (UTC)
The Shabiha-Blaming Witnesses: How?
One more suggestion. This will puzzle people. We can show rebels conquering places just yards from massacre sites in the hours before the massacres. But, the witnesses... didn't they say...? Yes, they did, clearly. So... if the rebels did it, how did these people wind up saying otherwise? (open discussion) --Caustic Logic (talk) 06:50, 2 January 2013 (UTC)
- Now we have a powerful visual aid of those Shabiha-blaming Alawite survivors from a couple miles north in Aqrab. The world,pretty much, can now see they might well have been speaking under duress when they absolved their captors and blamed their co-religionists who'd been dubbed "Shabiha." My feeling is that some of the massacre witnesses seen on video really were that. They seem genuinely terrified. Only the details they give I don't trust, obviously. --Caustic Logic (talk) 06:50, 2 January 2013 (UTC)
Yes, difficult question. Maybe the reason why we still have so few conclusions. It's not easy watching those people digging mass graves for their fellow villagers and then accuse them of making it up. And even Jalal and his buddies don't strike me as child slashers. Duress could be involved, but I also think there was some kind of false flag element to all of this, that some of the outside groups coming from Rastan etc literally "wore shia slogans on their foreheads" and chanting praises for Assad, and that the victims really didn't know who these people were. This would also explain the rebel defector story of "fighting against the government, yeah - murdering children, bye". And maybe "Shabiha" just isn't used there in the way the media uses it, which could add to explaining some testimonies. It's a tough nut to crack. --CE (talk) 11:38, 2 January 2013 (UTC)
Revisiting the Rebel Defector
So I saw Petri open the Rebel attack page, and the Taldou page and now the Mainstreet page, and totally agree that we need better oversight to connect everything. So I thought I look if the timeline is complete, kind of missed the Rebel Defector, and went to visit that again. He gives no times (I suspect that's why he's only once on the timeline), but he gives a number of significant clues as to the scene, especially in combination with the video. I know I mentioned it early on to CL, but don't know if he has seen it and if Petri is even aware of it. I also only skimmed it once and couldn't make so much use of it as I hadn't as good a grasp of the place as I have now. Here is his complete testimony. As noticed there, in the video starting at 2m9s he (or Musin) shows the places he describes on a monitor with Google Maps. A few details I found interesting when I just reviewed it:
the gathering place from where they shot at the checkpoint at the clocktower is on the other side of the little river, from the side of the city center, where they had free sight of the control point on top of the baath party house slightly north of the roundabout.
while they distracted them, the real attack happened from the (road leading to the roundabout from) east, where somewhere must be a "tower".
a gathering place he describes is at Satto Road (from there comes the label on the German map), which is according to him not where the AbdulRazaqs live, and also not equal to main street, but the road leading to east from main street, south of the roundabout. Main Street/Satto Road could be the corner where Petri found the videos with the rebels (if so, from the Hassan-Clan) shooting down south main street.
Satto = Saad, I thought. He also specifies a Tripoli road, suggesting SW, like Saad. I had the feeling he meant Saad north, from the clocktower-ish area to the ring road. "al-Sad area which is known as Tripoli road..." I thought he said he was with that group, but apparently not, attacking detachments, Sayeds mentioned, so Main Street. --Caustic Logic 20:55, 6 October 2012 (EST)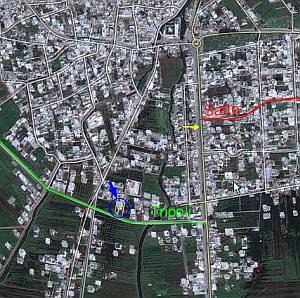 I think if you compare the transcript to what he shows in the video, it seems quite clear that he located Satto (al-Sad) and Tripoli like this. Tripoli road going west (to Lebanon) would make sense --CE 22:47, 6 October 2012 (EST)

At the picture's talk page, we will hash this out. Right? --Caustic Logic 22:57, 6 October 2012 (EST)

Exactly. --CE 09:00, 7 October 2012 (EST)
another gathering place further down main street on Tripoli road (leading west), from where they attacked the military intelligence building, our defector was part of that mob.
AbdulRazaqs live (also?) in the northwest.
His claim, and it might be. --Caustic Logic 20:55, 6 October 2012 (EST)
other interesting details
Names. --Caustic Logic 20:55, 6 October 2012 (EST)
And his description of the victims and their neighbours made much more sense now. Rings a bell?:
Very close to the house of the family of Al-Okba, the family of Al-Bakkur has a house, the brother of the family head is one of the most influential bandit chief in the region. Why did nothing happen to the family of Al-Hassan, where many family members belong to the bandits? Why do you think, were the families of Al-Said and Abdul Rasak completely murdered, while their respective neighbors – Al-Hassan and Al-Bakkur – have remained completely untouched?
Hmm, a Bakour family head, whose brother is an influential bandit chief, and the Al-Hassan clan also a friendly bandit neighbour (of the AbdulRazaqs?)... maybe a Hassan on a Major Jihad? ;o) --CE 10:04, 6 October 2012 (EST)
Agreed, of course, that thedefector deserves more attention. He's a strong witness, with some details, but some vagueness and gaps, of course. The link from Hassan/Abu Firas and/or Jihad Hassan/Raslan to Hassan/Hallak is something I didn't thin about yet. Compelling... Some other points above. --Caustic Logic 20:55, 6 October 2012 (EST)
I'm strolling around a little bit on wikimapia, looking for interesting labels. Taldou is full of labels. The house directly south of the little house we identified as the likely AbdulRasak home from the video has a label (edited two years ago) which translates to "Land Waddah Raslan" (ارض وضاح رسلان). Family Raslan from the Hassan clan? --CE 08:51, 7 October 2012 (EST)
Looking further around on wikimapia. The Defector says:

Larger units of rebels gathered on the Tripoli road that leads to water storage, more (units) also in the district Al-Nasiriyah, on the Satto-road and on the road that leads to the confectionery factory.

Found Al-Nasiriyah. Drive the 500E street from main street for a while and you'll hit the district with its square. So that makes this, Satto (240E) and Tripoli (550W) roads where they gathered to take over main street. Which makes it likely that 340E is "the road that leads to the confectionary factory". No label to be seen but there are two large buildings which could fit, one here and the other a corner west of it. --CE 11:14, 7 October 2012 (EST)
Hmmm... left the south ... nothing interesting in suspected Al-Shumariyeh. Crossed into city center. One of the rebel youtubers is "Monther Hrfosh (nontherful)". No exact match but close enough to mention: here (label too big, not exact), is (or was four years ago) "Munther Harmoush House and his brother Suhaib" --CE 11:44, 7 October 2012 (EST)
Ok, finished my round. There's next to nothing in the "Revolution Square" area - a school is labeled behind the fake clock tower if looking from the mass grave. A couple of more Harmoush family houses are labeled elsewhere. I'm now sure that the above mentioned house is from the youtube guy. It's either Jalal himself or a buddy (maybe the cameraman). Why i'm sure? I told you about how I found Ali's excursion - it was one of two favorites in Jalal's youtube profile. The other is a scene inside the city with heavy shelling/shooting going on, which I described as surreal. Uploaded and labeled late March. Had already planned to look for it on my trip, but on second look didn't had to look further, it is directly under/beside that label. Look here at "Munther Harmoush House and his brother Suhaib". See the water tower at the northern label border, slightly east of center? Go from there east to the little edge of the label there. It points at a corner house in a row of three or four, roughly north/south axis. Imagine standing there looking at the house-less area directly north of it. Meet Munther and Jalal. --CE 12:57, 7 October 2012 (EST)

The labels on Wikimapia are somehow skewed 30 meters east relative to the satellite image. Strange, es the roads only have a 10 meter skew. -- Petri Krohn 23:40, 7 October 2012 (EST)

Finally getting around to new things today. Before looking at the defector's clues, checked this. That's a big house alright. You go down the hall, past the master bedrooms, slight right at the water tower, and out the back door, and you're in that clearing NW of the house that this scene could have been filmed from. Some loyalist family home being blown up, I presume, possible inhabitant fleeing, neither chased down nor filmed, at 0:28. But that's a side-point, main thing as we have the location of these guys, whoever they are. --Caustic Logic 14:25, 7 October 2012 (EST)
I also found the Al Arbad tomb and added the location to the Taldou page. The wikimapia label translates to "Tomb of Sahabi Galilee (Arabat Ben force). David is a". I suspect our rebel battalion is named after that local saint/important figure (they also show the tomb as some kind of logo in some videos) and "force/valid" is somehow part of his name (arabic عرباط بن ساريه). --CE 00:43, 8 October 2012 (EST)
References