Hama Massacres
Jump to navigation
Jump to search
This page will examine the entire span of massacres in Hama province. It's far behind compared to the page for Homs Massacres and even if it were all filled-in, it would be much smaller and probably far less interesting. But there are still at least some incidents worth exploring, some of which have already been covered. Below is a full timeline to the present, with some incidents covered under the linked pages or sections.
Locations
Hama is a small enough province it seems worth trying to cover all of it. Here's a custom ACLOS map of the whole thing, with many cities that matter or might matter labeled along with major roads. Not the western panhandle runs almost to the Turkish border, just south of Jisr al-Shughour.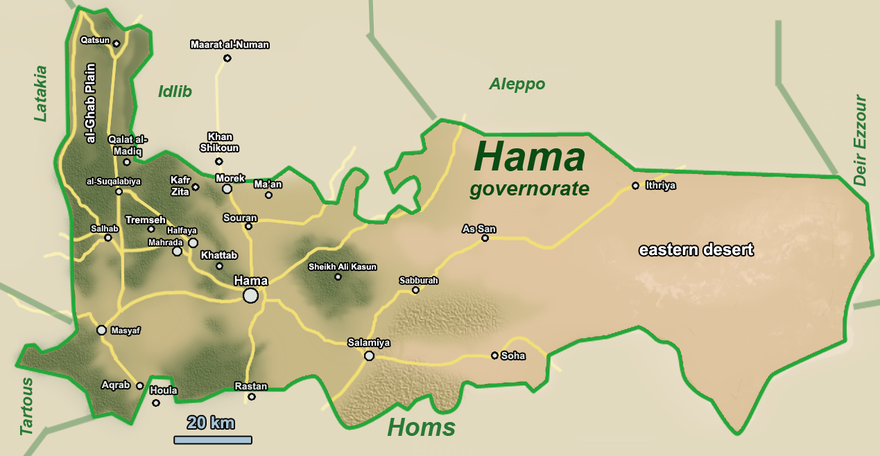 Complete Timeline
2011
April 22: 10 civilian men shot in "protests," unclear. section: April 22, 2011
July 31: More than 80 civilian men shot dead, along with 26 soldiers and police, most killed in an attack on a police station, for "at least 100 deaths" as reported, implicitly all protesters. Government claims of "armed gangs" are dismissed as the "regime" shows is "true character." section: July 31, 2011
August 9: more than 20 civilians, including women and children from a few families, are shot dead in and around Soran, north of Hama, including driving on the highway. section: August 9, 2011
2012
2013
2014
2015
Specific Incidents
April 22, 2011
An April 22 report from Reuters (Oweis) passed on charges that "Security forces and gunmen loyal to President Bashar al-Assad shot dead at least 70 pro-democracy protesters in Syria on Friday." These were spread out, they heard, in the Damascus area, Izra'a in Deraa, and in Homs, Latakia, and Hama. This may not may not count as a massacre, but serves as an early episode worth noting here. Hama's share, per VDC records, was substantial: 10 civilian men from different parts of Hama, shot dead perhaps in some protest in the city, or elsewhere. No explanation is provided. But an 11th entry there is non-civilian: a captain from Hama, shot in the head and captured on rebel cameras, where he was stationed in Deraa. He's not even specified as "defected," so it's not clear why he's on this list.
July 31, 2011
Al-Jazeera:
The National Organisation for Human Rights, a Syrian activist group, said ... at least 100 deaths in Hama, after tanks and soldiers stormed the city ...
US President Barack Obama said he was appalled by the Syrian government's use of violence against its people and promised to work with others to isolate President Bashar al-Assad. "The reports out of Hama are horrifying and demonstrate the true character of the Syrian regime," Obama said in a statement released by the White House on Sunday. [1]
VDC records show 87 Hama martyrs July 31 All are adult males, killed by shooting, many or all with the notes "Died by gunfire" and no further information past name and area, which is often vague. Men were killed in Hama:(blank), Hama:Hama, and a lesser number in specified areas. Notable names: Tarsha x 2, al-Masri x4, Mlieh/Mleih x 2, Suleiman (Sulieman), Ibrahim (Alibraim) Baroudi, etc.
On the other hand, the VDC's regime forces fatalities list for July 29 August 2 shows 44 were killed, with these 28 killed in Hama. All but two were killed on July 31, when something special happened that killed 13 policemen and 13 military men of different ranks, perhaps related to all the civilian deaths.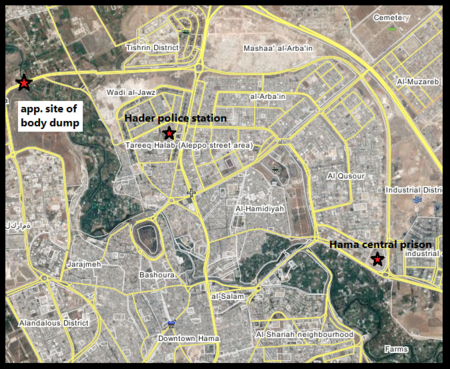 As explained with sources in this blog post, the 26 are listed as killed in Hader police station (8), possibly in the central prison, at an officer's club, and north of Hama, around Soran. Hader station seems to be in the northwest of Hama, less than 2 kilometers away from bridge over the Orontes river where 8 bodies were dumped the following morning, it seems, August 1. As CNN's ambiguous report noted, the activists posting it said this was Shabiha dumping dead protesters, but they wear gray slacks, black socks, and white dress shirts. They look more like executed policemen, tossed into the water by armed civilian dress men shouting "Allahu Akbar!" Syrian authorities say a total of 13 bodies recovered from the river (video).
A Guardian report the next day called it " the bloodiest day yet of the uprising," with "up to 85 who reportedly died in Hama" But the VDC's 87 civilian martyrs and 26 killed cops and soldiers add up to a total of 109 in Hama alone - just like al-Jazeera heard, "at least 100 deaths." This incident - minus the alleged deadly raid on the police headquarters - was the first big massacre - of at least 100 protesters - that did get reported in Hama. Consider now, as Al-Jazeera reported:
JJ Harder, the press attaché of the US embassy in Damascus ... Asked if he accepted the Syrian government's contention that its forces were up against armed gangs, Harder said: "The Syrian government is completely delusional. They are making up fanciful stories that no one believes.
"Our ambassador Robert Ford was in Hama earlier this month, and he saw with his own eyes the violence that they are talking about. There was none.
"He maybe saw one teenager with a stick at a checkpoint, and the government is going on with these absolute fabrications about armed gangs running the streets of Hama and elsewhere.
"Hama has shown itself to be a model of peaceful protest. That was why our ambassador chose to go there. [1]
August 9, 2011
The VDC lists 26 martyrs from Hama on August 9, all civilian, mostly killed by unexplained "shooting" in and around Soran (north of Hama, Souran on Wikimapia). 14 men, 5 women, 2 boys, 5 girls - duplicate names: Suliman, al-Sheikh, Qannas, Hammoud. one man killed by sniper bullet at home in the Sabouniyeh district. Some were killed by shelling - of a family in a car. a cited video mentions Soran and Taibet al-Imam (town) and shows a pickup truck off the road and being filmed by rebel media people. It has bullet holes in the windshield, and heavier rounds hit the body. The bed in back is full of blood. For some reason, they aren't able to show any video of the civilian massacre victims.
Waza Family, February 2012
February 24: all 10 martyrs in Halfaya Six, including children, are named Wazza. Six are listed as field executed, the others (including a Wazza boy and a Daboull man) were shot (the latter by a "sniper"), or shelled (two boys of other families). All-in-all, two men, one woman, 7 children. Muayad Abd Azeez Waza, farmer, age 36, married with children. Mother's name: Subhia. Martyrdom location: Shier village. video video. A boy is listed as having mother's name: Ahlam Hamoud, so his mother ("wifehouse," 32, mother: Mariam) was killed, alsofor seven of this family at Shier village, where it seems they lived. They were likely robbed as well by the government-backed Shabiha. One of the shelled boys (photo - intact - from shelling that was "continuous," regime, random) has a mother named Khadija Hamoud - related to Ahlam? (all this mother-naming is unusual, BTW).
Mashaa Al-Arbaeen Massacre
LCC, April 23, 2012:
...11 martyrs who were executed, an entire family, 4 defected soldiers .... 50 martyrs were reported in Hama ....
Hama: The regime committed a new massacre in Mashaa Al-Arbaeen neighborhood, where they violated all human right. Security forces and regime's army shot dead 11 people, their names are: Turky Barghash, Asem, Qasqas, Esan Kheiro Arman, Ibrahim Mohey Edden Dahna, Reyad Mohey Edden Dahna, Ahmad Al-Ali, Mohammad Al-Tabl, Ali Zeno, Abdul Samad Dabory, Mohammad Ewad Al-Ahmad, and Ahmad Al-Masry. Many martyrs who fell from the random shelling should be added to this list. This comes after the approval of the Syrian regime on stopping the gunfire and withdraw military vehicles from the cities, and a day after the international observers visited Hama [2]
All 46 Hama martyrs, April 23 [3] All but one are listed as from Hama: Mashaa Al-Arbaeen. All but three (FSA) are listed as civilian. Any number of the rest might be unacknowledged fighters.
Zur al-Hisa Massacre
Aug 4 2012, VDC records show 7 men and 2 boys, mostly named Satuf and/or Jaloud, were killed by shooting. No further explanation is given, aside from their being listed as farmers, from Halfaya. Zur al-Hisa seems to be here on Wikimapia as Hissa - on the river just east of Halfaya. It might be rendered zawr alHissa - other nearby towns on the river have zawr as a prefix.
Al-Noaemi Family, December 2013
On December 28, 7 members of the al-Noaemi family were reported massacred in the "Ezzedine" area of Homs province, apparently here on Wikimapia, between Rastan and Salmiya. VDC list for Ezzedine, all December = 10 martyrs, nine from this family. On December 28:
Abdullah Khaled al-Seoud al-Matar al-Noeimi Ez al-Deen Salim - Cause of Death: Other. Notes: The family of Abdulla Khaled Saoud al-Matar al-Noaemi slaughtered by Shabbiha forces, including his 6 children.
Shortened descriptions for the mostly-unnamed others: Abdullah's wife, Najem, Sohail, daughter 1, daughter 2, family 7, all listed as Adult-Male, and apparently incomplete. Same day, different family: Usama Awad al-Matar killed in Ezzedine by "shelling." Different day, same family: Nour al-Huda Husain al-Saroot al-Noaemi girl, age 2, photo after death, and Mohammad Aysar al-Fayad al-Noaemi boy, baby by the photo, both killed December 23, five days before their relatives, by random "warplane shelling," specifically with "explosive barrels." Otherwise it seems to remain a fairly quiet town.
There's another town, Tlul Homer, right next door, prety quiet except for the same day, VDC list for all Hama province (so which is it?) has two more. [http://www.vdc-sy.info/index.php/en/details/martyrs/106475 Fatima Ez al-Deen al-Nakoue al-Noeiami adult female Abd al-Razzaq Mohammad Khair al-Nakoue al-Noeaimi child, male - "Martyred due to regime`s army forces sporadic shelling," the notes say. The only people in that town, that day, martyred by anything, except for Ibraheem Mohammad al-Khaled adult male. Another Khaled man was shelled that day up in Soran here, along with six other people, mostly of the Hamoudeh family (see same link).
All Noaemi martyrs from Homs province: 27 plus at least this guy with a different spelling, non-civilian, one of the few from Ezzedine, and just killed Jan. 2 in Hajar Aswad. Last Ezzedine Noaemi killed before this recent cluster was a guy tortured to death in September. In between, quite a few non-civilians killed, mostly around Damascus. They apparently have a strong rebel branch, and a branch that's been getting massacred, and it's not clear they're the same. Or different.
Non-Maan Massacres
Same day, same area, hardcore rebel sources deny a massacre in Hama and instead cite two massacres by regime forces in nearby towns. These are covered in some detail in an associated blog post as a possible means of obscuring the Ma'an death toll.
Jalama Massacre
The same day as Maan and other mass-killings in that area, a separate massacre to the east. A Moshen family, noted by VDC as "several civilians martyred in a massacre during the storming of the town by regime's forces." By VDC records, 17 were killed - these 15 and these 2 women. Location: north of Tremseh. on Wikimapia.
As the blog link explains, the Local Coordinating Committees also reported the Jalama Massacre of at least ten civilians, including an unidentified displaced family.
Souran Massacre
(f/c)
Khattab Massacre
SANA report, July 10 "An armed terrorist group on Wednesday perpetrated a heinous massacre, slaughtering 14 civilians including women and children in Khattab village in northwestern countryside of Hama province."
A July 27 follow-up report says "the judicial committee formed to investigate the massacre" had issued their report on Sunday. It "concluded that an armed terrorist group consisting of around 200 terrorists using cars and motorbikes entered the village of Khattab on July 8th 2014 after cutting off electric power from it, opening fire on local and taking 14 people hostage. The hostages, 8 women, 4 men, and 2 military personnel, were taken by the terrorists to the village square and were shot dead, and some of them were also beheaded." The report also cited theft and burning of homes, and also identified "six of the perpetrators who were from the same village," listed as Mahmoud Mohammad al-Zhouri, Abdelmajid Ahmad Ali, Ahmad Fares Khafif, Mohammad Abdelghani al-Mahmoud, Hayyan Radwan al-Akhras, and Wael Abdelrahman al-Ismael.
Location: Khattab on Wikimapia - between Halfaya and Hama.
References