Talk:Civilian airports
Jump to navigation
Jump to search
Are Syria's airports operating?
The impression one gets from the news is that Syria's airports are under constant attacks. In Damascus the Eastern Ghouta is controlled by rebels. (Or was until last week) There is daily fighting on the Airport Road. Aleppo is said to be under siege and almost completely surrounded. The airport is under attack and cut off from the city. How then could the Syrian Air or any airline operate in Syria? (Kind of indicative of the situation is that SANA news agency today boasts about having been able to send a 58 ton "medical shipment" to Aleppo. A great success, considering that Aleppo was the center of the medicine industry in the Middle East.)
Some weeks ago I tried to find if there were any scheduled flights to Syria. The on-line flight booking services did not show anything, possible because Syria in under "sanctions" and credit cards would not work anyway. Tried looking at arrivals and departures from Moscow and some Arab capitals, but hit a dead end. I even had a look at some on-line flight tracker, but all it showed was a train of planes in Turkish Silopi evaiding Syrian airspace.
The Syrian Air website is as bad as everything else in North Korea Syria: last updated in 2011, with a fancy map of all their destinations in the European Union. Flights to the EU are under sanctions, so one must assume that that part of their web page is bullshit. With the Arab League recognizing the SNC/al Nusrah government, one would not expect the services to Arab countries to work much better.
There is no timetable available. Not even a list of destinations. On this page there is something called "Book a Flight", but the link leads nowhere. Well, you can download the airline anthem in both mp3 and rm formats. Fuck, Gaddafi takes better care of his web pages!
Today I hit the Google jackpot. Groups in Russia had been collecting aid for Syria. Something like 2 million rubles ($60k) and 20 tons of medicine, enough for the country for some 15 minutes. SANA announced that "a Russian aircraft carrying relief and medical assistance from the Russian people to the Syrian people arrived on Sunday in Damascus International Airport." They also posted photos on their Facebook page. Turns out the cargo arrived not on a "Russian aircraft", but on a Syrian Air Airbus A320. Most importantly the pictures show the registration number: YK-AKC. This turns out to be the vital clue that solves all the airline mysteries.
A Google search for YK-AKC returns as the second result a link to flightradar24 showing the flight history for the past month. The latest record shows the plane just returning from Kuwait. The list shows about one flight a day to Arab capitals for the last month. Interestingly, the history even shows scheduled flights between King Khaled Airport in Riyadh, Saudi Arabia and Aleppo. Now, who would be taking these flights? Saudi jihadists on leave?
The flightradar24 list of airplanes flying for Syrian Arab Airlines lists 10 different aircraft. The two Boeing 747s are not in service. Of the six Airbus A320s five are in regular service: YK-AKA, YK-AKB, YK-AKC, YK-AKD, and YK-AKE. The sixth, YK-AKF collided a with a military helicopter after taking off from Damascus on September 20, 2012 and lost the upper half of the vertical stabilizer. May take some time before spare parts arrive. The five remaining Airbuses seem to operate a normal schedule to all the normal peacetime destinations from both Damascus and Aleppo – apart from the Empire of Sanctions, that is.
What I could do is compile a list of all the flight numbers and destinations and reconstruct the weekly schedule. Then again, would it not be easier if Assad's evil airline just published their timetable somewhere!
I also had a look at departures from Cairo. I seems that Egypt Air MS723 left for Aleppo at 00:01 this morning. ...or maybe not. -- Petri Krohn (talk) 06:40, 15 April 2013 (UTC)
P.S. – Another view of Syrian Air planes and routes is available here: YK-AKA YK-AKB YK-AKC YK-AKD YK-AKE -- Petri Krohn (talk) 06:43, 15 April 2013 (UTC)
Nothing to add, but wanted to say extra good work here. I'm not sure I follow the details, but it could be a great resource for people with the same questions. --Caustic Logic (talk) 23:09, 15 April 2013 (UTC)
This old Euronews story says EgyptAir and Emirates airline suspended flights to Damascus at the end of November 2012. -- Petri Krohn (talk) 21:15, 26 September 2013 (UTC)
NOW picks up story
Hooray for investigative journalism! Matt Nash, writing for Lebanese NOW has finally managed to find out some of the information presented here two months ago. He would not at first believe the live FlightRadar data, so he followed up with phone calls.
-- Petri Krohn (talk) 10:32, 8 June 2013 (UTC)
Aleppo no longer operating
I checked the latest fights and it seem that the Aleppo International Airport is no longer operating; no flights form Aleppo for the last month. More flights than before are now originating from Latakia.
Here is a list of destinations from the past few weeks: Kuwait Intl (KWI), Doha Intl (DOH), Cairo Intl (CAI), King Abdulaziz Intl (JED), Vnukovo (VKO), Dubai Intl (DXB), Abu Dhabi Intl (AUH), King Khaled Intl (RUH), Houari Boumediene (ALG), Queen Alia Intl (AMM), King Fahd Intl (DMM), Baghdad International Airport (BGW), Khartoum (KRT), Imam Khomeini (IKA), Rafic Hariri Intl (BEY), Borg El Arab Intl (HBE) -- Petri Krohn (talk) 06:26, 2 September 2013 (UTC)
Yonatan on MofA points out the Flightradar 24 says Aleppo has flights to Damascus and Moscow. I have not checked if this data really means anything. (Maybe the scheduled flights have been diverted to Latakia.) -- Petri Krohn (talk) 11:34, 11 September 2013 (UTC)
"Arabi Souri" has translated an Al-Mayadeen report about a recent operation to "liberate" the airport. It seems like what they are/were doing is secure a large enough buffer zone around it so that flights can't be threatened anymore like they have been "for months". The airport itself seems to have been in Gov control all the time, but no traffic due to the risks. --CE (talk) 21:50, 9 November 2013 (UTC)
Follow-up report. --CE (talk) 04:02, 11 November 2013 (UTC)
Back to normal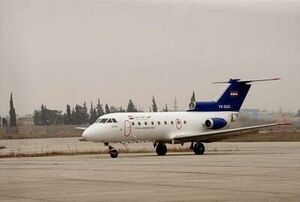 Aleppo International Airport is again operating, with flights to Beirut, Riyadh and Jeddah. Flights RB381 and RB382 to King Abdulaziz Intl Airport in Jeddah were restored on November 18, as was flight RB390 from King Khaled Intl Airport in Riyadh. Flight RB182 from Beirut also flies to Allepo, starting from November 27. Flights between Aleppo and Damascus are still not visible on the Planefinder database. -- Petri Krohn (talk) 23:16, 4 January 2014 (UTC)
The apparent contradiction might be explained by this article. CNN's Fred Pleitgen reports how he and a bunch of other western journalists were taken on a surprise trip with this Yakovlev YAK-40 (as he identifies and an image search leaves no doubt). They were told that the plane was going to Damascus and only in the air the real destination was revealed. On the ground "A live transmission vehicle and dozens of reporters were waiting to greet us as Syrian government TV carried the live banner proclaiming "The reopening of Aleppo Airport and the landing of a commercial flight."". A PR stunt. Now it's "official"! What a bold move. :oD (edit: don't miss the video) --CE (talk) 14:49, 24 January 2014 (UTC)
UPDATE: Flights RB381 / RB382 and RB389 / RB390 have been flying from Aleppo to King Abdulaziz Intl (JED) and King Khaled Intl (RUH) respectively. The last flight from Aleppo recorded was on December 27, 2015. On January 1, 2016 the flight have been moved to Damascus. Also notable is that only YK-AKA seems to be operating in 2016. (Or maybe the other planes stopped using their transponders.) -- Petri Krohn (talk) 16:55, 15 February 2016 (UTC)
August 2016
New plane: EP-MNM
Mashhad (MHD) - Kish Island (KIH) W51044 2016-04-26 15:52:18
Damascus Intl (DAM) - Dubai Intl (DXB) RB515 2016-08-13 08:55:17
-- Petri Krohn (talk) 14:10, 19 August 2016 (UTC)
The live FlightRadar24 map shows Alexandria Airlines flight 4J601 / FDK601 from Damascus to Al-Qamishli in eastern Syria. The Boeing 737-5C9 plane has registration SU-KHM. -- Petri Krohn (talk) 11:51, 20 August 2016 (UTC)
November 2017
The Syrian Air web site has finally published timetables for 2017:
Daily flights to Iraq, UAE, Gulf states
Twice a week to Cairo, Amman, Algeria, Khartoum
Weekly flights to Tehran and Moscow
Saudi Arabia is no longer on the list of destinations. Two Airbus 320s of the original six are operating: YK-AKE and YK-AKF. YK-AKF was damaged is a collision with a helicopter in 2012, but has finally been repaired. -- Petri Krohn (talk) 19:25, 8 November 2017 (UTC)
February 2020: Aleppo Airport reopens
The articles are not fully consistent with our information. Flightradar and Planefinder did show international flights to Aleppo in April 2013. I did some more research. I found an Arabic language Twitter account for Aleppo Airport. As wee stated above, limited traffic was restored in January 2014. Three weekly flights to Damascus, price for 1-way ticket was 3913 Syrian pounds, which equals 25 dollars. Solders would get a discount.
I could not find any information on flights in early 2013. Feb 27, 2013: All incoming messages bear questions about the airport opening date. We apologize to all those who contacted us for not being able to... May 20, 2013: Important notice We hope that you publish it: No decision was issued by Syrian Air regarding the conduct of its flights through Aleppo International Airport on... May 25, 2014: For bags that have stayed at the airport since it was closed more than a year and a half ago, you can get the bags by checking...
The above information says that commercial flights stopped in late 2012. Maybe Flightradar24 was wrong after all. Is it possible that the scheduled flights to and from Aleppo were diverted to Latakia, but the transponder signal would say "Aleppo"? -- Petri Krohn (talk) 15:17, 18 February 2020 (UTC)
P.S. - YK-AKF is now the only Airbus 320 operating. There is also a Airbus A340-312 with registration number YK-AZA in service. -- Petri Krohn (talk) 15:48, 18 February 2020 (UTC)
Sources
Photos of Russian "Rossii" plane (RA-76429) at Latakia Airport. -- Petri Krohn (talk) 21:25, 14 October 2013 (UTC)
Missile attacks?
I could not find any information on any foreign airline flying to Syria. This story is about a Russian Nordwind Airlines plane flying over Syria from Sharm el-Sheikh, Egypt to Kazan, in Russia´s republic of Tatarstan.
-- Petri Krohn (talk) 00:02, 30 April 2013 (UTC)
Syrian Airspace
In April 2013 Syrian airspace was embargoed by most international airlines. Not all, because very occasionally one of the Gulf airlines would sneak through.
It was caused by the missile incident Russian Plane Attacked (Though I seem to remember at least one non-Russian aircraft being attacked?)
Recent checks show Syrian airspace has returned to normal

Thanks, Charles. Looks like the world community is slowly accepting that Syria will stay. Excellent news for Syria's sovreign airspace, better yet when armed terrorist groups are out from beneath it. --Caustic Logic (talk) 11:27, 5 January 2014 (UTC)
EU embargo
A Syrian plane with 26 Geneva 2 peace talks delegates onboard has been delayed at Athens for hours, and reportedly prevented from refueling after it landed. Despite Greece saying the issue has been resolved, the plane remains at the airport.
The plane en route to Switzerland was permitted to pass through the relevant airspace and had to land at Athens' airport for refueling, Reuters reported.
Despite having proper clearances, the plane was still refused a refuel and the delay, so far, is three hours, according to SANA.
Domestic Air Travel Booming
Story on operations and sanctions on Syrian air Despite sanctions stopping Syrian Air from flying to Europe, business couldn't be better for Syria's national carrier. Civil war has mad domestic road travel perilous, leaving people no other alternatives to get around. --Charles Wood (talk) 02:04, 25 January 2014 (UTC)