Category talk:Weapons
From A Closer Look On Syria
North Korean gas masks?
Odd story published August 27.
North Korea tried to export gas masks to Syria but they were seized in Turkey along with arms and ammunition, a Japanese daily said Tuesday.
A Libyan-registered vessel, identified as Al En Ti Sar, left North Korea for Syria earlier this year with the consignment, the Sankei Shimbun said, quoting unnamed sources from the US military, Japanese and South Korean intelligence.
The vessel sailed through Dardanelles in Turkey on April 3 and was searched shortly after by Turkish authorities, who had been tipped off by the US.
Turkish officials seized 1,400 rifles and pistols and some 30,000 bullets as well as gas masks apparently for chemical protection.
US authorities believe that the ship was intending to unload its cargo in Turkey and send it overland to President Bashar al-Assad's regime.
Spin:
Several details do not add up:
I find it far more likely that this was yet another shipment of old Croatian weapons with a topping of old North Korean gas masks heading for rebels via Turkey. -- Petri Krohn (talk) 05:30, 11 September 2013 (UTC)
Barrel bombs?
I wonder if the barrel bombs even exist. But off-topic, here are some real-life barrel bombs.
-- Petri Krohn (talk) 16:26, 18 April 2015 (UTC)
Stinger missiles at Lugansk airport?
At the airport in Lugansk on the former positions of the Armed Forces of Ukraine, was found a large cache of weapons and ammunition. In the arsenal also present examples of foreign production, including heavy weapons. Currently were found American MANPADS, according to preliminary data it is a system of "Stinger". Samples of weapons were handed over for examination.
FIM-92 Stinger
The FIM-92 Stinger is a man-portable infrared homing anti-aircraft missile system produced by Raytheon Missile Systems. It has a range of 4,800 meters (15,700 ft) and can hit aircraft at altitudes up to 3,800 m (12,500 ft). It has been in service since 1981 and remains in use with the United States Armed Forces and with 30 other countries.
Yellow squares, on two diagonally opposite corners on the case and yellow data markings, indicate it contains a live round.
Containers for trainers are marked with blue colored squares for the tracking head trainer (THT) and bronze for the field handling trainer (FHT). In addition, the data markings are white and these containers have the word "INERT" on the top of the case.
Debunk
A video from Ukrainian pro-Russian separatists, claiming the discovery of US army Stinger missiles in a Ukrainian military airport in Lugansk, has been declared a fake as it contained spelling mistakes and a typo similar to the one from popular video game Battlefield 3.
The footage shows the rebels storming an underground compound and dusting off a wooden case with a "US army" inscription, where a the MANPADS Stinger 92 surface-to-air missile is stored.
However, bloggers were quick to notice a typo on the wooden box, which carries the word "Re usable", not hyphenated, unlike the real one which is hyphenated. There is also a misspelling of the word "loaded".
But the most significant mistake is found in the inscription on the Stinger weapon itself, which reads "tracking rainer" instead of "tracking trainer".
Video games blogger Anton Logvinov noted on his website that the same typo occurs in the EA first-person shooter game Battlefield 3, leading him to believe that the Stinger 'discovered' in Lugansk is likely fake.
2017
Swarm of drones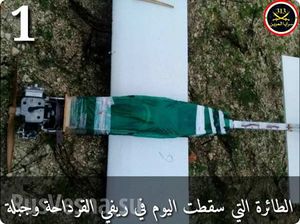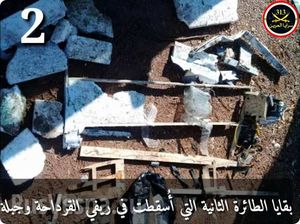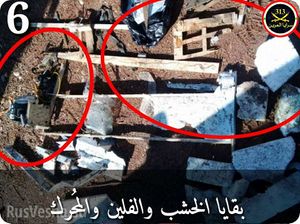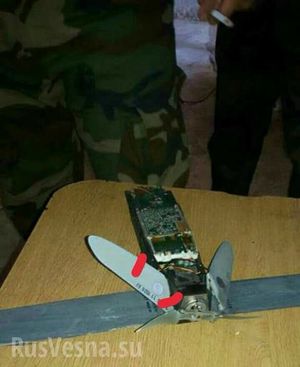 See Syria news, 6, 9-12 Jan. 2018. Some Western coverage e.g. here (Dave Majumdar, National interest, January 12, 2018). Although components (and GPS) are commercially available, this requires developing control software to guide drone to the target. This is a quite serious project, but once developed, can be easily reproduced and quite easily adapted. Assistance of 'a developed nation' was alleged by Russian MoD, while another version (alleged by 'developed nation(s)'?) is that rebels developed this technology themselves. Hard to know which of those two scenarios are worse (giving advanced technology to jihadis or having jihadis developing it themselves). Do not want to comment on which of those possibilities more likely; but both have serious ramifications. --Resup (talk) 22:33, 15 January 2018 (UTC)
Actually it's not that hard using technology available since at least 2011 - when I bought my first Adupilot and fitted it to my fixed wind drone (peaceful purposes only :-) ).
There is plenty of software to enter a GPS course into the pilot. The only minor thing is the bomb release but I'm sure there is a function these days that can be adapted without reprogramming the device
DIY Drones has plenty of resources and even a shop to buy the parts - though Hobby King is cheaper --Charles Wood (talk) 12:06, 16 January 2018 (UTC)
I'll just add that modern drone navigation units have most of a sophisticated inertial navigation system built in and they use sensor fusion with external GPS feeds (or Glonass or whatever) to maintain very accurate tracking. They can even fall back to older technology and carry out missions on dead-reckoning if the GPS feed is disrupted.
Now if the drones used optical ground tracking - visual or radar- like cruise missiles do, I'd be impressed. On the other hand it's not that hard to do these days but maybe a bit of a reach for al-Qa'ida or ISIS at the moment --Charles Wood (talk) 12:22, 16 January 2018 (UTC)
(I'm starting a sweepstake for just when the usual suspects write an in-depth expose on this topic with the usual lack of attribution or any actual knowledge of the subject :-) --Charles Wood (talk) 12:35, 16 January 2018 (UTC)

Hm, interesting. What I was saying, doing this from scratch is quite difficult. (Since they got the drone, there is most likely a way to tell an off-the shelf program from a new one)--Resup (talk) 15:19, 16 January 2018 (UTC)
Actually, situation is not clear. As Charles pointed out, off-the shelf software (not just hardware) is available, by market forces of capitalism, so it is not as bad as I thought. But there are still suspicious things, like near perfect overalls, including timing, new elements combined (wooden frame+ this tech), launch from Turkey-controlled area, and swarming --which is I believe is quite new (e.g. here). There may be bigger swarm one day. All of that can be not assisted, or otherwise, and I do not have full confidence that it was not assisted (with availability as an extra excuse). It should be possible having the drone to figure out--but I doubt they will do it in a public way, beyond what was said so far, possibly for audience at home, with insufficient detail for skeptics; so we will never know for sure. --Resup (talk) 20:58, 16 January 2018 (UTC)
I sense the term 'swarm' has entered the discourse solely because it sounds good. To actually have a swarm you need inter-aircraft communications - most likely mesh communications - and an overall algorithm to achieve the Swarm Prime Directive ( :-) ). Yes it's doable at short ranges and low cost - e.g. Zigbee - but for anything to coordinate over tens of kilometres and achieve a swarm behaviour is getting a bit difficult. Far simpler to program UAVs to attack one or more targets by slightly different routes and timings and hope to overwhelm the terminal air defences. Even more simple is a regiment of Grad launchers 40km away saturating a target area with dozens of missiles. The Israeli Tin Teapot and indeed most terminal air defence systems give up with that scale attack. It's simple, effective, destructive, and unstoppable - at least until the counter-battery fire kicks in.
Kata'ib Hezbollah in Iraq used the multiple (IRAM) missile technique to severely damage US facilities at the cost of losing an improvised launcher vehicle each time --Charles Wood (talk) 07:20, 17 January 2018 (UTC)

The issue. IMO. is whether those jihadis receive Western aid. Had an accidental chat with Israeli ex-mil telling (on issue why intifada stopped) that what an individual ideology adept can accomplish is a knife attack; something bigger than that has a backing or blessing --Resup (talk) 09:10, 17 January 2018 (UTC)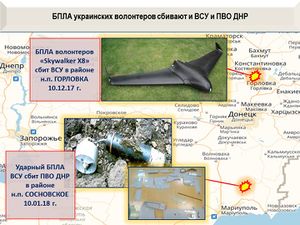 Did someone say "Ukraine"? I did, but I just pulled it out of a hat. But Russia may actually be saying the same thing:
-- Petri Krohn (talk) 21:30, 18 January 2018 (UTC)
It's now been suggested that the drone controllers were a hobby-grade controller the Pixhawk. Images of the controller appear in projected images at a Russian Briefing - see around 4:09 --Charles Wood (talk) 09:47, 23 January 2018 (UTC)
USA
Sniper rifles
"Separatist" sniper rifle, DPR production, 23 mm (same as anti-aircraft gun), said to be with range 3000 m , on a heavy platform. They probably want the range to be 3000 to try to counter operators of Javelins anti-tank missiles which , I believe, have stated range of 2500 m (and claimed to be possibly higher, 4000 +)--15:07, 9 February 2018 (UTC)
Radios, old