Category talk:Market Attacks
Jump to navigation
Jump to search
Precedents
(copied from Talk:Douma Market Attack, August 2015)
Monitor on Douma Market Attack: Precedents Covers patterns with market bombings and likely false flag attacks in Bosnia in the 1990s, some relevant precedents from the Syrian conflict.
Monitor on Massacre Marketing: Other Market Attacks (incomplete) All told, the VDC lists 980 civilians killed by attacks on markets. Two are "regime's army, rank: civilian," killed in market attacks by ISIS and FSA that killed one person each. 978 are civilians killed in attacks allegedly by the regime (unless Israelis or US-coalition forces have hit any markets - their victims are included as martyrs, just not acknowledged rebel ones, usually). For those hung up on the all-male aspect for the August 16 attack (includes me), it's standard. 803 market victims are men, 97 are boys, and they list 55 women and 23 girls killed. That's 92 percent male victims specifically in the whole body of market attacks. Over half the dead are killed in aerial attacks, just under half by other: shelling of a market, explosion at (car bomb) and shooting at (mostly in the early days before the regime got enough bombs to really get going?) Dozens and dozens of incidents, killing from 1 to 152 people each, interesting patterns. --Caustic Logic (talk) 11:16, 11 September 2015 (UTC)
Ariha, August 3
One case mentioned there deserves special analysis here, a bizarre precedent speaking to fighter jets bombing markets, and to the need for a more professional "no fly zone." August 3, 2015 - rebel-held Ariha, Idlib province (recently conquered, well after Idlib, will be another Islamist occupation like in Douma). War News Updates reports 27 killed and dozens wounded "after a Syrian army fighter jet crashed into a marketplace in the Syrian town of Ariha in Idlib province." Citing Reuters citing locals, they say civilians were mainly killed, and "The plane had dropped a bomb on the main Bazaar street at low altitude only seconds before it crashed," Ghazal Abdullah, a resident who was close to the incident, told Reuters." The SOHR reported that the jet was not shot down, so all damage should be from its bombs, not any embarrassing shoot-down into the market.
Or, less-obvious to me ... are they saying the jet bombed the market then crashed in without being shot down? Seriously, are they hearing regime jets are sucide-attacking markets now just to kill ... who? VDC lists 39 Idlib dead, nearly all men, a few boys, no surprise ... this is Islamist market alleged makeup, at least on fatal days. ?? --Caustic Logic (talk) 23:36, 8 September 2015 (UTC)
But, whatever proportion was killed by what - and however embarrassing vs. useful it proves - Getty Images/Anadolu Agency has a photo to prove it came down. This says 35 were killed but shows in this earlier precedent for jets attacking markets, there was proof. Some flag-marked jet wreckage, next to melons. It looks arguably natural how it came together, but ... to me, the metal appears to be quite weathered, having spent some time in this same crumpled state. From the close-cropped photo, the size of material appears easily transported and planted. If there's much more of it, maybe not. If this jet was shot down long ago and had its wreckage saved as a prop and later dropped here to prove jet-on-market action ... what does that say about later alleged jet-on-market attacks? --Caustic Logic (talk) 23:01, 8 September 2015 (UTC)
Douma, October 30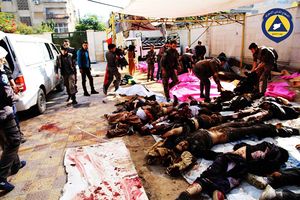 Another attack on the Douma markets was reported on 30 October 2015. White Helmets twitter account has a photo of what looks like the same schoolyard, with wrapped bodies and mention of more than 50 dead Pmr9 (talk) 12:08, 30 October 2015 (UTC)
AFP reports that "An AFP photographer at the scene said Thursday's attack had wounded hospital staff, limiting the treatment available for the wounded on Friday. He said the attack on Friday took place as residents gathered at the market, leaving corpses piled on top of each other." There was apparently an air strike on "a market and a hospital" on Thursday, followed by "more than a dozen" rockets on Friday Pmr9 (talk) 12:19, 30 October 2015 (UTC)
White Helmets tweeted The count from Douma (Damascus) currently sits at 61. 55 have been identified, 6 corpses remain unidentified. This tweet says Syria bombed the hospital, while SNC says Russia bombed the market, this one says the same and this by the same person says "a dozen ground2ground-rockets hit the rescue services at market area in Douma well known diabolic strategy by regime." (So mapping out an arc of surface rockets again may or may not matter) Mangled bodies at Annatr school morgue. This guy was blocked by WH for criticizing their reliability. --Caustic Logic (talk) 23:07, 30 October 2015 (UTC)
More here, plus photos. -- Petri Krohn (talk) 23:48, 30 October 2015 (UTC)
A bit more: Al-Jazeera mixes up the attacks: "A medical centre run by Doctors Without Borders (MSF) was bombed on Friday killing 70 and leaving at least 550 wounded." MSF gives those numbers for the Friday attack but says the clinic was hit day before, like everyone else, noted the blast injuries were the most severe they've ever seen. "This was an extremely violent bombing," said the director of a nearby MSF-supported hospital who assisted in the first wave of the mass-casualty response. "The wounds were worse than anything we've seen before, and there were large numbers of dead. We had to do many amputations. And a lot of the wounded had massive blood-loss, which means we needed large amounts of IV fluid and blood bags. We did our best to cope, but the number of critically wounded was far beyond what we could handle with our limited means." What might explain that? People just packed in a room with the bomb? Just luck of the draw? --Caustic Logic (talk) 07:32, 3 November 2015 (UTC)
VDC: 79 martyrs from Damascus suburbs, mostly Douma, killed by warplane shelling 10/29-11/01. 8 on the 29th, 11 after the 30th (may be just died from injuries or include new attack victims), only 60 on the 30th, so 70-71 seems right for the Friday attack. Of those 71 killed Friday and after, 60 are men, as it usually is. SOme repeat names, Haddad, Mdawar, another unlucky al-Tout man, etc. ... 3 boys, 5 women, 3 girls round off what VDC records for who died buying veggies and/or rescuing on this day.
Ariha, November 29
Another attack on the Ariha market, this time by Russian aircraft, reported on 29 November 2015, with "at least 18 dead" according to SOHR. Videos show bodies laid out in a makeshift morgue, all adult males as far as I can see Pmr9 (talk) 19:19, 29 November 2015 (UTC)
See this elsewhere, Daily Mail, perhaps taking it from this twitter. And this. Also aljazeera. Nothing of value in Russian sources so far. Video appears staged--camera focuses on a spot of next blast before it goes off, than a small charge goes off, not doing much damage to those nearby... Place/time/circumstances uncertain... --Resup (talk) 21:33, 29 November 2015 (UTC)

Ariha again, is it? I saw al Jazeera reporting 46+ dead or 60+ per SOHR. Sounds suspiciously high. In some quick tallying, VDS already has 28 victims listed - 24 men, 4 boys. Quite normal. --Caustic Logic (talk) 02:37, 30 November 2015 (UTC)

Checking VDC again - it's still 28, with some added and others that didn't belong. these 23 from Ariha (19 men, 5 boys) and these 5 men from other towns but died there. No delayed deaths clearly listed. No names are obviously familiar. Mustafa Sharif Majouj was killed with 3 sons, Shareef Mustafa being over 18, the others listed as boys. 2 Qaddahs, 7 unidentified, no other repeat names. --Caustic Logic (talk) 07:18, 3 December 2015 (UTC)
Kafr Batna, December 4
Syrian government fighter jets hit a popular market in the Kafr Batna district of Eastern Ghouta, some 15 kilometres east of central Damascus, on Friday evening. Local activists told the Turkish Anadolu Agency on Saturday that the death toll had risen to 53. Eight of the bodies were completely burned and remained unidentified the day after the attack, activists from the local co-ordination committee said. A video purportedly from the scene showed a man holding a metal screen filled with charred remains, shouting "Syrian flesh for sale". "We are not military people – we're not from Jaish al-Islam and not from al-Nusra Front, or any other group. We are civilians," the man is heard saying.
no actual bodies in the video?
VDC records for Kafr Batna "warplane shelling" dead December 4 (none on December 5) 37 from Damascus suburbs killed, all civilians, "In a massacre due to the regime air forces' shelling" - market isn't mentioned anywhere. 22 men, 3 boys, 6 women, 4 girls. 12 victims are named Darweish (5 men, 1 boy, 3 women, 3/4 of the girls). 3 men and 2 women are unidentified (more Darweish folks?). 3 named Abdulhay (man, woman, boy), otherwise pretty mixed names. Also 3 men and a boy from other areas killed in Kafr Batna, 2 repeats, so total listed in 39.
Idlib and Aleppo, December 16
Decembe 16 AFP via Yahoo News "At least 39 civilians were killed Tuesday in suspected Russian air strikes on two markets in northern Syria" says SOHR - "16 civilians at a market for fuel in Maarat al-Naasan, a village in Idlib province" and "23 civilians, including five women, were killed after strikes on a village held by the Islamic State group in the northern Aleppo province. Observatory head Rami Abdel Rahman told AFP four IS jihadists were also killed in those raids on the village of Maskana, which hit a market as well. --Caustic Logic (talk) 23:51, 16 December 2015 (UTC)