Category talk:Idlib
Jump to navigation
Jump to search
Fall of Idlib?
(Denial often accompanies defeat. The Western media denied for six days the fall of the Donetsk airport.)
Ziad Fadel denies that Idlib has fallen to the rebels. (See also Ziad in 2014)
Older story by Reuters. Again the government denies the fall.
Video:
-- Petri Krohn (talk) 03:44, 31 March 2015 (UTC)
Even his son accepts it. Well, the videos are quite clear. Took me only a casual look to find the place of this allahuakbarking orgy. Pretty much in the center of Idlib. Good thing is that the town seems to be pretty empty of civilians, so the retreat seems to have been orderly and planned. --CE (talk) 16:06, 31 March 2015 (UTC)
Analysis video:
Syrian Girl News analyzes Western media acceptance of an al-Qaeda victory (as she sees it) as "rebel/Islamist/opposition" and a welcome blow to "Assad" rule. Not a bad piece. --Caustic Logic (talk) 12:50, 3 April 2015 (UTC)
Attacks After
more alleged chlorine barrel bomb attacks reported, March 29 and 31. See here --Caustic Logic (talk) 22:55, 6 April 2015 (UTC)
SHRC March 30: Warplane bombing on al-Shamaliya neighbourhood (Idlib- near Abdul Rahman Al-Ghafaqi School), led to the killings of 32 civilians from the Ramadan family consisting of the father, his children, grandchildren, sisters and brothers.
The victims of the massacre:
- Majida Ramadan, her husband and children. They reach a total of eight victims, including her grandchild and daughter-in-law.
- Khadija Ramadan with her children, grandchildren and her daughters-in-law, reaching a total of 15 victims.
- Ameera Ramadan and her daughters, reaching six victims.
- Sons of the deceased Fatima Ramadan, reaching three victims.
We have it on the word of conquering Islamists that this family really was hit at random by the government and provides another good reason they should be given an air force. But in reality, a targeting that specific and total suggests someone really hated that family. There are always collaborators to take care of when you first take over a city, the people who helped make the previous situation possible, and this Ramadan family (as given) might have had some of those people as members. --Caustic Logic (talk) 22:55, 6 April 2015 (UTC)
Tweet adds that more were killed, not just the family: 55 total. Photo included - four young children, dusty like shelling victims, but completely intact. And yet, dead. What, did they just suffocate completely in their non-crushing space under the rubble? All four? Hm... --Caustic Logic (talk) 23:07, 6 April 2015 (UTC)
Interestingly, VDC has a totally different record. Just to be sure, 3-day span 3-29 to 3-31, Idlib shelling deaths 21 total, 18 in a likely massacre of a family named Theith (with wives, and some unidentified men). Where is this 55 civilins shelling thing? I check for yuks "regime fatalities" list. Whoa. Won't let me pull up a date, but ATM if you just pull up all, the most recent appear. March 30, 63 "regime fatalities" All but one in this massacre. All rank: civilian, from Hama Salamia: Almaboujeh village 2015-03-30 Field Execution. Al Mab`ujah on Wikimapia Notes on one say "More than 60 civilians were slaughtered and burnt in field execution by ISIS when ISIS attacked al-Maboujeh Village in the eastern countryside of Al Salamiia in Hama." 62 entries:
Ahmed Mouahmmed Hashem Attia Muhammad Ali Atfeh Ghada Taj Al Deen Atfeh Wahida Taj Al Denn Atfeh Ahmed Taj Al Deen Atfeh Ghaleb Ebrahim Habeel Ghaleb Ebrahim Habeel Wife Ghaleb Ebrahim Habeel's Daughter 1 Ghaleb Ebrahim Habeel's Daughter 2 Abu Gawhar Abu Gawhar's Wife Abu Gawhar's Son Abu Gawhar's Daughter Ebrahim al-Me'mar Ebrahim al-Me'mar's Wife Joudi Jamal al-Jarmani Ebrahim al-Me'mar's Son Ebrahim al-Me'mar's Daughter Muhsen Fayyad Muhsen Fayyad's Wife Ya'roub Mousa Muhammad Muhammad Muhammad Raheel Habeel Hasan Ref'at Habeel Hussein Muhammad al-Me'mar Hussein al-Me'mar Ahmed Mustafa Abd al-Mu'ti Mustafa al-Haj Nawras al-Haj Yussouf Um Mustafa al-Haj Yussouf Ahmed Mohammed Majed Ahmed Habeel Moussa al-Ali Khaled Moussa al-Ali Moussa Mansour al-Ali Abdulla Moussa al-Ali Abdulla Moussa al-Ali's Wife Noura Hamadi al-Moussa Shehada Hamadi al-Mousa Ya'roub Mohammed al-Mousa Mohammed Atiia Hyam Yousuf al-Ahmed Muhsen Fayyad al-Ahmed Ousama Hashem al-Jundi Khitam al-Sheikh Ali Ali Ousama al-Jundi Laith Ousama al-Jundi Ali Abed Naseef Mukhlef al-Sabbag Mukhlef al-Sabbag's Wife Jamila Fatima al-Dakheel Nawras Hasan Shaheen Nawras Hasan Shaheen's Wife Sarhan Dyab
Yaser Ayman al-Me'mar
Mohammed Arab
Khudr Hashem Ezzo
Ali Mohammed Azzab al-Ebrahim
Alaa' Abd al-Kareem Na'nou'
Hekmat Abdulla Ebrahim Dagrour
Khaled al-Deeb --Caustic Logic (talk) 13:14, 12 April 2015 (UTC)

This did stand out, and still does; one massacre of about 60 reported here and ignored there, another about the same size the other way around ... and in one case it names the wives (same maiden name) and the other the husbands (different names, about 10 total). However, the VDC does also list what sounds a bit like this Ramadan sisters thing - just a week earlier, in a different town, and quite a bit smaller.
March 24, 13 Idlib civilians, killed in Saraqeb, by warplane shelling. "The martyrdom of a group of people as a result of rocket fire from Alsaikoa military plane" To SNHR's Majida, Khadija, Ameera, and Fatima Ramadan, we have only Zahia Ramadan (wife of Khaled Alramadan) and Fatima Khaled al-Ramadan, not specified, sounds like their daughter maybe. The other main cluster of people includes four girls named Ismaeil, with unclear parentage. Check this out: Adnan Ali Haj Ismaeil, Civilian Adult - Male. And he died alongside three wives, or it sounds like, the wives of three of his brothers (?) Shamseh Haj Ismaeil (wife of Asaad Haj Ismaeil) - Dalal Ibraheem Haj Khalil (wife of Ali Haj Ismaeil) - Roba Abd al-Kareem al-Eido (wife of Ammar Haj Ismaeil). Wife of Adnan, not mentioned.
This doesn't quite sound like the SHRC story either. In fact, that sounds a bit like a hybrid of these other cases. Remains pretty murky. --Caustic Logic (talk) 08:34, 13 April 2015 (UTC)
SHRC: "warplane shelling" kills "32 civilians from the Ramadan family" and probably citing that, others say "55 people incl 32 from same family." But their own daily summary says "Idlib witnessed the killings of 32 civilians (total); 27 in vacuum missiles and surface-to-surface missile shelling on Idlib and Ma'rra Masreen, among the victims were ten children and nine women and five were killed in clashes with government forces in Idlib." VDC lists 18 on the 30th, not that far off now.

(for al-Majouba Massacre page/section)
- SAMA TV, shows govverment forces back in control, but there's bloody spots,m burnt spots, and blown-up spots they show.
Syrian Human Rights C-word is surely watching human rights and horrible stuff, and have no love for Assad's tool, ISIS. their daily summary, March 30 Says only this for Hama province: "Additionally an elderly man and his wife were killed in Hama in shelling by government forces." Did they report it the next day? Don't know, actually. Report missing. Should bethis one, considering the pages just before and after (24768 and 24770 are the reports for 3/30 and 4/1) The next day? No. April 1: "Three civilians were killed in Hama; two in clashes with government forces and one under torture in a government prison." They also didn't get it on April 2 ("In Hama four civilians perished, two in shelling and two under torture in a government prison (identified through leaked photographs).") or on March 29 (Hama not mentioned at all). March overview 141 killed in Hama, no detail added there. --Caustic Logic (talk) 09:09, 13 April 2015 (UTC)
Crimes and Massacres
Idlib's Liberation Massacre
Every liberated city gets at least one - local regime collaborators killed as soon as rebels get there, or the last innocents the regime could murder before they vaporized into thin air, leaving just these corpses, which are often in a horrible and tortured state, and likely burned beyond recognition. And of course the good news is rebels are in control then, but only after that bad stuff happened. (forthcoming) --Caustic Logic (talk) 10:40, 19 May 2015 (UTC)
Two specified victims of this, or a separate same-day killing: PJ Media reported April 1, citing previous day MCN News report:
According to the Assyrian Observatory for Human Rights in the city of Idlib in northern Syria, an armed group called Ahrar al-Sham Islamic Movement executed two citizens in the city Tuesday, Elias Naguib, 83, and his son, Nael Elias Naguib, 44. The two citizens were owners of a liquor store. The incident took place on Saturday, March 28, 2015, in the city of Idlib in northern Syria.
PJ notes Ahrar al=Sham "has been the darling of the Washington D.C. foreign-policy think-tank community," but did promise to bring sharia to Idlib. Here, day one enforcement alleged. But in the meantime, the New York Times was already told by "Two activists ... that foreign fighters from Nusra had killed two Christians after hearing they worked in a liquor store. They said that fighters from Ahrar al-Sham had rebuked the foreigners and set up checkpoints to protect Christians from them."
VDC lists no such victims by name. These either went un-listed or, more likely, they're among the 7 unidentified men listed as killed March 29 by government warplane shelling (as all civilian deaths since liberation have been, aside from those by regular government shelling) --Caustic Logic (talk) 14:03, 1 December 2015 (UTC)
Jisr al-Shughour Liberation Massacre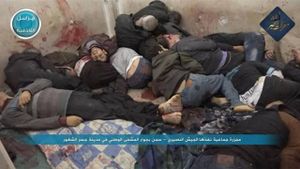 This one was on April 25, 2015, the day rebels took nearby Jisr al-Shughour.
Syrian Observer, April 27: "Terrorists massacred dozens of civilians on Sunday in the city of Jisr al-Shughour, northern Idleb province. A military source estimated the number of people killed at over 30, saying the majority of those were children and women. ... The killings, which took place in a square in the middle of Jisr al-Shughour, were carried out in retaliation against the locals for their support of army units fighting terrorist groups in the city." (as the media says, in a "blow to the Assad regime")
But this is of course contested. SOHR [http://www.syriahr.com/en/2015/04/191-killed-yesterday-25042015/ 191 killed yesterday 25/04/2015 reports April 25,] blandly: "the military intelligence in Jesr al-Shughour executed 23 detainees." UPI reports April 27 "The militants executed 30 people early Sunday, mostly civilians, according to Syrian state news. According to SOHR, members of the Syrian military intelligence in Jisr al-Shughour executed 23 detainees. ... (also) On Saturday (the 25th) 10 people were killed by an airstrike in the center of Jisr al-Shughour, according to SOHR." That's 23+10=33 to Syria's 30+ estimated killed in a singular massacre in the town square.
The VDC has a list of civilians of a few families killed by "warplane shelling" The note "Unidentified been identified, due to the shelling of Somaa square"
is shared by 29 entries The other 5: 23 Unidentified an adult male standing in for 22 others not listed, or 22 others listed as shelling victims? He's the only one killed by field execution. Notes: "The execution of a group of detainees by the forces of regime within the military security prison before their withdrawal from the region." The other four are other shelling victims with the note "Martyred due to the regime air forces' shelling." So they have 33 killed by that, to SOHR's 23+10 massacre+shelling, in addition to the one guy and 22 unlisted others, for 56 total? Or is it just 33? Confusing.
And then there's an AFP report run at Arab News Daily Star, etc. on 25 April:
BEIRUT: Syrian government forces executed at least 23 prisoners before withdrawing from the city of Jisr Al-Shughur as rebel forces entered it on Saturday, a monitoring group said.
...
"Military intelligence members executed 23 prisoners before their withdrawal from the area of the National Hospital in the southwest of Jisr Al-Shughur," the Observatory said. Observatory director Rami Abdel Rahman said the prisoners were being held near the main hospital building. News of the deaths came after a coalition of forces including Al-Qaeda's Syrian affiliate Al-Nusra Front seized Jisr Al-Shughur on Saturday morning. (the 25th)

There were reports of an ongoing standoff at the hospital, I think after this, with differing stories whether it was just fighters holed inside or fighters and their families. --Caustic Logic (talk) 22:49, 18 May 2015 (UTC)

AlMasdar News reports May 24 the beleaguered soldiers and civilians no loner are. They had an escape route, got air support and used it. Those who escaped did, and anyone left behind is apparently lost. By this report, most made it. "127 soldiers and civilians have made it to safety thus far, including the commander of the operation – Colonel Mahmoud Sabha – who was interviewed by Syria's "Al-Ikhbariya" shortly after his arrival in the provincial capital of the Latakia Governorate." However, al-Nusra has a video run by Orient TV (will need to review that) "which depicted over 100 SAA soldiers killed." But this is propaganda, maybe recycled footage, a military source says, as there were only "170-180 soldiers" to start and "127 soldiers and civilians" made it out safely. But I don't find that very convincing. Report notes "it will likely not be confirmed for a few days, as a number of soldiers have not been accounted for." --Caustic Logic (talk) 00:58, 26 May 2015 (UTC)
This story was posted as citing activist group, SOHR, as giving credence to the massacre claims. But it could have just as accurately titled the article al-Qaeda group in Syria claims government massacre in city it just overran, Continuing with AFP:
Al-Nusra also reported the apparent executions on one of its official Twitter accounts, posting a graphic photo showing the bodies of at least 14 men in a concrete room, some on top of others. The walls and floor of the room were smeared with blood, and bloodstains marked the shirts and trousers of several men. "A massacre carried out by the Nusayri army near the National Hospital before their withdrawal from the city of Jisr Al-Shughur," the caption to the picture read, using a derogatory term for the Alawite sect to which President Bashar Assad belongs.
One of the comments at Daily Star questions the imagery, saying the blood looks too fresh to be anyone but the terrorists responsible. It would obviously not be a surprise. Even those only paying attention for a month might get it:

Last month, the Observatory and other sources reported a similar execution of prisoners by government forces fleeing Idlib's provincial capital as rebels and Al-Nusra entered the city. At least 15 bodies were found in Idlib city's military intelligence detention facility after the provincial capital fell on March 28.
--Caustic Logic (talk) 22:49, 18 May 2015 (UTC)
Alasema.com article showing al-Qaeda's massacre photo now embedded above Minimal content, auto-translated, seems to say al-Nusra front or "reporter Latakia's al-Nusra front" just "discovered" a massacre, "carried out by the regime forces against detainees ... within the prison next to the "National hospital" in jisr al-shughour." It notes they were shot and piled on each other, "in a scene that had become a recurring theme with each defeat received by the system." --Caustic Logic (talk) 10:40, 19 May 2015 (UTC)
Executing Alawites
(previous content mainly moved to Ishtabraq Massacre - see there for the main alleged story. Here's one possibly-related example of what Alawi/Alawite/Nussayri means to those "liberating" this part of Syria:--Caustic Logic (talk) 12:19, 9 June 2015 (UTC)
Video: Idlib : "Moderate Syrian Rebels" Executes a Surrendered SAA Soldier 28-04-2015 - an unarmed man is shot dead by a group of Islamists who don't seem the slightest bit ashamed. A comment provides this translation:

Rebel 1: GET BACK NOW!
Rebel 2: One of Assads dogs
Soldier: Just let me...
Rebel 2: Where are you from?
Soldier: Tartous
Rebel 2: Alawite or Sunni
Soldier: Alawite
Rebel 1: Get BACK!
Rebel 2: Sit on the ground
(Fire Shots)
Rebel 2: Allahuakbar
Other rebels: non Syrian dialect (Tunisians?)
Other rebels: Allahuakbar
Rebel 4: I swear to God we will behead them one by one, EVERY SINGLE ONE (Last rebel was not Syrian
--Caustic Logic (talk) 23:41, 29 April 2015 (UTC)
Prior Idlib Incidents
Market Shelling, April 26, 2014
Digging for other things, I ran a cross a photo that intrigued me, and tracked down enough to post it here, posed as a question. The photo is of a mangled and decayed body in/on a pile of lesser rubble, being wept over. My main question was if they were claiming this person was killed that day, or just now dug up from an attack days ago. (image saved, but no need to upload it if it's available there) syrcu.org: The massacre in the Main Market in sarmeen, Idlib 2014-04-26 (auto-translated from Arabic)
The waging of military aircraft of the forces of Assad afternoon air raids targeted the town of sarmeen, Idlib , and reported ناشطوا the Union of the the revolution that the raids targeted the area of the Main Market in the city, crowded with people . And have sacrificed these raids, a number of martyrs reached 6 until the moment is likely the number to rise due to the fall of dozens of wounded. And the ambulances attempts ambulance, the wounded and lifting the body parts of the dead, where the transfer of a number of (survivors) out of the city because of the inability to absorb all of the (wounded).
Orient News (also Arabic) is more helpful. Auto-translated, captions a different image of the same scene "The massacres of Assad's electoral reach sarmeen: father crying over the pieces of his son." This says the attack killed at least 8 people and wounded dozens "at noon today Saturday" (the 26th) in an attack "by warplanes of the system."
The dissemination of anti-government activists clips awesome video about the massacre, apologized "OCC net" on the posting regarding the horror scenes, including the image of the extreme shows a father sitting grieving in front of the dead body of his son burning, as activists publish video clips confirms the continuation of the regime shelling the town with artillery, missiles and a few moments after the massacre.
side-note: to 8 killed, VDC lists 8 Idlib civilians killed by warplane shelling 8/26 - one rebel fighter, 3 civilian men, a woman, three boys. The boys seem to be brothers Qassab, but otherwise no clear pattern. Nothing about Sarmin market is mentioned, and the woman and one man are from another town. None of the boys has any details or any hint which one this might be that was already rotting by that day. So this story may be reflected, but not all that clearly.
Okay, so they are saying the market was just then shelled, and this boy was one of those killed, while his father was unharmed, and now crying over the body. But you'd think he had time to grieve already - this kid's body was mangled to death some days earlier - the blood stopped flowing long ago, skin under the dust is blackened in the torn up areas (right forearm, both legs badly), less so in the intact but wounded torso. The concrete dust covers it up somewhat, but note how zero fresh blood is wetting that dust anywhere. His face not well-seen but appears intact, except at the jaw, or under it - that is, in the throat area. The glimpse suggest this too is torn out, common for artillery shells in Syria (in rebel versions anyway), also dark with microbial proliferation much more than the couple hours alleged. I call previously murdered and mutilated boy, staged here in a fake scene to blame Assad. Is it proven? Anyone else willing to support or second-guess that? Reflects poorly on the rest of the story, and on rebel ethics in general. --Caustic Logic (talk) 10:52, 19 June 2015 (UTC)