Category:Yemen
Jump to navigation
Jump to search
See also Saudi Arabia attacks Yemen
Explainers of the recent history of the Yemeni conflict
Blumi, a lecturer in Turkish studies at Stockholm University, wants to upend the western and Arabic media narrative of the Yemen war. Instead of the "internationally recognised government of Abd Rabbuh Mansour Hadi" fighting "Iran-backed Houthi rebels" (AFP's favoured framing), the author describes a war with origins a century old that has little or nothing to do with Iranian expansion or terrorism, and everything to do with eliminating resistance to the western-backed Arab Gulf states.
To sum up, it is profoundly wrong to characterize the Yemeni conflict as sectarian or only as part of the proxy war between Saudi Arabia and Iran. At the same time, it is naive to neglect the importance of ideology – in this case, religion – in such a complicated conflict. The informal institutions set up by Zaydis and Shafi'is, like avoiding sectarian disagreements in public and avoiding referring to each other derogatorily, as a whole, were slowly disintegrated by Saudi's forceful propagation of aggressive Salafism into Yemen since the early 1980s.
Strategic importance of the Bab al Mandab strait
Makeup of the coalition attacking Yemen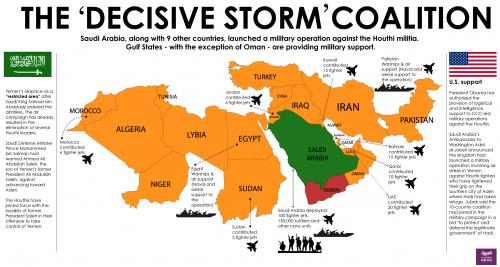 French and Israeli presence has also been reported - see below.
Estimated death toll
Who are the 'Houthis'?
Southfront Documentary
Allegations of Iranian backing
A number of experts believe that Iran's financial assistance does not exceed 10-20 million dollars a year. It should be noted that the Islamic Republic's capacity to provide assistance to Yemen is now limited, as Iran is also providing financial assistance, weapon and personnel to Hezbollah as well as to Shia militias in Syria and Iraq. Moreover, Yemen is currently under a sea and land blockade. Therefore, the possibilities to assist the Houthis are severely limited. Several Iranian vessels captured by the forces of the coalition in 2014 contained rockets for multiple rocket launchers, MANPADS, RPG-7 grenade launchers, explosives, cartridges, small arms and Iranian-made night vision devices.
"These constant reports that the Houthis are working for the Iranians are nonsense, but the view is right out of the neocon playbook," he said. "The Israelis have been touting this line that we lost Yemen to Iran. That's absurd. The Houthis don't need Iranian weapons. They have plenty of their own. And they don't require military training. They've been fighting Al-Qaeda since at least 2012, and they've been winning. Why are we fighting a movement that's fighting Al-Qaeda?"
Reports of traffic from Iran
Southern Secessionists
Moved to UAE Saudi proxy conflict: southern seperatists and Hadi government in exile
UAE role in Yemen
Moved to UAE in the Yemen conflict
Sudanese forces
The Saudis and UAE bribed Sudan's president to send Janjaweed fighters to be cannon fodder in Yemen. It's not working out.
US role in Yemen
late last year, a team of about a dozen Green Berets arrived on Saudi Arabia's border with Yemen, in a continuing escalation of America's secret wars. With virtually no public discussion or debate, the Army commandos are helping locate and destroy caches of ballistic missiles and launch sites that Houthi rebels in Yemen are using to attack Riyadh and other Saudi cities.
US Senate Bills on military aid for Saudi Coalition
See also US role in Yemen
"are no United States military personnel in Yemen commanding, participating in, or accompanying military forces of the Saudi‑led coalition against the Houthis in hostilities in or affecting Yemen," Trump wrote in his veto message.
Supply of weapons/European arms industry
Saudi Arabia and the UAE have used the US-manufactured weapons as a form of currency to buy the loyalties of militias or tribes, bolster chosen armed actors, and influence the complex political landscape
...between October and December 2015, at least four Boeing 747 cargo planes from the Azerbaijani company Silk Way, loaded with a cargo of bombs produced in the Domusnovas factory of RWM Italia in Sardinia, departed from the civil airport Elmas in Cagliari. The cargo landed at the Taif base of the Royal Saudi Air Force in Saudi Arabia.

The legal intervention calls for an investigation into the criminal liability of Italian authority UAMA that authorizes Italy's armament exports, and of Italian armament manufacturer RWM Italia S.p.A.'s directors for armament exports to members of the Saudi-led military coalition involved in the conflict in Yemen

*Saudi ship facing arms protests leaves Spanish port ABC News May 13, 2019
German export ban to Saudi
Germany's government is trying to halt weapons exports to Saudi Arabia after the killing of Saudi journalist Jamal Khashoggi in the Saudi consulate in Istanbul on Oct. 2, but Britain has urged the country to exempt big defence projects or face damage to its commercial credibility.
..systems developed jointly with other EU states, notably France and Britain, were excluded as the ban was extended.
UK role in Yemen
UK govt confirms it is storing and releasing for loading the weapons used by Saudi aircraft to bomb Yemen. Yemen is a British war and ministers are complicit in war crimes. The idea that UK is not part of the coalition is a fabricated lie that media is playing along with.
Graham Jones, a Labour MP and chair of the Commons committees on arms export controls (CAEC), also said that blame for the war in Yemen lay primarily with Iran, and not the west or Saudi Arabia.
A British former technician, stationed in Saudi Arabia until recently, told Channel 4 that if this support was withdrawn then "in seven to 14 days there wouldn't be a jet in the sky" over Yemen. A former Saudi Air Force officer stated flatly that his compatriots "can't keep the Typhoon in the air without the British", and that, although US-supplied jets also play an indispensable role, the British Typhoon is so crucial that "without the Typhoon they will stop the war".
Special Forces
The SAS is working alongside members of Operational Detachment Alpha, the primary fighting force for the Green Berets. Under US command, the heavily armed Special Forces team flew into Aden from Djibouti aboard a UAE Chinook helicopter and met UAE commanders before heading north-east in unmarked pick-up trucks.
The claims are politically difficult since ministers are eager to suggest that as the penholder on the Yemen issue at the United Nations, Britain is an honest broker in the civil war, which is now entering its fifth year since the Saudi air campaign started. The UK is known to be close to the Saudi military but denies it is involved in operations against the Houthis in Yemen.
Relationship with Saudi Arabia, BAE systems, arms industry
Mr Ethical on Twitter Theresa May's husband's company is the largest shareholder in BAE Systems, largest arms supplier to Saudi Arabia. Osborne's Blackrock is 5th.
BAE concerned that the continuing Saudi war, although justifiable, might be bad PR for their Saudi business partners,
Uprising Today: This could increase tensions between the kingdom and the EU, which has already called on its member states to halt arms sales to Riyadh over the murder of dissident journalist Jamal Khashoggi in the Saudi consulate in Istanbul in October.
French involvement
Documentary
En continuant à vendre des armes à l'Arabie Saoudite, la France, le Royaume-Uni et l'Allemagne seraient complices de crimes de guerre au Yémen. Face au silence des gouvernements, enquête sur les dessous d'un trafic opaque et lucratif.
Disclose.ngo and the DGSI Yemen papers leak
An unprecedented leak of secret documents has revealed the massive use of French-made weapons in the ongoing civil war in Yemen. Following several months of investigation, Disclose reports on how these weapons have been used against the civilian population.
Israeli influence?
Israël was the first state to recognîse Somaliland. Currently, this state is no longer recognised by anyone, but since 2010, it acts as an Israeli base to control the Bab el-Mandeb Straits which link the Suez Canal and the Red Sea to the Gulf of Aden and the Indian Ocean.
Coalition collabaration with AQAP/ISIS
World Food Programme
Sources to follow
News Agencies
Pro Hadi
Monitoring Organisations
An unprecedented leak of secret documents has revealed the massive use of French-made weapons in the ongoing civil war in Yemen.
Social media
Analysis
Warfare
Weapon: unknown; a twitter user suggested Chinese C 801 anti ship missile
Yemeni rebels-houthis shot down an F-15 fighter of the Air Force of Saudi Arabia with an air defense missile. It is reported that the military aircraft was struck over the province of Saada, but fell in the province of Najran. Both provinces are located on the territory of the KSA. The incident occurred on the day of arrival of Donald Trump on a visit to the Kingdom of Saudi Arabia. The US F-15 fighter was shot down by a Soviet anti-aircraft missile. Earlier, on May 18, in Yemen, the husits were shot down by a military helicopter of the Black Hawk Saudis ("Black Hawk"), also American-made. At least 13 servicemen were killed.
Human rights claims against Houthis
Bellingcat: The Yemen Project
Subcategories
This category has only the following subcategory.
Pages in category "Yemen"
The following 11 pages are in this category, out of 11 total.
Media in category "Yemen"
The following 27 files are in this category, out of 27 total.