Category:Yemen
Warfare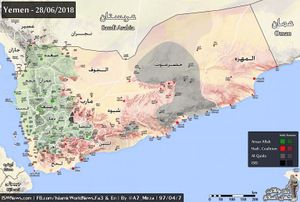 The resistance media wing captured footage of a Saudi tank crashing into one of its own vehicles, while trying to flee the battlefield in the key city of Najran. Almasdarnews report, Aug 24, 2016.
Weapon: unknown; a twitter user suggested Chinese C 801 anti ship missile
Yemeni rebels-houthis shot down an F-15 fighter of the Air Force of Saudi Arabia with an air defense missile. It is reported that the military aircraft was struck over the province of Saada, but fell in the province of Najran. Both provinces are located on the territory of the KSA. The incident occurred on the day of arrival of Donald Trump on a visit to the Kingdom of Saudi Arabia. The US F-15 fighter was shot down by a Soviet anti-aircraft missile. Earlier, on May 18, in Yemen, the husits were shot down by a military helicopter of the Black Hawk Saudis ("Black Hawk"), also American-made. At least 13 servicemen were killed.
Sources to follow
UAE role in Yemen

Torture
Counter Claims
US role in Yemen
British role in Yemen
Weapons traffic
Pages in category "Yemen"
The following 5 pages are in this category, out of 5 total.
Media in category "Yemen"
The following 23 files are in this category, out of 23 total.