Category:Chemical Weapons
Jump to navigation
Jump to search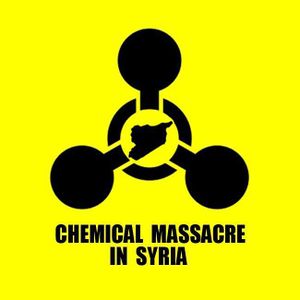 The use and alleged use of chemical weapons is an area of special interest at this site. Most media sources, in covering the pivotal March 19, 2013, alleged chemical weapons attacks, say there has been only one such allegation before that, not confirmed (Dec. 23). Although they're not fully filled-in, there are pages listed below for four prior allegations. Then there is March 19, with two or even three such incidents alleged across Syria on the same day, and one reported CW attack since then, so far. The previous four known reports show a tendency to cluster in time, but spread out in space, suggesting some strange coordination that the newer attacks remain fairly consistent with.
On August 20, 2012: U.S. President Obama publicly lays out his "red line." Alarmed at reports that Syria might be moving/readying its closely-watched chemical weapons stockpiles, he said that, regardless of what the UN Security Council said, if the Syrian government were to use these banned weapons against their people, there would be consequences that, implicitly, could be military.
It was not specified what would happen if the rebels crossed the line, in the regime's name, or otherwise. But that was clearly considered a pretty unlikely thing. The opposition would surely find other, more ethical, ways of securing the direct U.S./NATO intervention they so desperately need.
Almost to the hour one year after Obama's "red line" statement, a large alleged CW attack happened in the suburbs of Damascus which seemed about to trigger direct military action by the USA until Russia brokered a deal to destroy Syria's chemical weapons arsenal.
After Syria agreed to surrender its chemical weapons, CW allegations from 2014 and onward have by-and-large been of the government's use of chlorine gas, and with a non-acceptable opposition force in the field, charges against ISIS of using chlorine, mustard gas at least have also emerged. But other attacks by rebels go largely unreported, and careful study of the events suggests the ones people do talk about might also be rebel crimes, falsely blamed on "Assad."
An allegation of Sarin usage made the news big time in early April 2017 and led to the bombardment of an SyAAF airbase by then young president Trump.
Alleged Attacks Catalogued Here
All alleged crossings of that line in the Syrian war (that are known to us), in chronological order
(all pages are also listed below, but this list lets us add ones not analyzed, and to link to ones that are given only sections of a page)
2012
2013
January 29, 2013. Britam Defence, David Goulding and Philip Doughty. Daily Mail Online published allegations of Western plans to prepare a chemical attack, after Britam Defense email was hacked. On April 18, 2013 the article was withdrawn and Daily Mail paid damages after a libel lawsuit. (Forged e-mail was allegedly dated December 25, 2012. More details on Snopes).
March 19, 2013

Khan Al-Asssal (near Aleppo), both accuse each other, looks like it happened, 31 dead, 110 injured
Otaybah, near Damascus, regime attack, rebels say, "martyrs," number unspecified
Baba Amr, Homs, regime attack, rebels imply, no deaths mentioned

March 24, 2013 Adra (near Damascus), regime-on-rebel alleged, no reported deaths
March 25, 2013 Best guess: Daraya. Regime-on-rebel alleged.
April 6, 2013 Jobar, Damascus, regime Sarin or VX, the doctor thinks
April 9, 2013 Again Al-Otaybah, near Damascus, regime on rebel, gas masks saved lives, only animals died.
April 13, 2013 Sheikh Maqsoud district, Aleppo, regime on civilian alleged, a woman and two infants dead, 16 injured
April 25, 2013 Daraya (forthcoming)
April 26, 2013 Barzeh district, Damascus, rebel on regime alleged, unconfirmed, unstated number of dead
April 29, 2013 Saraqeb, Idilb: two incidents, allegedly rebels against locals, or by the regime against locals. Some bodies sent to Turkey to prove regime gassing. A little confusing ...
Early May, 2013 Quseir, Deraa province: shocking but quiet and un-explained allegation of mustard gas, used by Hezbollah fighters, against rebels, in the epic battle for Quseir.
May 27, 2013 At least two incidents close together, Harasta, reef Damascus - May 26/27 six rebel fighters reported dead
June 19, 2013 Zamalka, Damascus suburbs - three killed, apparently rebel fighters, Hezbollah involved
That makes 18 attacks listed as of late June. By June 1, rebel doctor/activists had used total science to catalog 34 CW attacks, all by the regime, per an AFP report. "The attacks appeared mainly to be carried out by fighter jets, helicopters and long- and mid-range missiles. (...) 97 percent of victims were civilians, and the cases were mainly concentrated in the suburbs of Damascus." That does not tally with the case-by-case appearance of rebel fighters as more like 90% of seen victims than 3%, when there's a reported death toll at all. Perhaps they simply got the two category labels mixed up?
After June we lost track a bit until August 21.
August 5, 2013 Adra, east Ghouta
August 21, 2013, Multiple places in Eastern Gouta, Damascus suburbs. Claims of over 1300 killed, both sides blame each other, bringing U.S. military action to the brink of happening. Multi-page investigation here.
August 24, 2013 Jobar, east Ghouta
etc...
Related journal publications
2014
Later attacks, mainly with chlorine, covered partly or should be covered here:
2015
2016
UOSSM, 2 days before the Hama incident, reported on the Kallaseh attack the previous day, December 9. This is the last of 8 incidents covered by Human Rights Watch in the span listed above.
2017
Hoping this is the last sub-section and remains empty. ...
Chemical Weapons Control Timeline
(incomplete)
...
27 Oct. 2001. Russia-UK agreement on UK assistance in destruction of chemical weapons in Russia (on p.29 here)
...
10 Sep. 2013. Putin comments on placing chemical weapons in Syria under international control, 1tv.ru
...
18 Jan., 2018 Nikki Haley: Russia impeding progress on curbing chemical weapons -Washington Examiner; США назвали выводы России по химатакам в Сирии ложными и непрофессиональными -TASS (Rus.) (TASS has a copy of her letter dated January 10).

88. The samples from Khan Shaykhun contain the three types of marker chemicals described above: PF6, isopropyl phosphates and isopropyl phosphorofluoridates. Their presence is a strong indicator that the sarin disseminated in Khan Shaykhun was produced from DF from the Syrian Arab Republic stockpile.
Those points were addressed in the Syrian response(N1738427); but the US letter does not address the points from the Syrian response. (Briefly, markers mentioned just by themselves are not unique and there is no more detailed 'fingerprint'/chromatography analysis available)--Resup (talk) 21:24, 20 January 2018 (UTC)
False-Flag Plans?
Sept 8, 2016. Report, quoting 'a military source in special services of SAA', warns of plans of 'terrorists', Jaish al Fath, to use chemical weapons in Aleppo and Hama, blame SAA for the use. 30 Zarin containers are prepared, with plans to increase to 45 Zarin, 25 chlorine based. Also 20 missiles for self-made multiple-launch systems are prepared, containing unknown chemical weapons.

Nothing appears on this at SANA, for example, but an English report based on the same report is at the Russophile.org
"Intelligence services of the city of Aleppo and Hama province reported about people, dressed in chemical protection suits, carrying bombs and various containers with unknown contents," the source said.
Some groups of terrorists are mandatory supplying with gas masks in Aleppo, while before that they used gas masks extremely rare.
According to available information, the aim of the terrorists is conducting of simultaneous chemical attacks in the eastern districts of Aleppo and the northern areas of Hama in the coming days, supposedly, at night, in order to conceal the true source of chemical attack. After the attack, terrorists plan to use social networks and controlled media to blame the Syrian government in order to discredit it in the international arena and in the eyes of its own people.
Other Related Pages
Resources
CIWCL: Red Flags Across the Red Line 9 page PDF report, large table of 138 alleged chemical attacks (excluding Daesh ones) and 159 "red flags." A red flag is a problem with the story / signs rebels/terrorists are behind the incident.
Subcategories
This category has the following 8 subcategories, out of 8 total.
Pages in category "Chemical Weapons"
The following 62 pages are in this category, out of 62 total.
Media in category "Chemical Weapons"
The following 87 files are in this category, out of 87 total.