Category:APT
Jump to navigation
Jump to search
Fireeye Says:
See also: wiki:Mandiant (2006-2013); wiki:China
...
See also, wiki: Cozy Bear.
Three Bears
US sanctions, 'Obama says'
Media
FBI says
GRIZZLY STEPPE – Russian Malicious Cyber Activity, National Cybersecurity and Communications Integration Center, FBI, Dec. 29 (spotted on Dec 30), 2016.
Commentary
No idea. (Rs).
Wordfence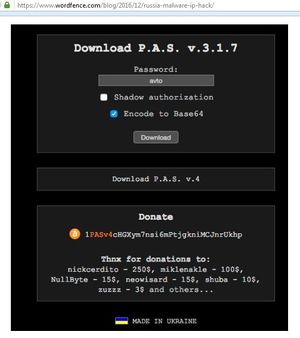 Crowdstrike
An influential British think tank and Ukraine's military are disputing a report that the U.S. cybersecurity firm CrowdStrike has used to buttress its claims of Russian hacking in the presidential election.
Public hearings
Westerners interview 'Guccifer 2.0'
Shadow Brokers
Pages in category "APT"
This category contains only the following page.
D
Media in category "APT"
The following 2 files are in this category, out of 2 total.