Battle for Marib province
Jump to navigation
Jump to search
See also AQAP ISIS and forces fighting alongside them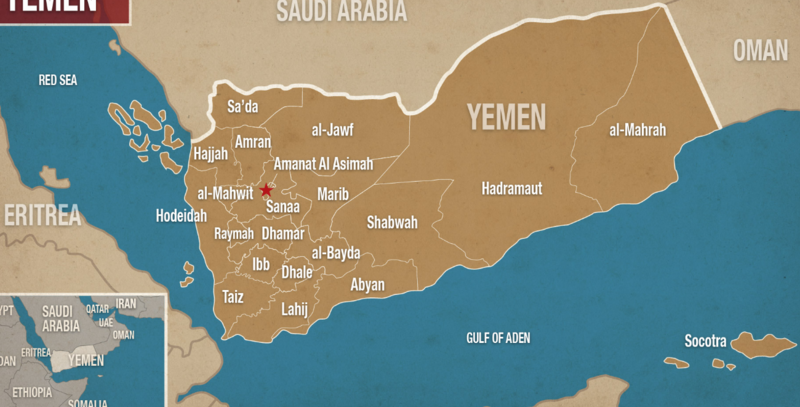 Background
Sources
2021 offensive
Feb 18 According to Al Mayadeen, representatives of the Sanaa government issue a statement accusing Al-Islah forces of using displaced persons as human shields.
Feb 21: Saudi coalition airstrikes continue as Ansarallah forces capture village near Marib Dam. Eastward advances by Ansarallah in al Jawf to the north of Marib city are reported. An operation to free captives from a prison in Marib city is announced by authorities in Sanaa.
An important news was dispatching of vast number of ISIS and Al Qaeda terrorists and also two brigades of National Resistance (commanded by Tariq Saleh) by Saudi coalition to west of Marib city front. ISIS official media releasing a statement declaring war against Ansar Allah in Marib...

Mar 1 Control of the heights of the Jabal al Baqal mountain overlooking Marib dam has been fiercely contested in recent weeks. Tony Toh: Yemeni Army & Houthi Ansarullah have made surprising advances at southern shore of Marib Dam lake. They are setting to take complete control of Jabal al-Balaq (al-Awsat side). After that they will reach Al Jubah line to cut off pro-Hadi supply route.
... the news of Ansar Allah heavy casualties in order to maintain al-Balaq mountain or control these heights until March 1, is not true.
April 16
@suriyakmaps - Sirwah axis: #Ansarallah advanced N. Az-Zur village & cut Jabal al Balaq al Qibli-Al-Talat al-Hamra road after advance along pipeline. Also Sanaa forces took control over western part of Jabal al Balaq al Qibli, including the summit.
ISWNews Twitter - Ansar Allah reportedly captured parts of al-Balaq al-Qabli mountain and clashes continue to liberate these important and strategic heights.
Tony Toh Twitter - Pro-Ansarullah military correspondent in #Marib: Contrary to some reports, its not true that Marib Dam fell completely to Yemeni Army & Popular Committees hand as its currently under contested by both sides.
May
Local sources, requesting anonymity, said Yemeni armed troops and Hadi loyalists have been intensely exchanging artillery shelling since Saturday dawn on the outskirts of Tala'at al-Hamra area. Yemeni army forces and fighters from allied Popular Committees have also been able to advance toward Wadi al-Mill area Northeast of Ma'rib city, and have repelled attacks on the areas of al-Qabaqayb and al-Hanafir.

July
August

Aug 11:Pro- Ansarallah sources claim Al-Islah recruiting takfiri mercenaries to fight in Marib
Aug 14: Pro-coalition sources report Hadi forces recapturing of positions in southern Marib

November
Al Jawf
Bayda-Marib Axis
Shabwah, Janaury 2022
Reactions from the 'International Community'
Taking Marib, or otherwise cutting it off, would represent a major prize for the Houthis. It is home to oil and gas fields that international firms including Exxon Mobil Corp. and Total SA have interests. Marib's natural gas bottling plant produces cooking gas for the nation of 29 million people. Its power plant once provided 40% of Yemen's electricity.
Peace Talks, Oman Moved to Yemen Peace Talks
Action for Humanity
A team of British surgeons from the charity Action for Humanity who have also worked in Syria and Gaza spent a week in Marib at the end of November, bringing specialised techniques for war injuries.
Action for Humanity is the parent company of Syria Relief, directed by Othman Moqbel. Who was removed as head of another Manchester based Islamic charity Human Relief, when multiple failings in the organisation were found in an investigation. It "...was found to be culpable of misconduct after it failed to report for months that extremists in Syria had seized its aid lorries and a warehouse, the UK's charity regulator said.
Internally displaced persons camps
To do
Bin Ghaleb (Twitter) November 17, 2021 - Local sources in Marib said that the coalition warplanes targeted the vicinity of a camp for the displaced south of the city of Ma'rib with two air raids this afternoon. According to the sources , the targeting of the camp occurred despite the fact that the camp site is far from confrontations and no military force is present there. Observers believe that the targeting of the camp by the coalition aims to throw the blame on Sana'a forces to condemn them internationally.
Analysis