Alleged Chemical Attacks, March 25-April 3, 2017
From A Closer Look On Syria
A number of alleged chemical weapons attacks in southern Idlib and northern Hama provinces in the spring of 2017 describe a curious transitional phase between chemical strategies.
For context, the first chemical attacks between late 2012 and August, 2013, involved alleged sarin nerve agent, primarily. After the Alleged Chemical Attack, August 21, 2013, Syria agreed to join the OPCW and surrender its stocks of chemical weapons. Then from mid-April, 2014 through early 2017, the allegations were almost entirely helicopter-launched chlorine attacks.
The Alleged Chemical Attack Khan Sheikhoun 4 April 2017 would seem to mark the re-emergence of sarin with close to 100 civilians killed by toxins all at once, for the first time in quite a while. But there were preludes, an emergent pattern of foreshadowing and confusing overlap, perhaps suggesting a plan to have sarin re-appear. With chlorine and sarin claims inter-mixed, allegedly inside the same munitions in some cases, and with the events often confused or little-known, this page seemed worth starting to sort them out.
There were a few alleged CW attacks in other areas in this span (notably East Ghouta), but they don't seem to play into this pattern in the same way. Here we'll just consider the area around the April 4 attack. Expanding to include April 4 - which as its own pages (plural), but which still deserves a spot here - there are six reported CW attacks known to us in this time and space.
A further two clustered attacks back in December, 2016, also bear mentioning in a section, seeming to relate to this same pattern.
(events first tallied at this Monitor blog post, with some notes from there)
March 25, Latamnah
HRW heard 2+ bombs dropped from a helicopter around 3pm - one blew up 50m from the cave hospital entrance, and then the chlorine tank - somewhat implausibly - punched through the reinforced concrete roof of the dug-in hospital and filled the place with the familiar chlorine gas. There were two reported deaths, a doctor and a boy he was operating on - HRW and others add a first responder, for 3 killed.
some analysis here... Dr. Darwish didn't show chlorine signs.
In retrospect, it's interesting that the well-connected (to terrorist plots) Dr. Shajul Islam claimed this attack was by chlorine, and by sarin, in the same tweet. (via Qoppa999 shortcut)
UN CoI report, point 64: - chlorine, with usual cleaning products smell, barrel bomb, helicopter - no mention of sarin. The same from early Syrian American Medical Society (SAMS) report noting the loss of their Dr. Ali Darwish.
March 26, Latamnah
A video cited below on the March 30 attack, declares that's the third chlorine attack in recent days, explaining "On Sunday, March 26, 2017, a medical official at the Al-Latamneh hospital told Smart that a number of civilians, including women and children, and fighters of the Izz al-Din al-Azza of the Free Army had been suffocated following the helicopter's flight for the second day in a row. Contains "chlorine gas poison". The first time was March 25, as addressed above. There's no other supporting claim for a March 26 incident.
March 30, Latamnah
SAMS - barrel bombs are blamed (suggests helicopter). But: "these barrel bombs, in addition to containing the identifiable chlorine gas, were suspected to contain other toxic agents based on the symptoms: pinpoint pupils, convulsions..." (SAMS) The medical experts at Syrian American Medical Society showed their true colors and claimed this: sarin-chlorine barrel bombs were dropped on farm workers. Chlorine is known to destroy sarin, and is a known method for decontamination (mentioned in this 1955 report). If such bomb had been dropped, there would likely be few if any serious cases of exposure.
The UN's Commission of Inquiry settles on a different version. point 69: an unidentified jet warplane dropped two bombs around 6:30 am - the first released a chemical with no particular smell, causing sarin-consistent symptoms and secondary contamination. The second caused a blast. Point 70 expands on this, concluding this was a sarin-type attack, not a chlorine type one.
Human Rights Watch reports about the same: there was a faint, non-described smell, and powerful effects more like sarin. Yet no one died, of a reported 169 who required medical treatment. "The suspected nerve agent attack in northern Hama on March 30 caused no deaths, but injured dozens of people, both civilians and combatants, according to local residents, medical personnel, and first responders." Abd al-Munaf Faraj al-Saleh, from the "White Helmets," said "When we got there, people were suffocating, some critically. They were trembling, had extreme difficulty breathing, redness in their eyes; some had foam coming out of their mouth. People were going unconscious. Some of them started hallucinating, saying weird things, when they got to the hospital. The chemicals in the missiles had a very mild smell but a strong effect.[66]"
NYP: "Latamineh — 15 miles from the rebel-held town — was hit March 30 by a missile filled with what appeared to be a chemical agent, causing about 70 people to experience spasms and foaming at the mouth."
SNHR report: "[aircraft monitor Mahmoud Al-Hasna] monitored the warplane with the symbol Quds-6 taking off at a similar time before in late-March and targeting a hospital in Hama suburbs with poison gases at that time." That's a similar time to the 6:26 takeoff on April 4. A jet at dawn means this attack, not the hospital one said to be in the afternoon and launched from a helicopter.
However: https://www.youtube.com/watch?v=8vIMxgQ0RI8 For the third time in a row, the system is bombarding the chlorine gas in the town of Latamna in the countryside of Hama - posted March 31. Description: On Thursday, March 30, 2017, the regime ordered the chlorine gas in the town of Latamna in the northern Hama region of central Syria. The chemical team leader 114 said that they had helped a number of cases of suffocation to the medical point in the town. On Sunday, March 26, 2017, a medical official at the Al-Latamneh hospital told Smart that a number of civilians, including women and children, and fighters of the Izz al-Din al-Azza of the Free Army had been suffocated following the helicopter's flight for the second day in a row. Contains "chlorine gas poison".
Shown in that video: the chlorine tank from 3-25 attack, a new one in a field, and pieces from another unidentified device (the sarin bomb?), perhaps similar to those seen in Khan Sheikhoun. Guys in hazmat suit (one marked training) carry a red skull placard into the field. Possible location for the mystery remnant: just S-SW of the cave hospital. (Kobs)
As noted, there was a supposed March 26 chlorine attack prior to this, so it's quite possible the chlorine tank is from that incident and not from the 30th. However, the video still adds, in its title and description, to claims of another chlorine attack. But since it's not reported as in addition to something sarin-like, it could be they're just repeating the usual formula - more chlorine (presumed). The same would happen for Khan Shekhoun on the 4th - initial reports claim chlorine, maybe just out of reflex.
April 3, Habit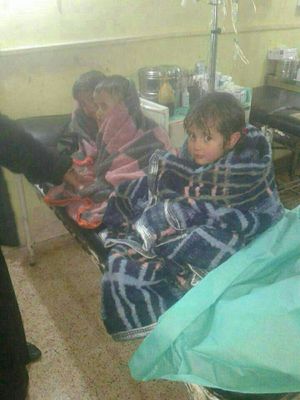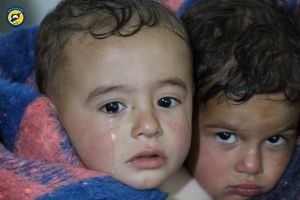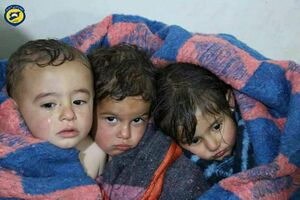 *
earliest tweet,
8:06 pm in Syria: (translated) "Bombard alhabet now with chlorine gas"
photo tweet, 11:03 PM, and later tweet, the latter explaining (in Arabic) "these are the children of martyrs Abdulrahman and Bara al-Dibous, two brothers, after they were hit by chlorine gas in Habit. Displaced from Latamnah." See below.
White Helmets photo, via Qoppa999, who notes this is at Al-Rahma hospital in Khan Sheikhoun
http://syriasolutions.com/?p=2105 Arabic article... Incorrect photo of a girl victim from an alleged chlorine attack last year.
Activists confirmed that more than 25 people were suffocated by the bombardment of the town of Hibit, including children and women. ...
Collected tweets about the bombing attack that "killed a lady" and injured many civilians. Photos and videos appear to be late afternoon into evening. Qoppa999
Witness in SNHR report on April 4 attack: "The symptoms are completely different from the ones caused by the chlorine gas, which we bombed with multiple times before; most recently in al Habeit town 12 hours before this massacre"
Symptoms of Al-Dabous Children: unspecified sadness. No chlorine indicators like red eyes, irritated skin, or any sign of coughing, respiratory distress, or physical pain. They've been washed off with water as if contaminated with sarin, and their cheeks are scrubbed a bit pink, but their eyes are bright white.
Victims
As noted above, an April 3 tweet by Yahya (in Arabic) "these are the children of martyrs Abdulrahman and Bara al-Dibous, two brothers, after they were hit by chlorine gas in Habit. Displaced from Latamnah." The language isn't clear but the twitter user Yahya explains the men " were killed by Russian shelling while working at a construction site" in Latamnah, which was around 4 months earlier. So just the children (plus other family, presumably) were displaced, and later exposed. But the displaced part is interesting. It comes up a little too-frequently for comfort in these chemical incidents.
VDC records: All Idlib deaths April 3 = 4 civlians killed by warplane shelling: 2 men killed in KS, 2 children named Aboud killed by shelling in Habeet. No woman is listed. No chemical victims are listed. No Abdulrahman and Bara al-Dabous is listed, from here or anywhere, killed by any cause, in the relevant span.
Instead, as Yahya says, they're listed by VDC on November 22, 2016: Abdulrahman Muhammad Hoeo "Dabbos" age 32 and Barra Mahmoud Hoeo "Dabbos" age 24. Both killed by Russian troops bombing, as Yahya says while working together on a construction project. Generic video provided. The Dabous part is in quotes, as if "also known as," but not their real name, which is Hoeo.
But those children are said to be of this family, and furthermore, Al-Dabous appears once in related VDC records for deaths - Abdelrahman appears next to it. Son of Abd al-Rahman Mahmoud al-Hoyo "al-Dabous" - photo: red-faced newborn/infant, perhaps left face-down - Area \ Place of birth: Hama, Lattamna - Martyrdom location Idlib: Habeet - Cause of Death: Chemical and toxic gases - - Date of death 2017-04-07 (presumably means listed this day, but perhaps another event or delayed death). So a baby son of a guy of a given name is listed, with the Hoyo-Dabous ambiguity included.
This baby appears younger than the three shown as surviving children of this man and/or his killed brother. In fact, newborn... Yahya says he died in the womb. So the mother was pregnant at the time her husband died and she became displaced with the the other kids, sister-in-law, etc. If her baby then died in the womb, it seems worth asking if she's the woman who died "in the shelling," while the baby died "of chlorine."
Al-Debes: However the VDC has 3 Al-Debes males, displaced from Morek, killed in KS April 4: Ahmad Hayan al-Debes, boy age 7 - Mouhammad Hayan al-Debes, boy age 1 - their father, obviously: Hayan Abdullah al-Debes "al-Ali",] man age 40 Al-Debes here seems to be the real name, with "Al-Ali" in quotes (a pseudonym situation the Dabous baby and few others have). So this might somehow tie together. In Arabic, the names are distinct, spelled a bit different, so it's not a simple transliteration issue. (Al-Debes = الدبس - Dabous = الدبوس)
SNHR report lists 91 fatalities of the attack, with 31 of them listed as displaced from various towns in the area. Included: 70- Child Ahmad Hayyan al Debs (al Ali), seven-year-old, from Mourek, Hama - 71- Child Mohammad Hayyan al Debs (al Ali), nine-month-old, from Mourek Hama - 72- Hayyan Abdullah al Debs, 32-year-old, from Mourek, Hama (same listing order as the VDC)
Previous Al-Dabous Deaths The VDC lists 11 people of this name who have died in the course of the war. (Arabic martyr's list - checking "otherstatistics" for army, pro-gov. civilians etc. no results.) Of these 11, all but the 4 are from Zakat village, just northwest of Latamnah (Wikimapia) The first was 4 killed (two women, a boy, and a girl: Rama Khaled al-Houyo) in shelling on the village May 19, 2013 (the boy Mustafa Khalid al-Hoew died the next day - shared middle name suggests they're siblings, with a father named Khaled). The next is a FSA rebel from Zakat killed in Aleppo, in an ambush, August 22, 2013. A 7-year old girl (Salam Khaled al-Houyo) died June 7, 2014 from shelling, after being displaced from Zakat to "Hama: Zour Alhiseh." Another child of a Khaled al-Hoyo - that's 3/3. Next is Odai Khaled al-Hwayo, age 8 from Zakat, killed perhaps there (unspecified), by "regime air forces' shelling" on August 29. 4/4 kids of ... how many Khaleds? Next: the two "Al-Daous" brothers in November, then Ahmad Jihad al-Hoyo, a child soldier with "FSA," age 17, from Latamna, killed March 13, 2017 fighting in Aleppo, "in the surroundings of Kweres military airport." ([https://syria.liveuamap.com/en/time/13.03.2017 LiveUAmap shows only 2 sides fighting here, so "FSA" means ISIS). Then finally the "Al-Dabous" baby.
April 3, Latamnah
The report about the attack in Habit also mentions:
The Assad helicopters also renewed the bombing of the city of Al-Tamamneh Bramil (Al-Latamna?) containing the gas also, which led to the occurrence of suffocation, knowing that a few days ago targeted the hospital of Tamamneh Bramil containing poison gas also, which led to the martyrdom of the doctor, "Ali Darwish."
The HRW report fails to mention any attack in Habit, instead reporting on the one in Latamnah: "a helicopter appears to have dropped at least one munition with chlorine on al-Lataminah," citing "a local journalist, a first responder, and a local resident, and a statement by the opposition-run Idlib Health Directorate.
Fayed al-Satouf, journalist who documents airstrikes and gets direct tips from monitors, heard of a helicopter and the watched as "the helihcopter dropped two barrels about 300 meters away from him" at around 9:45 p.m. He described eye irritation, chest tightness, and the familiar chlorine smell. A local resident says he smelled chlorine:
I got dizzy; my eyes started tearing, and my chest became heavy. I started choking, and then I collapsed. I don't know what happened next, but I woke up in the hospital. I stayed sick for two days, coughing.[15]
HRW's sources reported 12 to 22 cases of exposure, and no deaths.
The opposition VDC records for all Hama deaths April 3 one man and one boy, neither in Latamnah. As noted above, the only Latamnah people to die this day were first displaced to Habit, Idlib, and killed in that chlorine attack.
April 4, Khan Sheikhoun
Launched by jets at 6:45 am, Initially reported by some as chlorine attack, medics claiming to smell chlorine, and witnesses describing a similar-color fog (though that was reported to have a different odor - foul, strange, disgusting). But the high death toll is inconsistent, and sarin emerged as the main poison, according to tested samples. The observed symptoms are a bit varied and unclear, and at least occasionally fake, but... neither sarin nor chlorine is well suggested. Victims "treated" mainly at a cave hospital, which was damaged (allegedly bombed) several hours later. A family hiding in a cave was found dead from the sarin on the following day.
Aircraft monitor Mahmoud Al-Hasna claims the second attack jet had "four bombs carrying the chemical substances sarin and chlorine," and "it dropped everything over the Khan Sheikhoun area." He also thinks the responsible pilot, flying a jet marked Quds1, was behind dropping sarin in the March 30 attack (although he gives the hospital local and doctor death attributed to the March 25 attack). (Monitor Mahmoud Unravels the Quds1 Sarin-Chlorine Serial Murder Plot)
Amjad al-Diab posts on April 4 at 9:10 Syria time on FB about "toxic gas and chlorine". (via Qoppa999)
Early U.S. assessments showed the use of chlorine gas and traces of the nerve agent sarin in the attack Tuesday that terrorized the Syrian town of Khan Sheikhoun, according to two U.S. officials who weren't authorized to speak publicly on the matter and demanded anonymity.
To the extent these poisons don't mix well, this raises questions like if the traces were found in the same spots, etc,
Related Developments
By March 22: Islamist coalition forces led by HTS (Jabhat Al-Nusra)overrun several villages to the south, near Hama, including Khattab and Majdal. A reported 250 civilians are abducted and taken to Khan Sheikhoun. (some collected sources on that claim)
March 23: the well-connected (to terrorist plots) Dr. Shajul Islam is at a cave hospital and tweets: "as the battle to free #Hama continues, we are saving lives from a cave on the frontline. Dua (assistance) requested."(Qoppa999) Visually matched to Al-Rahma cave hospital in Khan Sheikhoun. (Qoppa999) He's probably treating wounded fighters.
March 25: Shajul Islam seems to claim the attack this day was by chlorine, and by sarin, in the same tweet (in the video, he reported chlorine like most did, but the text claims sarin. (via Qoppa999 shortcut)
March 26?: Shajul Islam claims "I am so unwell now. Not sure what it is. I have been treating so many patients from chemical attacks this week without any sort of protection for myself or others around me. We just don't have any." He says he's been working two weeks without a break, except of course for these appeals, at least. Note: chlorine causes no secondary exposure. We know of one chlorine attack by this point.
March 30 (afternoon): Shajul Islam is at some medical center as a decontamination tent is being set up, to deal with more expected attacks (Qoppa999)
By March 31: Islamist forces have fully withdrawn from the occupied Hama villages they overran over the preceding weeks.
April 3: Shajul Islam visits another cave hospital being built (location unclear) that he swears cannot be damaged by any bomb, but still needs a lot of equipment donated - Qoppa999)
April 3: announcement by an OrientNews reporter of a "media campaign" about Hama bombing and chlorine, to start the following day. (Qoppa999)
April 4: media campaign begins; White Helmets chief Raed Saleh calls on the UNSC for a stop the chlorine barrel bombs, "by introducing a 'no-fly zone' if necessary." (some tweets promoting it, another) This is overshadowed by the deadliest CW attack in years, now using sarin.
April 6: Anonymous U.S. officials tell AP reporter "Early U.S. assessments showed the use of chlorine gas and traces of the nerve agent sarin" in the April 4 attack on Khan Sheikhoun. (AP via Business Insider)
Prelude in December?
Existing page, needs work and updating: Alleged Chemical Attack, December 12, 2016 Considered in context ...
Overview
...
Table of transtional chlorine-sarin attacks (details as alleged)
date
location
method
time
affected
killed
2016
12-11
Jrouh
jet-sarin
7-7:30am
dozens
25
12-12
Al-Saliliyah
jet-sarin
7-7:30am
dozens
42
2017
3-25
Al-Latamnah
helicopter-chlorine (alt: chlorine-sarin)
~3:00pm
dozens
3 (incl. dr.)
3-30
Al-Latamnah
jet-missile-sarin (alt: helicopter-chlorine-sarin)
~6:30am
170
0
4-3
Al-Habit
helicopter-bomb-chlorine
~8:00pm
20+
0? displaced newborn?
4-3
Al-Latamnah
helicopter-chlorine
9:45pm
12-22
0
4-4
Khan Sheikhoun
jet-bomb-sarin (alt: jet-bombs-chlorine-sarin)
6:46am
500+
~90-95