Alleged Chemical Attack, December 8, 2012
Jump to navigation
Jump to search
What would be the first confirmed chemical weapons attack of the Syrian conflict (if confirmed, and it's not the first allegation) was reported on December 8, 2012. It came in the form of an opposition video showing alleged victims of the incident near Aleppo, apparently Al-Safirah. It came as fears had been growing for a week over the Syrian government's alleged preparations for using Sarin nerve gas, and following statements suggesting that the United States would have to militarily intervene if the government engaged in any chemical attack. It also came two days after an unsupported claim of "toxic gas" being "thrown" in Daraya.
The active agent has not yet been guessed at by any public experts, but there are no indications in the video that Sarin was used in this case. Just what the video shows remains to be proven, as does whether or not it's deemed to have crossed Washington's "red line." Interestingly, opposition reports from the 8th and the days before and after make no mention of any chemical attack from any of their widespread sources.
Israeli Reports
The story was first broken (in English anyway) by Israeli media early on December 9, citing the just emerged video which was in turn posted on December 8. The Times of Israel was apparently the first, noting that their nation has been closely watching the issue, being "particularly concerned that Syrian chemical and biological weapons could fall into the hands of terrorists and be used against the Jewish state." [1] They reported:
Syrian rebels on Saturday uploaded to YouTube a clip purportedly depicting victims of a chemical weapons attack perpetrated by the regime. The video shows Syrian civilians, some apparently dead and others injured, whose faces were disfigured in a manner that could be caused by a chemical agent. The rebels claim that the video was filmed in a suburb of Aleppo, where the Syrian regime reportedly maintains its largest depot of chemical weapons.
The report also added that the day before, a Free Syrian Army made a claim that it had captured, on the road to Damascus Airport, government trucks and equipment "meant to protect Syrian army soldiers from the effects of chemical weapons." [1]
Arutz Sheva, reporting just after, was quite clear in its interpretation:
Fears of the worst possible scenario in Syria have been confirmed in a video released by rebels that shows victims of chemical warfare.
An almost sure sign that Syrian President Bashar al-Assad has unleashed his chemical weapons for use against rebels is his regime's claim on Saturday that rebels are preparing to use chemicals in their uprising. Assad systematically has accused opposition forces, which he labels as "foreign terrorists," of carrying out attacks and murders for which his own loyalists are responsible.
[...]
The Obama administration is bound to be tested this week on its treat [sic] to intervene militarily if signs continue to show that chemical weapons are already being used in Syria. If President Barack Obama thought that his warning would be enough to stop Assad, he apparently is mistaken. ... [2]
The Video
The video posting cited, 0:41 in length, is set in a clinic, and shows at least two wounded and two older boys apparently dead. [3] title Google-translated "The use of chemical weapons at the Ambassador City 12/08/2012." According to Google translate, the best reverse translation, visible in the title (السفير) is pronounced like Safir, a sound heard spoken at the video's start, where locales are usually given. Therefore, it could refer to the mid-sized city of Al-Safirah, about 12 km southeast of Aleppo, here on Google Maps.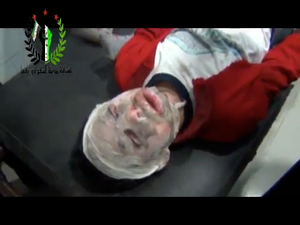 The victims have their faces variously covered with some kind of cream and/or paper, with signs of skin burning beneath. Aside from the lack of burned clothing, it could almost be fire, and not a corrosive chemical, that was responsible. Some sources thing some of the victims are dead, but clues indicate all four are alive. Two apparent teenage boys are laid out together with intravenous drips in their arms, faces covered, one showing dark patches and badly puffed lips consistent with some kind of chemical exposure (see inset image). Note also the apparent wetting of his upper shirt; fire is consistent here, either from being splashed with fuel before being lit, or with water to put it out after. They both have heavily bandaged hands, and the barefoot boy too has his feet bandaged too (the other wears socks). A living adult male sits in a chair just outside this room, face papered over, right hand (but not left) wrapped in gauze. A man seen walking around briefly has a wrapped left hand. Inside the room with the boys, an obese older woman has her face covered in tan cream, both hands bandaged, an IV drip in her arm.
The balance of people - a man, a woman, and two possible children - suggests perhaps a family that was stricken. They don't explain their own stories here. Much remains unknown about who they are and what happened.
Supporting Reports?
The recent rhetoric suggested a particularly acute danger in the coming days, with Friday, December 7 standing out (the Muslim sabbath coinciding with America's day of infamy, that still signals serious war as it has since the Pearl Harbor attacks of 1941. The alleged attack in Al-Safirah only missed that deadline by a day, if that (the published on date is always a no-later-than point for any event). Such an incident as the first acknowledged chemical attack by the Syrian government, just announced as all but forcing U.S. intervention, should be well-reported by the accepted opposition sources, like the Syrian Observatory for Human Rights (SOHR) They don't seem to have full coverage for Friday and the weekend, Dec. 7, 8 and 9. They filed on the 7th about the death toll of the previous day, around 83. They used here a photo of several wrapped boys that was already used for the Daraya massacre. [4]
For Friday with at least 80 killed, they reported nothing consistent with this attack, although the town is apparently mentioned as suffering attacks: "In Aleppo 2 were killed. 1 was shot by sniper in the al-Iza'a neighbourhood of Aleppo city. 1 died of wounds he received days earlier by bombardment on the al-Sfeira town of Reef Aleppo," with reef meaning 'surrounding area of,' as with Reef Dimashq around Damascus. It further reported "in Aleppo province 4 rebels were killed. 2 rebel fighters were killed during clashes with regular forces in the al-Leirmon area of Aleppo city. 2 rebels from Reef Aleppo were found dead in the al-Seriyan neighbourhood of Aleppo city after detainment by one of the security checkpoints of the city." [5] December 8 and 9 do not yet have summaries posted.
The website of the Local Coordination Committees (LCC) is another and quicker source to check. The LCC is usually well-informed on what rebel forces are saying, but they apparently didn't hear anything about a chemical attack near Aleppo. Scanning their daily summaries for Friday and the weekend, Dec. 7, 8 and 9, Al-Safirah is not mentioned by name anywhere, so it must be lumped under Aleppo (where some of the given locations are relative to Al-Safirah will be worked out in time).
Dec. 7, a mellow day in the city and its surroundings: Nine deaths given for Aleppo, "Artillery shelling targets the neighborhood of Bustan Al-Basha," and videos of many demonstrations in various neighborhoods are shown. [6]
Dec. 8: "18 martyrs in Aleppo," no demonstration videos, a busy and deadly day, broken down with details:
Continuous artillery shelling from Zahra'a on the perimeter of Regiment 111, along with clashes between the Free Syrian Army and regime forces in the neighboring villages of the regiment ... Aleppo:Hretan : Some injured by fierce shelling of regime forces at the city. ... Shelling with mortars were reported to be targetting Haydra Neighborhood ... Shelling by warplanes targets Bustan Al-Basha Neighborhood ... Wounded civilians were reported due to artillery shelling in Haydariyeh Neighborhood ... Meng: Warplane shelling is reported at the perimeter of Meng Military Airport ... Raai: Warplane shells the towns for the first time ...Wounded have fallen due to aerial shelling in the town ... Warplane flight is reported over Sukkari neighborhood ...
4 martyrs were reported due to artillery shelling in Corn Bakery in Halak neighborhood, the martyrs are: Joumaa Muhammed Msalam (10 years old), Alaa Ahmed Ghanouma (4 years old), Muhammed Hamsho (14 years old) and Aqeel Aqeel (11 years old) [7]
Dec. 9, bloodier yet, and some unusual deaths: "32 martyrs in Aleppo, including 20 who had been burned near the Air Force Intelligence branch"
The FSA stormed the 111th brigade in Aleppo, liberated three companies within the brigade, and destroyed the Jazeera checkpoint at the entrance to Raqqa city. ... Artillery shelling is reported in Sakhour ... Intermittent artillery shelling was reported in Bustan Basha, along with gunfire by the regime's snipers and intermittent clashes between the FSA and regime forces ... Anadan: Fierce artillery shelling reported by regime forces at the town ... A demonstration in Maysar neighborhood in Aleppo ... [8]
References
↑ 1.0 1.1 Syrian rebels claim new video shows victims of chemical attack Times of Israel, December 9, 2012, 6:59 AM
↑ Video Claims Proof Assad Unleashed Chemical Weapons By Tzvi Ben Gedalyahu, Arutz Sheva, First Publish: 12/9/2012, 8:13 AM
↑ استخدام الاسلحة الكيميائية في مدينة السفيرة 2012/12/8 Youtube video, Published on Dec 8, 2012 by عزيز ماجد
↑ Approximately 83 Syrians have been killed yesterday (December 6) SOHR, Dec. 7, 2012
↑ More than 80 Syrians were killed yesterday (December 7) SOHR, Dec. 8, 2012
↑ Syria Today 7-12-2012 Local Coordination Committees, Posted by abeer on December 8th, 2012
↑ Syria Today 8-12-2012 Local Coordination Committees, Posted by abeer on December 9th, 2012
↑ Syria Today 9-12-2012 Local Coordination Committees, Posted by abeer on December 10th, 2012