Akrama School Bombing
Jump to navigation
Jump to search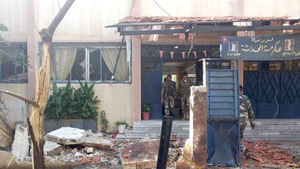 On October 1, 2014, two powerful explosions tore through a primary school in the Alawite-majority Akrama district of Homs city. According to the Syrian Observatory for Human Rights, the death toll had within a day (after many succumbed to injuries) climbed to at least 53 people killed, 46 of them children (most under the age of 12) [1] The general presumption is that anti-government Islamists were responsible, but there's still time for both sides to blame each other. We shall see...
Indeed: as the New York Times relates accusations leveled, ostensibly, by local Sunni children:
In Al Waer, the district held by mainly local insurgent groups, children held signs on Thursday saying, "From the free people of Waer: We disapprove of killing the children in Akrama," and calling the attack an inside job by pro-government forces, according to photos posted by the opposition and activists in the area.
The UNESCO Director-General Irina Bokova condemned the attack.[2]
For further details and discussion, see the talk page. (To see what is hot, see recent changes)
References