Airstrike on Saeqa military camp near Deir ez-Zor
Jump to navigation
Jump to search
According to the General Staff of the Syrian Army, on December 6, 2015, from 19:40 to 19:55, aviation of the Western coalition made an airstrike on a field camp of the 168th Brigade of the 7th Division of the governmental troops of the Syrian Armed Forces located 2 km to the west of Deir ez-Zor. [1]
The strike resulted in destruction of 3 infantry fighting vehicles, 4 automobile vehicles equipped with large-caliber machine guns (DShK); 12 people were injured, 4 were killed. [1]
Syrian official sources, the Syrian Observatory for Human Rights with its local sources, all agreed it was a coalition attack. But the US and allies instantly denied the allegation, claiming to hit only targets 55 kilometers to the southeast of the base, and then claims were lodged by an unnamed U.S. official that it was in fact a Russian aircraft that carried out the attack, presumably in error, a claim so far received with tentative credence by the mainstream media.
ACLOS Analysis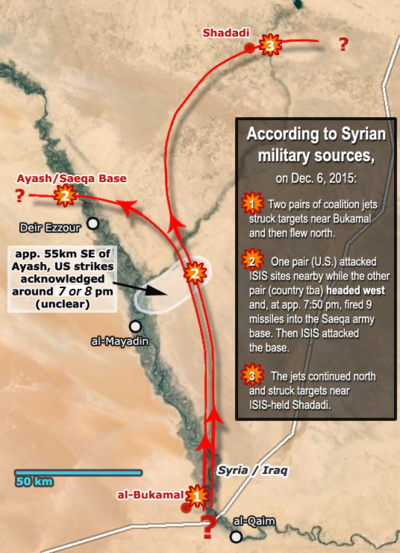 (analysis in progress - see talk page)
At right is a visual comparison of alleged attack directions, per Syrian army witnesses and sources (in red) compared to the area of the Saeqa base strike (target #2) and acknowledged U.S. coalition strikes at about the same time (white area).
The Syrian story is that four coalition jets first attacked sites near al-Bukamal at the Iraq border. One pair of jets then turned and attacked the Saeqa base, flying from the east, shortly before 8 pm local time. One or both pairs of attacking jets then continued north hit targets in ISIS-held Shadadi.
The coalition claims it made 4 strikes in the Deir Ezzour area that night, but all were to ISIS-held oil sites, and none were to Syrian military, nor any people or vehicles (later, a couple of civilians killed in Deir Ezzour that night were reported). They says none of their strikes were closer to the base than the white area, 55 km southeast of Ayash.
As this graphic illustrates, they acknowledge airstrikes that evening just a bit further back along the described attack flight path. Whoever attacked the base also flew over that patch of ground.
However, anonymous officials also claim their strike was about an hour before the actual base attack by Rusian forces; Russian long-range bombers came in secretly an hour later (9pm, in either Syria or Iraq time, unclear) flying from Russia through Iran and Iraq. Once there, they hit Bukamal, then the Saeqa base, (or flew over it "within one minute of the explosion that killed the Syrian troops"). [2] They presumably made this attack by mistake, officials suggest.
Claims of Coalition Attack
"the coordination committees of the Syrian Revolution [also] confirmed the deaths and injuries caused by the bombing of coalition forces that targeted Al Sa'eka camp of the Assad regime." And Daesh (Islamic State) also claimed that Coalition planes bombed Assad forces shortly after hitting Islamic State positions.
"The Shaam News Network (opposition) also suggested it was coalition aircraft that had hit the military base." [4]
Syria Direct (link not allowed)
Our correspondents in Deir e-Zor observed three planes carrying out the bombing, which occurred on the outskirts of the military base, hitting one of its barracks. Most pro-regime news sources have reported that three soldiers were killed and others injured. This is the information that has been verified 100 percent so far. ... The targets were a barracks and ammunition depots.
(correspondent) "In my opinion, this airstrike was a mistake by the coalition; since the start of their operations in Syria, their planes have never bombed any regime positions before. There is another theory that says the base is four kilometers away from any IS-controlled area, so how could it be a mistake? The picture still isn't 100 percent clear."
With a grain of salt, we could consider Syrian Perspective claim that the coalition attack was called in by ISIS forces, via Turkish intermediaries, to support their already-running attack on the base.
As the ISIS main force was seen taking position across the Euphrates at a ford where the river's level was low enough to permit four-wheel vehicles to cross, albeit with some difficulty, SAA spotters noticed the presence of many rubber dinghies and other small vessels useable for crossing a body of water. The SAA opened fire as soon as the trucks started to collect. SAA-MI heard chatter on terrorist telephone demanding some intervention to prevent a slaughter of their ranks, and, abra-cadabra, the U.S. sent in bombers to target the artillery laying waste to the ISIS rodents.
Sources
Initial reports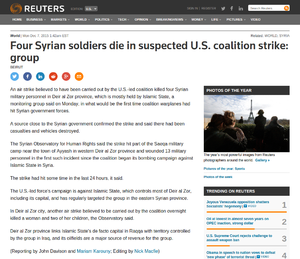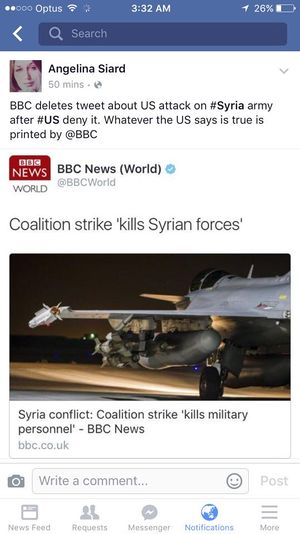 Al Masdar news: It is reported that US-led coalition planes hit Syrian Army position], killing some soldiers, in a rare or first incident of such sort. Unclear why they would do this on the eve of political negotiations; possibly done in error. [5]
Syria conflict: 'Coalition strike' kills government forces - BBC News, December 7, 2015

A US-led coalition air strike on an army camp in Syria kills three soldiers, the Syrian government says, condemning the act of "flagrant aggression".

Four Syrian Soldiers Killed in US-Led Coalition Airstrike - Sputnik, 07.12.2015 (cites "sources," no government confirmation, 3 killed)
US-led coalition airstrike on SAA position in Deir Ezzor (Photos) - AlManarTV, December 7, 2015 (original) Photos of serious destruction within the base - this would be quite an error.
Iraq 11 strikes (5,707-5,717)
Syria 9 strikes (3,004-3,012)
Confirmed actions: US, Canada
3 'friendly forces' alleged killed at Al Ayyash, Syria
3 civilians reported killed at Dayr ez Zawr, Syria (see below)
In Syria, coalition military forces conducted nine strikes using attack, fighter, and remotely piloted aircraft. ... Near Dayr Ar Zawr, four strikes struck four ISIL oil well-heads.
The consensus among the Syrian Arab Army soldiers is that the warplane was flying west towards the village of 'Ayyash before 9 missiles struck their positions. According to the Shaytat Tribesmen, the tribes of Abukamaal (eastern Deir Ezzor) reported coalition airstrikes above their city just a few minutes (before) they struck 'Ayyash. Following the attack on 'Ayyash in Deir Ezzor's northern countryside, the U.S. led Coalition warplane struck the ISIS stronghold of Al-Shadadi in southern Al-Hasakah before completing their mission.
Western denial
Accusing Russia
U.S. officials cited coalition surveillance and other data they said showed that Russian aircraft launched airstrikes near the Syrian army camp. One senior official said the Russian aircraft were in the air around 9 p.m. Sunday near the city of Deir el-Zour, whereas the coalition aircraft were flying an hour earlier about 55 kilometers away. [2]
Note: Syria claims the attack was around 7:50 PM, or about an hour before the alleged Russian presence and about the same time as the acknowledged US presence. However, Syria's given time was local (GMT +2) and the official may have been using Iraq time (GMT +3).
A senior U.S. official said radar tracked a dozen Russian TU-22 bombers that left Mozdok, Russia, traveled over the Caspian Sea, across portions of Iran and Iraq, and launched airstrikes in Raqqa, Deir el-Zour and Al Bukamal, Syria.
Radar shows Russian bombers making seven passes over the city of Deir el-Zour dropping munitions, the official said, adding that one of the TU-22s made a pass over the area of the army camp within one minute of the explosion that killed the Syrian troops. Overall, the Russian bombers launched strikes in four locations around Deir el-Zour.
The U.S. officials spoke on condition of anonymity because they weren't authorized to discuss the matter publicly.
A senior United States official later attributed any deaths and any damage to the Syrian base to what he called "a screw-up" by the Russians ... "We've got a radar track showing a Backfire bomber flying directly over the town that the Syrians named a few minutes before the first claims that we killed some Syrian troops," the American official said, speaking on the condition of anonymity to discuss operational details.
It's not clear how the radar track revealed the exact model of aircraft, or if they learned that some other way.
Syrian and Russian claims
Soldiers have found the valve of a rocket of western production with an inscription in English, reports LifeNews . (Valve shown in embedded video)
The video shows a MS-3A fuze used in Soviet-made 100 mm anti-aircraft shells. This piece cannot be related to the airstrike.
Analysis
Destroying Syria to Create Sunnistan Mike Whitney, Counterpunch, December 9. Considers this attack alongside Turkey's moves in Mosul in context of neo-imperial designs to balkanize the Middle East.
Same-Night Civilians Deaths
The Syrian Observatory for Human Rights (SOHR) also reported that a woman and two children were killed in a coalition air attack (the same or a different one, unclear) on the city of Deir Ezzour the night of December 6/7. [6] Airwars.org lists this incident as "poorly reported. Contested." [7] The VDC martyr's database records this partly, with a strange near-repeat the next day - 4 victims total, one provided name between them.
Dec. 6, area not specified: Unidentifed 1 (adult female, "Married with a Child") notes: "with her daughter due to air forces shelling" (whose is not specified) - Unidentified 2 (child female) "with her mother due to air forces shelling"
Dec. 7, victims from area: Ardi: Huda al-Aani (adult female) notes: "with her son due to air forces shelling" son of Huda al-Aani notes: "with his mother due to air forces shelling." [8]
The US-led coalition denies all strikes in or near the city, or on populated areas or anything but 4 oil wellheads. An anonymous US official seemed to implicate Russians for this as well when he or she told AP that "Radar shows Russian bombers making seven passes over the city of Deir el-Zour dropping munitions." [2]
Background
100,000 Civilians under ISIS Siege in Eastern Syria al-Masdar, December 13, 2015
SOHR on money seizures by IS, one businessman had half taken
SOHR December 6 "Der-Ezzor province: SOHR was informed that the IS executed a media activist by cutting him into 2 halves by 2 cars moving into opposite directions, in the charge of dealing with the U.S led coalition, in the city of Der-Ezzor."
Other recent reports in area (links in time) - a man crucified, 4 ISIS fighters killed (beheaded?) by ISIS
http://english.al-akhbar.com/node/22781 Dec. 2014 fighting
Bomb sales to Qatar
Where will the Ukrainian bombs explode? - Oriental Review, Dec 8, 2015

Why does the Qatari Minitry of Defense want to buy enormous arsenal of the air bombs, not only unfit for their aircrafts, but at a price 3 times (!) higher than the market one? (normally OFAB 250-270 is sold at US$700-800 per item)
The answer is horrifically simple: to make an OFAB 250-270 explode you do not need to drop it from a jet – it can be done right on the ground. Any Qatar-linked terrorist group can drive it to a highly-populated area in Syria and stage a "merciless strike by the Russian aviation". No doubt the a number of absolutely independent forensic experts would promptly conclude that this type of bomb is widely used by the Russian AF in Syria.
References
↑ 1.0 1.1 1.2 Facebook Timeline photo with statement, Russian Ministry of Defense, December 9, 2015
↑ 2.0 2.1 2.2 Syria says US-led airstrikes kill 3 of its soldiers, but Washington blames Russia By Zeina Karam and Lolita C. Baldor, Associated Press, via US News and World Report, December 7, 2015
↑ US-led coalition denies its strikes hit Syria army base AFP via Yahoo FInance, December 7, 2015
↑ http://timesofindia.indiatimes.com/world/middle-east/Assad-blames-US-for-Syria-strike-that-killed-three-soldiers-but-America-points-finger-at-Russia/articleshow/50088141.cms
↑ US-Led ISIS Coalition Hits a Syrian Army Camp in Deir Ezzor: 1 Soldier Killed Leith Fadel, Al-Masdar News, December 7, 2015
↑ Query result Center for Documentation of Violations in Syria, martyrs database, all Deir Ezzor warplane shelling deaths, December 6 and 7 2015