Adra massacre
Jump to navigation
Jump to search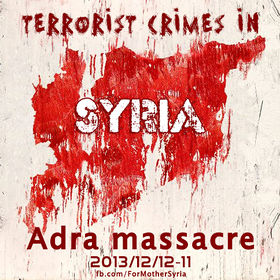 For further details and discussion, see the talk page. (To see what is hot, see recent changes)
On December 11, 2013, around 6 o'clock in the morning, a large quantity of militants from all over the eastern Ghouta headed towards the north and attacked the checkpoints of the town Adra located at the very northern end of the East Ghouta Damascus countryside. Thanks to their strength in numbers - apparently in the thousands - they had no problems overrunning the checkpoints and killing everyone manning them. According to some reports, the operation was led by Zahran Alloush.
Several public buildings including the bread factory were taken over, a large number of hostages taken, many civilians killed, apparently both randomly and according to prefabricated lists of loyalists and/or minority members. Fire was set to buildings in several neighborhoods.[1]
Reported numbers of murdered civilians vary between a few dozens and 400.
Sources and details of the developing story for now on the talk page.
Captives
RT reported:
"Some families were kidnapped in order to be used as human shields in areas where the Syrian army is now trying to free the civilians," Albohaya stressed. Iraqi Al-Ahd television says this is the reason the Syrian army is abstaining from using artillery on Sunday. ..."The military sources also said that the other kidnapped families were moved to the area south of Adra in the direction of the town of Douma...
Al-Monitor reported in May 2015 "the Al-Baton jail reportedly held a few hundred women and children taken prisoner from the Adra al-Omalia area. The men who had been taken alongside them are believed to have been executed." [3] Later that year, at the end of October, women and men "believed to be Alawite officers and their families," were used as human shields 2 years later - placed in cages deployed on rooftops and elsewhere in Douma. [4] As AFP reported, the opposition SOHR heard that said "most" of the caged people "were kidnapped by Jaish al-Islam two years ago outside Adra al-Ummaliyah, a regime-held neighbourhood in Eastern Ghouta," and "A Jaish al-Islam spokesman was not reachable for comment." [5] An al-Jazera report quotes an activist agreeing "the men and women in the cages were detained during battles in Ghouta and Adra." However this failed - the same article (November 3) says airstrikes over the past days killed "250 civilians, including 50 children and 20 women" and about 180 men. [6]
References