Abu al-Duhur Air Base Massacre 2015
Jump to navigation
Jump to search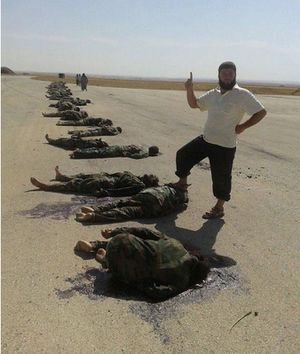 Abu al-Duhur ( أبو الظهور ) Military Airbase (sometimes spelled Abu ad-Duhur or Abu al-Dhuhour) is a major airbase of the Syrian Arab Air Force.
The airbase is located about 5 km east of Abu al-Duhur, in Idlib Governorate.
After surrounding the airbase for two years al-Nusra Front took control of the airbase in September 2015.
The airbase was captured with dozens of fighter jets and rocket launchers.
Subsequent to the capture over 70 captured soldiers were lined up and murdered on the main runway after failure of negotiations on their fate between multiple parties.
References
Initial report from al-Masdar News before final death toll established.