Abdul Basset al-Saroot
Jump to navigation
Jump to search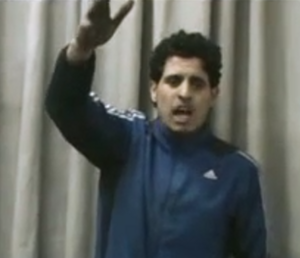 Abdul Basset al-Saroot (alt. Sarout, Arabic: الساروت) is a former Syrian soccer star-turned opposition activist-militant, based in Homs, operational from at least early 2012, with the Free Syrian Army from its start in Homs, and among the last fighters to leave in May, 2014, with amnesty in a brokered deal.
Al-Saroot was featured prominently in a December, 2014 segment of the CBS News program 60 Minutes (US), where he and supporters relate his journey starting as an idealistic and non-violent crusader for freedom, only to be abandoned by the West and forced to become an Islamic (if not Islamist) militant. [1] In contrast, an earlier Associated Press report heard from Syrians who considered him a traitor; the head of Syria's General Sports Federation said Saroot "contributed to destroying his homeland," and the president of the Syrian Football Federation, based on whatever evidence, called the banned and wanted footballer "a terrorist and a killer." And it heard from supporters who insist Sarout is and was never "an Islamic radical," although it did note "the Homs ordeal also brought Sarout into close contact with hard-line Islamic rebels" who, with him held out the longest, and, "in a speech in February, Sarout talked of the solidarity among the fighters, including (Jabhat Al-Nusra), saying, "the knife is on all of us, all of us are one." [2]
ISIS?
About two weeks after the segment's airing, respected Middle East commentator Hala Jaber said on her Twitter page Dec. 27 "Abdel Baset al-Sarout ... star in @60Minutes Inside Homs … has joined #Isis." She bases the claim on the image inset at right of a guy looking just like him smilig while helping display a Daesh (ISIS/ISIL) flag. One comment notes that the photo is unconfirmed, and the photo is from a "similar story" eight months ago. If so, a pre-planned rebuttal seems likely considering the new promotion in light of this known allegation.
Sources
Videos
Basset Sarout - interview leaving the Siege of Homs by Return to Homs, May 8, 2014. Interview on leaving Homs' Old City after the deal, a "victory" for their side more than the regime's he says, vowing to return once fed and well-armed. (English captions available)
FSA Terrorists Threatened to Fire at UN Aid Convoy Over a Week Prior to Attack Eretz Zen, Feb. 9 2014. Al-Sarout blames Assad and his supporters in "Geneva" for the siege, says they don't want just food brought in to "humiliate" them, but only "freedom." He says "we came here to die with honor and pride," and asks for a civilian safe passage out (for others?) Therefore, "I swear to Allah if the humanitarian aid is brought in without breaking the siege, we will fire at them." A week later food and aid was brought in to the old city, and more civilians were to be evacuated, in a corridor through the siege lines that remained in place. The UN truck was fired at with mortars and shot in the windshield with no injuries mentioned. Activists blamed the government. A Syrian Arab Red Crescent spokesman blamed "parties" and emphasized to Al-Jazeera that "parties" should not do that.
References